January 11, 2011 ~ Scroll down for full newsletter or follow the links:



Ask Heather »
High Volatile Oil Peppermint! See Why This Is Special For IBS?
IBS Recipe »
Herbed Tuna and Lemon Sandwiches
News & Research »
Antibiotic Rifaximin for IBS?
Special Letter »
Shortest But Happiest IBS Letter Ever!
  
Enjoy the newsletter!
~ Heather Van Vorous


Did a friend send you this newsletter? Sign up here for your own free subscription.



Herbed Tuna and Lemon Sandwiches

This is a great fast and easy recipe where a few simple ingredients you likely have on hand will come together in an exciting new way. Since each ingredient needs to shine, make sure you use high quality foods. White tuna will be more flavorful than pink tuna, fresh lemon juice is critical (do not use bottled), and high volatile oil peppermint leaf provides the deliciously fresh twist.

The peppermint is also helpful as a digestive aid and for keeping your GI tract calm, while the Tummy Fiber adds extra soluble fiber. That makes these sandwiches both delicious and good for IBS.

Makes 3-4 Servings

One small can white albacore tuna in water, drained
1 T Tummy Fiber Acacia
1 t Peppermint Tummy Tea
1 t dried basil
1 t dried oregano
1/2 t sea salt
grated zest (just the yellow part, grate using a cheese grater) of one lemon
juice of 1/2 lemon
2 t olive oil
3-4 pieces fresh white or pumpernickel bread, toasted

Add the drained tuna to a small bowl and break up pieces with a fork. Stir in the Tummy Fiber, then add all remaining ingredients and blend. Taste and adjust amount of salt or fresh lemon juice to taste. Spoon tuna mix over toast and enjoy!

For an extra-stabilizing and delicious treat, serve the sandwiches with my grandmother's gingerbread for dessert!

Are you just learning how to eat for IBS? A little intimidated at the thought of special IBS recipes? Not quite sure just what makes these recipes special in the first place? Don't worry! Get Eating for IBS and find the answers to all your questions.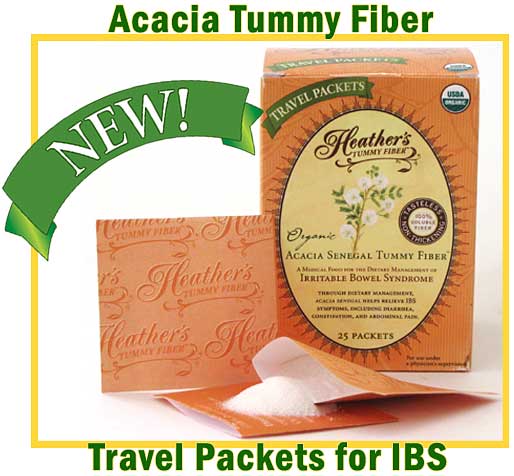 Certified Organic Acacia Senegal ~ Pure Soluble Fiber

The prebiotic fiber that relieves both diarrhea and constipation

Antibiotic Rifaximin (Xifaxan) for IBS Without Constipation

A recent study in the New England Journal of Medicine showed that the antibiotic Rifaximin (brand name Xifaxan) may help some people with irritable bowel syndrome without constipation. In two trials, patients who had IBS without constipation were randomly assigned to either rifaximin at a dose of 550 mg or placebo, three times daily for 2 weeks, and were followed for an additional 10 weeks.

Adequate relief was defined as self-reported relief of symptoms for at least 2 of the first 4 weeks after treatment. Other secondary end points included the percentage of patients who had a response to treatment as assessed by daily self-ratings of global IBS symptoms and individual symptoms of bloating, abdominal pain, and stool consistency during the 4 weeks after treatment and during the entire 3 months of the study.

Results showed that more patients in the rifaximin group (41%) than in the placebo group (31%) had adequate relief of global IBS symptoms during the first 4 weeks after treatment. Similarly, more patients in the rifaximin group (40%) than in the placebo group (29%) had adequate relief of bloating. The incidence of adverse events was similar in the two groups.

The study concluded that among patients who had IBS without constipation, treatment with rifaximin for 2 weeks provided relief of IBS symptoms, bloating, abdominal pain, and loose or watery stools.

In the next newsletter, we'll have an in-depth review of rifaximin, IBS, and small intestinal bacterial overgrowth. Stay tuned!

Go here for full research article.


Researchers call gut-directed hypnotherapy a "cure" for IBS!

The Best Gut-Directed Self-Hypnosis Program for All IBS Symptoms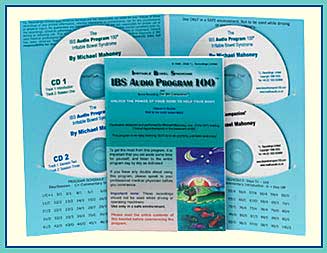 Gives an average 85% reduction of pain and bowel dysfunction symptoms.
Listen to IBS Audio Program 100 samples!

Why Peppermint Tummy Tea is So Special for IBS (see for yourself!)

Peppermint has an ancient history as a remedy for digestive upsets, and in general is a wonderful herb for quickly relieving (and even preventing) IBS symptoms.

The traditional use of peppermint has some interesting science behind it. Menthol and methyl salicylate are the main active ingredients of peppermint, and these elements are found in the volatile oil content of the mint leaves.

Internally, these compounds have anti-spasmodic actions, with calming effects on the smooth muscles of the stomach, intestinal tract, and uterus. They also have powerful analgesic (pain-killing) properties, which are mediated, in part, through activation of kappa-opioid receptors, which help block pain signal transmission.

The volatile oils in peppermint, when take as medicinal strength brewed tea or as enteric-coated peppermint oil capsules, are extremely useful for IBS. Clinical studies have shown that peppermint helps IBS abdominal pain and spasms, diarrhea, and urgency (and it will NOT worsen constipation. Peppermint is also anti-bacterial, increases gastric juices, and helps relieve gas, nausea, vomiting, and morning sickness.

Peppermint contains essential oils that stimulate the gallbladder to secrete its store of bile, which the body uses to digest fats. This makes peppermint a wonderful digestive aid for heavy meals. Mint also improves the function of the muscles that line the stomach and intestines, relieves diarrhea, and has a calming, numbing effect on the entire GI tract.

Personally, I find peppermint to be the strongest anti-spasmodic and pain reliever of all the herbs, and when an IBS attack flares I really appreciate its noticeable whole-body mild relaxing effect as well. On a daily basis I find peppermint more effective (and certainly more enjoyable) than prescription anti-spasmodic drugs, particularly when it's brewed as a very strong tea.

However, it's amazing to taste and feel the difference between high volatile oil Peppermint Tummy Tea formulated specifically for helping IBS symptoms versus regular peppermint tea brands.

For immediate relief of IBS spasms and abdominal pain, I always have a strong, hot cup of Peppermint Tummy Tea.

In all the years I've struggled with IBS, nothing - and I do mean nothing - has worked better and faster to flat out stop IBS pain in its tracks. I keep Peppermint Tummy Tea on hand at home, at work, in my luggage, and even in the car.

Not everyone is subject to sudden, severe attacks of IBS pain, but if you are (and I am) I can't recommend anything more fervently than this tea. If your IBS can come out of nowhere, and have you on the floor begging for help this very second because you can't wait minutes, Peppermint Tummy Tea is your new best friend.

But does it really have to be Peppermint Tummy Tea? Why not just any regular brand of mint tea?

There is a world of difference between high volatile oil Tummy Tea and typical store brands. Every other peppermint tea brand I've seen is simply meant to be enjoyed as a "nice hot cup of tea", for drinking pleasure. This is NOT the case with Peppermint Tummy Tea.

Peppermint Tummy Tea is unique for several reasons:

* Extremely high volatile oil levels. Why does this matter? Because the volatile oil has the components within the peppermint leaf that yield the medicinal benefits. The higher the volatile oil level, the stronger the cup of tea, and the greater the benefit for IBS symptoms.

Our new 2010 peppermint crop (on sale at 10% off) has a volatile oil content of 3% for the second year in a row. This is the highest level our farmer has ever seen for mint (1.8% to 2.0% is considered high)!

You can actually see the oil rising to the surface of the peppermint leaves in the field. This is what our farmers watch for so they know when to harvest the fields at the optimum volatile oil level. In the close up below, one of our peppermint plants has tiny little droplets of oil surfacing on its leaves, which are visible in the photo. When I was out in our fields last fall right before harvest, the whole expanse of peppermint looked like it was glistening. It was not only beautiful, but the smell and taste of the fresh leaves was more potent than I ever would have imagined.

Take a look at the pictures below and you can see for yourself!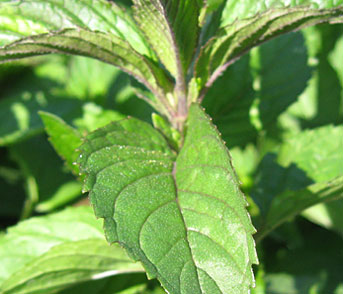 Close Up of Volatile Oil Droplets on Our Peppermint Leaves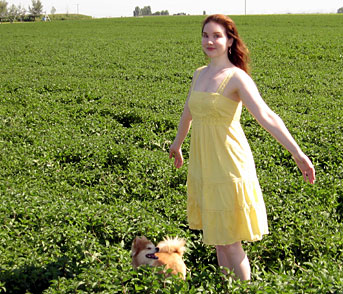 Our Gorgeous Organic Peppermint Fields Before Harvest!

Our Peppermint Tummy Tea also has:

* Very large leaf size for peppermint (cut and sift grade, the largest cut available in the organic market). Other teabag brands use "teabag cut" herbs, which are very finely milled. This is so the tea will flow through teabag machines. But, the more finely you cut an herb, the more volatile oil is released and dissipated, and the weaker the final cup of brewed tea will be. (We actually customized our own teabag machines so that we could run large leaf peppermint through our machines.)

* Special jumbo-size teabags, which give an average of three times more peppermint per bag as other brands.

* Our peppermint is USDA certified organic. This means, among other things, that it is guaranteed free of: pesticides, fertilizers, herbicides, GMO (genetically modified organisms), preservatives, additives, irradiation, and there is no animal testing.

Organic materials and processing are significantly more expensive (for example, bulk organic peppermint costs four times more than conventionally grown peppermint). But, our tea prices are actually significantly less expensive than non-organic brands.

In addition, a comprehensive review of 97 published studies (published as the "State of Science Review" by The Organic Center) comparing the nutritional quality of organic and conventional foods has shown that organic plants contain higher levels of 8 of 11 nutrients studied, including significantly greater concentrations of the health-promoting polyphenols and antioxidants. This review concluded that organically grown plants are 25% more nutrient dense, on average, than conventionally grown plants.

* Peppermint Tummy Tea is packed in very generous quantities, as it is meant to be used daily for IBS symptoms. There are 36 Peppermint Tummy Teabags per canister (and a full pound of peppermint in the Peppermint Loose Pouch). This is 3-4 times more teabags per container than other brands, which means you will have enough tea on hand to use it regularly, which is how it works best for IBS.

The end result? Peppermint Tummy Tea is exponentially stronger and more effective, and a better value, than other brands.

For me, medicinal-strength peppermint tea has what it takes to stop an IBS attack in its tracks. Peppermint Tummy Tea is the only brand of high volatile oil tea for IBS I know of, and one sip is all it takes to tell the difference.

It isn't enough to get a great value for your IBS treatments - you also have to get great results. For abdominal pain, spasms, and cramping, Peppermint Tummy Tea offers both. Try it and see for yourself!

~ Heather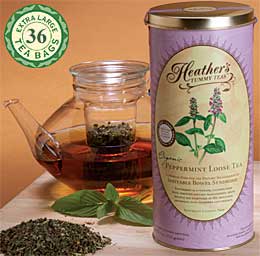 Organic High Volatile Oil Peppermint Tummy Tea Bags

Extraordinary Quality ~ Very Economical

Peppermint is great for IBS pain & spasms.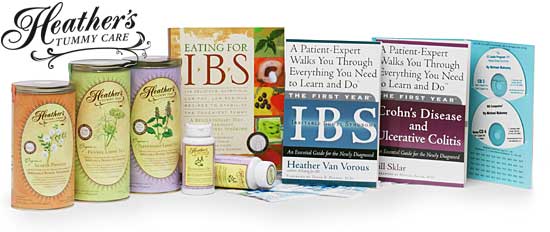 Shop at Heather's Tummy Store for IBS
HelpForIBS.com
The only store that's just for IBS - so we only carry the very best



You're on this newsletter list because you have expressed interest in IBS news and information.


Change your newsletter email address here.

If you are viewing this newsletter on a website and would like to subscribe for email delivery, please "Join the IBS Newsletter" here.

ANTI-SPAM PRIVACY & SECURITY POLICY
HelpForIBS.com
Heather's Tummy Care
80 S. Washington St, #304
Seattle, WA 98104 USA

© 2011 Heather Van Vorous, Heather's Tummy Care. All rights reserved.
USA Copyright Office Registration Number TXU 1-270-858 and others.