November 9, 2010 ~ Scroll down for full newsletter or follow the links:



Ask Heather »
Wheat Intolerance or Gluten Intolerance? IBS or Celiac?
Part 3, IBS Special Series!
IBS Recipe »
Salmon Dill Hash Browns
Special Letter »
After 20 Years of IBS, What Finally Makes A Big Difference?
  
Enjoy the newsletter!
~ Heather Van Vorous


Did a friend send you this newsletter? Sign up here for your own free subscription.





10% Off Fennel Teas & Diet Kit #1! Use Promo Code FENNELQ310

Heather's Tummy Tea Fennel For Bloating & Gas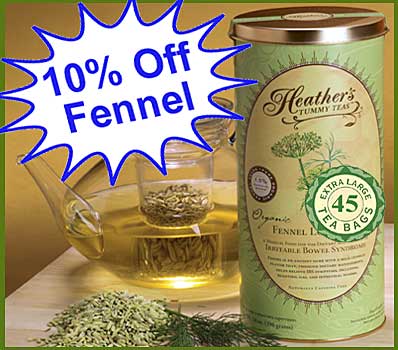 Organic, Medicinal Strength, High Volatile Oil Fennel

Extraordinary Quality ~ Very Economical


Salmon Dill Hash Browns

This tasty recipe is a cross between hash browns and salmon cakes, and it's delicious for breakfast or supper. The potatoes and Tummy Fiber give a great soluble fiber foundation. Don't skimp on the dill and horseradish, which not only pack a terrific flavor punch, but also serve as digestive aids. Remember, just because a dish is IBS-friendly doesn't mean it has to be bland!

4 Servings

One 6 or 7 ounce can boneless, skinless wild Alaskan salmon, drained
3 travel packets (1 Tablespoon) Acacia Tummy Fiber
1 teaspoon horseradish
1/2 cup finely chopped onion
3 organic egg whites, lightly beaten
1 tablespoon whole grain or Dijon mustard
2 tablespoons chopped fresh dill
1/4 teaspoon ground pepper
1/8 teaspoon salt
1 tablespoon capers, drained and chopped
1 teaspoon lemon juice
2 cups frozen hash browns (shredded potatoes), slightly thawed (about 12 ounces)

Horseradish for serving

In a large bowl combine all ingredients except potatoes and stir well. Add potatoes and stir gently to combine.

Heat a large nonstick skillet over medium heat and spray with cooking oil. With your hands, mold the salmon mixture into four cakes (firmly packed) and place in skillet. Gently flatten the cakes with a spatula.

Cover skillet and cook salmon cakes until brown on the bottom, about 3-5 minutes. Flip the cakes and cook, covered, until the other sides are crispy, about 3-5 minutes more. Serve with extra horseradish.

The perfect drink with this dish is a cup of Fennel Tummy Tea!

Are you just learning how to eat for IBS? A little intimidated at the thought of special IBS recipes? Not quite sure just what makes these recipes special in the first place? Don't worry! Get Eating for IBS and find the answers to all your questions.

~ Heather's Tummy Fiber ~

For IBS Diarrhea AND Constipation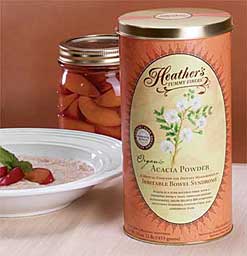 Certified Organic Acacia Senegal ~ Pure Soluble Fiber

The prebiotic fiber that relieves both diarrhea and constipation!

** Very Economical ** Only 4 cents per gram of fiber!

** 100% Acacia Senegal ** Never Low Grade Acacia Seyal

After 20 Years of IBS, What Finally Makes A Big Difference?

Hi Heather,

I found your website about 3 weeks ago when looking for help with my IBS. I have had this for over 20 years now and have managed it mainly through diet.

This year has been quite a bad one for me and I have been struggling to sort my "tummy problems" out. I found your website and read your newsletter where you explained the difference and importance between soluble and non soluble fibre. Wow, what a difference this has made to my life.

My IBS is so much better, my headaches, which I put down to computer work, have almost disappeared, and I am losing weight! Fantastic. I would just like to say a big THANK YOU for all your help and advice in your newsletters.

I am coming over to Florida next year; can your products be bought in stores? You certainly can use my comments for the website and newsletter. I really can't say how much better I am feeling and I am so happy I found your website.

Thanks very much for your help.

Debbie Sutherland
Richmondshire, UK

Thank you so much, Debbie! I am tickled pink to hear this! And yes, the Tummy Care products are in stores. Check the store finder page for locations near you! ~ Heather

Did you miss the recent letter from Fran, who figured out how to keep her lifestyle from worsening her IBS?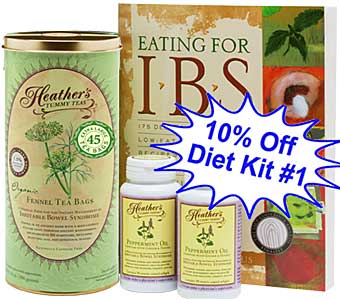 The IBS Diet Kit For Bloating, Pain & Gas!

* Immediate, Tangible Help!
* Take Control Of Your IBS Symptoms Through Diet
* For Bloating, Gas & Pain



IBS Vs. Celiac. Wheat Intolerance or Gluten Intolerance?
Our last newsletter continued our special series on grains, wheat, and gluten, by answering the question of how to eat whole grains (without triggering an attack). This week, we'll wrap up our series by tackling the difference between the wheat intolerance typical of IBS and true gluten intolerance. Plus, what's all this about celiac?

Many people with IBS already know that wheat bothers them. Does this mean that they are gluten intolerant?

Nope, not necessarily. As we addressed in part one of our series, all about wheat and IBS, there are different effects on the gut from white flour versus whole wheat flour. Now, we need to talk about the difference between an IBS intolerance to wheat and true gluten intolerance, otherwise known as celiac disease.

While many people with IBS are intolerant to wheat bran, and whole wheat, this is not at all the same thing as the total gluten intolerance caused by celiac. It is possible to have BOTH celiac and IBS, but it's also very common for celiac to be misdiagnosed as IBS.

So - what exactly is celiac disease? Celiac is a genetic auto-immune disease that damages the small intestine and interferes with absorption of nutrients from food. People with celiac cannot tolerate the grain protein called gluten, which is found in wheat, rye, and barley. Gluten is in countless processed foods, and even stamp and envelope adhesives, medicines, and vitamins.

Symptoms of celiac can include gas, recurring abdominal bloating and pain, chronic diarrhea, and constipation. Sound familiar? Since these are the hallmark symptoms of Irritable Bowel Syndrome, it's easy to see how celiac can be misdiagnosed as IBS. As an interesting note, the average length of time between the onset of symptoms and a diagnosis of celiac in America is five to ten years. Yes, that's right, up to ten years.

Many people with celiac are mistakenly told they have IBS, and in the years between misdiagnosis and celiac diagnosis, a diet with gluten can cause permanent physical harm. Untreated celiac can be life-threatening.

Celiac can cause:

* osteoporosis
* central and peripheral nervous system diseases
* pancreatic diseases
* internal hemorrhaging
* gall bladder, liver, and spleen disorders
* gynecological disorders
* increased risk of certain types of cancer, especially intestinal lymphoma

There is now a mountain of evidence that celiac is typically overlooked and under-diagnosed,, in part because many doctors mistakenly believe it is a diagnosis for infants, that symptoms must include weight loss and diarrhea, or that it is simply a disease too rare to bother considering.

All of these preconceptions have been repeatedly proven false in the past few years of celiac studies and research. I cannot stress this enough - it is absolutely critical that you do not accept an IBS diagnosis until celiac disease has been ruled out.

An initial screen for celiac disease will check your blood for antibodies to gluten, and if the results are positive, a small bowel biopsy will follow. Before you're tested for celiac, make sure you continue to eat foods with gluten, such as breads and pastas. If you avoid gluten before being tested, you may get a false negative test result.

If you do test positive for celiac, the only treatment is a completely gluten free diet. If you have both IBS and celiac, you can combine the dietary concerns by sticking to gluten free soluble fiber foods for your IBS safe diet. Try rice, potatoes, oats, quinoa, root vegetables, tapioca, amaranth, buckwheat, and soy.

In addition, many of the supplements that help IBS symptoms are gluten free, including Acacia Tummy Fiber, and the rest of the entire Tummy Care line.

Following a gluten free diet is much more difficult than following the IBS diet, as even trace amounts of gluten need to be scrupulously avoided. It is completely possible, however, and certainly well-worth it.

There are also many delicious, nutritious IBS-friendly recipes that are also gluten-free, including the Salmon Dill Hash Browns above, so don't be discouraged.

On a personal note, I sometimes hear from people who are convinced they have celiac disease but simply cannot get their doctors to test them for it. My own aunt was in this situation several years ago, and by the time she found a doctor who agreed that celiac was a likely diagnosis, she had already put herself on a gluten free diet (and her symptoms had resolved). She refused to start eating gluten again just so she could take the blood test and get a confirmation.

If you're in the same boat, and you're feeling much better on a gluten free diet even though you don't have a black and white diagnosis of celiac, listen to your gut. All that really matters is that you are happy and healthy. You don't have to have a lab test to prove what your body has already told you.

Check here for more information about celiac.

~ Heather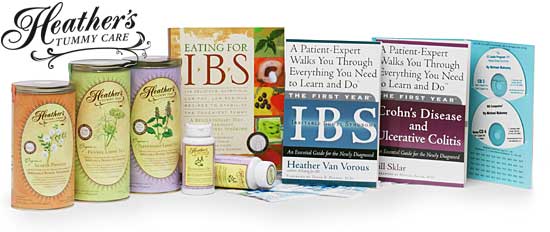 Shop at Heather's Tummy Store for IBS
HelpForIBS.com
The only store that's just for IBS - so we only carry the very best



You're on this newsletter list because you have expressed interest in IBS news and information.


Change your newsletter email address here.

If you are viewing this newsletter on a website and would like to subscribe for email delivery, please "Join the IBS Newsletter" here.

ANTI-SPAM PRIVACY & SECURITY POLICY
HelpForIBS.com
Heather's Tummy Care
80 S. Washington St, #304
Seattle, WA 98104 USA

© 2010 Heather Van Vorous, Heather's Tummy Care. All rights reserved.
USA Copyright Office Registration Number TXU 1-270-858 and others.