NEW! ACACIA TUMMY FIBER TRAVEL PACKETS!

Special 20% Off For Pre-Sale Only!



Tummy Fiber Is Best For IBS Diarrhea And/Or Constipation!






Scroll down for October 19, 2010 newsletter or follow the links below:

Hello everyone ~ Finally! We have Acacia Tummy Fiber Travel Packets!

Currently, they're only available through this special pre-sale for newsletter customers.

Plus, just for this pre-sale, the travel packets are 20% off the suggested retail price of $8.95 per box, and a case of travel packet boxes has free shipping in the US!

Because travel packets have been in high demand for years now, we anticipate a huge response to this pre-sale. To be sure we can meet the demand, we are ONLY offering the travel packets through this newsletter. They are not available directly through our website or at local stores.

We expect to ship out travel packet pre-sale orders within two to three weeks. There is a small chance that orders would ship a little later than that, but we are confident that by limiting the pre-sale we can ramp up production to meet demand.

The Tummy Fiber travel packets come 25 to a box, and for pre-sale orders we offer two boxes bundled together, or a case of 10 boxes. You can order as many two-packs or ten-packs as you like, but you cannot order the two-pack and ten-pack together at this time. Also, during the pre-sale you cannot combine travel packets with any other products. Please place a separate order for other products.

Remember, for the pre-sale only, cases have free shipping in the US!

Each travel packet has 2 grams of soluble fiber, or about 1 teaspoon. As always, our Tummy Fiber is 100% organic acacia senegal, never low grade acacia seyal.

If you've been waiting for a fast and easy way to take your Tummy Fiber with you, the day has finally come!


  
Enjoy the newsletter!
~ Heather Van Vorous



Ask Heather » How to Eat Whole Grains (Without Triggering an Attack)
Part 2, Wheat & IBS Special Series!

IBS Recipe » Orange Flower Pudding Snacks

Research & Press » Drugs or White Rice for Constipation?

Special Letter » Please Make My Life Easier and Happier!

Did a friend send you this newsletter? Sign up here for your own free subscription.

Special Pre-Sale! Tummy Fiber Travel Packets!

Heather's Tummy Fiber for Diarrhea AND Constipation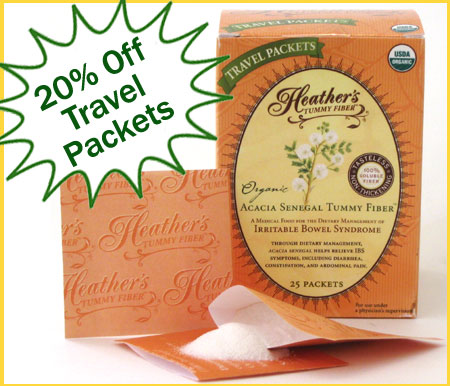 Certified Organic Acacia Senegal ~ Never Low Grade Seyal

25 Packets Per Box!


Orange Flower Pudding Snacks

This is a wonderfully soothing, nutritious, and delicious one-dish breakfast. The couscous gives a safe soluble fiber base to the nuts and dried fruit, it takes just five minutes to make, and leftovers are even better the next day! You can omit the orange flower water, but it does give an exotic touch, so please try it.

Makes 6-8 Servings

2 cups water
2 Fennel Tummy Tea Bags
1 1/3 cups couscous
2 Acacia Tummy Fiber Travel Packets
1/2 cup finely chopped unsalted, natural (not dyed-red) pistachios
1 tsp. canola or safflower oil
1/3 cup brown sugar (or to taste)
1 1/4 cups vanilla soy or rice milk
1/2 cup finely chopped dried apricots OR finely chopped dried cherries
1/4 tsp. orange flower water (available at most grocery stores or a spice shop)

Bring water to a boil, remove from heat, add tea bags, and cover. Let sit for 2-3 minutes. Remove teabags. Blend couscous and Acacia Tummy Fiber in a large bowl, add fennel water (water should still be very hot), and cover. Let sit for 5 minutes. Uncover and fluff with a fork. Drizzle in oil and sugar, and stir well. Add all remaining ingredients and gently combine. Spoon into individual serving cups and serve warm or cold.

Are you just learning how to eat for IBS? A little intimidated at the thought of special IBS recipes? Not quite sure just what makes these recipes special in the first place? Don't worry! Get Eating for IBS and find the answers to all your questions.

Please Make My Life Easier and Happier!

Dear Heather,

My name is Erin Moreno and I am writing to thank you for making such an incredible product. I LOVE your Tummy Fiber and can't imagine life with out it. I love it so much that I have recommended it to several friends and even give it to my son, who also suffers from IBS.

My question to you is this: have you considered pre-packaging individual doses of the Tummy Fiber? something similar to drink mixes like Kool-aide? I travel several times a month and have difficulty keeping up with my intake while on the road.

Having it pre-packaged so I could just add liquid would make my (and others' I would assume) life much easier. I could take it to work and my son could take it to school.

Anyway, that is just my two cents, thank you for listening. Again, I really appreciate your product, thank you for making my life and my loved ones happier.

With sincere thanks,

Erin Moreno

Thank you so much, Erin! I am so excited we can finally get you the travel packets! ~ Heather

Positive Results for Linaclotide in Trials for IBS Constipation

Ironwood Pharmaceuticals and Forest Laboratories have announced positive top-line results from the first of two Phase 3 clinical trials assessing the efficacy and safety of the investigational drug, linaclotide, in patients with irritable bowel syndrome with constipation (IBS-C).

Data shows improvement was achieved for linaclotide-treated patients compared to placebo-treated patients for abdominal pain and complete spontaneous bowel movements.

Significant improvement was also achieved for linaclotide-treated patients compared to placebo-treated patients for abdominal discomfort, bloating, and bowel symptoms. The safety results were consistent with those observed in previous linaclotide trials, with diarrhea being the most common side effect. A second Phase 3 trial of linaclotide in IBS-C is ongoing with results expected soon. Learn all about IBS and how to manage it with the essential guide, First Year: IBS.

Go here for full article.

White Rice for Functional Constipation

A study in the Journal of Nutritional Science and Vitaminology noted that analysis of dietary patterns may provide new insights into the influence of diet on functional constipation. They examined the association between dietary pattern and functional constipation in 3,770 Japanese female students aged 18-20 years.

Functional constipation was defined using the Rome I criteria, which has previously been used in several epidemiologic studies on constipation. The prevalence of functional constipation was 26%. Four dietary patterns were identified: (1) Healthy, (2) Japanese Traditional, (3) Western, and 4) Coffee and dairy products.

After adjustment for several confounding factors, the Japanese Traditional pattern, characterized by a high intake of rice, miso soup, and soy products and a low intake of bread and confectionaries, was associated with a significantly lower prevalence of functional constipation. Learn how to manage constipation and other IBS symptoms with the Eating for IBS diet.

Go here for full article.



Special Pre-Sale! Tummy Fiber Travel Packets!

Heather's Tummy Fiber for Diarrhea AND Constipation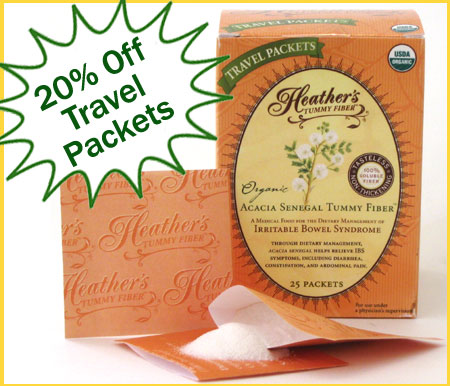 Certified Organic Acacia Senegal ~ Never Low Grade Seyal

25 Packets Per Box!


How to Eat Whole Grains (Without Triggering an IBS Attack)
Our last newsletter kicked off part one of our special series on grains, wheat, and gluten, with the issue of whether or not wheat is safe for IBS. We looked at the different effects on the gut of white flour versus whole wheat flour, and learned that whole wheat and wheat bran tend to be difficult, if not intolerable, for many people with IBS.

This prompts the question of what whole grains (if any) are safer options than whole wheat? For people with both IBS and diabetes or hypoglycemia this is an area of special concern.

If you're trying to balance an IBS-friendly diet with low glycemic foods, there's very good news for you. Instead of whole wheat, try whole grains such as brown rice, oatmeal, buckwheat or soba noodles, corn meal or polenta, quinoa, and barley. These tend to be well-tolerated whole grains for IBS (not always, and not for everyone, but definitely in general).

If you're really struggling with chronic attacks, you may have no choice but to limit or eliminate whole grains until you're stable, but once you are you should be able to carefully add these foods back in. When you do, try small portions of whole grains, and add Tummy Fiber to your meal for extra soluble fiber, which will help buffer your gut's response to the insoluble fiber in the whole grains.

It's also very helpful to make sure you're already eating as many of the unrefined but easy-on-the-gut foods as possible: cooked root veggies (potatoes and sweet potatoes, pumpkin, beets, rutabagas, carrots, turnips, etc.), mangoes, bananas, peeled apples and peeled pears, peeled peaches and apricots, and avocados.

See how you do with small amounts of well-cooked and pureed beans or lentils as soup or dip additions to your diet as well. Take this process slowly, and you can actually significantly increase your tolerance of legumes. (Why? Because the bean sugar raffinose, which can cause gas and bloating if your gut is not used to it, will become much less problematic if you're eating it regularly.)

Remember that if you've been totally avoiding insoluble fiber foods like whole grains you're going to have to start eating them carefully, and give your body time to adjust. You will increase your tolerance for these foods and digest them better the more you eat them, as long as you follow the Eating for IBS guidelines.

Once you start thinking outside the whole wheat bread box, you can find a lot of safe (and delicious) whole grain options!

~ Heather

Coming next, we'll wrap up our special series by tackling the difference between an IBS intolerance to wheat and true gluten intolerance, plus celiac!





You're on this newsletter list because you have expressed interest in IBS news and information.


Change your newsletter email address here.

If you are viewing this newsletter on a website and would like to subscribe for email delivery, please "Join the IBS Newsletter" here.

ANTI-SPAM PRIVACY & SECURITY POLICY

HelpForIBS.com
Heather's Tummy Care
80 S. Washington St, #304
Seattle, WA 98104 USA

© 2010 Heather Van Vorous, Heather's Tummy Care. All rights reserved.
USA Copyright Office Registration Number TXU 1-270-858 and others.