Free Shipping On US Orders Over $49! Use Promo Code FREESHIP10



(Scroll down for full newsletter or follow the links):


Ask Heather » Grains, Wheat, and Gluten Special Series!

IBS Recipe » A Mexican Breakfast Made IBS-Friendly! Huevos Rancheros

Special Events » Over 40 Hy-Vee Locations Now Have Heather's Tummy Care

Special Letter » Can You Keep Your Lifestyle from Worsening IBS?

Enjoy this week's newsletter!

Best Wishes,
Heather Van Vorous

Did a friend send you this newsletter? Sign up here for your own free subscription.

Get Free Shipping On US Orders Over $49!

Use Promo Code FREESHIP10

Heather's Tummy Tamers Peppermint Oil Capsules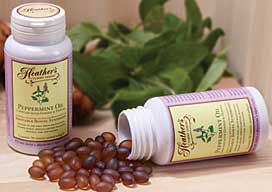 Peppermint Oil Caps Called "Drug of Choice for IBS"

Our Peppermint Oil Caps have the added benefits of fennel and ginger oils, and they help prevent abdominal pain, gas, and bloating!

A Mexican Breakfast Made IBS-Friendly! Huevos Rancheros

This delicious traditional Mexican dish is typically made with fried eggs, fried corn tortillas, and plenty of cheese. All of that fat and dairy is almost guaranteed to trigger all sorts of awful IBS symptoms, especially if you're eating it on an empty stomach first thing in the morning.

Does this mean you can't eat Huevos Rancheros if you have IBS? Not at all - the key to IBS cooking is simply substitution, never deprivation. My delicious version is just as hearty and flavorful as the original, but without all the fat, egg yolks, and dairy. I've got a few kitchen tricks up my sleeve with this recipe, too.

First, if you haven't cooked with tofu before, this recipe is a great (and foolproof) way to start. Silken tofu makes a terrific low fat stand-in for scrambled eggs, and blending in mild spices adds a zesty kick. Remember, it's not great flavor that's a problem for IBS. You don't need to stick to bland foods, as most herbs and spices are actually digestive aids - especially when they're used in a low fat, high soluble fiber base.

The corn tortillas here are broiled to a crispy crunch instead of fried, which eliminates even more fat and gives a good soluble fiber foundation. Soy or rice cheese easily (and deliciously) replaces dairy. Cooking the onions and garlic until very tender dissipates their sulfur, which can cause IBS problems, and also minimizes their insoluble fiber. Fresh avocados and cilantro are the lovely (and nutritious) final touch!

Serves 4

4 small corn tortillas, broiled just till golden on one side (or use baked Tostitos)
1 T mild chile powder
1/4 t ground cumin
1/4 t garlic salt
2 t dried oregano
2 t Tummy Fiber
12-15 oz. silken firm tofu, drained, and crumbled with a fork
1 small tomato, diced
1/2 cup diced onion
1 garlic clove, minced
2 slices soy or rice cheese, diced (try American or pepper jack flavors)
1/2 avocado, diced
1 T fresh cilantro, shredded
1/2 fresh lime

Blend the chile powder, cumin, salt, oregano, and Tummy Fiber into the tofu, and set aside. In a large nonstick skillet lightly sprayed with oil, cook the tomato, onion, and garlic until they're very tender and the liquid from the tomato evaporates. Add the tofu to the skillet and stir gently, cooking until hot, then blend in the soy cheese until it melts. Serve the tofu mix in four portions over the baked tortillas, and top each tortilla with avocado and cilantro. Squeeze fresh lime juice over each serving.

The perfect drink with this breakfast is hot cup of lightly sweetened Fennel Tummy Tea!

Are you just learning how to eat for IBS? A little intimidated at the thought of special IBS recipes? Not quite sure just what makes these recipes special in the first place? Don't worry! Get Eating for IBS and find the answers to all your questions.

~ Heather's Tummy Fiber ~
For Abdominal Pain, Diarrhea, &, Constipation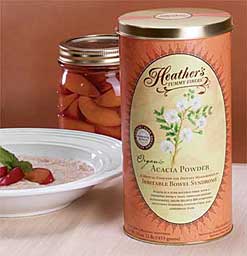 Free Shipping On US Orders Over $49! Use Promo Code FREESHIP10

Certified Organic Acacia Senegal ~ Pure Soluble Fiber

The prebiotic fiber that relieves both diarrhea and constipation!

** Very Economical ** Only 4 cents per gram of fiber!

** 100% Acacia Senegal ** Never Low Grade Acacia Seyal

How to Keep Your Lifestyle From Worsening IBS!

Dear Heather:

Your Tummy Fiber Acacia, the Fennel Tummy Tea, and the Tummy Tamers peppermint oil caps have really been a lifesaver to me in the past few years as my IBS has continued to worsen due to ongoing lifestyle stress and changing dietary issues in my life.

I am 58 and am now considering the IBS hypnotherapy CDs as well, to help me continue to keep this issue from interfering with my quality of life all the time.

Thank you for your pioneering help and empowering information with your website, books, products, etc. You are helping so many people who are suffering from this condition in shame and silence break out of it and get help where their doctors continue to fail them.

You can use this letter in the IBS newsletter which I read religiously and so appreciate!

Thanks again and God Bless You!

Fran Ferrucci
San Francisco, CA

Thank you so much, Fran! I am happy to hear you are keeping things under control! ~ Heather

Did you miss the recent letter from Linda, who is now deliciously symptom-free??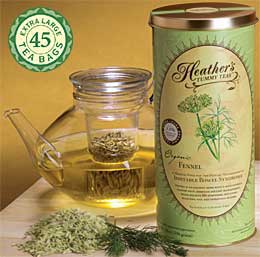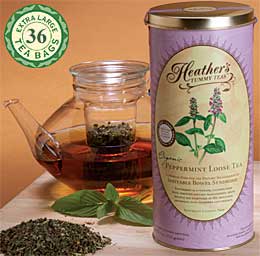 Organic High Volatile Oil Fennel & Peppermint Tummy Tea Bags

Extraordinary Quality ~ Very Economical

Fennel is terrific for bloating & gas, Peppermint is great for IBS pain & spasms.
Heather's Fennel Tummy Tea Heather's Peppermint Tummy Tea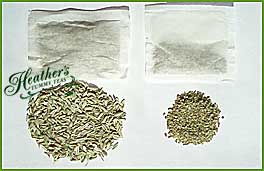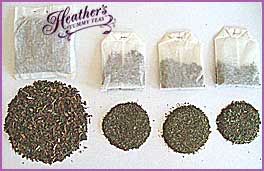 Compare for yourself! The pictures above show the huge difference in the quantity and quality of tea per teabag. The price comparison here is even more shocking!



Part 1: Whole Grains? Wheat? Gluten? Do These Affect IBS?

Some of the most common questions I'm asked about the IBS diet involve wheat.

Is wheat safe for IBS?

If whole wheat is healthier than refined wheat (such as white flour), is it better for IBS?

What about other whole grains?

And what's all this about gluten?

Let's take these issues one at a time. To start with, there is no flat yes or no answer to the question "is wheat safe for IBS?" That's because it prompts another question - what kind of wheat?

Whole wheat, with its outer layer of bran, is more nutritious than refined wheat. However, wheat bran is very high in insoluble fiber. This means that it's a very likely IBS trigger.

That's why whole wheat bread, whole wheat cereals, and wheat bran can cause such awful problems for people with IBS. How awful? Multiple clinical studies with IBS patients have shown that wheat bran causes abdominal pain, bloating, and "bowel disturbance". This is certainly something I don't want, and I'm sure you don't either.

However, when you remove the bran from whole wheat you end up with white flour (the regular "all-purpose" kind you can buy in any grocery store, which you use for home baking breads, muffins, etc.). Though this is still wheat flour, it is not whole wheat flour, and this makes a world of difference for IBS.

White flour contains no insoluble fiber but it does have soluble fiber (the same amount of soluble fiber as whole wheat flour, actually). Soluble fiber is the stabilizing force of the IBS diet for both diarrhea and constipation, which is why white breads are such great safe IBS staples.

Need a reminder about why soluble fiber is so special for IBS? Unlike any other food category, it soothes and regulates the digestive tract, stabilizes the intestinal contractions resulting from the abnormal IBS gastrocolic reflex, and normalizes bowel function and water content from either extreme. This means soluble fiber regulates both over-motility and under-motility of the colon. So, soluble fiber prevents and relieves both diarrhea and constipation. This is true for pure soluble fiber supplements and soluble fiber from foods.

When you read the ingredients on packaged foods they might not specify if the wheat flour used is "white" or "whole", but it's usually pretty easy to tell. For breads, a brief glance will tell you if there is whole wheat in it (you'll see little brown flakes). If the bread is pure white, like French or sourdough, you're safe. For most crackers, pretzels, muffins, etc. only white flour will be used. Exceptions are likely to be noted right on the label as "whole wheat" or "whole grain".

If you're stable, you may be able to tolerate whole wheat in limited quantities, following the insoluble fiber safety rules in Eating for IBS.

Try recipes that call for whole wheat pastry flour, which is so very finely milled that the risk from the insoluble fiber is greatly minimized. Have a small amount of whole wheat bread after eating some white breads. For example, have a white dinner roll and then half a whole wheat dinner roll.

What if you find that you simply can't eat whole wheat at all? Does this mean that you have to eliminate whole grains from your diet completely? Nope - there are a lot of other nutritious and IBS-friendly options. Next time, we'll take a look at them. The answers are easier than you think!

~ Heather

Did you miss our recent "Ask Heather" and IBS hypnotherapy - the possible cure!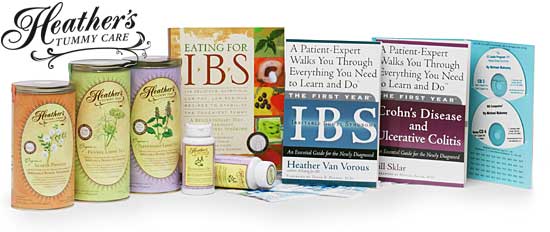 Shop at Heather's Tummy Store for IBS
HelpForIBS.com
The only store that's just for IBS - so we only carry the very best



You're on this newsletter list because you have expressed interest in IBS news and information.


Change your newsletter email address here.

If you are viewing this newsletter on a website and would like to subscribe for email delivery, please "Join the IBS Newsletter" here.

ANTI-SPAM PRIVACY & SECURITY POLICY
HelpForIBS.com
Heather's Tummy Care
80 S. Washington St, #304
Seattle, WA 98104 USA

© 2010 Heather Van Vorous, Heather's Tummy Care. All rights reserved.
USA Copyright Office Registration Number TXU 1-270-858 and others.