Sale! 10% Off Acacia Tummy Fiber & Diet Kit With Acacia! Use Promo Code TUMMYFIBERQ310



Tummy Fiber Is Best For IBS Diarrhea And/Or Constipation!





Scroll down for full newsletter or follow the links:



Ask Heather »
What's the worst beverage for IBS ever?
IBS Recipe »
Easy Summer Potato Salad
Research & Press »
Infuriating Study: Colonoscopies More Painful for IBS Patients
Special Letter »
When IBS Improvements Falter, How to Keep Moving Forward
  
Enjoy the newsletter!
~ Heather Van Vorous


Did a friend send you this newsletter? Sign up here for your own free subscription.

~ Heather's Tummy Fiber ~
For Abdominal Pain, Diarrhea, &, Constipation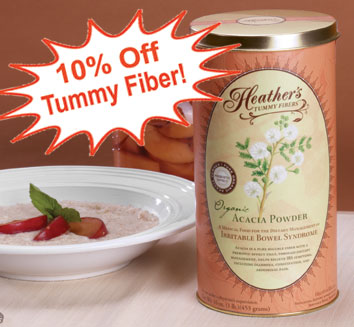 10% Off Acacia Tummy Fiber! Use Promo Code TUMMYFIBERQ310

Certified Organic Acacia Senegal ~ Pure Soluble Fiber

The prebiotic fiber that relieves both diarrhea and constipation!

** Very Economical ** Only 4 cents per gram of fiber!

** 100% Acacia Senegal ** Never Low Grade Acacia Seyal

Easy Summer Potato Salad

Potatoes are a terrific soluble fiber staple (remember, soluble fiber is the key to gut stability), and small red new potatoes lend a lovely creamy texture to this salad. Because their skin is so thin, and they are both cooked and chopped, you can leave these potatoes unpeeled. This will safely add insoluble fiber to the meal.

The tangy sweet-and-sour notes of the dish come from apple cider vinegar with a dash of sugar, and the addition of smoked paprika and celery seed adds festive color plus great flavor.

Traditionally, the delicious smoky flavor in warm potato salad recipes comes from bacon. In my IBS-friendly version, high fat pork - a huge trigger for IBS - is replaced with soy or turkey bacon (and if you've never tried these, you're in for a wonderful surprise). This loses the fat and red meat but keeps the wonderful flavors.

Adding Tummy Fiber is a fast and easy way to give an even better soluble fiber foundation to the dish.

4-6 Servings

8 medium red or white skin potatoes (thin-skinned and waxy, not Russets)
6 oz. Fakin' Bacon (smoked tempeh), or low fat turkey or soy bacon, diced
1/4 cup diced sweet white onion, such as Maui or Walla Walla
2 tbsp olive oil
1/4 cup water
3/4 cup apple cider vinegar
1 1/2 tsp sugar
1/2 tsp salt
1/2 tsp smoked paprika (you can use regular paprika if that's all you have on hand)
1/2 tsp dry mustard
1/2 tsp celery seed
1 tsp Tummy Fiber Acacia
1/4 cup thinly sliced green onions or fresh chives

Boil potatoes till tender, and slice into one inch chunks while hot. Set aside.

While the potatoes are boiling, in a medium non-stick skillet over medium high heat, fry bacon and onion in oil until bacon is crispy and onion is golden. Add all remaining ingredients except Tummy Fiber, green onions and potatoes to skillet and stir well.

Pour skillet mixture over hot potatoes, sprinkle with Tummy Fiber, and fold together gently but well. Top with green onions or chives and serve warm or at room temperature.

The perfect drink with this summer salad is a Lavender Lime Spritzer!

Are you just learning how to eat for IBS? A little intimidated at the thought of special IBS recipes? Not quite sure just what makes these recipes special in the first place? Don't worry! Get Eating for IBS and find the answers to all your questions.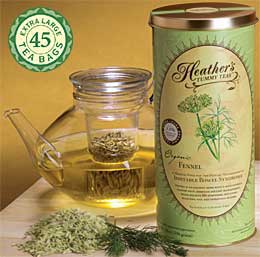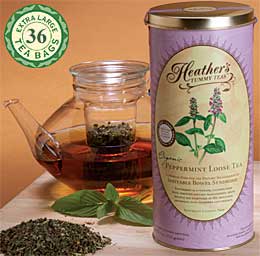 Organic High Volatile Oil Fennel & Peppermint Tummy Tea Bags

Extraordinary Quality ~ Very Economical

Fennel is terrific for bloating & gas, Peppermint is great for IBS pain & spasms.
Heather's Fennel Tummy Tea Heather's Peppermint Tummy Tea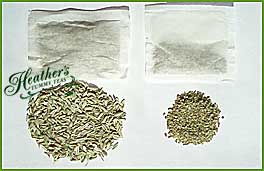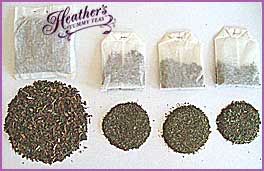 Compare for yourself! The pictures above show the huge difference in the quantity and quality of tea per teabag. The price comparison here is even more shocking!



When IBS Improvements Falter, How to Keep Moving Forward

Hello again, Heather.

I emailed you several months ago to tell you how much help your Tummy Fiber was in stabilizing me.

After several months, however, I had plateaued and was still having up and down days and free-floating anxiety (not necessarily about IBS).

Three weeks ago I went back to your website and decided to try the IBS hypnotherapy program CDs on the premise that even if they only helped a little it would be better than nothing. I've been listening to the CDs for two weeks and am pleasantly surprised that, almost from the first day, I started to sleep better and generally am in a better mood.

I'm looking forward to more good improvement and again thank you for all that you've done for IBS patients!

Robin Stanley
Citrus Heights

Thank you so much, Robin! You definitely will see even more improvements as you continue with the hypnosis program. It is truly wonderful! ~ Heather

Did you miss the recent letter from Martin, who wondered after 50 years of IBS, is it too late to lead a normal life again?

Researchers call gut-directed hypnotherapy a "cure" for IBS!

The Best Gut-Directed Self-Hypnosis Program for All IBS Symptoms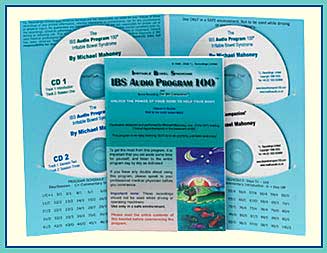 Gives an average 85% reduction of pain and bowel dysfunction symptoms.
Listen to IBS Audio Program 100 samples!

Colonoscopies More Painful for IBS Patients

A recent study in the Journal of Gastroenterology and Hepatology investigated differences in pain perception during colonoscopy between IBS patients and non-IBS patients. The study further assessed the sensitivity, specificity, and predictive values of pain scores in order to diagnose IBS.

A total of 217 patients were included. The pain scores of IBS patients were higher than those of the healthy controls. The study concluded that a colonoscopy can be useful in identifying IBS patients, with the additional benefit of excluding organic disorders of the lower gastrointestinal tract. Go here for full article.

As an aside, I find it horrifying that the conclusion of this study is not a call to physicians to take extra measures to prevent pain during colonoscopies of IBS patients. Instead, the researchers are advocating using the degree of pain patients experience to indicate a diagnosis of IBS. Colonoscopies should not be painful for any patient, whether they have IBS or not. If the patient is in pain during the procedure, then the doctors performing the procedure are doing something wrong. ~ Heather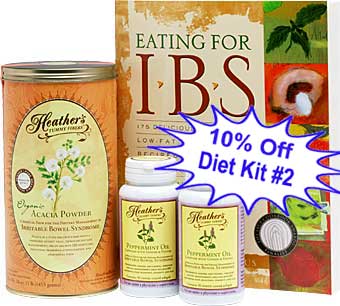 The IBS Diet Kit With Tummy Fiber For Diarrhea AND Constipation!

* Immediate, Tangible Help!
* Take Control Of Your IBS Symptoms Through Diet
* For Diarrhea, Constipation, Bloating, & Pain



Worst Drink for IBS Ever!

After our recent and very popular column about what's safe to drink for IBS, I received a lot of letters from folks asking what's NOT safe.

The short answer is, unfortunately, quite a few things - enough for two separate Ask Heather columns, actually. (If you missed part one, check here.)

Just knowing potential triggers is half the battle, so here's a rundown on what drinks you should really avoid altogether - especially since there is such a wealth of delicious, safe alternatives. There may be some individual exceptions to the drinks on this list, and I've tried to include those in as much detail as possible.

* Alcohol - it's a GI irritant and a colon carcinogen as well, so it's especially important to avoid altogether if you have an inflammatory bowel disease. Alcohol is more likely to trigger IBS attacks on an empty stomach, so some folks can drink a bit when they're generally stable and have just eaten. If you do drink, please choose wisely, and avoid adding other GI triggers to the equation (so no mixed drinks with dairy, coffee, high fat coconut milk, or carbonation). Some folks find wines more tolerable than hard liquor, and white wines more tolerable than red.

* Black Tea - mostly if you're prone to upper GI problems like heartburn or reflux. Acidic foods, such as the tannic acid in black teas, can trigger or exacerbate acid reflux. Green teas, especially decaffeinated versions, are often much more tolerable. Green tea is also phenomenally good for your overall health, so if you can tolerate the decaf variety, particularly blended with an IBS-helpful tea like fennel or peppermint, it's well worth drinking.

* Energy Drinks - what happens if you take everything awful for IBS that's in soda pop, then add extra artificial ingredients, caffeine, and other GI stimulants? You'll get the most terrible beverage for IBS ever invented. The only way to make it worse would be to add some hard liquor and smoke a few cigarettes along with it. I'm actually getting queasy just thinking about this...

* Meal Replacement Drinks - while these logically should be designed for optimum GI tolerability, they're not. I've yet to see a brand that doesn't contain dairy, added dairy proteins like whey, a high fat content, fructose, artificial flavors, artificial colors, caffeine, or all of these triggers combined. You're much better off making your own fresh fruit smoothie with soy milk or rice milk, and adding some Tummy Fiber to the blender.

* Diet, Slimming, or Detox Teas - usually these words are code for "harsh stimulant laxative", such as senna or cascara, or harsh diuretics. You have to read the labels to be sure, so be very careful you know exactly what you're dealing with here.

Feeling discouraged? Don't be! There are many delicious and safe beverage options for IBS, so don't focus on deprivation when you have a wonderful (and long) list of IBS-friendly drinks.

~ Heather

Did you miss our recent "Ask Heather" and What's NOT Safe to Drink for IBS?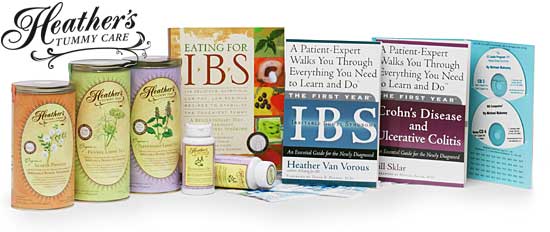 Shop at Heather's Tummy Store for IBS
HelpForIBS.com
The only store that's just for IBS - so we only carry the very best



You're on this newsletter list because you have expressed interest in IBS news and information.


Change your newsletter email address here.

If you are viewing this newsletter on a website and would like to subscribe for email delivery, please "Join the IBS Newsletter" here.

ANTI-SPAM PRIVACY & SECURITY POLICY
HelpForIBS.com
Heather's Tummy Care
80 S. Washington St, #304
Seattle, WA 98104 USA

© 2010 Heather Van Vorous, Heather's Tummy Care. All rights reserved.
USA Copyright Office Registration Number TXU 1-270-858 and others.