Sale! 10% Off Peppermint Caps & Tea! Use Promo Code PEPMINTQ210


Peppermint Is Best For IBS Pain, Spasms, & Cramps

Use Mint Caps to Prevent IBS Pain ~ Use Mint Tea for Immediate Relief!





June 2, 2010 ~ Scroll down for full newsletter or follow the links:



Twitter

Ask Heather »
What's Safe to Drink for IBS?
IBS Recipe »
Mango Passion Probiotic Smoothie
Research & Press »
Patients with IBS are NOT more prone to polyps or colon cancer
Special Letter »
Diarrhea & Constipation Were Getting Worse - Now No Problem!
  
Enjoy this week's newsletter!
~ Heather Van Vorous


Did a friend send you this newsletter? Sign up here for your own free subscription.

10% Off Peppermint Caps And Teas! Use Promo Code PEPMINTQ210

Heather's Tummy Tamers Peppermint Oil Capsules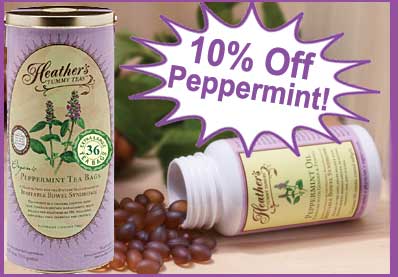 Peppermint Oil Caps Called "Drug of Choice for IBS"

Our Peppermint Oil Caps have the added benefits of fennel and ginger oils, and they help prevent abdominal pain, plus gas and bloating!

Mango Passion Probiotic Smoothie

I developed this very IBS-friendly smoothie as an easy, delicious way for folks to get prebiotics, probiotics, and soluble fiber all at once. This is a wonderfully exotic sweet-tart smoothie that's good for breakfast, a snack, and even dessert!

Makes 2 Servings (easily doubled)

1/4 cup vanilla soy or rice yogurt with live cultures
2 teaspoons Acacia Tummy Fiber
1 teaspoon honey
5 tablespoons passion fruit juice, squeezed from about 8 passion fruits
2 cups diced, peeled mangoes (Champagne variety if available)

Stir together the yogurt and Tummy Fiber. Add to all other ingredients in a blender or food processor and puree until very smooth. Serve immediately.

This smoothie is wonderful for lunch with a Smoked Salmon Sandwich with Herbed Cucumbers!

Are you just learning how to eat for IBS? A little intimidated at the thought of special IBS recipes? Not quite sure just what makes these recipes special in the first place? Don't worry! Get Eating for IBS and find the answers to all your questions.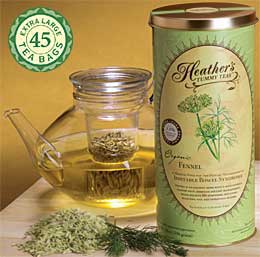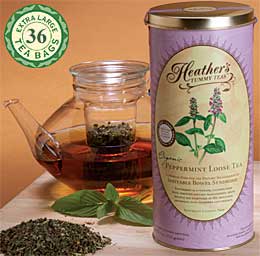 Organic High Volatile Oil Fennel & Peppermint Tummy Tea Bags

Extraordinary Quality ~ Very Economical

Fennel is terrific for bloating & gas, Peppermint is great for IBS pain & spasms.
Heather's Fennel Tummy Tea Heather's Peppermint Tummy Tea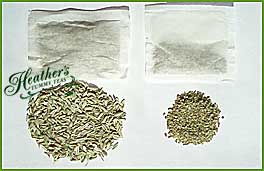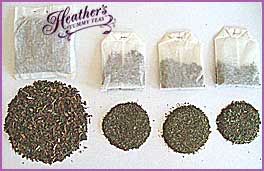 Compare for yourself! The pictures above show the huge difference in the quantity and quality of tea per teabag. The price comparison here is even more shocking!



Diarrhea & Constipation Were Getting Worse - Now No Problem!

Dear Heather,

I just wanted to say that your Tummy Fiber was a God-send for me. I had been having trouble with either diarrhea or constipation and it was getting worse. It started out as an annoyance, but got to where I never knew when I would get diarrhea. Then, of course, I'd get constipation, after taking medication for the diarrhea.

It was getting really bad! So, I went online and found your website (after praying about it). I have had NO problems since I have been taking Tummy Fiber. It is a MIRACLE for me and I really want to thank you!

I would be honored to have you use my email. I'm just SO glad I found your website. Thank you Lord and thank you Heather!

Thanks again and God bless!

Marie Robinson
Elgin, IL

Thank you so much, Marie! I am so happy to hear this! ~ Heather

Did you miss the recent letter from Ryan, and why he's impressed beyond words??



~ Heather's Tummy Fiber ~

For IBS Diarrhea AND Constipation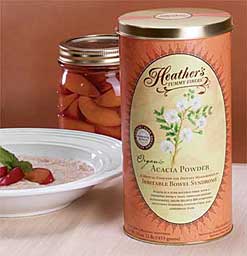 Certified Organic Acacia Senegal ~ Pure Soluble Fiber

The prebiotic fiber that relieves both diarrhea and constipation!

** Very Economical ** Only 4 cents per gram of fiber!

** 100% Acacia Senegal ** Never Low Grade Acacia Seyal

Patients With IBS Are NOT More Prone to Polyps or Colon Cancer

According to new research in the American Journal of Gastroenterology, patients with irritable bowel syndrome are at no greater risk of having polyps, colon cancer or inflammatory bowel diseases than healthy people undergoing colonoscopies.

"Patients and doctors get nervous about the symptoms of irritable bowel syndrome (IBS)," says William D. Chey, M.D., professor of Internal Medicine at the University of Michigan Medical School. "They think the symptoms represent something more sinister."

"This study should reassure doctors and patients that typical IBS symptoms are not indicators of a more serious disease," he adds.

Chey was the lead author on the study, the largest prospective evaluation of the results of colonoscopies in patients with irritable bowel syndrome. Go here for full information about managing IBS.

Go here for full article.



Researchers call gut-directed hypnotherapy a "cure" for IBS!

The Best Gut-Directed Self-Hypnosis Program for All IBS Symptoms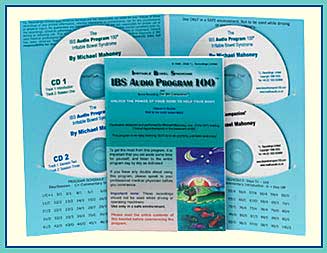 Gives an average 85% reduction of pain and bowel dysfunction symptoms.
Listen to IBS Audio Program 100 samples!

Safe Drinks for Irritable Bowel Syndrome
"Is there anything I can I drink besides plain water that's safe for IBS?"

I get asked this question all the time, and I love it, because I can give such a wonderful answer.

Yes! There are many, many drinks besides water that are safe for IBS, and some are downright helpful for preventing and/or relieving IBS symptoms like abdominal pain, bloating, and gas.

Herbal teas, fruit smoothies, soy coffees, Indian chais, flavored rice and soy drinks, even hot chocolate - there's quite a long list, so you have a lot of delicious options.

What matters most is that you avoid beverage triggers (dairy, caffeine, coffee, tannic acid, carbonation, alcohol, high fat content, artificial sweeteners). After that, you can focus on adding IBS aids (soluble fiber, beneficial herbs) to safe beverages. At worst you'll be drinking something that simply won't harm your IBS, and at best you can enjoy drinks that actively help.

Where to start? Well, for beverages that will directly address IBS symptoms, try:

Peppermint tea for abdominal pain, spasms, or cramps. Make sure the tea is organic, large leaf, and high volatile oil, as the stronger it is the more effective it will be. Medicinal strength is best.

Fennel tea for bloating and gas. As with peppermint, fennel tea should be high volatile oil, organic, and made with whole fennel seeds (not ground) for maximum medicinal strength.

Ginger tea for nausea (you can also brew a chunk of fresh gingerroot in freshly boiled water).

Chamomile tea for relaxing the gut and nervous system.

You can also use herbs and spices in naturally caffeine-free drinks such as my Sweet Ginger Chai Tea recipe. Don't want to bother making your own chai? Look for decaf versions ready-made in the tea/coffee aisle of grocery stores (Pacific and Oregon brands are both tasty).

If you're looking for a more filling drink, blend up a fresh fruit smoothie. Blending mechanically breaks down the insoluble fiber in fruit, making it much more tolerable for IBS. For an all-around digestive aid plus a soluble fiber foundation, try a blend of probiotics and prebiotics in your smoothie, such as the delicious Mango Passion Smoothie recipe above.

Many rice, soy, and almond milks, especially vanilla flavored, make great drinks in their own right. Chocolate soy milk makes a terrific hot chocolate - just heat and serve. For a frosty dessert treat, blend chocolate soy/rice milk with chocolate soy/rice ice cream.

Decaffeinated green teas are tolerable for many people with IBS - just watch out if you're prone to heartburn or reflux, as the tannic acid in teas can sometimes aggravate that.

Soy or herbal coffees, which are available in many different brands, are not only safe for IBS but delicious, especially brewed with a little soy or rice milk for extra creaminess. There are wonderful flavors like mocha and hazelnut available, so feel free to experiment and find your own favorite!

~ Heather

Coming next, what NOT to drink for IBS!

Did you miss our recent "Ask Heather" and Irritable Bladder vs. IBS!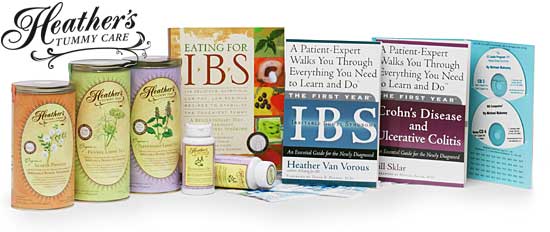 Shop at Heather's Tummy Store for IBS
HelpForIBS.com
The only store that's just for IBS - so we only carry the very best



You're on this newsletter list because you have expressed interest in IBS news and information.


Change your newsletter email address here.

If you are viewing this newsletter on a website and would like to subscribe for email delivery, please "Join the IBS Newsletter" here.

ANTI-SPAM PRIVACY & SECURITY POLICY
HelpForIBS.com
Heather's Tummy Care
80 S. Washington St, #304
Seattle, WA 98104 USA

© 2010 Heather Van Vorous, Heather's Tummy Care. All rights reserved.
USA Copyright Office Registration Number TXU 1-270-858 and others.