Sale! 10% Off Acacia Tummy Fiber & Diet Kit With Acacia! Use Promo Code TUMMYFIBER10



Tummy Fiber Is Best For IBS Diarrhea And/Or Constipation!





(Scroll down for full newsletter or follow the links):



Ask Heather »
How to Get Extra Soluble Fiber In Meals When Cooking?
IBS Recipe »
Easy Mushroom Sherry Chicken With Noodles
Research & Press »
Between Celiac Disease and IBS: Gluten Sensitivity?
» Can Fiber Keep You Skinny?
Special Events »
See March Store Sales, New Stores And Tummy Care Events!
Special Letter »
No More Imodium!
  
Enjoy this week's newsletter!
~ Heather Van Vorous



Did a friend send you this newsletter? Sign up here for your own free subscription.

~ Heather's Tummy Fiber ~
For Abdominal Pain, Diarrhea, &, Constipation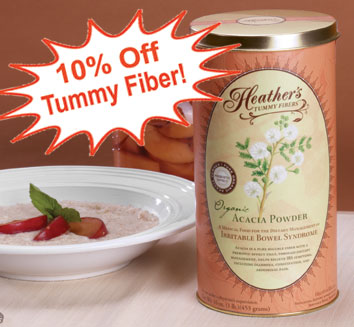 10% Off Acacia Tummy Fiber! Use Promo Code TUMMYFIBER10

Certified Organic Acacia Senegal ~ Pure Soluble Fiber

The prebiotic fiber that relieves both diarrhea and constipation!

** Very Economical ** Only 4 cents per gram of fiber!

** 100% Acacia Senegal ** Never Low Grade Acacia Seyal

Easy Mushroom Sherry Chicken With Noodles

This is a very traditional recipe that makes a tempting, filling dinner. It's a great example of how a low-fat, trigger-free meal can be deliciously hearty and IBS-friendly. It's been a favorite of mine since childhood, plus it's super fast and simple to make!

Serves 3-4

4 boneless, skinless organic chicken breasts
8 oz. fresh mushrooms (button or assorted wild), thinly sliced
1/4 cup finely chopped onion
2 cloves garlic, minced
2 t Tummy Fiber
2 T Sherry, or Marsala wine, or cooking wine
1/4 t salt
1/2 t rosemary, crushed
cooked noodles for serving

Spray a large nonstick skillet with cooking oil. Heat over medium high heat for 1 minute. Add chicken breasts and cook for 5 minutes, turn pieces over and cook for 4-5 minutes, or until beginning to brown on outside and no longer pink in center. Remove chicken and juices from pan and set aside.

Add mushrooms, onion, garlic, Tummy Fiber, and Sherry to pan. Cook, stirring gently, for several minutes, until veggies are tender. Add chicken and its juices. Cook for 5 minutes or until mushrooms just begin to brown slightly. Add salt and rosemary.

Serve chicken and sauce over noodles.

The perfect drink with this dinner is a hot cup of Fennel Tummy Tea!

Are you just learning how to eat for IBS? A little intimidated at the thought of special IBS recipes? Not quite sure just what makes these recipes special in the first place? Don't worry! Get Eating for IBS and find the answers to all your questions.

~ Heather's Tummy Tamers Peppermint Oil Capsules ~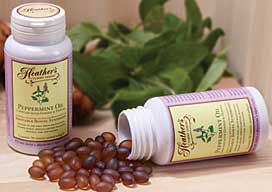 Peppermint Oil Caps Called "Drug of Choice for IBS"

Our Peppermint Oil Caps have the added benefits of fennel and ginger oils, and they help prevent abdominal pain, gas, and bloating!

No More Imodium!

Dear Heather,

My name is Erin Moreno and I am writing to thank you for making such an incredible product. I LOVE your Tummy Fiber and can't imagine life with out it. I love it so much that I have recommended it to several friends and even give it to my son, who also suffers from IBS.

I truly cannot imagine my life without your Tummy Fiber. It has turned my life around. Before I discovered this I was eating Imodium like candy just to survive. Now, thanks to you, I am living! I am so very grateful to you to be able to say I have not taken any Imodium since I began taking your product almost 8 months ago. I will never go back to such an unhealthy method of "control" again. Thanks to you, I am finally free!

Please know how important your products are, how many lives they have changed and how much you are appreciated. Feel free to use my thoughts and comments to support your wonderful Tummy Fiber.

That is just my two cents, thank you for listening. I really appreciate your product, thank you for making me and my loved ones happier.

With many thanks,
Erin Moreno

P.S. I have given a flier to my local Whole Foods and requested that they carry the Tummy Fiber!

Thank you so much, Erin! I am so thrilled you are doing better! ~ Heather

Did you miss the recent letter from Karin, who is symptom-free and 10 lbs lighter?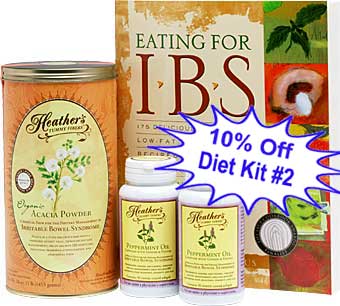 The IBS Diet Kit With Tummy Fiber For Diarrhea AND Constipation!

* Immediate, Tangible Help!
* Take Control Of Your IBS Symptoms Through Diet
* For Diarrhea, Constipation, Bloating, & Pain



Between Celiac Disease and IBS: Gluten Sensitivity?

A recent review in American Journal of Gastroenterology noted that with Irritable Bowel Syndrome (IBS) as well as other GI disorders the repertoire of gastrointestinal (GI) symptoms is finite; however, the etiologies and mechanisms underlying symptom generation and perception are diverse and, in many cases, unknown.

This review examines the clinical and experimental evidence exploring the putative relationship between Gluten Sensitivity (GS) and the generation of GI symptoms. It explores the hypothesis that Gluten Sensitivity and post-infectious IBS provide two triggers that can explain at least part of the spectrum that constitutes IBS, further advancing an understanding of the role of mucosal responses to luminal factors in functional bowel disorders. Go here for information about celiac vs. IBS.

Go here for full abstract.

Can Fiber Keep You Skinny?

A recent study in the American Journal of Clinical Nutrition found that dietary fiber may help prevent gain in body weight and waist circumference.

"Dietary fiber may play a role in obesity prevention," write Huaidong Du, from the National Institute for Public Health and the Environment in Bilthoven, the Netherlands, and colleagues. "Until now, the role that fiber from different sources plays in weight change had rarely been studied."

"Our finding may support a beneficial role of higher intake of dietary fiber, especially cereal fiber, in prevention of body-weight and waist circumference gain," the study authors write. Go here for full information about fiber and IBS.

Go here for full study.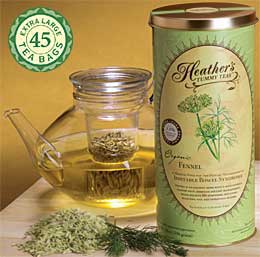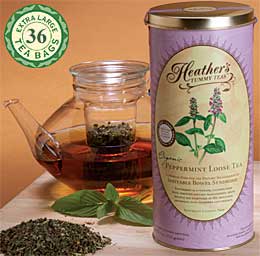 Organic High Volatile Oil Fennel & Peppermint Tummy Tea Bags

Extraordinary Quality ~ Very Economical

Fennel is terrific for bloating & gas, Peppermint is great for IBS pain & spasms.
Heather's Fennel Tummy Tea Heather's Peppermint Tummy Tea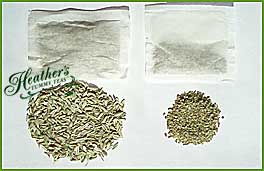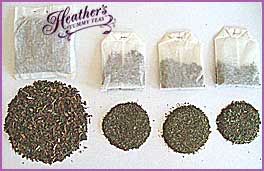 Compare for yourself! The pictures above show the huge difference in the quantity and quality of tea per teabag. The price comparison here is even more shocking!



Get Extra Soluble Fiber In Your Meals - Cook With Tummy Fiber!

Once you know that soluble fiber is the single greatest dietary aid for preventing IBS symptoms in the first place, as well as relieving them once they occur, you have a great motivation for basing your meals and snacks on soluble fiber foods.

But is there a fast and easy way to get extra soluble fiber every time you eat? What if your favorite recipe has some soluble fiber, but not as much as you'd like for an IBS safety margin?

The easiest way I know to boost the soluble fiber level of everything you eat is to simply cook with Tummy Fiber. It's a simple, foolproof way to increase soluble fiber in all of your IBS cooking and therefore in your gut. I've been adding Tummy Fiber to every recipe I cook for years now, and have had only successful results.

Tummy Fiber is certified organic, 100% pure soluble fiber. It's tasteless, odorless, and colorless, and it will not thicken or gel liquids. It's virtually undetectable in soups, breads, pastas, sauces, dips, desserts, and more. It's impervious to temperature changes, so it can be boiled or frozen without losing any effectiveness as a soluble fiber.

Don't be afraid, it really is easy to get extra soluble fiber in anything and everything you want to cook. Just follow the general guidelines below to add Tummy Fiber to all your own recipes.

Sauces, Soups, Dips, & Stew Recipes With Tummy Fiber:

Add 1 level teaspoon of Tummy Fiber for every serving the recipe makes.

This may be about 3-4 level tablespoons of Tummy Fiber for a large pot of soup or stew. Here's a foolproof method of incorporating Tummy Fiber into any soup or sauce recipe without lumps or bumps:

Add the Tummy Fiber to a small cup or bowl first, and then whisk in about 1/2 cup of room temperature liquid. Set the mixture aside for a few minutes, then re-whisk, and you'll have a perfectly smooth liquid you can add to your soup or sauce pot. Tummy Fiber does not change when it's heated or cooled, so you can safely bring it to a boil in soup or other liquids, or chill it and re-heat later, without any problems at all.

Recipe to try: World's Best Guacamole!

Breads & Baking With Tummy Fiber:

For every 2 cups of flour add 1 level teaspoon to 1 level tablespoon of Tummy Fiber.

Tummy Fiber is often used in smaller amounts for bread and cake recipes than in recipes for foods such as soups and custards. Tummy Fiber does have an effect on doughs, but the good news is that many of these effects are so desirable that commercial bakers use Tummy Fiber just for these benefits.

In baking, Tummy Fiber is a moisture stabilizer, a shelf-life extender, a mold inhibitor, and a dough conditioner. It can improve the texture and mouthfeel of products by holding a small additional amount of moisture in the products, and it can really improve products that go through a freeze/thaw or freeze/cook process. Tummy Fiber is low-viscosity and does not gel or swell, so it doesn't affect the flow of the batter or dough. Tummy Fiber is impervious to the heat of an oven, as it's a very stable molecule which is almost impossible to breakdown.

With all of these baking benefits, plus the fact that it's an organic, all-natural source of pure soluble dietary fiber, you can see why Tummy Fiber is often used by commercial bakers. You'll get all the same benefits when baking with Tummy Fiber at home, and you'll help make sure your recipes are IBS friendly as well.

The rule of thumb when using Tummy Fiber in baking recipes is to add a percentage that's based upon the amount of dry ingredients. You can add anywhere from 0.5% to 2% Tummy Fiber relative to the dry ingredients. In practical terms, this means that for a bread or cake recipe with 2 cups of flour you can add 1 level teaspoon to 1 level tablespoon of Tummy Fiber. If you add too much Tummy Fiber when baking your recipe can turn out gummy, so measure carefully (always a good idea when baking, regardless).

I've had great luck adding one tablespoon of Tummy Fiber to the dry ingredients for bread and cake recipes that make one 9 x 5" loaf. This is an effortless way to add more soluble fiber to all your baked goods recipes. It helps increase the moistness and richness of quick bread recipes such as banana, zucchini, or pumpkin, and it works wonders for making brownie recipes extra-fudgy.

Recipe to try: Maple Oat Bread!

Dessert Recipes With Tummy Fiber:

Use about 1 level teaspoon of Tummy Fiber for every serving the recipe makes.

Simply whisk the Tummy Fiber into the dry ingredients of any dessert recipe, and continue from there. That's all there is to it. You can add Tummy Fiber to any pudding, custard, tart, brownie, bar cookie, or pie filling. (I'm not sure extra soluble fiber qualifies a dessert as healthy, but it sure won't hurt!)

Recipe to try: Peppermint Fudge Cake!

General Cooking With Tummy Fiber:

Use about 1 level teaspoon of Tummy Fiber for every serving of prepared food.

If you don't want to bother with measuring Tummy Fiber and cooking from recipes, that's no problem. Just sprinkle Tummy Fiber into any moist prepared food and it will disappear. This works beautifully for everything from tuna fish sandwiches to pasta dishes, from hot cereals to casseroles. There's no easier way to get the extra soluble fiber you need to keep your IBS stable.

Recipe to try: Easy Mushroom Sherry Chicken With Noodles!

~ Heather

Did you miss our recent "Ask Heather" and Snacks For IBS?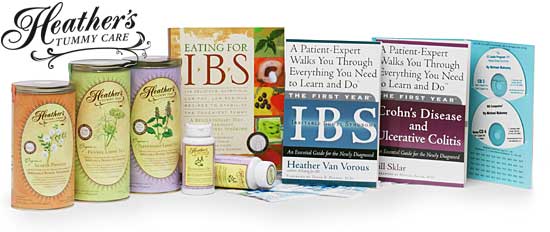 Shop at Heather's Tummy Store for IBS
HelpForIBS.com
The only store that's just for IBS - so we only carry the very best



You're on this newsletter list because you have expressed interest in IBS news and information.


Change your newsletter email address here.

If you are viewing this newsletter on a website and would like to subscribe for email delivery, please "Join the IBS Newsletter" here.

ANTI-SPAM PRIVACY & SECURITY POLICY
HelpForIBS.com
Heather's Tummy Care
80 S. Washington St, #304
Seattle, WA 98104 USA

© 2010 Heather Van Vorous, Heather's Tummy Care. All rights reserved.
USA Copyright Office Registration Number TXU 1-270-858 and others.