Sale! Plus Hypnotherapy Special Series! (Scroll down for full newsletter)

Hello to everyone -

For a very short time, we have the IBS Audio Program on sale for $79.95 (a $10 savings from the normal price of $89.95).

Plus, our fantastic IBS Stress Kit, which includes the IBS Audio Program, is on sale for 20% off the suggested retail price (a savings of over $25)!

What's most remarkable to me is that researchers are labeling gut-directed hypnotherapy "a cure" for IBS, and they are calling for its widespread use among patients. In fact, I've lined up an amazing overview of the clinical studies that show just how successfully hypnosis treats IBS.

In the end, what I find most impressive is that hypnotherapy works in ways that are both dramatic and far-reaching: it helps all IBS symptoms, it works for children and adults, it helps mild and extremely severe cases, and it works for those who are newly diagnosed or have been struggling for years. Frankly, it just plain works - find out for yourself!

Best Wishes,
Heather Van Vorous

Did a friend send you this newsletter? Sign up here for your own free subscription.

Researchers call gut-directed hypnotherapy a "cure" for IBS!

The Best Gut-Directed Self-Hypnosis Program for All IBS Symptoms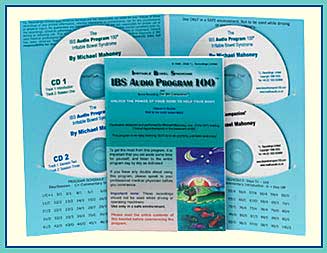 Gives an average 85% reduction of pain and bowel dysfunction symptoms.
Listen to IBS Audio Program 100 samples!

Home Delivered Barbecue Chicken Pizza

This is a very popular pizzeria choice, easily made IBS-friendly. The dough provides a great soluble fiber foundation, as does the Tummy Fiber added to the sauce. The sauce itself is low fat, and so rich and zesty you don't even need cheese. If you've been avoiding pizza to keep your digestion stable, this recipe will be a welcome treat!

Makes Two 16" pizzas, 8 slices per pizza

Pizza Dough (can also use fresh deli pizza dough):
1 1/2 cup warm water (105-115 F)
1 tablespoon active dry yeast
4 cups all-purpose unbleached white flour
2 teaspoons salt

In a small bowl stir together water and yeast until yeast dissolves. In a large bowl whisk together flour and salt and add yeast liquid, stirring with a wooden spoon until a soft dough forms. Knead dough until smooth and elastic, about 10 minutes, on a lightly floured surface.

Spray a large bowl lightly with cooking oil and transfer dough to bowl. Cover with plastic wrap and a kitchen towel, and let dough rise in a warm, draft-free place until doubled in bulk, about 1 1/2 hours.

Punch down dough and cut into two pieces, then form each piece into a ball. Put each ball of dough into a separate, lightly oiled large bowl and cover each bowl with a kitchen towel. Place bowls in a warm draft-free place, and let dough rise until again doubled in bulk, about 1 hour.

Roll out each ball of dough separately into a 16" circle and transfer dough to pizza pans or stones.

Topping:
2/3 cup Smoky Sweet Barbecue Sauce below (or a low fat bottled sauce)
1 cup cooked shredded skinless organic chicken white meat
1/4 cup finely diced scallions (green onions)
1/4 cup finely sliced fresh cilantro

Smoky Sweet Barbecue Sauce:
2 tablespoons Tummy Fiber
12-14 oz. ketchup
1/2 cup white vinegar
1/4 cup honey
1/2 - 1 teaspoon ground chipotle, to taste
1/8 teaspoon salt

Combine all ingredients in a small saucepan and whisk together, then simmer stirring frequently until reduced, about 15-20 minutes. Makes about 1 1/2 cups sauce.

Preheat oven to 450 F. Brush dough very lightly with olive oil. Bake untopped dough for 5-7 minutes or until it is dry but not browning. Remove from oven, spread evenly with barbecue sauce and sprinkle with chicken and scallions. Bake for another 5-7 minutes or until edges are crispy and lightly browned. Top with cilantro and serve.

For dessert try a slice of Rosemary Lemonade Pound Cake!

Are you just learning how to eat for IBS? A little intimidated at the thought of special IBS recipes? Not quite sure just what makes these recipes special in the first place? Don't worry! Get Eating for IBS, and find the answers to all your questions.

~ Heather's Tummy Fiber ~
For the Dietary Management of Abdominal Pain, Diarrhea, &, Constipation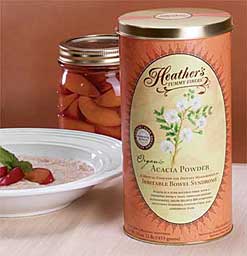 Certified Organic Acacia Senegal ~ Pure Soluble Fiber

The prebiotic fiber that relieves both diarrhea and constipation!

** Very Economical ** Only 5 cents per gram of fiber!

** 100% Acacia Senegal ** Never Low Grade Acacia Seyal

Not One Attack Since Completing This Treatment!

Hello -

Four months have gone by since I have ordered and completed Michael Mahoney's IBS Hypnotherapy CDs, and I have not had an attack since!

I am thrilled and sometimes still cannot believe this wonderful success. I really miss the relaxation of listening to the CDs, and so after researching found that Michael has other CDs for various situations and am eagerly awaiting my newly ordered CD set.

I cannot recommend the IBS set enough. Thank you, Michael!!

Patricia R.
Georgia

Thank you so much for your letter, Patricia. Michael's program is wonderful, and you're not alone in finding that it can dramatically decrease and outright prevent IBS attacks. ~ Heather

Did you miss the recent letter from Sarah, who asks (and answers!) if Zelnorm and laxatives don't work, what does??

Researchers call gut-directed hypnotherapy a "cure" for IBS!

The Best Gut-Directed Self-Hypnosis Program for All IBS Symptoms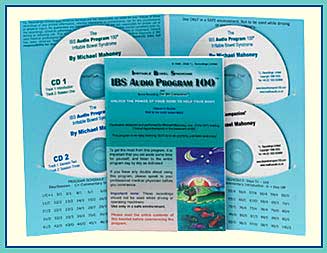 Gives an average 85% reduction of pain and bowel dysfunction symptoms.
Listen to IBS Audio Program 100 samples!


New Stores and Special Events with Heather's Tummy Care Products

We're continuing our special rebate offer for people who buy Tummy Care products at their local stores, and we have new store announcements as well. Plus, there are a number of store special events and sales!

New Stores, Store Sales, and Store Events!

Florida

Chamberlin's Market (Altamonte)
Winn Dixie Plaza
1086 Montgomery Rd
Altamonte Springs, FL 32714
(407) 774-8866

Chamberlin's Market (Market Place)
The Market Place
7600 Dr. Phillips Blvd Ste 88
Orlando, FL 32819
(407) 352-2130

Chamberlin's Market (Oviedo)
Oviedo Market Place- Super Store
1170 Oviedo Market Place Blvd Ste 1000
Oviedo, FL 32765
(407) 359-7028

Chamberlin's Market (Lakeland)
Grove Park Shopping Center
1531 US Hwy 98 South
Lakeland, FL 33801
(863) 687-8413

Chamberlin's Market (Kissimmee)
Albertsons/Town Corral Center
1114 N. John Young Parkway
Kissimmee, FL 34741
(407) 846-7454

Washington

Fresh Vitamins ~ Featuring Tummy Care products at their open house celebration on Oct 24th, with free samples, gift bags, and signed books!
2600 SW Barton St
Seattle, WA 98126
(800) 216-1412 x4012

Nature's Pantry ~ Featuring Tummy Care products at their 38th anniversary event Oct 22-25. We'll be there offering demos, free samples, diet Q and As, and more from 11am-2pm on Thursday Oct 22nd. Come join us!
10201 NE 10th St
Bellevue WA 98004
(425) 454-0170

CANADA

Norfolk Holistic Foods ~ Now offering Tummy Care phone/mail order shipments anywhere within Canada!
17 Peel St
Simcoe, ON N3Y 1S1
Canada
519-426-9309

If you don't have a store in your area carrying Heather's Tummy Care products yet, please give them this flyer to ask them.



~ Heather's Tummy Tamers Peppermint Oil Capsules ~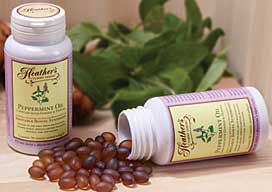 Peppermint Oil Caps Called "Drug of Choice for IBS"

Our Peppermint Oil Caps have the added benefits of fennel and ginger oils, and they help prevent abdominal pain, gas, and bloating!

Hypnotherapy For IBS - Yes, It Works

While I'm always trying to feature personal feedback from people with IBS who have tried hypnotherapy, it's also nice to see the hard science behind this treatment. So, I've compiled the most significant recent articles and reviews on hypnotherapy for IBS below. These clinical trials are drawn from Gut, Lancet, Gastroenterology, and other internationally respected medical journals. The study results are consistent and overwhelmingly positive. For in-depth information about self-hypnosis for IBS, see the IBS Audio Program. ~ Heather

Gastroenterologists Call for Wide Use of Hypnotherapy in IBS
Leading gastroenterologists are calling for hypnotherapy to be used more widely in treating irritable bowel syndrome. Researchers at King's College London note that in one study at Withington Hospital, 12 weeks of hypnotherapy helped 71 percent of patients ease their IBS symptoms for five years after the treatment.

Irritable Bowel Syndrome Audio Program Celebrates Over 10 Years of Success
Called by some "the best kept secret in gastroenterology", the IBS Audio Program 100 developed by Michael Mahoney, Clinical Hypnotherapist at Guardian Medical Centre in Cheshire, England, is now used by IBS sufferers in 41 countries. The IBS Audio Program was developed specifically to manage both the physical and the emotional aspects of IBS. Hypnotherapy has now been listed as a treatment option for IBS in the UK's National Institute for Health and Clinical Excellence (NICE) guidelines.

Hypnotherapy Relieves More Than Just IBS Symptoms
Int J Clin Exp Hypn. 2009 Jul;57(3):279-92. This study noted that people with functional gastrointestinal disorders such as irritable bowel syndrome and dyspepsia suffer from a range of severe symptoms that often substantially erode their quality of life. These conditions are notoriously difficult to treat, with many patients failing to improve despite being prescribed a wide variety of conventional medications.

As a consequence, the potential benefits of hypnotherapy have been explored with evidence that this approach not only relieves symptoms but also appears to restore many of the psychological and physiological abnormalities associated with these conditions.

Hypnotherapy Called a Cure for Pediatric Irritable Bowel Syndrome.
2007 Digestive Disease Week Conference, Presentation title: Functional Gastrointestinal Disorders: Psychosocial and Psychotherapy. Abstract 914. Gut-directed hypnotherapy has been shown to be highly effective in the treatment of adult patients with IBS. This study evaluated the treatment approach in a pediatric population.

53 children between the ages of 8 and 18 years who had been diagnosed with IBS or Functional Abdominal Pain were randomized to standard therapy or to 6 hypnotherapy sessions of 30 minutes over a 3-month period. The endpoints of the study were pain intensity, pain frequency, nausea, headache and appetite. The investigators defined a cure as a greater than 80% improvement in pain.

After 1 year, the cure rate reached 85% for hypnotherapy-treated subjects and 25% for those receiving conventional therapy. The authors concluded, "Gut-directed hypnotherapy is highly superior to conventional therapy in the treatment of children with longstanding FAP or IBS."

Effect of gut-directed hypnotherapy upon quality of life in IBS patients. J Clin Nurs. 2006 Jun;15(6):678-84. This study quantified health-related quality of life in a group of 75 irritable bowel syndrome patients and measured changes following a treatment program of nurse-led gut-directed hypnotherapy. It is well recognized that health-related quality of life can be severely impaired in patients suffering from the irritable bowel syndrome. Current conventional treatment for irritable bowel syndrome is often unsatisfactory. This study followed 75 patients and determined that gut-directed hypnotherapy has a very positive impact on health-related quality of life with improvements in psychological well-being and physical symptoms. It appears most effective in patients with abdominal pain and distension.

A 27-Sep-2005 press release featured Peter Whorwell, Professor of Medicine and Gastroenterology in the University's Medical School and Director of the South Manchester Functional Bowel Service, who has been researching the use of gut-directed hypnosis for over 20 years. Most recently, two hundred and fifty patients who have suffered from IBS for over two years were given twelve one-hour sessions, during which they were given an explanation of how the gut works and what causes their symptoms. "IBS is ideal for treatment with hypnosis, as there is no structural damage to the body," explained Professor Whorwell. "During the hypnotherapy, sufferers learn how to influence and gain control of their gut function, and then seem to be able to change the way the brain modulates their gut activity."

Former patient Sonia Pinnock said, "I suffered from IBS and was on medication for nearly 20 years, but could get little relief from my symptoms. Since visiting the clinic for 12 hypnotherapy sessions last year however they've disappeared completely - the difference it's made to my quality of life is indescribable."

Another happy patient Christine Walsh continued, "After my hysterectomy I suffered from IBS for about five years, and it totally ruined my quality of life. I couldn't plan holidays or leisure activities and at work I was often doubled-up in pain. But since having weekly hypnotherapy sessions for three months I've now been free from IBS for five and a half years - the treatment has totally changed my life."

Hypnotherapy Benefits Last at Least Five Years. Gut. 2003 Nov;52(11):1623-9.
204 patients prospectively completed questionnaires scoring symptoms, quality of life, anxiety, and depression before, immediately after, and up to six years following hypnotherapy. All subjects also subjectively assessed the effects of hypnotherapy retrospectively. 71% of patients initially responded to therapy. Of these, 81% maintained their improvement over time while the majority of the remaining 19% claimed that deterioration of symptoms had only been slight. With respect to symptom scores, all items at follow up were significantly improved on pre-hypnotherapy levels.

Did you miss our recent "Ask Heather" and why insoluble fiber can hurt IBS?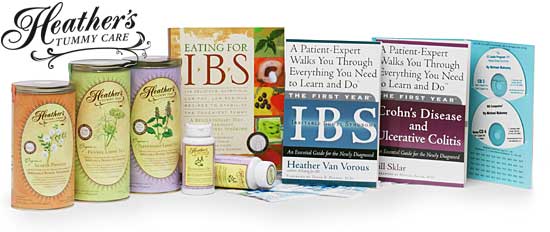 Shop at Heather's Tummy Store for IBS
HelpForIBS.com
The only store that's just for IBS - so we only carry the very best



You're on this newsletter list because you have expressed interest in IBS news and information.


Change your newsletter email address here.

If you are viewing this newsletter on a website and would like to subscribe for email delivery, please "Join the IBS Newsletter" here.

ANTI-SPAM PRIVACY & SECURITY POLICY
HelpForIBS.com
Heather's Tummy Care
80 S. Washington St, #304
Seattle, WA 98104 USA

© 2009 Heather Van Vorous, Heather's Tummy Care. All rights reserved.
USA Copyright Office Registration Number TXU 1-270-858 and others