In This Issue (Scroll down for full newsletter or follow the links):


Ask Heather » Seven Deadly Doctor IBS Sins

IBS Recipe » Cornmeal Cream Cheese Pancakes with Cranberry-Apricot Syrup

New Stores & Store Events » Get Tummy Care Locally and On Sale!

Special Letter » Just Two Weeks to Getting IBS In Hand

Enjoy this week's newsletter!

Best Wishes,
Heather Van Vorous

Did a friend send you this newsletter? Sign up here for your own free subscription.

~ Heather's Tummy Tamers Peppermint Oil Capsules ~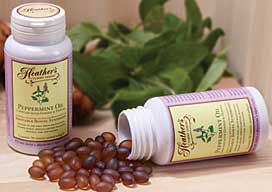 Peppermint Oil Caps Called "Drug of Choice for IBS"

Our Peppermint Oil Caps have the added benefits of fennel and ginger oils, and they help prevent abdominal pain, gas, and bloating!

Cornmeal Cream Cheese Pancakes with Cranberry-Apricot Syrup

These pancakes are a special treat for breakfast or a weekend brunch. They show how beautifully soy substitutes can replace dairy (cream cheese and milk) with delicious results. Whole eggs have been replaced by egg whites to minimize the fat content, and the soluble fiber of the flour and cornmeal make the addition of small amounts of dried fruit in the syrup perfectly tolerable.

In addition, the Tummy Fiber adds extra soluble fiber and gives a creamy interior texture to the pancakes - delicious!

Makes 4 servings

Syrup:
1 cup pure maple syrup
1/4 cup chopped dried cranberries
1/4 cup chopped dried apricots
2 teaspoons fresh lemon juice

Simmer all ingredients except lemon juice in a saucepan over medium low heat until fruits are soft, about 5 minutes. Remove from heat and stir in lemon juice.

Pancakes:
3/4 cup unbleached all-purpose white flour
1 tablespoon Acacia Senegal Tummy Fiber
1/2 cup yellow cornmeal
1 1/2 teaspoons baking powder
1/2 teaspoon baking soda
1 tablespoon brown sugar
2 tablespoons granulated sugar
1/2 teaspoon salt
2/3 cup tofu cream cheese (available at health food stores)
4 egg whites
3/4 cup vanilla soy milk

In a large bowl whisk together flour, Tummy Fiber, cornmeal, baking powder, baking soda, both sugars, and salt. In a medium bowl whisk together tofu cream cheese and egg whites. Gradually whisk in soy milk until smooth. Add wet ingredients to dry and whisk until just combined.

Heat a large nonstick skillet over medium heat and spray with cooking oil. Spoon large tablespoons of batter onto pan, without crowding. Cook 1-2 minutes per side, until golden and puffed. Top with syrup and serve.

For a delicious breakfast, serve the pancakes with a soothing cup of Peppermint Tummy Tea!

Are you just learning how to eat for IBS? A little intimidated at the thought of special IBS recipes? Not quite sure just what makes these recipes special in the first place? Don't worry! Get Eating for IBS, and find the answers to all your questions.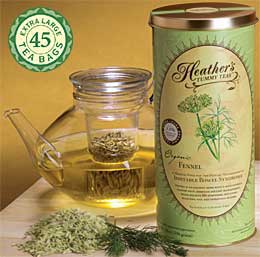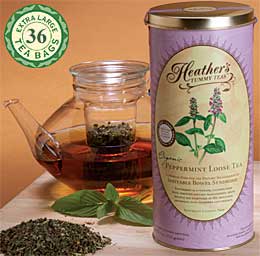 Organic High Volatile Oil Fennel & Peppermint Tummy Tea Bags

Extraordinary Quality ~ Very Economical

Fennel is terrific for bloating & gas, Peppermint is great for IBS pain & spasms.
Heather's Fennel Tummy Tea Heather's Peppermint Tummy Tea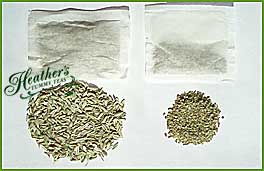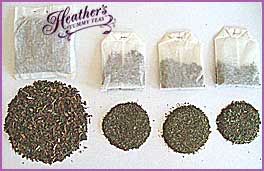 Compare for yourself! The pictures above show the huge difference in the quantity and quality of tea per teabag. The price comparison here is even more shocking!



In 2 Weeks IBS Is No Longer Out Of Hand

Hi Heather,

You are a genius and I am truly grateful. In two weeks things have shifted dramatically. It was tough to let go of the coffee, alcohol, and fatty foods but my IBS was getting out of hand. Thank you, thank you, thank you!

You can absolutely print my letter! I was not writing it as a testimonial but as an appreciation of you. You are onto something VERY important. So many people have IBS but no one, it seems, but you, knows how to deal with it.

I went to my colonic irrigationist and my GP and both had a diagnosis but NO treatment that did anything. Thanks again, ever so much.

Bill from Central Massachusetts

Thank you so very much, Bill, for one of the kindest letters I've ever received. I'm overwhelmed, but happy you are feeling better! ~ Heather

Did you miss the recent letter from Sheila, who is celebrating a return to restaurants?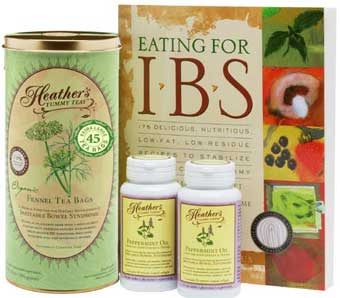 The IBS Diet Kit #1 - Help for Multiple Symptoms!

* Eating for IBS, for comprehensive dietary help
* Fennel Tummy Tea for IBS bloating and gas
* Peppermint Tummy Tamers for IBS pain and spasms




New Stores and Special Events with Heather's Tummy Care Products

We're continuing our special rebate offer for people who buy Tummy Care products at their local stores, and we have new store announcements this week as well. Plus, there are a number of store special events and sales!

New Stores, Store Sales, and Store Events!

Arizona
Vitamin House
9833 W. Bell Rd.
Sun City, AZ 85351
623 933 2212

Delaware
Good News Natural Foods
1 N Walnut St
Milford, DE 19963
302 424 2393

Florida
Perfectly Natural
10021 Estero Town Commons Place
Estero, FL 33928
239 947 1009

Minnesota
Jewel's Specialty Foods
7822 Fairview Rd. Suite 95
Baxter, MN 56425
218 825 9225

Texas
Boutique Botanica
Grand re-opening all September, with Heather's Tummy Care gift basket give-away!
6819 Highway Blvd
Suite 590
Katy, TX 77494
281 574 4999

If you don't have a store in your area carrying Tummy Care products yet, please give them this flyer to ask them.



~ Heather's Tummy Fiber ~
For the Dietary Management of Abdominal Pain, Diarrhea, &, Constipation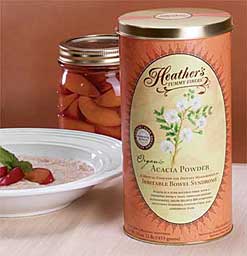 Certified Organic Acacia Senegal ~ Pure Soluble Fiber
The prebiotic fiber that relieves both diarrhea and constipation!

** Very Economical ** Only 5 cents per gram of fiber!

** 100% Acacia Senegal ** Never Low Grade Acacia Seyal

Seven Deadly Doctor IBS Sins - Part 1

We're continuing up our special series on IBS Basics this week. Last time around, we addressed questions you must ask your doctor. However, as doctors cannot manage your IBS for you, you need to have a partnership relationship with your physician and make sure you're working with someone who can truly help you overcome your symptoms.

Unfortunately, this is easier said than done.

This week, we'll tackle part one of the most common (and significant) areas where IBS patients need help from their doctors, but don't get it.

I call this list the Seven Deadly Doctor IBS Sins.

Obviously, it's best to work with your doctors in the following areas, and not fight against them. But, if that's just not possible, the best solution I know is to persist in finding a new (informed, empathetic, and helpful) doctor. Hang on to your computer, because this can be a bumpy ride.

1. Diet. Though it is well-established that fats and insoluble fiber foods (particularly wheat bran) can exacerbate Irritable Bowel Syndrome symptoms, while soluble fiber foods and soluble fiber supplements can help, IBS patients are still often told that "diet doesn't matter". They are also often advised to "eat more fiber" without being told of the distinction between insoluble and soluble fiber foods.

Lack of proper dietary information is by far the number one frustration I hear from IBS patients. Many of them report anger and disillusionment with their doctors for not providing accurate diet guidelines and additional dietary resources and referrals.

2. Hormonal issues. Three-quarters of IBS sufferers are female, and hormones play a role in both the exacerbation and mitigation of IBS symptoms. IBS patients report a real need for understanding how pregnancy, hormonal birth control methods, and menopause can affect their IBS.

However, they tell me that they aren't given information about this aspect of IBS from their GI doctors, nor do their ob/gyns take IBS into account when addressing prenatal care, contraception, post-partum issues, or menopause. As a result, this is an area where many women with IBS feel completely lost.

3. Alternative medicine. Over 50% of IBS patients turn to alternative medicine for help, and studies have shown spectacularly successful results from gut-directed hypnotherapy (it's actually been called a cure).

Acupuncture and yoga have also demonstrated good benefits with little to no risks.

IBS patients report a great deal of curiosity about trying alternative medicine for their symptoms and they would like to discuss these options with their doctors. However, they also tell me that their physicians rarely address these topics unless prompted and even then can't provide detailed information or resources.

4. Medications. IBS patients repeatedly report being given inappropriate or ineffective medications for IBS symptoms. Men and women with diarrhea-predominant IBS have been given prescriptions for Zelnorm, which was strictly for women with constipation-IBS and contraindicated for diarrhea. Many patients have questions about anti-depressants and anti-anxiety medications, but find that their doctors are unaware of how best to use these drugs specifically for IBS.

Patients commonly report that their doctors don't key medications to their IBS symptoms, and that their doctors seem surprised by the frequency of side effects or lack of good results.

In a nutshell, while there is an obvious need for effective IBS patient education, much of the feedback I receive from people indicates that physician education must come first.

Doctors now have decades of IBS research studies and a wide range of treatment options to discuss with their patients. Your physician can and should be your ally in the battle against IBS - so choose your doc carefully!

Coming next time, the remaining Seven Deadly Doctor IBS Sins!

~ Heather

Did you miss our recent "Ask Heather" and what you must ask your doctor?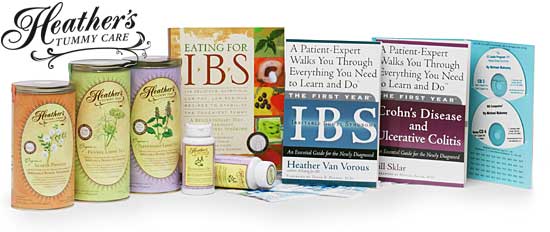 Shop at Heather's Tummy Store for IBS
HelpForIBS.com
The only store that's just for IBS - so we only carry the very best



You're on this newsletter list because you have expressed interest in IBS news and information.


Change your newsletter email address here.

If you are viewing this newsletter on a website and would like to subscribe for email delivery, please "Join the IBS Newsletter" here.

ANTI-SPAM PRIVACY & SECURITY POLICY
HelpForIBS.com
Heather's Tummy Care
80 S. Washington St, #304
Seattle, WA 98104 USA

© 2009 Heather Van Vorous, Heather's Tummy Care. All rights reserved.
USA Copyright Office Registration Number TXU 1-270-858 and others