Summer Sale Double Deal! (Scroll down for full newsletter or follow the links):


Ask Heather » Fiber supplements - why bother?!

Special Letter » Does it matter what kind of tea you use? Yep! See why!

New Stores & Store Sales » Get Tummy Care locally and on sale!

IBS Recipe » Luscious Peach Mango Sorbet

Research & Press » Interviews with Heather - read or listen to audio!

Hello to everyone ~

We have a special sales issue that is exclusive to the IBS newsletter, as a thank you to our regular readers and customers!

We're offering a special 10% discount code through this newsletter only, good through the end of July. If you use this promo code, which can be applied to any order whatsoever, you'll automatically receive a second 10% discount code for your next purchase. The second code will be good until the end of August.

**Simply click through here to add items to your cart and get your discount code automatically after you confirm your shipping information upon check out! (This link is the only way to get your special discount.)**

If you prefer to shop at a local store, and have already taken advantage of our 50% rebate for first-time local purchases, we'll refund 10% of the purchase price of any Heather's Tummy Care products bought locally during July or August. Simply send us your receipt (Heather's Tummy Care, 80 S. Washington St. Suite 304, Seattle, WA, 98104) and we'll send you your rebate.

If you haven't yet purchased from a local store, for your first purchase locally we'll refund 50% of your purchase price - up to a $50 rebate! Just send us your receipt (Heather's Tummy Care, 80 S. Washington St. Suite 304, Seattle, WA, 98104) and we'll send you your rebate.

Whether online or at local stores, we continuously strive to offer the highest possible quality products (certified organic, high volatile oil, prebiotic, jumbo tea bags, and more) at the lowest prices. Plus, everything has a 100% money-back guarantee!

Best Wishes,
Heather Van Vorous

Did a friend send you this newsletter? Sign up here for your own free subscription.

~ Heather's Tummy Tamers Peppermint Oil Capsules ~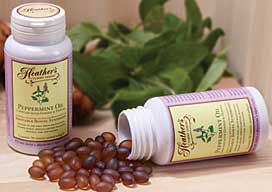 Peppermint Oil Caps Called "Drug of Choice for IBS"

Our Peppermint Oil Caps have the added benefits of fennel and ginger oils, and they help prevent abdominal pain, gas, and bloating!

Luscious Peach Mango Sorbet

Sorbet is a terrific alternative to ice cream. It gives you all of the sweet, fruity refreshment with none of the fat or dairy triggers. On a hot summer day, there is nothing more wonderful!

Makes 6-8 Servings (about 1 quart)

2 cups water
1/2 cup granulated sugar
1 tablespoon fresh lemon juice
2 cups peeled, pitted, diced, fresh very ripe mango
2 cups peeled, pitted diced, fresh very ripe peaches
2 tablespoons Acacia Tummy Fiber (gives a wonderful creamy texture!)
2 organic egg whites*

In a small saucepan or a microwave-safe bowl make a simple syrup by combining water and sugar, stirring and heating until sugar dissolves. Chill. Combine syrup with remaining ingredients in blender. Blend on high until well mixed. Freeze in ice cream maker according to manufacturer's instructions.

*If salmonella is a concern in your area you can substitute pasteurized egg whites, available in the dairy section of most grocery stores (Egg Beaters, etc.).

For a delicious summer dessert, serve the sorbet with an iced glass of lightly sweetened Peppermint Tummy Tea!

Are you just learning how to eat for IBS? A little intimidated at the thought of special IBS recipes? Not quite sure just what makes these recipes special in the first place? Don't worry! Come see the IBS Diet pages, and find the answers to all your questions.



Researchers call gut-directed hypnotherapy a "cure" for IBS!

The Best Gut-Directed Self-Hypnosis Program for All IBS Symptoms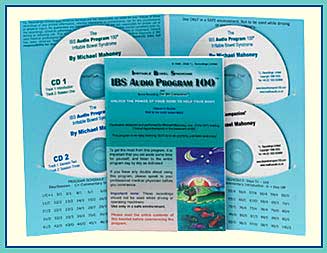 Gives an average 85% reduction of pain and bowel dysfunction symptoms.
Listen to IBS Audio Program 100 samples!

Superior Teas Make All the Difference!

Heather,

I can attest to the fact that your Fennel and Peppermint Tummy Teas are superior. Before my local Motherís Market store started carrying your Tummy Teas, I was ordering from you online.

At one point, I forgot to order and ran out of my supply of Tummy Teas. I picked up some regular fennel tea at a local supermarket, but it was nowhere near the quality of Heather's. It wasn't worth buying the other brand even as a "hold over".

I'm glad to help others - I owe you sooo much.

Janice Genelle

Thanks Janice! I love the teas too! ~ Heather

Did you miss the recent letter from Kathy, who has normalcy back in her life?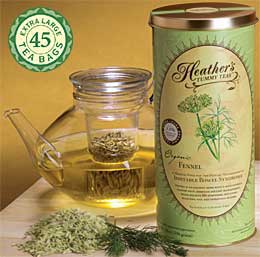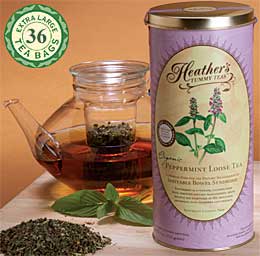 Organic High Volatile Oil Fennel & Peppermint Tummy Tea Bags

Extraordinary Quality ~ Very Economical

Fennel is terrific for bloating & gas, Peppermint is great for IBS pain & spasms.
Heather's Fennel Tummy Tea Heather's Peppermint Tummy Tea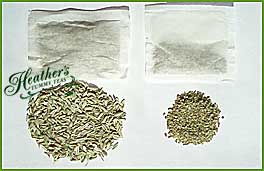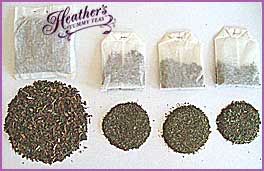 Compare for yourself! The pictures above show the huge difference in the quantity and quality of tea per teabag. The price comparison here is even more shocking!



MSN Interview - Stories of Survivors

MSN Canada recently featured an interview that would let readers get to know IBS through the eyes of someone dealing with the condition.

Irritable Bowel Syndrome (IBS) is a chronic condition that affects the digestive tract. Though fairly benign when compared to more serious conditions like Crohn's disease or colitis, IBS still takes a considerable physical and emotional toll. Symptoms vary but may include chronic diarrhea, constipation, bloating, abdominal pain, cramping and gas. Health Canada estimates that two million Canadians are dealing with the symptoms of IBS. It's believed that one in five Americans have IBS.

Heather Van Vorous, founder of the website www.HelpforIBS.com, and author of Eating for IBS and The First Year of IBS, has been dealing with the symptoms of IBS for nearly 30 years. But like many who deal with the condition, she had to wait far too long for a diagnosis.

"I have had IBS since I was nine years old, although I went undiagnosed for six long years. My pediatrician at the time refused to send me for diagnostic tests because my symptoms (severe lower abdominal pain with diarrhea and sometimes rebound constipation) didn't fit any disorder she knew (though I was a textbook case), and therefore the problem was all in my head.

This doctor also dismissed my suffering as 'only pain.' She flatly told me that my symptoms did not warrant treatment and that I should 'quit whining.' I was in the fourth grade at the time and had recently fainted from severe abdominal pain in a neighbor's garden." Go here to read the full interview.

Contact Talk Radio Interview - There is Help for IBS

The radio show "It's Your Day with Laurie Day" recently offered help for those who have IBS. The June 4th show featured Laurie's genuinely dedicated guest, Heather Van Vorous, who is making it her mission to bring effective products and creative solutions to those with this condition. Laurie invited everyone to tune in, transform your health and spread the word that there really is help for IBS! Go here to listen to the full interview.



~ Heather's Tummy Fiber ~
For the Dietary Management of Abdominal Pain, Diarrhea, &, Constipation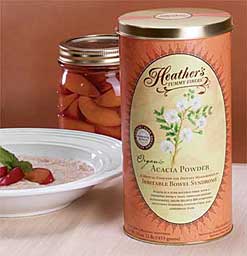 Certified Organic Acacia ~ Pure Soluble Fiber
The prebiotic fiber that relieves both diarrhea and constipation!

** Very Economical ** Only 5 cents per gram of fiber!


New Stores and Special Events with Heather's Tummy Care Products

We're continuing our special rebate offer for people who buy Tummy Care products at their local stores, and we have new store announcements this week as well. Plus, there are a number of store special events and sales!

New Stores and Store Sales!

New York
Best of Health
2840 Delaware Ave
Kenmore, NY 14217
(716) 874-6422

Illinois
Essential Wellness Pharmacy
4625 N. University Ave
Peoria, IL 61614
309 642 9945

Missouri
Health Care Pharmacy (special sale on all Heather's Tummy Care products!)
628 N. Old St. Mary's Rd
Perryville, MO 63775
573-547-4526

North Carolina
Huffman Herbs (special sale on Acacia Tummy Fiber!)
3145 River Road
Morganton, NC 28655
828 433 4919

If you don't have a store in your area carrying Tummy Care products yet, please give them this flyer to ask them.



Fiber Supplements - Why Bother? And Why Is Tummy Fiber Special?

Soluble fiber is one of the keys to preventing the abdominal spasms and bowel dysfunction of IBS. This is true not just for soluble fiber foods but supplements as well.

However, it can be downright shocking to see the difference in quality, quantity, and cost-saving value of Tummy Fiber made specifically for helping IBS versus typical brands of grocery store and health food store fiber supplements.

But first, why should you even try a soluble fiber supplement in the first place? What exactly can it do for IBS symptoms?

Soluble fiber works by absorbing liquids in the digestive tract to form a stabilizing gel that relieves cramping and prevents BOTH diarrhea and constipation. Clinical studies with IBS patients have repeatedly proven the benefits of soluble fiber supplements.

Soluble fiber will, in fact, work beautifully to keep your GI tract running smoothly, comfortably, and pain-free on a day-to-day basis.

Best of all, soluble fiber supplements can be taken daily forever with no harmful side effects or risk of addiction. In fact, soluble fiber has health benefits far beyond managing IBS.

Soluble fiber (from both foods and supplements) not only normalizes bowel function, it has also been shown to lower LDL ("bad") blood cholesterol levels, reduce the risk of heart disease, and minimize colon cancer risks. Soluble fiber also slows the absorption of fats and carbohydrates into the bloodstream, which improves glycemic control and helps prevent the formation of free radicals. It also lowers insulin requirements.

So why not just use any fiber supplement? Does it matter what brand you use? Aren't they all pretty much the same?

No! There is a world of difference between prebiotic and organic Tummy Fiber, which has been found to have an excellent gastrointestinal tolerance and to increase good gut flora, and typical store brands. Nearly every other fiber supplement I've ever seen, from the 1970s to today, is meant for the average person with normal bowel function who simply has occasional constipation or who is just trying to get extra fiber in their diet.

This is NOT the case with Tummy Fiber, which was created specifically as a medical food for managing multiple IBS symptoms. There are a lot of amazing ways Tummy Fiber gives you the best quality and the best value!

Because people with IBS have sensitive guts by definition, there is absolutely nothing added to Tummy Fiber at all. It's just 100% organic prebiotic soluble fiber from acacia senegal, the highest quality acacia available. It contains no acacia seyal, a cheaper, lower quality variety.

Tummy Fiber has no artificial sweeteners, which can trigger diarrhea, gas, and cramps. It has no citric acid, as this can cause acid reflux. It contains no insoluble fiber, which is a GI stimulant and can cause IBS symptoms to flare. Tummy Fiber also has no psyllium, inulin, or FOS, all of which can cause severe gas and bloating in people with IBS. Finally, Tummy Fiber has no gluten, which can aggravate people with IBS and gluten-intolerances such as celiac.

Plus, because Tummy Fiber is a prebiotic, it encourages the growth of healthy gut flora (probiotics) which can actively decrease bloating and gas. And, its high level of gastrointestinal tolerance makes it much less likely to cause gas and bloating in the first place, even when you're just starting to take it.

Compare for yourself! The stats below compare the grams and cost (as of June 2009, in Seattle and online), of Tummy Fiber and other mainstream fiber powder and capsule brands.

Heather's Tummy Fiber Acacia Refill Pouch
2 grams of soluble fiber per level teaspoon
Cost: 5 cents per gram
Certified organic, kosher, prebiotic, 100% soluble fiber

Heather's Tummy Fiber Acacia Refillable Canister
2 grams of soluble fiber per level teaspoon
Cost: 6 cents per gram
Certified organic, kosher, prebiotic, 100% soluble fiber

_______________________________________________________

Methylcellulose powder - 0.67 grams per level teaspoon
Cost: 18.0 cents per gram
Synthetic, not organic

Psyllium powder - 0.67 grams per level teaspoon
Cost: 7.0 cents per gram
Not organic, not 100% soluble fiber

Wheat dextrin powder - 1.5 grams per level teaspoon
Cost: 14.0 cents per gram
Not organic

Inulin powder - 2.25 grams per level teaspoon
Cost: 5.0 cents per gram
Not organic, not a good gastrointestinal tolerance

Methylcellulose capsules - 0.5 grams per capsule
Cost: 32.0 cents per gram
Synthetic, not organic

Apple pectin capsules - 0.5 grams per capsule
Cost: 25.0 cents per gram
Not organic

Calcium polycarbophil capsules - 0.5 grams per capsule
Cost: 26.0 cents per gram
Synthetic, not organic

Psyllium capsules - 0.33 grams per capsule
Cost: 30.0 cents per gram
Not organic, not 100% soluble fiber

Wheat dextrin capsules - 1.0 grams per capsule
Cost: 14.0 cents per gram
Not organic

The Tummy Fiber is clearly much less expensive, but what about the quality? What makes it so special in that regard?

Not only is Tummy Fiber sourced and specially produced for IBS-specific purposes and results, it is also:

* USDA certified organic. This means, among other things, that it is guaranteed free of: pesticides, fertilizers, herbicides, GMO (genetically modified organisms), preservatives, additives, irradiation, and there is no animal testing.

Organic materials and processing are significantly more expensive. But, our Tummy Fiber prices are actually significantly less expensive than non-organic brands.

In addition, a comprehensive review of 97 published studies (published as the "State of Science Review" by The Organic Center) comparing the nutritional quality of organic and conventional foods has shown that organic plants contain higher levels of 8 of 11 nutrients studied, including significantly greater concentrations of the health-promoting polyphenols and antioxidants. This review concluded that organically grown plants are 25% more nutrient dense, on average, than conventionally grown plants.

* Tummy Fiber is very concentrated, and is packed in generous quantities, as it's meant to be taken twice daily, every day, to prevent IBS symptoms. We offer one pound refillable canisters, and one pound refill pouches for the canisters. Every teaspoon of Tummy Fiber has 2 grams of pure soluble fiber. Every tablespoon has 6 grams of pure soluble fiber.

Tummy Fiber is also tasteless, odorless, grit-free, and non-thickening, which makes it effortless to take. You can add it to any liquid, sprinkle it into moist foods, and even cook with it!

The end result? Tummy Fiber is more concentrated, formulated specifically for people with IBS, and a better value than other brands.

It isn't enough to get a great bargain for your IBS treatments - you have to also get great results. For diarrhea, constipation, alternating d and c, abdominal pain, spasms, bloating, and gas, Tummy Fiber offers both. Try it (it's on sale right now) and see for yourself!

~ Heather

Did you miss our recent "Ask Heather" and how to tackle stress and IBS?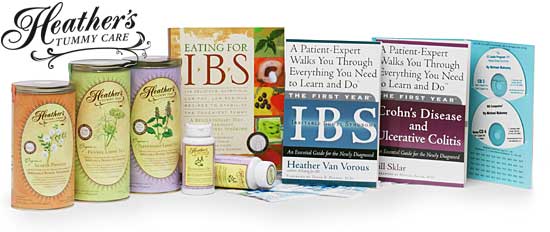 Shop at Heather's Tummy Store for IBS
HelpForIBS.com
The only store that's just for IBS - so we only carry the very best



You're on this newsletter list because you have expressed interest in IBS news and information.


Change your newsletter email address here.

If you are viewing this newsletter on a website and would like to subscribe for email delivery, please "Join the IBS Newsletter" here.

ANTI-SPAM PRIVACY & SECURITY POLICY
HelpForIBS.com
Heather's Tummy Care
80 S. Washington St, #304
Seattle, WA 98104 USA

© 2009 Heather Van Vorous, Heather's Tummy Care. All rights reserved.
USA Copyright Office Registration Number TXU 1-270-858 and others