Greatest Hits Summer Issue! (Scroll down for full newsletter or follow the links):


Ask Heather » IBS and stress - what can you actually do about it?

Special Letter » He was the "world's worst farter" - see what helped!

New Stores & Events » Get Tummy Care locally!

IBS Recipe » Summertime Cherry Almond Cobbler

Research » This treatment helps more than symptoms - may get you back to normal!

Enjoy this week's newsletter!

Best Wishes,
Heather Van Vorous

Did a friend send you this newsletter? Sign up here for your own free subscription.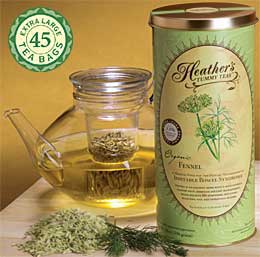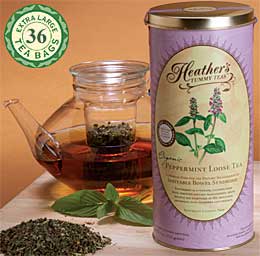 Organic High Volatile Oil Fennel & Peppermint Tummy Tea Bags

Extraordinary Quality ~ Very Economical

Fennel is terrific for bloating & gas, Peppermint is great for IBS pain & spasms.
Heather's Fennel Tummy Tea Heather's Peppermint Tummy Tea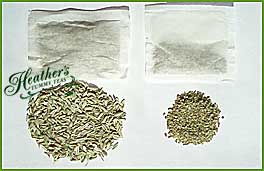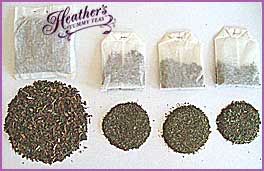 Compare for yourself! The pictures above show the huge difference in the quantity and quality of tea per teabag. The price comparison here is even more shocking!



Summertime Cherry Almond Cobbler

Fruit cobbler is a delicious old-fashioned dessert that's traditionally topped with a high fat butter (or even lard) based biscuit dough. My version is much healthier, and uses just a small amount of canola oil for richness. The biscuits are especially light and tender from the clabbered soy milk, which is simply soy milk blended with vinegar. This step replaces the traditional buttermilk, so you can avoid the digestive upsets from dairy while keeping the tang and fluffy texture buttermilk lends to baking.

Choose the freshest, ripest, sweetest cherries you can find for this recipe, and add the Tummy Fiber for extra digestive stability. This is a one of my favorite summer desserts - enjoy!

8 Servings

Filling:
4 C pitted, stemmed fresh cherries
1/3 C - 2/3 C sugar (to taste)
1 T cornstarch
1 T Acacia Tummy Fiber
1 T fresh lemon juice
2 t almond extract

Biscuits:
2 C sifted unbleached white flour
2 t baking powder
3/4 t baking soda
1/2 t salt
2 T granulated sugar
4 T canola oil
1 C soy or rice milk
1 t apple cider vinegar

Preheat oven to 425F.

For Filling: Chop cherries in half, then stir all filling ingredients except lemon juice and almond extract together in a medium saucepan, and bring mixture just to a boil. Remove from heat and add lemon juice and almond extract. Spray an 8" or 9" baking pan or casserole dish with cooking oil spray, and fill pan with fruit mixture.

For Biscuits: In a large bowl, sift then whisk dry ingredients. In a small bowl blend together soy milk and vinegar until mixture thickens slightly, and then blend in oil. With a fork blend wet ingredients into dry until well-mixed. Drop dough by tablespoonfuls onto the fruit filling in pan (have spoonfuls lightly touch - this will help them rise). Bake for 18-22 minutes until golden brown, and a toothpick inserted into a biscuit comes out clean.

For a wonderful summer dessert, serve this cobbler with an iced glass of lightly sweetened Peppermint Tummy Tea!

Are you just learning how to eat for IBS? A little intimidated at the thought of special IBS recipes? Not quite sure just what makes these recipes special in the first place? Don't worry! Come see the IBS Diet pages, and find the answers to all your questions.

~ Heather's Tummy Fiber ~
For the Dietary Management of Abdominal Pain, Diarrhea, &, Constipation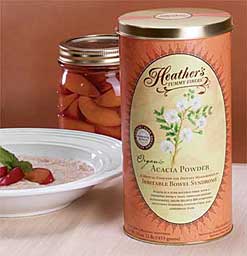 Certified Organic Acacia ~ Pure Soluble Fiber

The prebiotic fiber that relieves both diarrhea and constipation!

** Very Economical ** Only 4 cents per gram of fiber!

World's Worst Farter Has No More Gas and the Pain is Gone!

Hi Heather,

I would like to write a customer review for one of your products.

I tried your Tummy Tamers peppermint oil caps to treat my IBS-diarrhea and was pleasantly surprised by the results. I no longer have outbreaks of gas for days at a time or stomach pain after using the bathroom.

Before, I would have terrible stomach pain every morning after using the toilet. I would have to lie down on the bed and also take aspirin to deal with it. Now, the pain is gone.

I was also the world's worst farter. Every other day, I could count on an awful, prolonged farting attack. Now, the gas is gone. I was totally amazed that an herbal remedy worked so well. So, I am doubly amazed at what your Tummy Tamers can do. You must have taken great care in making these pills because you sure knew what you were doing.

Sincerely,
Brian Quinlan
Howard, SD

Thanks Brian! It's letters like yours that make this work so worthwhile! ~ Heather

Did you miss the recent letter from Val, who has improved beyond all recognition?

~ Heather's Tummy Tamers Peppermint Oil Capsules ~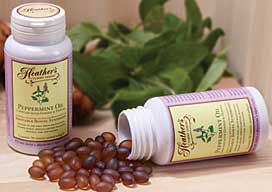 Peppermint Oil Caps Called "Drug of Choice for IBS"

Our Peppermint Oil Caps have the added benefits of fennel and ginger oils, and they help prevent abdominal pain, gas, and bloating!

Hypnotherapy Helps More Than Just IBS Symptoms

A recent review by one of the foremost IBS researchers in the UK, Dr. P.J. Whorwell, found that patients with functional gastrointestinal disorders such as irritable bowel syndrome can suffer from a range of severe symptoms that often substantially erode quality of life.

Unfortunately, these conditions are notoriously difficult to treat, with many patients failing to improve despite being prescribed a wide variety of conventional medications. As a consequence, the potential benefits of hypnotherapy have been explored with evidence that this approach not only relieves symptoms but also appears to restore many of the putative psychological and physiological abnormalities associated with these conditions toward normal.

These observations suggest that this form of treatment has considerable potential in aiding the management of functional gastrointestinal disorders and should be integrated into the ongoing medical care that these patients are receiving. Go here for full information about IBS self-hypnosis.

Go here to listen to IBS hypnotherapy audio samples from an at-home program.

Go here for full information about this review.






Researchers call gut-directed hypnotherapy a "cure" for IBS!

The Best Gut-Directed Self-Hypnosis Program for All IBS Symptoms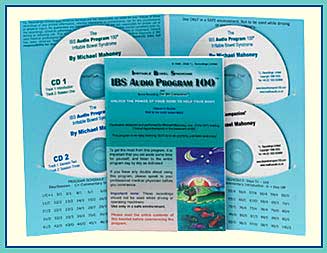 Gives an average 85% reduction of pain and bowel dysfunction symptoms.
Listen to IBS Audio Program 100 samples!


New Stores and Special Events with Heather's Tummy Care Products

We're continuing our special rebate offer for people who buy Tummy Care products at their local stores, and we have new store announcements this week as well. Plus, there are a number of store special events coming up!

Roslyn Natural Market in Washington is having a terrific sale on their Heather's Tummy Care Products! You can take 10% off all Tummy Teas and Tummy Fiber during the whole month of June. They're at 200 N. First Street, Roslyn, WA 98941. Phone: (509) 649-3588.

Hy-Vee in Olathe, Kansas is having a Health Fair on June 27th from 11am to 2pm. They're focusing on health products, including Heather's Tummy Care, and they'll be giving away a gift basket filled with Tummy Care items! The store is at: 18101 W. 119th St, Olathe, KS 66061. Phone: 913-393-4150.

Boutique Botanica, in beautiful Old Katy, Texas is having a sale on Heather's Tummy Care products throughout the month of June! Old Katy makes for a perfect day trip - only 25 miles outside of Houston - so visit Donna at Boutique Botanica for a nutritional consultation and great deals on Heather's Tummy Care. They're located at: 1512 Ave C, Bldg C, The Village at Old Katy, Katy, TX 77493. Phone: 281-574-4999.

New Stores!

California
iHerb.com
Phone: Toll Free: 866.328.1171
Phone: Direct: 626.939.7800
Fax: 626.338.1326

Illinois
Blessman Pharmacy
175 S. Main St
Canton, IL 61520
309-647-0884

Oregon
Vinnie's Natural Living
914 S. 2nd St
Lebanon, OR 97355
541-451-5665

Wyoming
The Herbal Remedies Store, Inc.
902 E. A St.
Casper, WY 82601
307-577-6444

If you don't have a store in your area carrying Tummy Care products yet, please give them this flyer to ask them.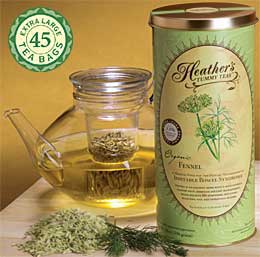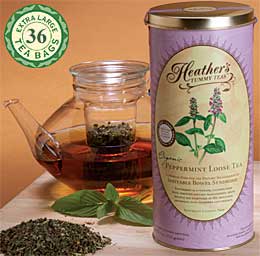 Organic High Volatile Oil Fennel & Peppermint Tummy Tea Bags

Extraordinary Quality ~ Very Economical

Fennel is terrific for bloating & gas, Peppermint is great for IBS pain & spasms.
Heather's Fennel Tummy Tea Heather's Peppermint Tummy Tea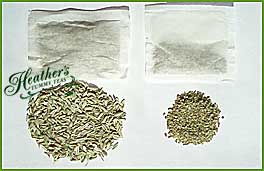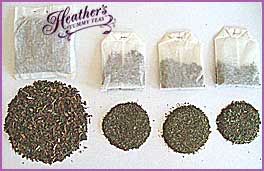 Compare for yourself! The pictures above show the huge difference in the quantity and quality of tea per teabag. The price comparison here is even more shocking!



Stress and IBS

Rest assured, IBS is not somehow your fault because you're just "too stressed out." In a nutshell, while the potential for abnormal colon function is always present in people with Irritable Bowel Syndrome, a trigger must be present to actually cause symptoms. Along with diet, stress is the greatest trigger for IBS symptoms.

Stress inhibits the parasympathetic nervous system, and stimulates excessive adrenaline production, which in turn upsets the rhythmic muscle contractions of the gut. Given that people with IBS are prone to suffer from irregular GI contractions by definition, it's easy to see why stress is such a powerful trigger. (For in-depth information about IBS, the underlying gut dysfunction, and how stress relates, check the First Year IBS).

Several interesting studies have actually shown the direct link between emotional stressors and subsequent IBS flares. One experiment with eighteen IBS patients investigated how different emotions would affect the muscle contractions of the colon. The patients were hypnotized and instructed to feel anger, excitement, or happiness. Colonic motility rates were measured, and found to increase significantly with anger and excitement. Happiness reduced colonic spasms, although interestingly, the hypnosis itself had already had this effect to a lesser degree.

A second study specifically looked at the effect of anger on the colon. Even at rest, patients with IBS had more active colons than the control subjects, and they demonstrated significantly greater colon muscle contractions than the controls when angered. Yet another recent study has confirmed a direct relationship between daily stress and the level of IBS symptoms, finding a significant and positive correlation between the two.

While these studies are reassuring in that they document the physical underpinnings of IBS, most IBS patients are already well aware of the link between stress and symptoms thanks to painful personal experience. The question really is - what can you do about it?

First, be aware of what actually causes stress in your daily life. The obvious culprits are the constant common worries about work, money, your family, your health - you know the routine. But there are some more subtle stressors you should be aware of as well, such as hot and humid weather, travel, and a lack of sleep.

For day-to-day health maintenance, following the dietary guidelines for Irritable Bowel Syndrome will definitely help you weather stressful situations without suffering attacks. However, there are also quite a few options for dealing with stress head-on and thus increasing your ability to manage it successfully - try heat therapy, meditation, or yoga.

Gut-directed hypnotherapy is also extremely helpful for minimizing stress and physically changing the way your body reacts to it. (This is actually a fringe benefit in addition to hypnotherapy's direct influence on successfully regulating the enteric nervous system of the gut.)

Stress is a powerful trigger for IBS symptoms, but lifestyle habits ranging from adequate sleep and a suitable climate to meditation, tai chi, and yoga can all work wonders for preventing or minimizing stress-related attacks. For comprehensive help with stress-related IBS, look into the IBS Stress Kit.

~ Heather

Did you miss our recent "Ask Heather" and how heat helps IBS?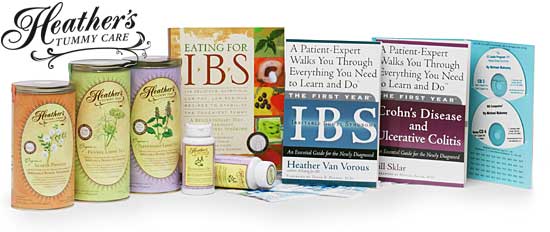 Shop at Heather's Tummy Store for IBS
HelpForIBS.com
The only store that's just for IBS - so we only carry the very best



You're on this newsletter list because you have expressed interest in IBS news and information.


Change your newsletter email address here.

If you are viewing this newsletter on a website and would like to subscribe for email delivery, please "Join the IBS Newsletter" here.

ANTI-SPAM PRIVACY & SECURITY POLICY
HelpForIBS.com
Heather's Tummy Care
80 S. Washington St, #304
Seattle, WA 98104 USA

© 2009 Heather Van Vorous, Heather's Tummy Care. All rights reserved.
USA Copyright Office Registration Number TXU 1-270-858 and others