In This Issue (scroll down for full newsletter or follow the links):


Ask Heather » Hot! Hot! Hot! Heat Helps IBS?

Special Letter » How Can IBS Improve Beyond All Recognition?

News » Get Your IBS Diet Questions Answered Here!

News » State Requires Bathroom Access For Those With IBS

IBS Recipe » Tangy Green Bean, Chicken, and Potato Salad

Enjoy this week's newsletter!

Best Wishes,
Heather Van Vorous

Did a friend send you this newsletter? Sign up here for your own free subscription.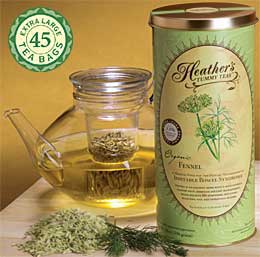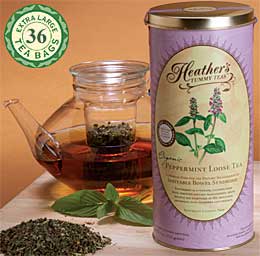 Organic High Volatile Oil Fennel & Peppermint Tummy Tea Bags

Extraordinary Quality ~ Very Economical

Fennel is terrific for bloating & gas, Peppermint is great for IBS pain & spasms.
Heather's Fennel Tummy Tea Heather's Peppermint Tummy Tea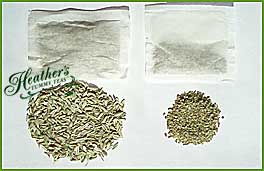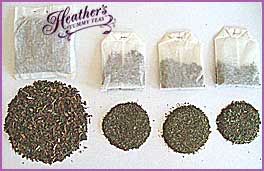 Compare for yourself! The pictures above show the huge difference in the quantity and quality of tea per teabag. The price comparison here is even more shocking!



Tangy Green Bean, Chicken, and Potato Salad

This salad makes a light and delicious variation of a traditional warm weather standby. The soluble fiber of the potatoes and low fat level of the dressing make it just as safe as it is tasty, and the fresh herbs added are all digestive aids. If you're in a hurry, instead of poaching your own chicken use the skinless white meat from a roasted deli chicken.

Makes 4 Servings

3 cups water (or 1 1/2 cups water plus 1 1/2 cups white wine)
2 organic skinless, boneless chicken breasts
1 medium onion, thinly sliced
10 whole peppercorns
1 teaspoon garlic salt

Add all ingredients to a medium saucepan and bring to boil. Poach chicken, covered, over medium low heat for 10-15 minutes until just cooked through. Remove from heat and cool chicken in broth to room temperature. Drain and discard cooking liquid and onion, and tear chicken into small pieces. Set aside.

1 1/2 lbs. small red or white new potatoes, scrubbed
1 teaspoon garlic salt
1/2 lb. fresh green beans, trimmed, cut into 1" lengths
1/2 cup sundried tomatoes (not in oil)
1 small red onion, thinly sliced
2 tablespoons fresh lemon juice
1/4 cup balsamic vinegar
2 tablespoons Dijon mustard
2 tablespoons Acacia Tummy Fiber
1 teaspoon fresh or dried rosemary, crushed
1 teaspoon fennel seed from a Fennel Tummy Tea bag, crushed
1 teaspoon fresh or dried oregano
1/4 cup fresh basil leaves, washed, stems removed, finely shredded
1 tablespoon olive oil

fresh crusty French bread for serving

Cut potatoes in half and add to a large saucepan. Cover with cold water by one inch, add garlic salt, and bring to boil. Cook for 10-12 minutes, until fork-tender. Use a slotted spoon to remove potatoes to a colander and rinse with cold water. Add to cooking water the green beans, and cook 3-5 minutes until tender. Drain in colander with potatoes.

Dice sundried tomatoes (soften in hot water first if necessary). Whisk together remaining ingredients to form dressing. In a large bowl combine chicken, potatoes, green beans, tomatoes, and dressing. Add salt and pepper to taste. Serve with crusty French bread.

This is a wonderful with a slice of Glorious Mango Cheesecake for dessert!

Are you just learning how to eat for IBS? A little intimidated at the thought of special IBS recipes? Not quite sure just what makes these recipes special in the first place? Don't worry! Come see the IBS Diet pages, and find the answers to all your questions.

~ Heather's Tummy Fiber ~
For the Dietary Management of Abdominal Pain, Diarrhea, &, Constipation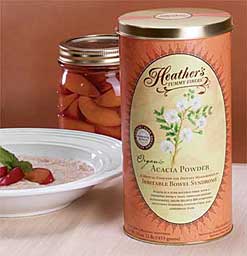 Certified Organic Acacia ~ Pure Soluble Fiber

The prebiotic fiber that relieves both diarrhea and constipation!

** Very Economical ** Only 4 cents per gram of fiber!

Improved Beyond All Recognition!

Dear Heather,

Although I live in South Africa, I use the Tummy Tamers peppermint oil caps all the time and they have revolutionized my life with no side effects. In fact, I use far fewer of them now, as I have improved beyond all recognition compared to how I was just a few years ago.

I am sure using the IBS hypnosis program made a huge difference too, so thank you for giving me back my life.

I am actually writing because my beloved husband was diagnosed with colon cancer and secondaries in the liver in December last year. Since then he has had an operation and is currently undergoing chemotherapy.

The first few days after his intravenous chemo, which is every three weeks, he usually feels pretty awful - very nauseous and generally unwell. Although he has anti-sickness tablets, I thought I would tell you that the thing that helps most are the peppermint oil caps, which usually get rid of the nausea in just a few minutes.

We get our son, who lives in Hawaii, to send them to us on a regular basis and he is shortly arriving with plenty more in his case to keep us going. I just thought I would tell you, as there could be someone else out there who knows someone undergoing chemo and maybe your peppermint caps could help them too. I told our oncologist and she was quite amazed, but agreed they would do no harm at all.

Kind regards,
Val Waters

Thank you so much, Val! My very best wishes to you and your husband both. ~ Heather

Did you miss the recent letter from Janine, who found a life-changing combo that attacks IBS??

~ Heather's Tummy Tamers Peppermint Oil Capsules ~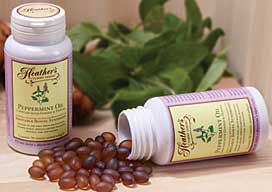 Peppermint Oil Caps Called "Drug of Choice for IBS"

Our Peppermint Oil Caps have the added benefits of fennel and ginger oils, and they help prevent abdominal pain, gas, and bloating!

7 Years of Sharing IBS Diet Questions & Answers!

The IBS Diet Message Board is celebrating seven years of success, 150,000 different posts, and over 13,000 registered members. Created in 2002, this board offers a happy home for people following the Eating for Irritable Bowel Syndrome diet.

The board tackles everything from basic diet questions to brand-name recommendations, snacks and quick meal suggestions to exuberant eating ideas. Whether you're new to the IBS diet or an old pro who can share your expertise, this is the board for you. Come celebrate seven years of sharing help, information, and successful ways of eating safely for IBS!

Go here to ask or answer IBS diet questions!


IBS Opens Doors to State's Bathrooms

Gov. Christine Gregoire of Washington State signed legislation requiring retailers to make employee bathrooms available to customers with Crohn's disease and other gastrointestinal disorders that can make need of a restroom an unexpected emergency.

"Individuals with qualifying medical conditions will be able to live a more comfortable life," Gregoire said upon acting.

Today, many retailers do allow the public to use their private bathrooms on a case-by-case basis. The law, which takes effect July 25, requires they do so when the request comes from a person with documentation signed by a doctor listing their medical condition.

It is intended to serve people with inflammatory bowel disorders, such as Crohn's disease and ulcerative colitis. Other conditions covered in the law are irritable bowel syndrome, those requiring use of an ostomy device and "any other permanent or temporary medical condition that requires immediate access to a restroom facility" such as pregnancy. Go here for full IBS information.

Go here for more information on this legislation.



Researchers call gut-directed hypnotherapy a "cure" for IBS!

The Best Gut-Directed Self-Hypnosis Program for All IBS Symptoms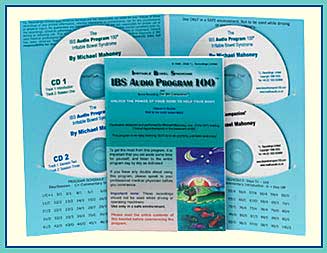 Gives an average 85% reduction of pain and bowel dysfunction symptoms.
Listen to IBS Audio Program 100 samples!

Heat Therapy for IBS?

IBS is such a complex disorder that the origins are not even completely understood by researchers. Could such a complicated bowel dysfunction be effectively treated by something as simple as heat?

Yep - surprising but completely true. It's possible to both prevent and relieve many IBS symptoms with heat therapy, because heat is a powerful smooth muscle relaxant. If you have IBS, the smooth muscle tissue of your gut is not contracting and relaxing regularly or normally, and heat can definitely help this. Extra good news here is that this type of treatment is both cheap and free from risky side effects.

I find it works best to use heat in two ways at once - internally and externally. You may need to mix and match, and also to use a little trial and error to see if heat works best for you as a preventative measure or for active relief (or both). Heat can provide extraordinary relaxation and be particularly helpful for stress-related attacks, especially pain, spasms, and cramping.

For internal heat treatment, you can do something as simple as sip plain hot water. For added benefits, brew freshly boiled water into an herbal tea - try fennel (best for bloating and gas), peppermint (best for pain and spasms), chamomile (great for help sleeping), ginger (for nausea), oregano, lavender, or rosemary.

Use medicinal strength herbal teas or, if you have an herb garden, generous handfuls of fresh herbs.

For direct external heat therapy, I love non-toxic microwaveable hot packs that are re-heatable and re-useable over and over again. These ones are large enough to completely blanket your lower abdomen and hips, or your lower back. If you sandwich one between comfy clothes and a wrap-around towel or blanket they will stay hot (and helpful!) for hours.

These packs are my most reliable strategy for using heat therapy at home or for long drives. I find it most helpful to heat these packs until they're so hot I can barely stand it, so I can get the most intense heat possible without actually burning my skin.

If I'm traveling and I know my hotel room will have a microwave I'll even bring a pack along in my suitcase. If I'm feeling really touchy and trying to stabilize, I'll keep one on me overnight. This has a dual benefit - the direct heat helps my IBS symptoms and the relaxation guarantees a good night's sleep, which in turn drastically reduces my risk of an attack the next day.

For another option, try an old-fashioned hot water bottle, heating pad, or a new-fashioned stick-on heat pack. Use any of these directly to your lower abdomen and/or lower back. The self-adhesive hot patches that can be worn under clothes are particularly helpful when you're out and about, as they retain heat for many hours and you can keep active while using them. Look for several brands at drugstores, in the first aid or feminine hygiene sections.

For a whole-body heat therapy treatment, try a Jacuzzi, steam bath, or sauna. A hot oil massage, especially with aromatherapy, can work wonders too.

Need a simpler option? A nice hot bath will do, or even a long hot shower. You can also just wrap yourself up in an electric blanket. Take advantage of any of these strategies and try engaging in regular sessions of heat-induced bliss. If you can, make a special effort to try heat therapy right before any upcoming stressful event - it's a great pre-emptive strike against anxiety-triggered IBS.

It doesn't take much effort to try heat therapy, and it has no risk of side effects. As an added bonus, heat therapy is particularly beneficial for women when it's used in anticipation of menstrual cramps. Try direct, intense lower abdominal heat the day and night before you expect to be in pain, and odds are you will significantly lessen both your cramps and the likelihood of a related IBS attack.

I find it really interesting that so many of the best IBS treatments are also the simplest, safest, and most affordable. From herbal teas to hot packs (and even non-heat therapy treatments like dietary changes and soluble fiber supplements), it so often seems like these traditional options give the best results for IBS. Call me old-fashioned, I guess, but if it works, use it!

~ Heather

Did you miss our recent "Ask Heather" and sugar, artificial sweeteners, and IBS?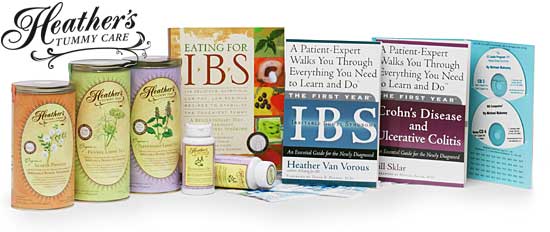 Shop at Heather's Tummy Store for IBS
HelpForIBS.com
The only store that's just for IBS - so we only carry the very best



You're on this newsletter list because you have expressed interest in IBS news and information.


Change your newsletter email address here.

If you are viewing this newsletter on a website and would like to subscribe for email delivery, please "Join the IBS Newsletter" here.

ANTI-SPAM PRIVACY & SECURITY POLICY
HelpForIBS.com
Heather's Tummy Care
80 S. Washington St, #304
Seattle, WA 98104 USA

© 2009 Heather Van Vorous, Heather's Tummy Care. All rights reserved.
USA Copyright Office Registration Number TXU 1-270-858 and others