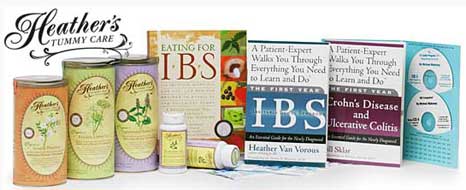 Newsletter redesign - tell me what you think!

In This Issue (scroll down for full newsletter or follow the links):

Ask Heather » Sweet Success for IBS! How To Have Your Cake & Eat It Too

Special Letter » Life-Changing Combo Attacks IBS

News » Cheat Sheet! Where To Find IBS News & Research?

News » Red Meat Will Kill You

IBS Recipe » Glorious Mango Cheesecake

Enjoy this week's newsletter!

Best Wishes,
Heather Van Vorous

Did a friend send you this newsletter? Sign up here for your own free subscription.

~ Heather's Tummy Tamers Peppermint Oil Capsules ~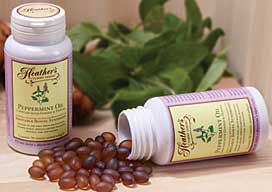 Peppermint Oil Caps Called "Drug of Choice for IBS"

Our Peppermint Oil Caps have the added benefits of fennel and ginger oils, and they help prevent abdominal pain, gas, and bloating!

Glorious Mango Cheesecake

I created this delicious (and gorgeous!) recipe to feature the glory of ripe spring and early summer fruit. While traditional cheesecakes are tremendously high in fat and dairy triggers, my version eliminates these digestive risks - but keeps every bit of luscious creaminess.

If you've never cooked with silken tofu before, you won't believe how easily it's transformed into a rich, smooth cheesecake with a delectably light texture. Freshly grated gingerroot (a digestive aid) add an unexpected flavor twist, and diced ripe mangoes lend a lovely sweetness.

If you've given up cheesecakes for desserts, be prepared for a delightful surprise. And don't omit the Tummy Fiber, as it's key to the high soluble fiber content, the luscious creamy texture, and to help maintain moisture in the cake once it's chilled. Enjoy!

Makes one 10 inch cake, 14-16 Servings

Crust:
1 1/2 C finely crushed graham crackers
2 T canola oil
1 t molasses
1 T dark corn syrup
1/2 t ground ginger

Preheat oven to 325F. Lightly spray 10 inch non-stick heavy-gauge springform pan with cooking oil. Mix all crust ingredients together thoroughly and press firmly into pan. Bake 5-7 minutes. Cool on rack.

Filling:
25 ounces silken firm tofu (a few ounces over or under is fine)
1/3 C fresh lemon juice
grated zest from 2 lemons
3 T cornstarch
2 T Acacia Tummy Fiber
2 T finely diced crystallized ginger
1 T grated gingerroot with juice, strings/peel removed (from about a 3" piece ginger)
2/3 - 3/4 C granulated sugar, to taste
4 organic egg whites
1/8 t salt

Topping:
1 large (or 2 small) ripe mangoes, peeled and pitted, diced
apricot or peach jelly, for brushing

Blend all filling ingredients except egg whites and salt until smooth. Set aside. In a large bowl beat egg whites and salt until stiff peaks form. Gradually fold tofu mixture into egg whites with a flexible rubber spatula. Pour into baked crust and bake for 17-20 minutes, until just barely set (filling will still be jiggly and not set at the very center).

Cool on rack, then carefully top with evenly spread diced mango. In a microwave heat a few spoonfuls of the jelly in a small bowl, checking and stirring every 20 seconds or so, until it's a thin and spreadable consistency. With a pastry brush, brush melted jelly over nectarine slices (or, with a teaspoon carefully spoon and spread melted jelly over slices). Chill cake until topping is set. Run a long thin knife around edge of pan, and carefully remove sides. Serve chilled.

This is a wonderful dessert with a cup of honey-sweetened Fennel Tummy Tea or Peppermint Tummy Tea!

Are you just learning how to eat for IBS? A little intimidated at the thought of special IBS recipes? Not quite sure just what makes these recipes special in the first place? Don't worry! Come see the IBS Diet pages, and find the answers to all your questions.

~ Heather's Tummy Fiber ~
For the Dietary Management of Abdominal Pain, Diarrhea, &, Constipation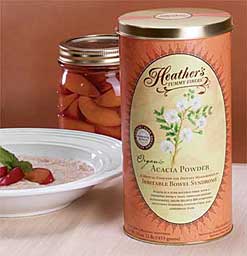 Certified Organic Acacia ~ Pure Soluble Fiber

The prebiotic fiber that relieves both diarrhea and constipation!

** Very Economical ** Only 4 cents per gram of fiber!

Life-Changing Combo Attacks IBS

Dear Heather,

I am happy to say that your products have helped me IMMENSELY. So much so, I don't have symptoms anymore!

I have been having acupuncture and other supplements (prescribed) from my new doctor. She's an M.D. but chooses to practice Homeopathic/Botanical medicine.

My practitioner also approves of your products. They are top quality (I know the difference) and very reasonably priced. This combo has been life-changing. I feel better than I have in YEARS.

I am 53 and I have Hepatitis C to complicate matters. I am a recovering addict/alcoholic (in recovery for 31 years). Anyway, just wanted confirm how awesome your products are.

I strongly encourage anyone with any digestive problems/symptoms to use your products. Again, they have made my quality of life so much better and I am very grateful to you.

I'd also like to offer that having any digestive issues affects other organs in your body. So, don't hesitate to attack it now (using Heather's products).

No, she did not solicit me to say anything! I offer this as hope to others.

Thank you, Heather.

Janine Klemcke

Thank you so much, Janine! ~ Heather

Did you miss the recent letter from Julie, who found help after $50,000 in medical bills??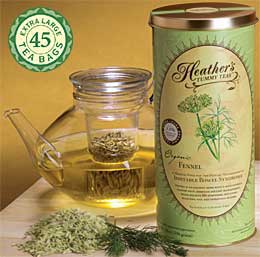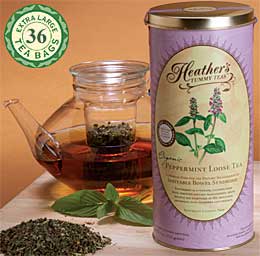 Organic High Volatile Oil Fennel & Peppermint Tummy Tea Bags

Extraordinary Quality ~ Very Economical

Fennel is terrific for bloating & gas, Peppermint is great for IBS pain & spasms.
Heather's Fennel Tummy Tea Heather's Peppermint Tummy Tea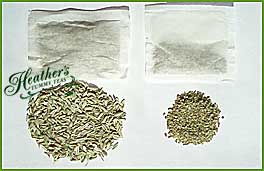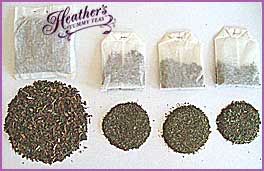 Compare for yourself! The pictures above show the huge difference in the quantity and quality of tea per teabag. The price comparison here is even more shocking!



Where to Find IBS News and Research?
Although I normally post recent abstracts on IBS news and research studies in this section of the newsletter, this week I wanted to introduce a more comprehensive resource in this area.

There are constantly new studies, findings, research, events, and more about IBS, and they come up too frequently to post all of them in the IBS Newsletter. So, I've created an ongoing summary of where and how to keep up-to-date with IBS news.

This summary will give you current links to the following:

Heather's IBS Newsletter - All past issues (7 years' worth!) are archived on this page, and IBS news headlines (updated daily) can be found here as well.

IBS Research Library - All the relevant IBS studies I can find, updated bi-weekly. Primarily abstracts with links to full research sources.

IBS Press Releases - Updated regularly, usually monthly (there's a recent one about IBS Awareness Month!)

Facebook - IBS Community, Social and Special Events - For upcoming, one-time IBS events, gatherings, in-person activities, and more. Please feel free to post there yourself if you know of an IBS event that needs to be publicized.

Go here for all of these IBS news resources!


Red Meat Will Kill You
In a recent study, National Cancer Institute researchers looked at the diets of more than half a million people aged 50 to 71 and found that those who ate 4 ounces of red meat a day - about the size of a small hamburger - were the most likely to die from heart disease, cancer, and all causes over the next 10 years.

Beef, pork, bacon, sausage, cold cuts, hot dogs, and other red or processed meats all increased the odds of premature death.

The study authors also noted that the increased death rates found in study participants may be "conservative estimates because red and processed meat consumption may be higher in the general population."

Go here for full IBS diet info.

Go here for more information on this study.



Researchers call gut-directed hypnotherapy a "cure" for IBS!

The Best Gut-Directed Self-Hypnosis Program for All IBS Symptoms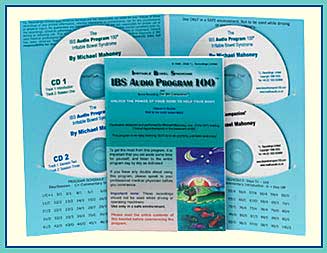 Gives an average 85% reduction of pain and bowel dysfunction symptoms.
Listen to IBS Audio Program 100 samples!

Sweet Success for IBS! Have Your Cake and Eat It Too

"Is sugar an IBS trigger? Should I use artificial sweeteners instead?"

While people with Irritable Bowel Syndrome do have to adjust their diets to control IBS symptoms, this does NOT mean a life of dessert deprivation. (Whew!)

In fact, replacing sugar with artificial sweeteners will likely make digestive problems worse, not better.

Plain baking and cooking sugars, such as granulated, powdered, and brown sugar, are simply sucrose, and sucrose is not an IBS trigger. Refined sugar may not be a health food, but it isn't a GI stimulant or irritant. This means that digestion-friendly desserts need not be sugar-free, they must simply avoid or replace known IBS triggers like dairy, high fat levels, and excessive insoluble fiber.

IBS sufferers should be aware, however, that another type of sugar, fructose - fruit sugar - can cause diarrhea, gas, bloating, and cramps. Fructose is a naturally occurring simple sugar, and is found in concentrated amounts in many commercial drinks, high-fructose corn syrup, and fruit juice concentrates. Adding to the confusion, many people are misdiagnosed with IBS when they actually have fructose intolerance, which a simple breath test can diagnose.

Fructose accounts for less than 10% of the weight of much fresh fruit such as strawberries, bananas or apples. So, please don't eliminate all fresh fruits from your diet, as you need their nutritional benefits. However, dried fruit and fruit juices are far more concentrated sources of fructose, and you might have to restrict them, at least to some degree.

If you find yourself faced with eating more fructose than you're confident will be safe, make sure to take your Tummy Fiber first. This will at least give you an added measure of safety and help keep your gut calm.

In addition, remember that there is no such thing as an artificial sweetener that is proven safe for IBS. Aspartame, sucralose, saccharine, sorbitol, and other sugar alcohols (xylitol, maltitol) are popular artificial sweeteners, but they can all cause digestive side effects ranging from gas and bloating to severe abdominal cramps and urgent diarrhea. In some cases, they can provoke these symptoms in people who don't even have IBS, so imagine what they do to those with hypersensitive bowels.

People with IBS can absolutely have their cake and eat it too. In fact, there are hundreds of delicious, IBS-safe dessert possibilities!

You can even make desserts that actively help IBS symptoms. The key to an IBS-friendly recipe is a high soluble fiber foundation, from ingredients and/or the addition of a prebiotic soluble fiber supplement such as Heather's Tummy Fiber, and the substitution of triggers with safe replacements.

Include herbs that are digestive aids, such as peppermint, ginger, or fennel for even better results.

For delicious proof, try the Glorious Mango Cheesecake recipe in this newsletter.

The sweet conclusion? There's no need for people with Irritable Bowel Syndrome to avoid sugar or eliminate desserts from their diet. They can have their cakes - and puddings, cobblers, tarts, or cookies - and eat them too.

~ Heather

Did you miss our recent "Ask Heather" and heartburn and IBS?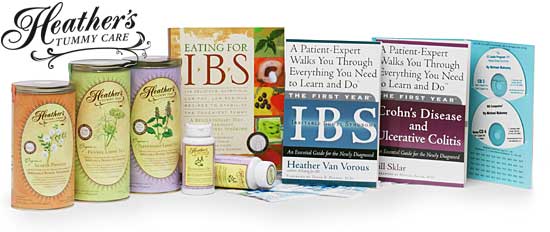 Shop at Heather's Tummy Store for IBS
HelpForIBS.com
The only store that's just for IBS - so we only carry the very best



You're on this newsletter list because you have expressed interest in IBS news and information.


Change your newsletter email address here.

If you are viewing this newsletter on a website and would like to subscribe for email delivery, please "Join the IBS Newsletter" here.

ANTI-SPAM PRIVACY & SECURITY POLICY
HelpForIBS.com
Heather's Tummy Care
80 S. Washington St, #304
Seattle, WA 98104 USA

© 2009 Heather Van Vorous, Heather's Tummy Care. All rights reserved.
USA Copyright Office Registration Number TXU 1-270-858 and others