Heather's IBS Newsletter ~ For Irritable Bowel Syndrome


Special Series Continues! The most affordable IBS treatments!


What helped IBS when $50,000 in medical bills didn't?

Do you have IBS and heartburn? How to help one without aggravating the other!

Plus a ton of new stores and special events with free Heather's Tummy Care!

Hello to everyone -

In this economy, everyone has to find not just the most effective, but the most affordable, IBS treatments. I'm always so surprised to hear from customers who think that the Tummy Care products are expensive, since we have always strived to make them not just high quality but a tremendous value as well. But, a value that seems so obvious to me isn't equally apparent to everyone else.

So, we're continuing this special series with a focus on Heather's Tummy Tamers, enteric coated peppermint oil capsules that help prevent IBS symptoms in the first place!

Plus, enjoy this week's letter and don't miss the recipe that helps heartburn and IBS!!

Best Wishes,
Heather Van Vorous

Did a friend send you this newsletter? Sign up here for your own free subscription.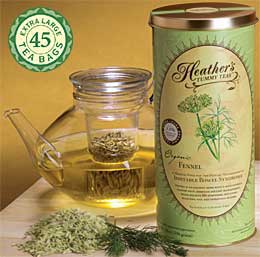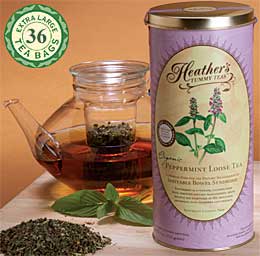 Organic High Volatile Oil Fennel & Peppermint Tummy Tea Bags

Extraordinary Quality ~ Very Economical

Fennel is terrific for bloating & gas, Peppermint is great for IBS pain & spasms.
Heather's Fennel Tummy Tea Heather's Peppermint Tummy Tea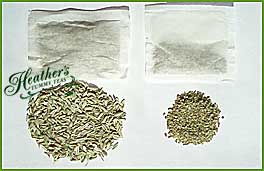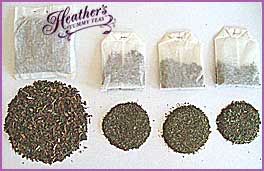 Compare for yourself! The pictures above show the huge difference in the quantity and quality of tea per teabag. The price comparison here is even more shocking!



Maple Oat Bread

This bread is a delicious, terrific staple to bake in large batches so you have extra loaves to freeze. The oatmeal and flour give a high soluble fiber content, while the soured soy milk tenderizes the dough in place of the traditional buttermilk. The pecans or cranberries are both a lovely touch that perfectly complements the maple richness of this bread.

Oatmeal is a traditionally soothing food for heartburn as well as IBS, and serving this bread with a cup of Fennel Tummy Tea will be extra helpful for both problems as well!

Makes 1 9x5 inch loaf, recipe doubles easily

1 3/4 cups all-purpose unbleached white flour
1 teaspoon baking powder
1/2 teaspoon baking soda
1/2 teaspoon salt
2 tablespoons Acacia Tummy Fiber
2 organic egg whites
1/4 cup canola oil
1/2 cup maple syrup
3 tablespoon packed brown sugar
1 1/2 cups soy milk blended with 1 tablespoon white or apple cider vinegar
1 cup regular or quick rolled oats
1/3 cup finely chopped pecans OR chopped dried cranberries (optional)

Preheat oven to 350F. Lightly spray a 9x5" loaf pan with cooking oil. In a large bowl, sift the flour, baking powder, baking soda, salt, and Tummy Fiber. Whisk together until blended. In a medium bowl whisk the egg whites with the oil until smooth. Whisk in the maple syrup, brown sugar, and soured soy milk. Stir in the oats. (Add pecans or dried cranberries)

Add wet ingredients to dry and stir with a wooden spoon until just combined. Pour into pan, smooth top, and bake until golden brown and a tester inserted into center of loaf comes out clean, about 1 hour. Cool on rack in pan for 10 minutes, then turn out of pan onto rack and cool completely before slicing. Freezes beautifully.

This bread is fantastic with a cup of soothing Fennel Tummy Tea!

Are you just learning how to eat for IBS? A little intimidated at the thought of special IBS recipes? Not quite sure just what makes these recipes special in the first place? Don't worry! Come see the IBS Diet pages, and find the answers to all your questions.

~ Heather's Tummy Fiber ~
For the Dietary Management of Abdominal Pain, Diarrhea, &, Constipation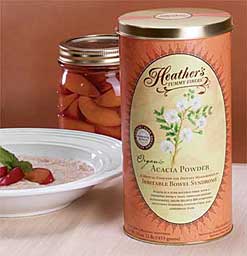 Certified Organic Acacia ~ Pure Soluble Fiber

The prebiotic fiber that relieves both diarrhea and constipation!

** Very Economical ** Only 4 cents per gram of fiber!

What Finally Helped After $50,000 in Medical Bills

Dear Heather,

I have undergone so much this year, including removal of my gallbladder, with no relief of my symptoms. After about $50,000 worth of medical bills I found out my pain is being caused by IBS. I researched the internet and thank God I found you. Your Tummy Tamers Peppermint Oil Capsules are miraculous!

I have been taking the peppermint caps for about three days now and my symptoms are much improved. I am going to continue with this as it is the only thing that has relieved my symptoms. I am leaving to see my medical doctor for a follow up in a few minutes and I am going to inform him of your product and how much it has helped me. I will be ordering more stuff in the very near future. Thank you so much for this help.

I most certainly do not mind if you put this in the IBS newsletter. I hope this will encourage others to try your products. Thank you so much!

Julie Mounts

Thank you, Julie! I'm so happy to hear you're feeling better! ~ Heather

Did you miss the recent letter from Ellen, who was told people like you just THINK they have IBS ?!?

~ Heather's Tummy Tamers Peppermint Oil Capsules ~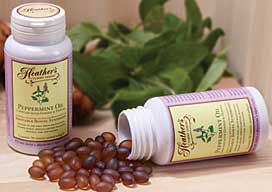 Peppermint Oil Caps Called "Drug of Choice for IBS"

Our Peppermint Oil Caps have the added benefits of fennel and ginger oils, and they help prevent abdominal pain, gas, and bloating!


New Stores and Special Events with Heather's Tummy Care Products

We're continuing our special rebate offer for people who buy Tummy Care products at their local stores, and we have new store announcements this week as well. Plus, there are a number of store special events coming up, just see below!

Florida
Chamberlins Natural Foods
430 N. Orlando Ave
Orlando, FL 32789
918-664-2136

Vitamin Sea
3228 East Bay Dr.
Holmes Beach, FL 34217
941 201 6523

Michigan
Heritage National Foods
717 Gratiot Ave
Saginaw, MI 48602
989 793 5805

Missouri
Health Care Pharmacy
628 N. Old St. Mary's Rd
Perryville, MO 63775
573-547-4526

North Carolina
Spa at North Bridge
625 North Bridge St
Elkin, NC 28621
336-526-2001

Texas
Boutique Botanica
1512 Ave C
Building C
Katy, TX 77493
281 574 4999

Vermont
Deirdre Donnelly Studio
Quechee Gorge Village
5573 Woodstock Road
Quechee, VT 05059
802 432 1700

If you don't have a store in your area carrying Tummy Care products yet, please give them this flyer to ask them.

Special Events All Over!

* On April 22nd and 23rd, Herbally Grounded is having a party for our planet with their annual Earth Day Celebration! The first 120 guests to spend $100 will receive a free re-usable 4Ever Bag full of goodies. There will be drawings throughout the day for gift baskets, including a fabulous one full of Heather's Tummy Care products!

Herbally Grounded is located at 4441 W. Charleston Blvd, Las Vegas, NV 89102 (phone 702-558-4372). Their hours are 9am-9pm both days.

* On Wednesday May 20th come celebrate Nature's Pantry's 15th annual health fair! More than 25 gorgeous gift baskets will be given away, including one chock full of Heather's Tummy Care. The fair will feature lots of free samples, special discounts on products, question and answer sessions, plus numerous therapy demos. There will be doctors, alternative care practitioners, raw foods chefs, and acupuncturists offering their services - and more!

Nature's Pantry is located at 6008-D Clark Rd, Paradise, CA 95969 (phone 530-872-0549).

* Staff of Life is having a Month of May Tribute to Women! They are celebrating the entire month with lectures, demos, samples, raffles, gift baskets (including one with Heather's Tummy Care!), and more! Here's their full schedule of May events.

Staff of Life is located at 1305 Water St, Santa Cruz, CA, 95062 (phone 831-423-8632).

* On May 2nd Bloom Naturally is having a Grand Re-Opening at their new store location! They will have lots of in-store samples, demos, and gift baskets to give away, including one just bursting with Heather's Tummy Care goodies.

Bloom Naturally's gorgeous new store is located at 307 Columbia Blvd, Bloomsburg, PA, 17815 (phone 570-784-3357).

* E'town Naturopathic Store is celebrating their grand opening! This terrific health store will be offering professional nutritional advise from Dr. Dean Tindall, ND. They also have Standard Process & Mediherb whole food supplements, homeopathic remedies, products from Heather's Tummy care, and more! Their new store will expand and carry locally grown produce. Other services include Saliva Hormone Testing and complete health evaluations.

E'Town Naturopathic Center is located at 620 Westport Rd Ste A, Elizabethtown, KY, 42701 (phone 270-769-9844).

Linda Lee's talks are at 377 Piermont Road / Auryansen Court, Closter, NJ 07624, (phone 201-784-1685).

See you there!

Researchers call gut-directed hypnotherapy a "cure" for IBS!

The Best Gut-Directed Self-Hypnosis Program for All IBS Symptoms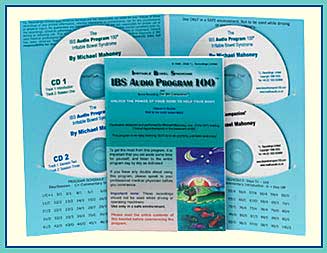 Gives an average 85% reduction of pain and bowel dysfunction symptoms.
Listen to IBS Audio Program 100 samples!

Preventing IBS Symptoms - Why Tummy Tamers are Special!

Our last newsletter addressed the exceptional quality and economic value of Peppermint and Fennel Tummy Teas for immediate help with IBS symptoms. If you're prone to sudden, severe attacks of pain, spasms, bloating, or gas, I can't recommend anything more fervently than these teas.

But what about preventing these - and other - IBS symptoms in the first place? And what if you have heartburn as well as IBS? Is there an easy, affordable, and effective way to manage this?

Yep! In addition to dietary management, which I think is critical, the best way I know to head off IBS symptoms before they even start is with the Tummy Tamers enteric coated peppermint oil capsules. Peppermint oil caps have actually been called the "drug of choice" for IBS.

While there are several different brands of peppermint oil capsules on the market, Tummy Tamers are the only ones formulated specifically for the special needs of people with IBS. How do we do this?

Our first concern is that people with IBS are statistically more prone to heartburn, and peppermint is contraindicated for people with heartburn, GERD, and reflux. We have tried very hard to work around this problem, however.

How? The Tummy Tamers capsules are enteric coated, which allows them to pass through the stomach without dissolving until they reach the small intestines. This enteric coating is resistant to stomach acid.

In fact, we use fifty percent more than the industry standard amount of enteric coating on our Tummy Tamers, to allow as many people as possible to use them for IBS without aggravating any upper GI issues.

Second, we formulated Tummy Tamers to contain not just peppermint oil but fennel and ginger oils as well.

Clinical studies have shown that peppermint oil is exceptionally beneficial for IBS abdominal pain and spasms, diarrhea, and urgency (and it will NOT worsen constipation). Fennel helps relax the gut, regulates contractions of the small intestine, and aids bloating and gas. Plus, it's known to have a calming effect on the bowel. Ginger contains powerful digestive enzymes and has historically been a remedy for nausea.

In addition, both fennel and ginger are traditional remedies for heartburn. Together with the peppermint oil in the Tummy Tamers, they have a synergistic effect on global IBS symptoms without the heartburn risk of peppermint alone.

Even though Tummy Tamers have extra enteric coating, which makes them more expensive to produce, they are actually the most economical brand of peppermint oil capsules on the market!

The stats below show the cost per capsule (from the suggested retail price as of April 2009, on drugstore.com, iherb.com, and allstarhealth.com), with a comparison between the Tummy Tamers and a variety of other store brands.

~ Heather's Tummy Tamers Peppermint Oil Capsules ~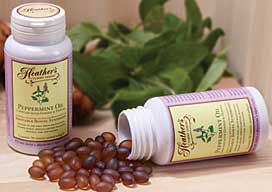 Peppermint Oil Caps Called "Drug of Choice for IBS"

Our Peppermint Oil Caps have the added benefits of fennel and ginger oils, and they help prevent abdominal pain, gas, and bloating!


Compare for yourself!

Heather's Tummy Tamers - 90 caps/bottle - SRP $12.95
14 cents per cap
50% more enteric coating than industry standard
Plus fennel and ginger oil!

Enzymatic Therapy Peppermint Plus - 60 caps/bottle - SRP $17.50
29 cents per cap
standard enteric coating

Natural Factors - 60 caps/bottle - SRP $17.95
30 cents per cap
standard enteric coating

Nature's Way Pepogest - 60 caps/bottle - SRP $12.99
22 cents per cap
standard enteric coating

Solaray Peppermint Oil Gels - 60 caps/bottle - SRP $21.99
37 cents per gel
standard enteric coating

The Tummy Tamers are clearly much less expensive than other brands, even though they are formulated specifically for IBS!

What's also very important is that how you take them can make a world of difference.

The capsules MUST be taken on an empty stomach, as they need to pass through the stomach unimpeded so they can reach the intestines before they dissolve. This can take a bit of time, so for this reason it's best to use the capsules to head off IBS symptoms in the first place.

Personally, I carry them with me in my purse and in the car, and I religiously take one before restaurant meals. This dramatically decreases my risk of an attack from food that, despite my best efforts, I never really have total control over. It also gives me tremendous peace of mind, as I know from experience now that I do have a greater measure of tolerance for fats and other triggers if I've taken a Tummy Tamer first.

As a result, I get two great benefits. First, the physical effects of the capsules and their direct effect on my gut. Second, the mental relaxation that comes from knowing I am much less likely to get sick. The less I have to worry about my IBS, the lower the odds that this anxiety itself will trigger symptoms. I consider this the second synergistic effect of the Tummy Tamers.

However, some people with severe GERD, reflux, or chronic heartburn may still have problems with the peppermint capsules if they dissolve in the stomach before reaching the intestines. The antispasmodic effect you want to happen in your intestines will then occur in the stomach, and this relaxes the esophageal sphincter at the top of the stomach. That can lead to heartburn.

There are a several measures that can prevent this from happening:

1) Take the Tummy Tamers on an empty stomach at least one hour before a meal. This gives the capsules plenty of time to reach the intestines before they dissolve. (If you're not prone to heartburn, you must still take the caps on an empty stomach, but you can take them right before a meal.)

2) Never take Tummy Tamers during or after a meal because the food will delay the capsules from reaching the intestines, and this could cause them to dissolve in the stomach.

3) Drink just enough cool - not hot - liquid to swallow a capsule easily. While the enteric coating makes them resistant to stomach acid, the capsules are water soluble. Limiting the amount of liquid they'll be floating around in will help them reach their destination without dissolving.

4) Don't take the Tummy Tamers at the same time as any medication (prescription or over-the-counter) meant to lower your stomach acid. Lowering the stomach acid makes the enteric coating less likely to work (remember, it's resistant to high acid). For folks who need to take these medications, try taking the Tummy Tamers about an hour before you take the acid lowering/blocking medication, and then have your meal.

As a side note here, not being able to tolerate enteric coated peppermint oil capsules because they are dissolving in the stomach and causing heartburn or burping might actually indicate low stomach acid. If your stomach acid level is high enough, the Tummy Tamers should not dissolve until they reach the low acid environment of the intestines. This means you shouldn't have any burping or heartburn from the Tummy Tamers at all.

If you've followed all the Tummy Tamer tips and still experienced heartburn, you may want to see your doctor to test your stomach acid levels.

If you haven't ever tried the Tummy Tamers, they're definitely one of my top recommendations for successfully preventing IBS symptoms in the first place!

If you know that you are simply unable to use peppermint at all, try Fennel Tummy Tea instead.

~ Heather

Did you miss our recent "Ask Heather" and what gives immediate help for IBS symptoms, at twice the value for half the cost?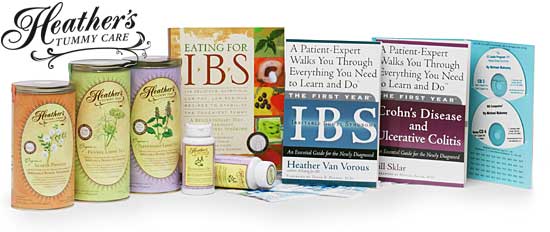 Shop at Heather's Tummy Store for IBS
HelpForIBS.com
The only store that's just for IBS - so we only carry the very best

You're on this newsletter list because you have expressed interest in IBS news and information.




Change your newsletter email address here.

If you are viewing this newsletter on a website and would like to subscribe for email delivery, please "Join the IBS Newsletter" here.

ANTI-SPAM PRIVACY & SECURITY POLICY
HelpForIBS.com
Heather's Tummy Care
80 S. Washington St, #304
Seattle, WA 98104 USA

© 2009 Heather Van Vorous, Heather's Tummy Care. All rights reserved.
USA Copyright Office Registration Number TXU 1-270-858 and others