Heather's IBS Newsletter ~ For Irritable Bowel Syndrome


A miracle worker for a grumbling, bubbling tummy?

What's the worst beverage for IBS ever?

Plus the IBS treatments patients actually want!


Enjoy this week's news and don't miss the special North Carolina Tummy Care event!

Best Wishes,
Heather Van Vorous

Did a friend send you this newsletter? Sign up here for your own free subscription.



~ Heather's Tummy Tamers Peppermint Oil Capsules ~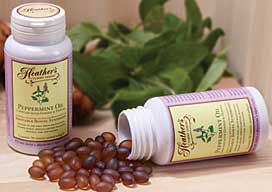 Peppermint Oil Caps Called "Drug of Choice for IBS"

Our Peppermint Oil Caps have the added benefits of fennel and ginger oils, and they help prevent abdominal pain, gas, and bloating!

Creamy Red Lentil Soup with Cumin-Caraway Toasts

Here's a hearty, throw-together, Middle Eastern style soup that is wonderful on chilly days. Pureeing the soup minimizes the insoluble fiber of the lentil skins, while the insides of the legume offer lots of soluble fiber. Plus, all the mild herbs and spices in this recipe are not only delicious, they're wonderful digestive aids as well. Seasoned sourdough toasts add a tasty crunch!

Makes 8-10 servings

Soup:

2 1/2 cups dried red lentils (about 1 pound), picked over
2 medium onions, finely chopped
5 large garlic cloves, minced
2 tablespoons olive oil
2 tablespoons Acacia Tummy Fiber
1 tablespoon ground coriander
1 1/2 teaspoons ground cumin
2 large cinnamon sticks
1/2 teaspoon ground cardamom
1/8 teaspoon ground cloves
1 teaspoon ground ginger
1/2 teaspoon white pepper
8 cups veggie broth
1 1/2 teaspoons salt

In a large bowl soak lentils in cold water to cover for 1 hour, then drain. In a large heavy stockpot sauté onions and garlic in oil over medium heat, stirring, until golden. Stir in Tummy Fiber and spices (but not salt) and cook, stirring occasionally, about five minutes.

Stir in lentils and broth and bring to a boil. Reduce heat and simmer uncovered until lentils disintegrate, stirring occasionally, about 1 hour (though the longer this soup cooks the tastier it will be).

Add the salt and remove the cinnamon sticks. Puree about half the soup in a blender and return to pot. Serve with one piece of toast at bottom of each bowl, and top each bowl with second piece of toast.

Cumin-caraway toasts:

Two small pieces of sourdough bread per person
ground cumin, ground caraway seeds, garlic salt

Lightly mist both sides of bread with cooking oil spray. Sprinkle lightly with cumin, caraway, and garlic salt. Toast or broil until golden brown.

This soup is wonderful with our Nutty Banana Peach Smoothie!

Are you just learning how to eat for IBS? A little intimidated at the thought of special IBS recipes? Not quite sure just what makes these recipes special in the first place? Don't worry! Come see the IBS Diet pages, and find the answers to all your questions.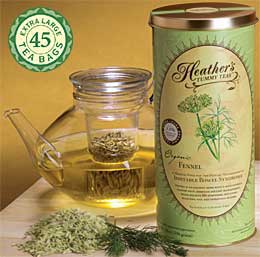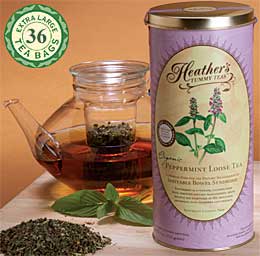 Organic High Volatile Oil Fennel & Peppermint Tummy Tea Bags

Extraordinary Quality ~ Very Economical

Fennel is terrific for bloating & gas, Peppermint is great for IBS pain & spasms.

No More Grumbling and Bubbling Tummy

Hi!

I do not have IBS, but I am VERY concerned about what goes into my body. After years of taking fiber supplements that made me gassy, bloated and often irregular, I stumbled upon your Acacia Tummy Fiber.

THANK YOU! Your product is gentle, yet very effective. My tummy is no long grumbling and bubbling all day long and I feel light and healthy.

It is wonderful that a completely natural and organic product can be such a miracle worker. Thank you again.

Kirsten
California

Thank you so much, Kirsten! ~ Heather

Did you miss the recent letter from Carol, who finally found a treatment worth the money!

~ Heather's Tummy Fiber ~
For the Dietary Management of Abdominal Pain, Diarrhea, &, Constipation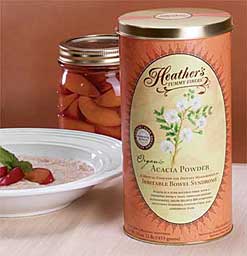 Certified Organic Acacia ~ Pure Soluble Fiber
The prebiotic fiber that relieves both diarrhea and constipation!

** Very Economical ** Only 4 cents per gram of fiber!


Special Event in North Carolina

Masteryworks in Greensboro, North Carolina, is featuring Heather's Tummy Care samples and information at the Natural Triad Health and Wellness Show. The show is free, and takes place April 4 from 9am to 6pm at the Greensboro Coliseum Special Events Center.

Come by for free health screenings, question and answer sessions, free samples, and your chance to win a fabulous gift basket of Heather's Tummy Care IBS goodies!




Researchers call gut-directed hypnotherapy a "cure" for IBS!

The Best Gut-Directed Self-Hypnosis Program for All IBS Symptoms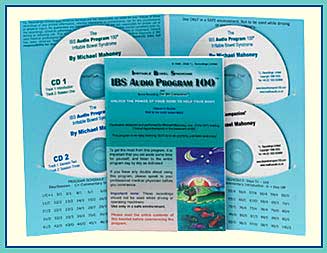 Gives an average 85% reduction of pain and bowel dysfunction symptoms.
Listen to IBS Audio Program 100 samples!

What Do IBS Patients Want for Treatments?
A recent study in BMC Complementary and Alternative Medicine tried to gain a patient-perspective of treatment acceptability and identify patient's attitudes towards those modalities considered not acceptable.

The study found that tablets were the most acceptable treatment (84%), followed by dietary changes (82%) and yoga (77%) When explaining lack of acceptability, patient views fell into four broad categories: dislike treatment modality, do not perceive benefit, general barriers, and insufficient knowledge. Skepticism, lack of scientific rationale and fear of alternative medicine were mentioned, although others expressed a dislike of conventional medical treatments. Past experiences, age and health concerns, and need for proof of efficacy were reported.

The study concluded that most patients were willing to accept various forms of treatment. However, the reservations expressed by this patient-population must be recognised with particular focus directed towards allaying fears and misconceptions, seeking further evidence base for certain therapies and incorporating physician support and advice.

Go here for full IBS dietary treatment information.

Go here for more information about this study...

Looking for more IBS research and news? Check the IBS Research Library!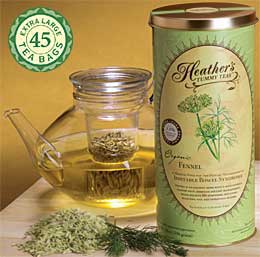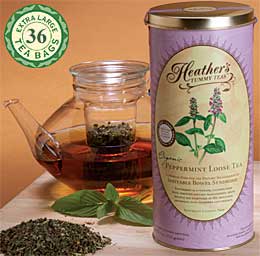 Organic High Volatile Oil Fennel & Peppermint Tummy Tea Bags

Extraordinary Quality ~ Very Economical

Fennel is terrific for bloating & gas, Peppermint is great for IBS pain & spasms.

What NOT to Drink for Irritable Bowel Syndrome - Part 2
"What drinks should I avoid if I have IBS?"

After our recent, and very popular column about what's safe to drink for IBS, I received a lot of letters from folks asking what's NOT safe.

The short answer is, unfortunately, quite a few things - enough for two separate Ask Heather columns, actually. (If you missed part one, check here.)

Just knowing potential triggers is half the battle, so here's a rundown on what drinks you should really avoid altogether - especially since there is such a wealth of delicious, safe alternatives. There may be some individual exceptions to the drinks on this list, and I've tried to include those in as much detail as possible.

* Alcohol - it's a GI irritant and a colon carcinogen as well, so it's especially important to avoid altogether if you have an inflammatory bowel disease. Alcohol is more likely to trigger IBS attacks on an empty stomach, so some folks can drink a bit when they're generally stable and have just eaten. If you do drink, please choose wisely, and avoid adding other GI triggers to the equation (so no mixed drinks with dairy, coffee, high fat coconut milk, or carbonation). Some folks find wines more tolerable than hard liquor, and white wines more tolerable than red.

* Black Tea - mostly if you're prone to upper GI problems like heartburn or reflux. Acidic foods, such as the tannic acid in black teas, can trigger or exacerbate acid reflux. Green teas, especially decaffeinated versions, are often much more tolerable. Green tea is also phenomenally good for your overall health, so if you can tolerate the decaf variety, particularly blended with an IBS-helpful tea like fennel or peppermint, it's well worth drinking.

* Energy Drinks - what happens if you take everything awful for IBS that's in soda pop, then add extra artificial ingredients, caffeine, and other GI stimulants? You'll get the most terrible beverage for IBS ever invented. The only way to make it worse would be to add some hard liquor and smoke a few cigarettes along with it. I'm actually getting queasy just thinking about this...

* Meal Replacement Drinks - while these logically should be designed for optimum GI tolerability, they're not. I've yet to see a brand that doesn't contain dairy, added dairy proteins like whey, a high fat content, fructose, artificial flavors, artificial colors, caffeine, or all of these triggers combined. You're much better off making your own fresh fruit smoothie with soy milk or rice milk, and adding some Tummy Fiber to the blender.

* Diet, Slimming, or Detox Teas - usually these words are code for "harsh stimulant laxative", such as senna or cascara, or harsh diuretics. You have to read the labels to be sure, so be very careful you know exactly what you're dealing with here.

Feeling discouraged? Don't be! There are many delicious and safe beverage options for IBS, so don't focus on deprivation when you have a wonderful (and long) list of IBS-friendly drinks.

~ Heather



Did you miss our recent "Ask Heather" and what IS safe to drink for IBS?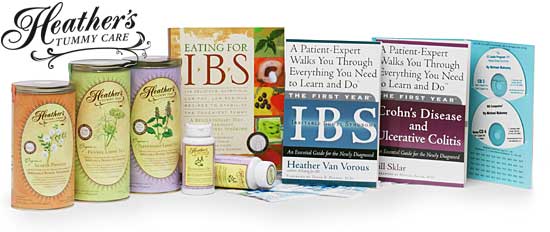 Shop at Heather's Tummy Store for IBS
HelpForIBS.com
The only store that's just for IBS - so we only carry the very best

You're on this newsletter list because you have expressed interest in IBS news and information.




Change your newsletter email address here.

If you are viewing this newsletter on a website and would like to subscribe for email delivery, please "Join the IBS Newsletter" here.

ANTI-SPAM PRIVACY & SECURITY POLICY
HelpForIBS.com
Heather's Tummy Care
80 S. Washington St, #304
Seattle, WA 98104 USA

© 2009 Heather Van Vorous, Heather's Tummy Care. All rights reserved.
USA Copyright Office Registration Number TXU 1-270-858 and others