Heather's IBS Newsletter ~ For Irritable Bowel Syndrome


How to cheat on the IBS diet?!

When an IBS doctor learns from his patient.

Plus, a lot of new stores in the US and Canada!


Hello to everyone -

This week we tackle the question everyone is always dying to ask - can I cheat on the IBS diet? Find out!

We also have a short and sweet reader letter from someone whose IBS doctor learned from her!

Plus, we have a ton of new stores to announce and, as always, a delicious and digestion-friendly recipe. Enjoy!

Best Wishes,
Heather Van Vorous

Did a friend send you this newsletter? Sign up here for your own free subscription.



~ Heather's Tummy Tamers Peppermint Oil Capsules ~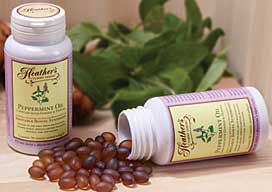 Peppermint Oil Caps Called "Drug of Choice for IBS"

Our Peppermint Oil Caps have the added benefits of fennel and ginger oils, and they help prevent abdominal pain, gas, and bloating!

Sweet Orange Corn Bread

This fantastic recipe makes a golden loaf of moist, rich corn bread with the sweet perfume of fresh orange zest. It takes just 10 minutes in the kitchen to get your loaf into the oven!

Makes 9 x 5 inch loaf, 16 slices per loaf

Preheat oven to 350F.

1 1/2 cups soy milk
1 teaspoon apple cider vinegar
1 tablespoon Acacia Tummy Fiber
1 cup yellow corn meal
1 cup unbleached white flour
1/2 cup granulated sugar (or less, to taste)
1/2 teaspoon salt
1 teaspoon baking powder
1/2 teaspoon baking soda
1/4 cup canola oil
Zest from one orange

In a medium bowl stir together the soy milk and vinegar (mixture will slightly curdle); set aside. In a large bowl sift the dry ingredients and whisk them together to blend well. Set aside. Whisk the canola oil and fresh orange zest into the soy milk mixture. Add the wet ingredients to the dry with the wire whisk, blending just until ingredients are incorporated. Pour batter into a loaf pan sprayed lightly with cooking oil. Bake for 40-50 minutes, until a toothpick or cake tester comes out clean. Cool on a wire rack before slicing.

Delicious toasted!

For a wonderful afternoon snack have some cornbread with a cup of soothing Peppermint Tummy Tea!

Are you just learning how to eat for IBS? A little intimidated at the thought of special IBS recipes? Not quite sure just what makes these recipes special in the first place? Don't worry! Come see the IBS Diet pages, and find the answers to all your questions.

~ Heather's Tummy Fiber ~
For the Dietary Management of Abdominal Pain, Diarrhea, &, Constipation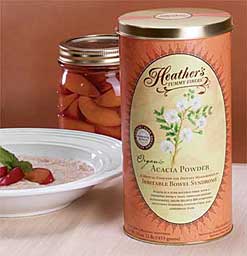 Certified Organic Acacia ~ Pure Soluble Fiber

The prebiotic fiber that relieves both diarrhea and constipation!

** Very Economical ** Only 4 cents per gram of fiber!

When Your IBS Doctor Learns from You!

Dear Heather,

Your book Eating for IBS was so helpful that I have given a copy to my GI doctor! He was so happy to receive the book since it is really difficult to find good literature about IBS.

I am feeling better than I have felt for 7 years! Thank you, Heather. You have truly been a saint.

Please print my email anywhere you like. I hope it encourages others to pass the information on to their doctors so that others can benefit from this supremely wonderful information.

-Rachael

Thank you, Rachael! ~ Heather

Did you miss the recent letter from Sandra, who dealt with IBS pain so severe she had to lie down??

~ Eating for IBS ~
Comprehensive IBS Diet Information & Safe Foods vs. Trigger Foods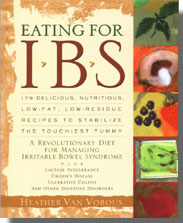 Addresses multiple IBS symptoms * Teaches substitution, never deprivation

Finalist for the Julia Child cookbook award!


New Stores and Practitioners with Heather's Tummy Care Products

We're continuing our special rebate offer for people who buy Tummy Care products at their local stores, and we have new store announcements this week as well.

California
Health Management
Linda Dekam
1301 Airport Drive Suite B
Bakersfield, CA 93308
661-391-0187

Leslie Newman-Clark
6637 La Jolla Blvd
La Jolla, CA 92037
858-551-0722

North Carolina
Mother Earth Nutrition
79 Waynesville Plaza
Waynesville, NC 28786
828-456-3216

Pennsylvania
Infinity Health Markets
750 S Leechburg Hill
Leechburg, PA 15656
724-845-7400

Tennessee
Jennifer Masters, RD
2100 W Clinch Ave Suite 230
Knoxville, TN 37916
865-522-4116

Texas
Abundant Health Naturally
155 College Park Drive
Weatherford, TX 76086
817-599-3004

Canada
Dr. Ian Town
360 Bayly St West Suite 2
Ajax, Ontario L1S 1P1
905 831 3578

London Station Organic Market
#120-6231 London Road
Richmond, BC V7E 3S3
Canada
604-272-0789
Phone orders / out-of-town shipping please call:
Libra Nutrition and Lifestyle Consulting
778 999 7554

Durham Natural Foods
1191 Montrose Avenue
Sudbury, ON P3A 5J6
Canada
705-566-3820

Norfolk Holistic Foods
17 Peel St
Simcoe, ON N3Y 1S1
Canada
519-426-9309

If you don't have a store in your area carrying Tummy Care products yet, please give them this flyer to ask them.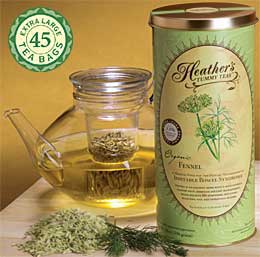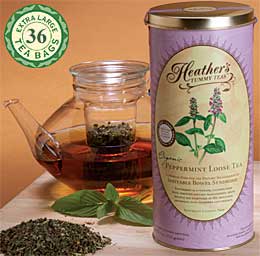 Organic High Volatile Oil Fennel & Peppermint Tummy Tea Bags

Extraordinary Quality ~ Very Economical

Fennel is terrific for bloating & gas, Peppermint is great for IBS pain & spasms.

How to Cheat on the IBS Diet

Last week we addressed that age-old question: does size matter? Well, as we learned, when it comes to IBS dietary management the answer is a resounding yes! This week, we'll look at a fringe benefit to portion control.

One aspect in particular has some very happy possibilities for IBS. The risk of trigger foods can be tremendously minimized if they're eaten in tiny quantities following soluble fiber foods and/or a soluble fiber supplement. In this regard, it is as much how you eat as what you eat that will help you manage your symptoms.

While this is most important as a tool to allow you to incorporate all those healthy insoluble fiber foods as often as possible, it can also be a means of treating yourself - occasionally - to a "mini-splurge" every once in a while.

Let's say, for example, you've been stable for a while (this is critical!) and you're just dying for a chocolate candy bar. Eating a full-size candy bar as a snack when your stomach is empty will likely wreak havoc and send you into an immediate downward spiral of attacks (why? because it's sky high in fat and dairy, and has very little soluble fiber).

However, if your symptoms were well under control and you instead decided to treat yourself to a snack-size individual candy bar (a tiny portion equals a tiny quantity of fat/dairy triggers) for dessert, immediately following a nice low-fat, high soluble fiber meal, you'd likely do just fine. Please note that the more often you splurge, however, the less likely you will continue to be fine. This is a once-in-a-while treat strategy for most people.

I can actually eat a little bit of solid chocolate pretty frequently in this manner. Of course, this may just be sheer willpower because as God is my witness I will not go through life without chocolate, but I think this is probably the less likely explanation.

Personally, I find that using soluble fiber foods and the Acacia Tummy Fiber greatly increases my tolerance for insoluble fiber triggers. Taking my Tummy Fiber right before I eat these triggers is my safety strategy for an occasional splurge of insoluble fiber foods that are particularly difficult for me to tolerate, such as corn-on-the-cob, Caesar salad, and fresh pineapple.

Interestingly, with high fat triggers, I get a lot more "cheating room" by taking a peppermint oil Tummy Tamer capsule on an empty stomach right before the splurge. Then I have my soluble fiber meal foundation with the "special-treat" trigger food. This works beautifully for me for solid chocolate, a bite or two of cheesecake, and even a few deep-fried onion rings.

Whatever your favorite trigger food, these strategies can give you a good means of likely allowing yourself the occasional small indulgence. Please - pay attention to all of the caveats before you try this, and do realize that everyone's tolerances will differ.

For example, there are some triggers that I have little to no tolerance for at all (red meat and coffee) despite all precautionary measures. So, I just don't ever cheat with these foods. And no one says you have to try and cheat on the diet at all. This column is not a recommendation, it's just a safety guideline.

The whole point of Eating for IBS was to give people fantastic food and great recipes that are safe for IBS in the first place. This way of eating is so satisfying that the urge to splurge should hit rarely, if ever.

However, if you do get a trigger food itch that you just have to scratch, it's at least a great consolation to know that IBS food intolerances are, fortunately, not like food allergies. The quantity of a trigger really does matter. For this we can thank our lucky stars, as it means that few things are truly forbidden to us as long as we follow some common sense rules and exercise a little self control. Now, where's that Hershey's kiss I've been saving?

~ Heather

Did you miss the recent Ask Heather and why size matters?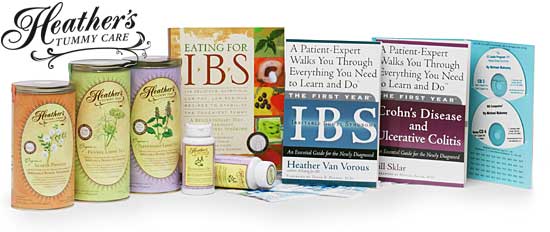 Shop at Heather's Tummy Store for IBS
HelpForIBS.com
The only store that's just for IBS - so we only carry the very best

You're on this newsletter list because you have expressed interest in IBS news and information.




Change your newsletter email address here.

If you are viewing this newsletter on a website and would like to subscribe for email delivery, please "Join the IBS Newsletter" here.

ANTI-SPAM PRIVACY & SECURITY POLICY
HelpForIBS.com
Heather's Tummy Care
80 S. Washington St, #304
Seattle, WA 98104 USA

© 2008 Heather Van Vorous, Heather's Tummy Care. All rights reserved.
USA Copyright Office Registration Number TXU 1-270-858 and others