Heather's IBS Newsletter ~ For Irritable Bowel Syndrome


Help for IBS that hurts so bad you have to lie down?

When it comes to IBS size matters!

Delicious series! IBS recipes on a budget.


Hello to everyone -

It's an infamous question - does size matter? When it comes to IBS, you bet it does!

Don't miss this week's fantastic letter from a woman who resolved IBS pain so severe she had to lie down when it hit her. Now she's playing with her grandchildren instead of suffering.

Finally, we continue our series featuring budget-conscious ways to address IBS, including frugal (but digestion-friendly and delicious) recipes. Try our fantastic seasonal luscious creamy pasta.

Enjoy!

Best Wishes,
Heather Van Vorous

Did a friend send you this newsletter? Sign up here for your own free subscription.



~ Heather's Tummy Tamers Peppermint Oil Capsules ~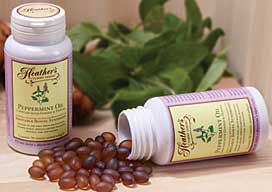 Peppermint Oil Caps Called "Drug of Choice for IBS"

Our Peppermint Oil Caps have the added benefits of fennel and ginger oils, and they help prevent abdominal pain, gas, and bloating!

Creamy Autumn Squash Pasta

This is a delicious, seasonal pasta dish that makes a terrific one-dish dinner. The sauce is creamy and luscious, and you can use any variety of sweet winter squash. If you have a local farmers' markets or a home garden with heirloom squash varieties, try something other than the basic butternut variety.

Using locally grown, seasonal ingredients is one of the best ways to keep a reasonable (and flavorful!) food budget. The squash and pasta in this recipe provide a great soluble fiber foundation, and the Tummy Fiber makes the sauce extraordinarily rich and creamy.

Makes 6-8 Servings

4 cups fresh or frozen butternut, buttercup, ambercup squash, peeled, diced, and steamed until very tender

2 cups plain soy or rice milk
2 tablespoons cornstarch
1 tablespoon Acacia Tummy Fiber
2 tablespoons olive oil
2 cups finely diced onion
4 garlic cloves, minced
1 teaspoon fresh or dried rosemary
2 teaspoons savory
2 teaspoons dried basil
1 teaspoon salt
2 teaspoons brown sugar
16 oz. package spaghetti or linguine, cooked, 1 cup cooking water reserved
soy or rice Parmesan

Whisk together the steamed squash, soy/rice milk, cornstarch, and Tummy Fiber until smooth. Set aside. Heat olive oil in a large nonstick skillet. Saute onion, garlic, and herbs until very tender and golden. Add the squash mixture, salt, and sugar, and cook over medium low heat until the sauce thickens. If the sauce is too thick add some reserved pasta water. Spoon the sauce over the cooked pasta and sprinkle with Parmesan.

For the perfect drink with this dinner have a cup of soothing Fennel Tummy Tea!

Are you just learning how to eat for IBS? A little intimidated at the thought of special IBS recipes? Not quite sure just what makes these recipes special in the first place? Don't worry! Come see the IBS Diet pages, and find the answers to all your questions.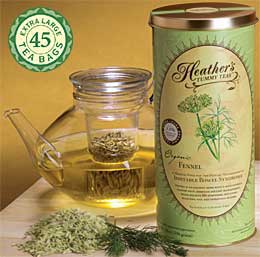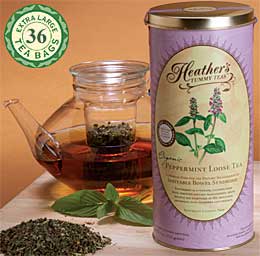 Organic High Volatile Oil Fennel & Peppermint Tummy Tea Bags

Extraordinary Quality ~ Very Economical

Fennel is terrific for bloating & gas, Peppermint is great for IBS pain & spasms.

When It Hurts So Bad You Have To Lie Down

Dear Heather,

I wanted to write and order more Acacia Tummy Fiber. I have taken this faithfully and it has done wonders. I have not had a pain since I have been taking it. It is wonderful!

I have been taking the Tummy Fiber for three months now. My, what a difference! I used to have such bad pain and wasn't getting any relief. I was missing days of work, and missing playing with my grandchildren because I hurt so bad, I had to lie down.

One day I was browsing the internet to find something on IBS and came across your website. I am so glad I did! You are wonderful, Heather. I love you for having this website. I also ordered the cookbook Eating for IBS which is absolutely great and I love the recipes in it. I have tried several and they are delicious.

Thanks again, Heather. Keep doing what you are doing. You are helping so many people with IBS. I will be looking for my wonderful Tummy Fiber.

It would be an honor for you to use my comments on your website. I would love for people to know about your wonderful products for IBS and how much you have helped me and so many others.

Sincerely,
Sandra F. Allen

Thank you so much, Sandra! I am so happy to hear this! ~ Heather

Did you miss the recent letter from Peggy, who had IBS success after 59 years??

~ Heather's Tummy Fiber ~
For the Dietary Management of Abdominal Pain, Diarrhea, &, Constipation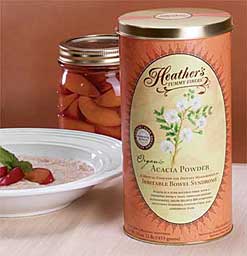 Certified Organic Acacia ~ Pure Soluble Fiber
The prebiotic fiber that relieves both diarrhea and constipation!

** Very Economical ** Only 4 cents per gram of fiber!

Is it Pain Sensitivity or Colonic Motility?
Irritable bowel syndrome (IBS) patients show pain hypersensitivity and hypercontractility in response to colonic or rectal distention. A recent study in The American Journal of Gastroenterology aimed to determine whether predominant bowel habits and IBS symptom severity are related to pain sensitivity, colon motility, or smooth muscle tone.

Compared with controls, IBS patients had lower pain thresholds, but IBS subtypes were not different. IBS symptom severity was correlated with pain thresholds. During distention, the motility index (MI) was significantly higher in IBS compared with controls. The study concluded that pain sensitivity and colon motility are independent factors contributing to IBS symptoms. Treatment may need to address both, and to be specific to predominant bowel habit. Go here for full information about IBS.

Go here for more information about this study...

Is IBS Really a Cascade of Events?
A recent study in the Medical Journal of Malaysia noted that, when specifically asked, about one third of people report recurrent abdominal discomfort, and irritable bowel syndrome (IBS) and chronic gastritis (CG) maybe the most frequently diagnosed ones among all.

In this study, IBS was diagnosed according to Rome II criteria and CG was diagnosed histologically. All cases with IBS were compared with the age and sex-matched randomly selected cases without IBS. One hundred and fifty-six patients with IBS and 179 patients without IBS were studied. CG was detected in 72.4% of cases with IBS, and only 36.3% in patients without IBS (p < 0.001).

This study suggests that IBS probably is a cascade of many physiological events, being initiated by infection, inflammation, psychological disturbances-like many stresses and eventually leading to dysfunctions of gut and other systems of the body via a low-grade inflammatory process.

Go here for full information about Irritable Bowel Syndrome...

Go here for more information about this study...



Looking for more IBS research and news? Check the IBS Research Library!





Researchers call gut-directed hypnotherapy a "cure" for IBS!

The Best Gut-Directed Self-Hypnosis Program for All IBS Symptoms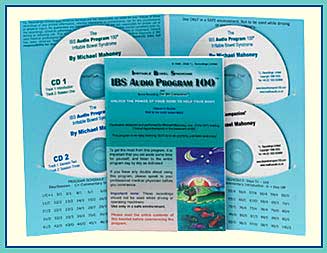 Gives an average 85% reduction of pain and bowel dysfunction symptoms.
Listen to IBS Audio Program 100 samples!

Size Matters

One of the lessons many people with IBS learn through painful personal experience is that no matter how safe any food is - even if it's just plain soluble fiber - eating a huge portion of it in one sitting can trigger a major attack. Why is this? Because your gastrocolic reflex (which goes awry in IBS) gains strength in direct correlation to the number of calories you consume in a meal. The types of foods those calories come from can be irrelevant if the sheer number of calories is just too high. What does this mean in practical terms?

Well, it makes it easy to see why high fat foods cause problems (fat is more than twice as calorie-dense as carbohydrates and proteins). It also means that bingeing – on anything – carries serious risks for those of us with IBS. So don't kid yourself that when your friends break out a pint of brownie fudge ice cream for a dessert splurge you can do the same with fat-free sorbet. It's not just ingredients, but quantity too. Size really does matter.

The good news is that keeping your portions small has some fringe benefits, particularly in that it should make it easier to eat more frequently, and this is a very helpful strategy for maintaining a constant intake of soluble fiber. Remember, IBS is best controlled by keeping your gut filled with soluble fiber - both foods and supplements, like prebiotic Tummy Fiber - on an ongoing daily basis.

Unfortunately, Americans have gotten used to "supersizing" just about everything, and this can be a hard habit for us to break. One thing to try at home is serving yourself on salad plates and in soup bowls, so that visually you don't feel faced with a skimpy meal on a huge dinner plate. Remember, you can always take a second small portion after you finish the first one, as long as you eat at a slow-to-moderate pace and you still feel hungry. This is a great way to keep from over-serving yourself initially and then feeling obligated to eat everything on your plate even if you're full. This can help overcome the "don't waste food" lesson ingrained in so many of us as children. Also, snacking on small amounts of food throughout the day will keep you from getting ravenous and then over-eating.

At restaurants, it's very easy to overeat, so make a point of taking your Tummy Fiber dose right before you eat, or a Tummy Tamer peppermint oil capsule to help keep your gastrocolic reflex relaxed and stable. This will help head off problems if you do eat more than you really should.

Once your food arrives, immediately divide your plate in half and take the extra portion home with you for a later meal. Once you develop this habit you'll likely be astonished to realize how oversized most restaurant meals are, and it will be clear why it's so common to suffer an attack if you eat all that food at one sitting. Many restaurants routinely serve portions are so generous I actually get three complete meals out of them. Even someone without IBS is likely to feel pretty uncomfortable if they wolf down that much food at a one dinner.

Coming next time, the fringe benefits of portion control, including - gasp! - how to cheat on the IBS diet.

~ Heather

Did you miss the recent Ask Heather and a diet myth debunked?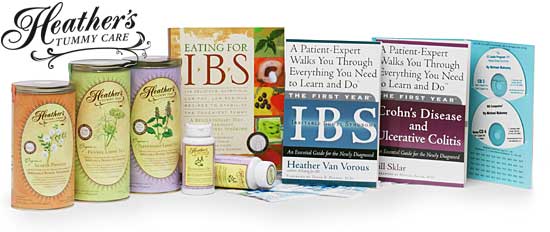 Shop at Heather's Tummy Store for IBS
HelpForIBS.com
The only store that's just for IBS - so we only carry the very best

You're on this newsletter list because you have expressed interest in IBS news and information.




Change your newsletter email address here.

If you are viewing this newsletter on a website and would like to subscribe for email delivery, please "Join the IBS Newsletter" here.

ANTI-SPAM PRIVACY & SECURITY POLICY
HelpForIBS.com
Heather's Tummy Care
80 S. Washington St, #304
Seattle, WA 98104 USA

© 2008 Heather Van Vorous, Heather's Tummy Care. All rights reserved.
USA Copyright Office Registration Number TXU 1-270-858 and others