Heather's IBS Newsletter ~ For Irritable Bowel Syndrome


IBS success story after 59 years - is it ever too late?

Heather debunks one of the biggest IBS diet misconceptions!

New series! IBS recipes on a budget.


Hello to everyone -

This week we have a terrific letter from someone who suffered from terrible IBS constipation and pain for years, then turned her life around in three months. She'll tell you why it's never too late to get well.

Plus, we start a series featuring budget-conscious ways to address IBS, including frugal (but digestion-friendly and delicious) recipes. Start with today's Bourbon Pecan Bread Pudding!

There's also a news and research finding on a successful - and free - way to improve IBS constipation.

Enjoy!

Best Wishes,
Heather Van Vorous

Did a friend send you this newsletter? Sign up here for your own free subscription.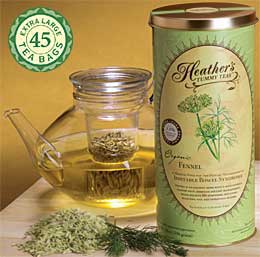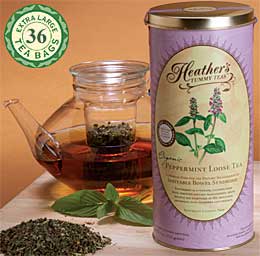 Organic High Volatile Oil Fennel & Peppermint Tummy Tea Bags

Extraordinary Quality ~ Very Economical

Fennel is terrific for bloating & gas, Peppermint is great for IBS pain & spasms.

Bourbon Pecan Bread Pudding

This is a wonderful breakfast, brunch, or dessert recipe, and it couldn't be faster and easier. It's also a terrific way to use up stale bread. You can whip everything together in just minutes the night before, refrigerate overnight, and then pop the dish in the oven the next day.

Bread pudding is the perfect comfort food for a chilly day, but traditionally it's made with trigger foods like dairy and egg yolks. Happily, this recipe uses soy milk and egg whites instead. The high soluble fiber basis comes from the bread, and gives a foundation for digestive stability that allows you to safely add a splash of bourbon and the insoluble fiber of pecans.

Feel free to substitute rum, scotch, or any fruit liqueur for the bourbon, and to use any chopped dried fruit (apples, raisins, apricots, cherries) in place of the pecans. This is such a flexible recipe and it works beautifully to use up any type of leftover bread, nuts and dried fruits you have on hand.

Makes 6-8 servings

6 C. stale white bread, cut or torn into 1" cubes
1/3 C. chopped pecans
1 T. Acacia Tummy Fiber
3 1/2 C. soy or rice milk
1/3 C. bourbon (or 1 T. rum extract)
4 egg whites, whisked till foamy
1/3 C. brown sugar
1 T. vanilla
1 t. cinnamon
1/2 t. nutmeg
1/2 t. salt

Lightly spray a 2 quart casserole dish with cooking oil. Place the bread cubes in the dish and scatter the pecans and Tummy Fiber over. In a large bowl, whisk together all remaining ingredients, and pour over bread cubes. Press bread down a few times so tops are coated with liquid.

Cover and refrigerate at least one hour, or overnight. Preheat oven to 350F. Uncover and bake bread pudding for 30-40 minutes, until golden brown on top. Remove from oven and let stand for 10 minutes before serving. Delicious!

For an extra soothing breakfast serve this pudding with a cup of Fennel Tummy Tea!

Are you just learning how to eat for IBS? A little intimidated at the thought of special IBS recipes? Not quite sure just what makes these recipes special in the first place? Don't worry! Come see the IBS Diet pages, and find the answers to all your questions.

~ Heather's Tummy Fiber ~
For the Dietary Management of Abdominal Pain, Diarrhea, &, Constipation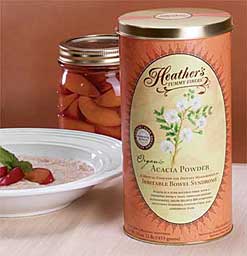 Certified Organic Acacia ~ Pure Soluble Fiber

The prebiotic fiber that relieves both diarrhea and constipation!

** Very Economical ** Only 4 cents per gram of fiber!

Never Too Late!

Dear Heather,

I have a success story to report.

I have lived with IBS-Constipation for many of my 59 years. I never knew what it was until my sister referred me to your book and website. It's never too late to get well!

I was going through a time of extreme highs and lows which included the death of a long time friend, the birth of two grandsons, my son's wedding, the emergency hospitalization of two daughters, a daughter going off to college, and more. I was emotionally and physically spent.

I began to have terrible bouts of IBS-C. The pain was unmitigating. I saw an MD and he put me through all the recommended tests, prescribed medication and finally diagnosed me with IBS. But there was little improvement. I began losing weight; the weight loss precipitated insomnia. Then came the panic attacks. I was a physical and psychological mess.

That's when my sister directed me to your work. I changed my diet; took my emotional troubles to a Psychiatric Nurse Practitioner who understood the body/mind connection.

For Christmas 2007, my husband gave me the Hypnotherapy CDs by Michael Mahoney and Heather's Tummy Fiber. I listened to the CDs as directed.

I obtained the Peppermint Tummy Tamer capsules from a local health food store and drank Peppermint Tummy Tea constantly. In three months, I was a new person.

I have re-gained the lost weight. The insomnia is gone. I hear myself laughing again. I seldom worry about what I am eating because I have learned to follow Heather's dietary precautions.

As an additional benefit, my 18 year old daughter (who had been diagnosed with serious depression) began the hypnotherapy. Although the CDs are IBS-specific, my daughter merely replaced the words "IBS" with her own particular problem and amazingly she derived as much relief from her depression as I had from the IBS symptoms.

Words seem such a small way to thank you for all of your research and labors of love but I offer them anyway. I hope your work will reach the millions of people who are in need of relief from IBS. I encourage anyone who is wondering whether they can be helped or not to invest in the hypnotherapy program and Heather's wonderful products. Take your life back!

You are most welcome to use my comments. I cannot thank you enough for helping to give me my life back. And, I am not exaggerating.

It was a difficult journey but worth the efforts.

Sincerely,

Peggy Saindon
Seymour, Wisconsin

Thank you so much, Peggy! I am just thrilled that you and your daughter are doing so much better! ~ Heather

Did you miss the recent letter from Thelma, who no longer lives in the bathroom??



Researchers call gut-directed hypnotherapy a "cure" for IBS!

The Best Gut-Directed Self-Hypnosis Program for All IBS Symptoms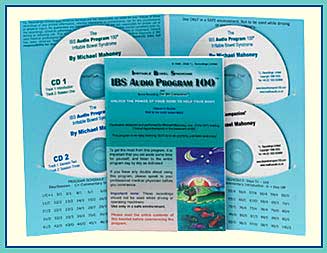 Gives an average 85% reduction of pain and bowel dysfunction symptoms.
Listen to IBS Audio Program 100 samples!

What's Free and Helps IBS Constipation? Exercise!
A recent study in the International Journal of Sports Medicine found that regular exercise may relieve constipation in people who suffer from irritable bowel syndrome. Study participants were randomly assigned to control groups or to an exercise program, with a goal of 30 minutes of moderate intensity exercise 5 days a week.

After 12 weeks, the exercise group chalked up significantly more weekly exercise than the control group and they reported significantly greater declines in symptoms of constipation.

The researchers concluded that exercise may be an effective way for people to manage their IBS symptoms, particularly constipation. Go here for full information about IBS and exercise.

Go here for more information about this study...

Subgroups of IBS Change Over Time
A recent study in the International Journal of Nursing Studies noted that therapies for irritable bowel syndrome (IBS) patients are usually aimed at relieving the predominant symptom; however, little evidence exists as to whether or not the predominant symptom changes with time. This study aimed to categorize IBS patients into one of three sub-types: diarrhea, constipation, and a third group who alternate between the two, and to then investigate changes in patient sub-type classification over time.

The study found that although many patients remain in the same IBS subgroup classification over time, there are individuals whose subgroup classification varies. As such, patients' IBS subgroup classification should be reviewed regularly and treatment adjusted accordingly in order to optimize patient care.

Go here for full information about Irritable Bowel Syndrome...

Go here for more information about this study...



Looking for more IBS research and news? Check the IBS Research Library!





~ Heather's Tummy Tamers Peppermint Oil Capsules ~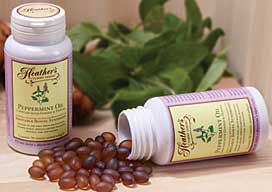 Peppermint Oil Caps Called "Drug of Choice for IBS"

Our Peppermint Oil Caps have the added benefits of fennel and ginger oils, and they help prevent abdominal pain, gas, and bloating!

Think Substitution, Not Deprivation

One of the most common IBS dietary misconceptions is that eating safely for IBS requires deprivation. An IBS diet must be bland, boring, limited, and really hard to follow, right? Wrong!

Eating for IBS just means learning to eat safely by realizing how different foods physically affect the GI tract, and how the same foods can help or hurt both diarrhea AND constipation, as well as bloating, gas, and painful abdominal cramps. Once you've done that, it's easy to simply substitute safe foods for triggers.

Here's a cheat sheet of the fastest, easiest substitutions that will make the greatest difference for IBS stability:

* Substitute soy, rice, almond, or oat milk for all dairy milk. Try a wide variety of brands and flavors to find your favorite. Many grocery stores, including Whole Foods and Costco, offer their own organic store brands at prices that are less expensive than dairy milk. I find it really helpful to keep two types of soy milk on hand: unsweetened or plain for cooking, and vanilla for cold cereals or drinking. Chocolate soy milk is delicious cold and if you heat it you've got hot cocoa!

* Use soy, rice, or almond substitutes for cheese, cream cheese, sour cream, ice cream, yogurt, and other dairy products (check the ingredients to be sure the items are low-fat). For cheese, pay attention to whether the brand is truly dairy-free or simply lactose-free. Most soy cheese brands contain small amounts of casein, a dairy protein. The tiny quantity is often very tolerable for IBS, but if you're completely intolerant to casein you'll have to find a soy or rice cheese that is entirely dairy-free.

* Many hamburger-based recipes such as tacos, sloppy joes, chili, etc. can be easily adapted to the IBS diet by substituting TVP for the ground meat. TVP stands for textured vegetable protein. It's a low fat soy food available in bulk at health food stores and in boxes at many grocery stores. For these types of recipes, simply eliminate the cooking oil and season the TVP as you would the meat. When well-prepared most people honestly can't taste the difference.

* Instead of TVP you can also use ground chicken or turkey breast (make sure there's no dark meat or skin in there) for recipes that call for ground beef.

* Add Acacia Tummy Fiber to your cooking (whisk into wet ingredients or sift into dry ingredients) for an extra measure of soluble fiber stability. I do this with soups, casseroles, puddings, baked goods, sauces - everything!

* Find a well-stocked local health food store and try a wide variety of vegan versions of deli meat, hot dogs, burgers, chicken wings, etc. There are tasty versions of just about every fast food and junk food on the market - just check the ingredients for a low fat content.

* Use only fat-free salad dressings, mayonnaise, etc.

* Substitute cocoa powder for solid chocolate in baking - fabulous chocolate cakes are your IBS-safe reward!

* For most recipes, you can almost always reduce the amount of oil called for by at least 1/3.

* When baking replace from 2/3 to 3/4 of the amount of oil called for with applesauce.

* Use only egg whites - simply replace each whole egg in a recipe with two egg whites. Egg Beaters are also a good choice.

* Use non-stick pans and cooking spray, as this will dramatically lessen the amount of oil you cook with. You can get wonderful crispy, golden, and crunchy food with just a little cooking oil spray and a non-stick skillet instead of deep frying - try it!

~ Heather

Did you miss the recent Ask Heather and Antibiotics & IBS?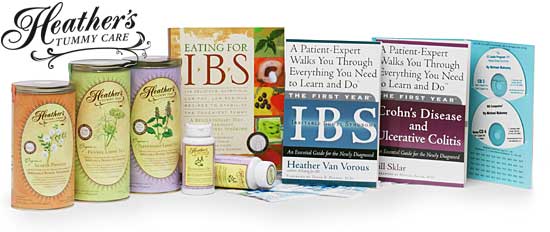 Shop at Heather's Tummy Store for IBS
HelpForIBS.com
The only store that's just for IBS - so we only carry the very best

You're on this newsletter list because you have expressed interest in IBS news and information.




Change your newsletter email address here.

If you are viewing this newsletter on a website and would like to subscribe for email delivery, please "Join the IBS Newsletter" here.

ANTI-SPAM PRIVACY & SECURITY POLICY
HelpForIBS.com
Heather's Tummy Care
80 S. Washington St, #304
Seattle, WA 98104 USA

© 2008 Heather Van Vorous, Heather's Tummy Care. All rights reserved.
USA Copyright Office Registration Number TXU 1-270-858 and others