Heather's IBS Newsletter ~ For Irritable Bowel Syndrome


Researchers call it an IBS cure - reader Liz agrees, because "it happened to me!"

Diet doesn't matter?! Research shows IBS does react to trigger foods.

Plus, our special guest columnist teaches how to relieve bloating.


Hello to everyone -

This week I'm on holiday, so we're featuring a special guest columnist, new stores to announce, and some of our greatest hits from end-of-summer features past!

If you've long suspected that diet plays a critical and common role in IBS, but have been told that "diet doesn't matter" or "everyone with IBS is different", you will feel mighty vindicated by our featured study on IBS patients' reactions to foods. (Red meat is a problem? Why am I not surprised?!)

We also have an amazing reader letter from a woman who considers her IBS to be cured. Plus, a luscious lime mint sorbet. Enjoy!

Best Wishes,
Heather Van Vorous

Did a friend send you this newsletter? Sign up here for your own free subscription.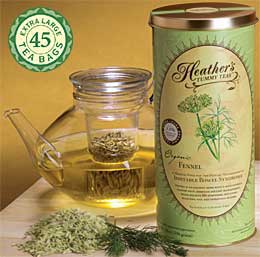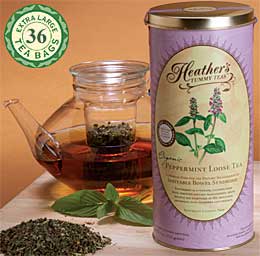 Organic High Volatile Oil Fennel & Peppermint Tummy Tea Bags

Extraordinary Quality ~ Very Economical

Fennel is terrific for bloating & gas, Peppermint is great for IBS pain & spasms.

Luscious Lime Mint Sorbet

How to beat the tail end of summer's heat? Deliciously, of course! There's nothing more refreshing than this week's lime mint sorbet. This recipe is a wonderful example of how to use desserts to sneak in healthy fruits and fresh herbs, something that's easy to do after you've had a high soluble fiber meal.

Makes 6-8 Servings (about 1 quart)

2 cups water
2 cups granulated sugar
3 cups packed fresh mint leaves, washed, dried, and chopped
1 cup fresh lime juice
2 tablespoons Acacia Tummy Fiber
1 tablespoon grated lime zest
2 organic egg whites*

Make a mint syrup by combining water, sugar, and mint leaves in a small saucepan or microwave-safe bowl. Heat and stir until sugar dissolves, bring to a boil and simmer 2 minutes. Chill. Strain syrup, pressing hard on solids and discarding mint leaves. Add syrup and remaining ingredients in blender, mixing well on high speed. Freeze in ice cream maker according to manufacturer's instructions.

*If salmonella is a concern in your area you can substitute pasteurized egg whites, available in the dairy section of most grocery stores (Egg Beaters, etc.).

Serve this sorbet for dessert with Chicken with Marsala Mushroom Gravy!

Are you just learning how to eat for IBS? A little intimidated at the thought of special IBS recipes? Not quite sure just what makes these recipes special in the first place? Don't worry! Come see the IBS Diet pages, and find the answers to all your questions.

~ Heather's Tummy Fiber ~
For the Dietary Management of Abdominal Pain, Diarrhea, &, Constipation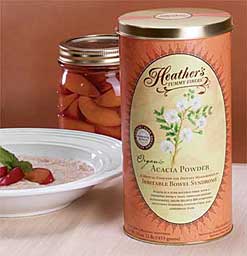 Certified Organic Acacia ~ Pure Soluble Fiber

The prebiotic fiber that relieves both diarrhea and constipation!

** Very Economical ** Only 4 cents per gram of fiber!

A Cure for IBS - "It Happened to Me!"

Dear Heather,

I've been meaning to write for a long time. I agree with researchers who call gut-directed hypnotherapy a "cure" for IBS, because it happened to me.

I was diagnosed with IBS and was helped by your diet, but was still feeling symptoms when I deviated.

I bought the IBS self-hypnosis program from your web site and listened to the sessions as directed.

I can now eat dairy, raw fruits and vegetables, drink fruit juices, soda, and alcohol, none of which was possible before. I now eat just about anything I want, when I want, and would call myself cured. I do find that I need to listen to the CDds a few times a week, even after finishing the course, but that is fine because they help me relax and sleep.

A thousand thank-yous, and hugs for your website and for the work and the products you offer. I would be honored if you used my comments on your website.

Sincerely,

Liz Dichiara
Sharon, Ma

Thank you so much, Liz! I am thrilled you had such fantastic results! ~ Heather

Did you miss the recent letter from Kathleen, who "caught" IBS from traveling but overcame the problem??



Researchers call gut-directed hypnotherapy a "cure" for IBS!

The Best Gut-Directed Self-Hypnosis Program for All IBS Symptoms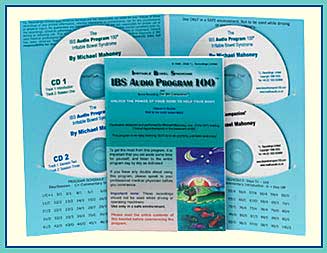 Gives an average 85% reduction of pain and bowel dysfunction symptoms.
Listen to IBS Audio Program 100 samples!


New Retail Stores Carrying Heather's Tummy Care Products
We're continuing our special rebate offer for people who buy Tummy Care products at their local stores, and we have new store announcements this week as well.

Kansas
Hy-Vee #1509 - Overland Park
8900 West 135th St
Overland Park, KS 66221
913-685-3500

Nebraska
Red Clover Market
5500 Old Cheney Road Suite 14
Lincoln, NE 68516
402-421-2460

Pennsylvania
Appalachian Whole Foods Market
100 West High St
Carlisle, PA 17013
717-241-6982

If you don't have a store in your area carrying Tummy Care products yet, please give them this flyer to ask them.






~ Heather's Tummy Tamers Peppermint Oil Capsules ~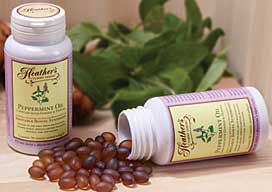 Peppermint Oil Caps Called "Drug of Choice for IBS"

Our Peppermint Oil Caps have the added benefits of fennel and ginger oils, and they help prevent abdominal pain, gas, and bloating!

IBS Sufferers Hypersensitive to Common Foods
Research indicates sufferers of irritable bowel syndrome (IBS) may be hypersensitive to antigens contained in beef, pork, lamb, and wheat, according to a study in the July issue of the American Journal of Gastroenterology.

British researchers studied the effects of 16 common foods in 108 IBS patients (52 diarrhea-predominant; 32 constipation-predominant; 24 alternating) and 43 controls using IgG4 and IgE titers and skin prick testing (SPT). Data results and patients' IBS symptoms were correlated. Researchers found IBS patients had significantly higher IgG4 titers to beef, pork, lamb, and wheat compared to controls. These differences were maintained across all three subgroups. Antibody titers to potatoes, rice, fish, chicken, yeast, tomato and shrimps were not significantly different and no significant difference in IgE titers was observed between IBS and controls. No correlation was seen between the pattern of elevated IgG4 antibody titers and patients' symptoms, such as pain bloating and stool frequency.

Researchers concluded serum elevated IgG4 antibodies to wheat, beef, pork and lamb may be the result of physiological damage caused by IBS. "The response to exclusion diet based on elevated food-specific IgG4 in future studies may be useful in establishing the significance of these findings," wrote the study authors. Go here for more information about this study...

Have you always felt that diet does matter for IBS, and that it was only a matter of time before a study like this proved it? You're not alone! Are you looking for comprehensive dietary information for managing IBS symptoms? Check out the Eating for IBS diet for immediate help!

~ Eating for IBS ~
Comprehensive IBS Diet Information & Safe Foods vs. Trigger Foods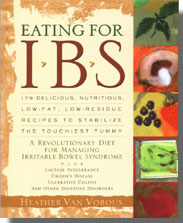 Addresses multiple IBS symptoms * Teaches substitution, never deprivation

Finalist for the Julia Child cookbook award!

Gastrointestinal Infections Can Have Lasting Consequences as IBS
Canadian outbreaks of two different gastrointestinal infections show the illnesses come with long-term health problems such as irritable bowel syndrome (IBS). IBS puzzles doctors because medical tests usually don't show any abnormalities in the intestine, despite the presence of abdominal pain, diarrhea, constipation and bloating. The two incidents -- the water-borne bacterial outbreak in Walkerton, Ont., in May 2000 and a food-borne viral outbreak at a scientific meeting in Newfoundland -- are providing researchers with an unprecedented look at what happens once the infections pass.

The circumstances surrounding the Walkerton outbreak are well-known. Municipal water contaminated with E. coli bacteria killed seven local residents and made thousands of others sick. Some of them are still sick, according to Marshall's report. He and his colleagues studied more than 2,000 Walkerton residents two to three years after the outbreak. One-third of those who got sick during the outbreak still had symptoms of IBS, including persistent diarrhea and abdominal pain. Just 10 per cent of people who did not get sick were found to have IBS.

The results lend a new note of credibility to the continuing health woes of Walkerton residents, Marshall says. "We need to bring legitimacy to this sort of complaint, because a lot of people -- certainly in Walkerton -- who've had irritable bowel syndrome find themselves a bit dismissed by the medical system because they don't have any identifiable abnormality." Go here for more information about this study...

Looking for more IBS research and news? Check the IBS Research Library!



Yoga for Beginners Part 2 - Beat the Bloating!

Special Guest Columnist, Evon Rubenstein

My thanks to Evon Rubenstein, an IBS sufferer and longtime yogi who has graciously offered to write a series of articles on starting a yoga practice just for IBS.

For me, the most embarrassing symptom of IBS is G-A-S. I have a British friend who charmingly calls it, "Wind around the Heart." However, I find it neither charming nor does it have anything to do with my heart. It causes bloating and it makes me look as if I'm 5 months pregnant, all the time!

Then there's that other "charming" aspect... This is just not anything you want to experience around other people. And, truth be told, I'm not all that fond of it when I'm alone, either.

Fortunately, there is a yoga pose that is very helpful with this symptom - the Wind Relieving Pose, or Pavanamuktasana (pahv-ahnah-muhk-tee-ah-sahna/purifying wind emancipation).

But first, have you been practicing your Belly Breathing? Needless to say, while breathing comes naturally, paying attention to the breath takes a little more practice.

Remember to pay attention to the breath during all yoga poses. You don't have to breathe with the intensity that you do during belly breathing, but it is important to be mindful of your breath during yoga poses. Always start your practice with deep breathing. This will calm your mind and allow your body to relax in preparation for the poses.

After a series of Belly Breathing, move into the:

Wind Relieving Pose

1. Lie in a supine (on your back) position with your legs straight.

2. Bend one knee up and hug it to your chest.

If your arms don't each around your leg, just hold at the knee or put your hands behind the knee.

If this bothers (uncomfortably tenses) your lower back, bend the other knee with the foot placed on the floor.

If hugging your knee bothers (painfully stresses) your hip joint, roll up a small towel and place it in the crease between your leg and your pelvic bone.

3. Hold this pose for 1-3 minutes. It's OK to set a timer (one that does not have a loud ringer), and this should be a very comfortable position.

4. If this is comfortable for you so far, lift your head toward your knee.

If this bothers your neck, don't do it.

5. Release to your original supine position.

Repeat the same series with the other leg.

After completing both sides:

6. Hug both knees into the chest.

To modify, hold your legs behind the knees or resting on top of the knees.

If hugging your knees bothers your hip joints, roll up two small towels and place one in each crease between your leg and your pelvic bone.

Your tail bone should be on the floor. If it isn't, bring your attention to this area and concentrate on relaxing.

Your shoulders should be relaxed; there is a tendency to hold tension in this area. Bring your attention to this area and concentrate on relaxing.

7. If your neck allows it, lift your head towards your knees.

If this bothers your neck, don't do it.

Hold the pose for 1 - 3 minutes. This should feel good on your back while giving your internal organs a nice massage.

Always close your practice with Corpse Pose (Shava-asana/sha-vah-sa-na). This is a final resting pose. It is important to rest after practicing yoga. It shifts your body and mind back into a relaxed mode so you can move into your day in the all-together.

Corpse Pose

1. Lie in a supine position with your legs about shoulder width apart and relaxed.

If you have lower back issues, bend your knees or slide a bolster or a couple of blankets under your knees.

2. Relax your arms with the palms up resting comfortably by your sides.

3. Close your eyes and relax your facial muscles.

4. Breathe deeply and slowly.

Stay in this pose for at least 3 - 5 minutes.

Always move slowly and gently into and out of poses. Find the edge of the pose and hold it without fidgeting. Come out of any pose if you feel sharp pain.

Practice this pose daily so that you (and everyone around you!) will find relief from "Wind around the Heart."

~ Thanks so much, Evon! ~ Heather

Did you miss the recent (and super-popular) Ask Heather and is sugar an IBS trigger - or not?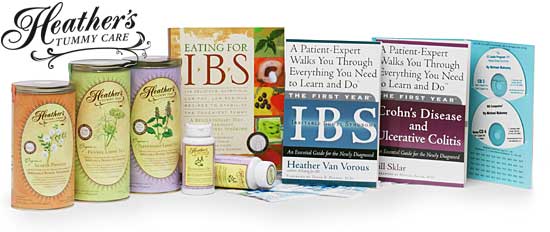 Shop at Heather's Tummy Store for IBS
HelpForIBS.com
The only store that's just for IBS - so we only carry the very best

You're on this newsletter list because you have expressed interest in IBS news and information.




Change your newsletter email address here.

If you are viewing this newsletter on a website and would like to subscribe for email delivery, please "Join the IBS Newsletter" here.

ANTI-SPAM PRIVACY & SECURITY POLICY
HelpForIBS.com
Heather's Tummy Care
80 S. Washington St, #304
Seattle, WA 98104 USA

© 2008 Heather Van Vorous, Heather's Tummy Care. All rights reserved.
USA Copyright Office Registration Number TXU 1-270-858 and others