Heather's IBS Newsletter ~ For Irritable Bowel Syndrome


Follow up to the IBS story too embarrassing to print!

End the confusion! Is wheat safe for IBS or not?

Plus picnic potato salad made IBS-friendly.


Hello to everyone ~

We have a wonderful follow up letter this week from Judy, who was featured in a newsletter last winter with an IBS story "too embarrassing" to share.

We'll also tackle one of the most confusing dietary issues for many IBS folks - is wheat a safe food or a trigger? And why?

For a final touch, try the delicious digestion-friendly recipe that shows you how to safely balance soluble and insoluble fibers. It's the perfect dish for a lazy summer afternoon.

As always, we also have the latest IBS news and research. Enjoy!

Best Wishes,
Heather Van Vorous



Did a friend send you this newsletter? Sign up here for your own free subscription.

Tangy Picnic Potato Salad

Potatoes are a terrific soluble fiber staple (remember, soluble fiber is the key to gut stability), and small red new potatoes work perfectly in this dish. Because their skin is so thin, and they are both cooked and chopped, you can leave these potatoes unpeeled. This will safely add insoluble fiber to the meal.

The tangy sweet-and-sour notes of this salad come from apple cider vinegar with a dash of sugar, and the addition of paprika and celery seed adds color as well as spice.

Traditionally, the delicious smoky flavor in warm potato salad recipes comes from bacon. In my IBS-friendly adaptation, high fat pork - a huge trigger for IBS - is replaced with soy or turkey bacon (and if you've never tried these, you're in for a wonderful surprise). This lets us lose the fat and red meat but keep the wonderful flavors.

Adding Tummy Fiber is a fast and easy way to give an even better soluble fiber foundation to the dish.

4-6 Servings

8 medium red or white skin potatoes (thin-skinned and waxy, not Russets)
6 oz. Fakin' Bacon (smoked tempeh), or low fat turkey or soy bacon, diced
1/4 cup diced sweet white onion, such as Maui or Walla Walla
2 tbsp olive oil
1/4 cup water
3/4 cup apple cider vinegar
1 1/2 tsp sugar
1/2 tsp salt
1/2 tsp paprika
1/2 tsp dry mustard
1/2 tsp celery seed
1 tsp Tummy Fiber Acacia
1/4 cup thinly sliced green onions

Boil potatoes till tender, and slice into one inch chunks while hot. Set aside.

While the potatoes are boiling, in a medium non-stick skillet over medium high heat, fry bacon and onion in oil until bacon is crispy and onion is golden. Add all remaining ingredients except Tummy Fiber, green onions and potatoes to skillet and stir well.

Pour skillet mixture over hot potatoes, sprinkle with Tummy Fiber, and fold together gently but well. Top with green onions and serve warm or at room temperature.

For a wonderful end to your picnic, follow this potato salad with Summer Strawberry Cheesecake!

Are you just learning how to eat for IBS? A little intimidated at the thought of special IBS recipes? Not quite sure just what makes these recipes special in the first place? Don't worry! Come see the IBS Diet pages, and find the answers to all your questions.



~ Heather's Tummy Tamers Peppermint Oil Capsules ~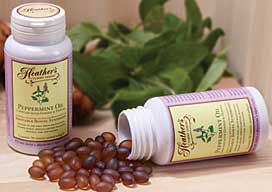 Peppermint Oil Caps Called "Drug of Choice for IBS"

Our Peppermint Oil Caps have the added benefits of fennel and ginger oils, and they help prevent abdominal pain, gas, and bloating!

Follow up to the IBS Story Too Embarrassing to Print

Dear Heather,

This is Judy T. again. I wrote to you last winter about my IBS-constipation. It was so terribly bad the "you know what" was right there, dry and hard, but my colon just refused to work and I had to resort to manually scooping it out! Well, it's been more than a year since the diagnosis and 10 months since I found your website and the lifesaver Acacia Tummy Fiber.

I just want to let you know it's been up and down since and it's all my fault. At first, out of desperation I faithfully adhered to your diet guidelines and the Tummy Fiber. Within a month and then rather quickly after that my colon was behaving so well there was a bowel movement first thing in the morning every day.

It went on so well that when I had to travel out of the country for a month at the beginning of this year, I was worried to have my routine disrupted. I stocked up on all the necessary IBS supplements, Acacia Tummy Fiber, calcium and magnesium, and Fennel Tummy Tea, and I tried at first to adhere to the IBS diet. But, it was not easy doing so, and I ended up eating everything, and you know what? My IBS still remained under control, and I had a fabulous time!

In fact, when I got back home, my IBS colon was still behaving so well that I made the stupidest mistake of my life: I cut back on the Tummy Fiber intake, from 12 grams per day down to 6 grams per day, and I was recklessly eating everything, and...my IBS came back big time!

Luckily for me, this time around thanks to you I had the knowledge to quickly prevent it from getting to the point of utmost suffering. I went back to 12 grams per day with the Tummy Fiber, started to watch my diet, and what a relief - my IBS is gradually improving again.

I can't say this enough, but I don't know how my life would be without your Acacia Tummy Fiber and your website. Again, I thank you from the bottom of my heart. Please keep up the good work to help more of us IBS sufferers out there.

Sincerely,
Judy T.

Thank you so much, Judy! I'm so glad you had a wonderful trip, and I've even happier to hear that you are back to being stable again now that you're home! ~ Heather

Did you miss the last reader letter from Johanne, whose last resort treatment turned out to be her lifesaver?

~ Heather's Tummy Fiber ~
For the Dietary Management of Abdominal Pain, Diarrhea, &, Constipation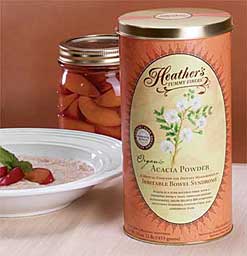 Certified Organic Acacia ~ Pure Soluble Fiber
The prebiotic fiber that relieves both diarrhea and constipation!

** Very Economical ** Only 4 cents per gram of fiber!

Complementary & Alternative Medicine for IBS
According to a recent study in BMC Complementary & Alternative Medicine, functional bowel disorders, including Irritable Bowel Syndrome, are chronic disorders that are difficult to treat and manage. Many patients and doctors are dissatisfied with the level of improvement in symptoms that can be achieved with standard medical care which may lead them to seek alternatives for care. The aim of this study is to determine prevalence, types and costs of complementary and alternative medicine (CAM) in IBS, functional diarrhea, functional constipation, and functional abdominal pain.

Study results found that CAM was used by 35% of patients, at a median yearly cost of $200. The most common CAM types were ginger, massage therapy and yoga. CAM use was associated with female gender, higher education, and anxiety. Satisfaction with physician care and perceived effectiveness of prescription mediation were not associated with CAM use. Physician referral to a CAM provider was uncommon but the majority of patients receiving this recommendation followed their physician's advice.

The study concluded that CAM is used by one-third of functional bowel disorder patients. CAM use does not seem to be driven by dissatisfaction with conventional care. Physicians should discuss CAM use and effectiveness with their patients and refer patients if appropriate.

Go here for full information about alternative medicine options for IBS.

Go here for more information about this article...

New Date! IBS Patient Symposium
The UNC Center for Functional GI & Motility Disorders has rescheduled their Patient Symposium for Saturday, October 25, 2008. The theme is Understanding IBS and Other Functional GI Disorders. The symposium will be held at the William and Ida Friday Center for Continuing Education, in Chapel Hill, North Carolina.

The registration fee is $25.00 and includes all plenary sessions, breakout sessions, lunch, refreshment breaks, and printed materials. Registration begins at 8:00am. The program runs from 8:30am until 5:30pm. There will be Q & A sessions following plenary sessions as well as breakout sessions at the end of the day, providing plenty of chances for questions and answers with the symposium faculty.

Plenary topics (tentative):

What is a functional GI disorder
Types of IBS and risk factors
Diagnosis and tests for IBS
IBS medications – effective treatments and new options
How to talk with your doctor
New leads in the biology of IBS
IBS diet and nutrition
Pediatric functional GI disorders
Incontinence, constipation, bloating
Functional dyspepsia and other upper GI symptoms
Behavioral and alternative treatments – hypnotherapy




Researchers call gut-directed hypnotherapy a "cure" for IBS!

The Best Gut-Directed Self-Hypnosis Program for All IBS Symptoms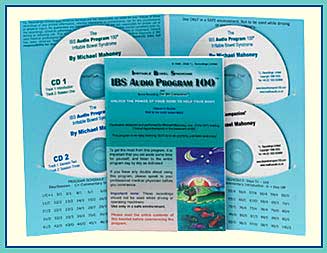 Gives an average 85% reduction of pain and bowel dysfunction symptoms.
Listen to IBS Audio Program 100 samples!

Wheat and IBS

Is wheat safe for IBS, or is it a trigger food?

Wheat is one of the greatest sources of dietary confusion for many people with IBS. It is hard to give a simple "yes" or "no" answer to this question, because the truth is - it all depends. Whole wheat, which has the outer layer of bran intact, is high in insoluble fiber. This means that it's a very likely trigger for most people, and this is why whole wheat bread, whole wheat cereals, and wheat bran can cause such awful problems for people with IBS.

However - when you remove the bran from whole wheat the end result is refined white flour. This is the regular kind of white flour you can buy in any grocery store, and that you typically use to bake cookies, breads, muffins, etc. Although this is still wheat flour, it is not whole wheat flour, and this makes all the difference in the world for those of us with IBS. White flour contains no insoluble fiber but it still has just as much soluble fiber as whole wheat - and soluble fiber is the stabilizing force of the IBS diet. (If you're struggling with the difference between soluble and insoluble fibers, the different effects they have on the gut, and how to incorporate them into your diet, see Eating for IBS for comprehensive help).

It can be really helpful to picture the thick gel that results when you dissolve a piece of white bread in a glass of water. This gel - the soluble fiber - absorbs excess liquid as it passes through the colon, preventing diarrhea. The gel also adds bulk to the bowel, which helps keep the GI muscles stretched gently around a full colon, giving those muscles something to easily "grip" during peristaltic contractions, thus preventing the rapid transit time and explosive bowel movements of diarrhea as well.

By the same token, the full gel-filled colon (as opposed to a colon tightly clenched around dry, hard, impacted stools) provides the same "grip" during the muscle waves of constipation sufferers, allowing for an easier and faster transit time. The passage of the thick wet gel also effectively relieves constipation by softening and pushing through impacted fecal matter. If you can mentally picture your colon as a tube of toothpaste that is squeezing through matter via regular waves of contractions, it's easy to see how a colon filled with soluble fiber is beneficial for both sides of the IBS coin. This is why white breads (wheat, but not whole wheat) are such great safe staples.

When you read the ingredients on packaged breads, cereals, and other foods they should specify in the ingredient list if the wheat flour used is "white" or "whole", and it's usually pretty easy to tell just by looking. For breads, a brief glance will tell you if there is whole wheat in it (you'll see little brown flakes - that's the bran). If the bread is pure white, like French or sourdough, you should be safe. For most crackers, pretzels, muffins, etc. only white flour is typically used. The exception is health food store products and many cereals, which are likely to use whole wheat. However, they will almost always state this fact right on the front of the package, and definitely in the ingredient list, so you won't be left wondering.

As a side note, another term for white flour is "enriched" flour. Enriching is commonly done to refined flour to replace the nutrients lost when the bran and germ are removed from whole wheat.

The whole wheat (and other insoluble fiber) intolerances so common to IBS are markedly different from true food allergies. If you're allergic to wheat (or have a gluten intolerance disease such as celiac, which is very commonly misdiagnosed as IBS), it will make no difference if the grain is left whole or refined by removing the bran. In addition, with many allergies even minuscule quantities of the trigger, whether eaten with other foods or alone, can trigger violent reactions.

Fortunately, with IBS this is rarely the case, so we just have to be careful with whole wheat and other insoluble fibers. If we do take care we can easily and frequently eat them in small quantities when they're combined with high soluble fiber foods, or taken with a soluble fiber supplement. In addition, with wheat, once the bran has been removed so has the risk of an IBS attack, and this gives us great dietary freedom when it comes to white breads and other refined wheat flour foods.

Did you miss the previous Ask Heather and our special Stress and IBS Issue?

~ Heather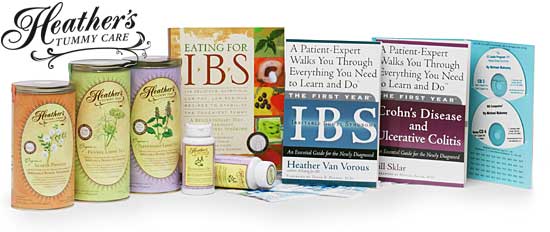 Shop at Heather's Tummy Store for IBS
HelpForIBS.com
The only store that's just for IBS - so we only carry the very best

You're on this newsletter list because you have expressed interest in IBS news and information.




Change your newsletter email address here.

If you are viewing this newsletter on a website and would like to subscribe for email delivery, please "Join the IBS Newsletter" here.

ANTI-SPAM PRIVACY & SECURITY POLICY
HelpForIBS.com
Heather's Tummy Care
80 S. Washington St, #304
Seattle, WA 98104 USA

© 2008 Heather Van Vorous, Heather's Tummy Care. All rights reserved.
USA Copyright Office Registration Number TXU 1-270-858 and others