Heather's IBS Newsletter ~ For Irritable Bowel Syndrome

Special Stress Issue! Stress and IBS? This will help!

The last resort that became Johanne's lifesaver.

Plus the surprising treatment GI docs are urging for IBS!


Hello to everyone ~

We have a special focus on stress and IBS this week, and all the ways you can combat stress-triggered symptoms. To start, we have a terrific letter from Johanne, who ended up teaching her own doctor about IBS, and finding a lifesaver for her own stress-related symptoms.

We'll also deal with the basic mechanics of stress and IBS, and address what exactly is going on with your gut, and how you can physically change that.

Plus, a summer apricot cobbler that is scrumptiously delicious (try it and see!) and a special nutrition consultation offer.

Best Wishes,
Heather Van Vorous



Did a friend send you this newsletter? Sign up here for your own free subscription.

~ Heather's Tummy Fiber ~
For the Dietary Management of Abdominal Pain, Diarrhea, &, Constipation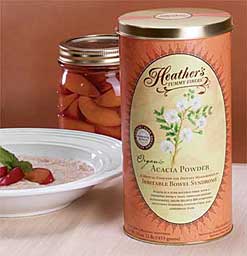 Certified Organic Acacia ~ Pure Soluble Fiber

The prebiotic fiber that relieves both diarrhea and constipation!

** Very Economical ** Only 4 cents per gram of fiber!

Luscious Apricot Cobbler

Fruit cobbler is a wonderful old-fashioned dessert that's traditionally topped with a high fat butter (or even lard) based biscuit dough. My version is much healthier, and uses just a small amount of canola oil for richness. The biscuits are especially light and tender from the clabbered soy milk, which is simply soy milk blended with vinegar. This step replaces the traditional buttermilk, so you can avoid the digestive upsets from dairy while keeping the tang and fluffy texture buttermilk lends to baking.

Choose the freshest, ripest fruit you can find for this recipe, and for extra digestive stability peel the fruit to reduce the insoluble fiber level. To peel peaches or apricots, simply drop the whole fruit into a large bowl filled with boiling hot water, and let sit for about 5 minutes. Remove the fruit and the skins should slide right off. The Tummy Fiber adds even more soluble fiber stability to this fantastic dessert - enjoy!

8 Servings

Filling:
4 C pitted, peeled fresh apricots
1/3 C - 2/3 C sugar (to taste)
1 T cornstarch
1 T Acacia Tummy Fiber
1 T fresh lemon juice

Biscuits:
2 C sifted unbleached white flour
2 t baking powder
3/4 t baking soda
1/2 t salt
2 T granulated sugar
4 T canola oil
1 C soy or rice milk
1 t apple cider vinegar

Preheat oven to 425F.

For Filling: Chop apricots, then stir all filling ingredients except lemon juice together in a medium saucepan, and bring mixture just to a boil. Remove from heat and add lemon juice. Spray an 8" or 9" baking pan or casserole dish with cooking oil spray, and fill pan with fruit mixture.

For Biscuits: In a large bowl, sift then whisk dry ingredients. In a small bowl blend together soy milk and vinegar until mixture thickens slightly, and then blend in oil. With a fork blend wet ingredients into dry until well-mixed. Drop dough by tablespoonfuls onto the fruit filling in pan (have spoonfuls lightly touch - this will help them rise). Bake for 18-22 minutes until golden brown, and a toothpick inserted into a biscuit comes out clean.

For a wonderful summer dessert, serve this cobbler with an iced glass of lightly sweetened Peppermint Tummy Tea!

Are you just learning how to eat for IBS? A little intimidated at the thought of special IBS recipes? Not quite sure just what makes these recipes special in the first place? Don't worry! Come see the IBS Diet pages, and find the answers to all your questions.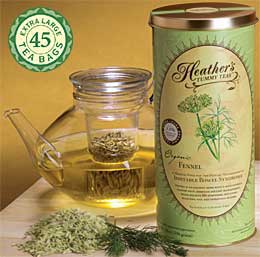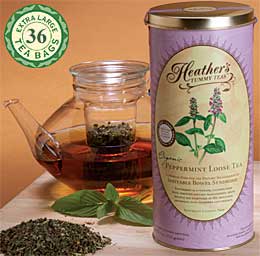 Organic High Volatile Oil Fennel & Peppermint Tummy Tea Bags

Extraordinary Quality ~ Very Economical

Fennel is terrific for bloating & gas, Peppermint is great for IBS pain & spasms.

The Last Resort for Severe IBS Stress Becomes a Lifesaver!

Dear Heather,

I would like to so sincerely thank you for being my lifesaver over the past three and a half years through your website, books, products, and regular informative newsletter.

I was diagnosed with IBS-D at Christmas 2004 and my specialist just said "eat fruit and fiber", and my general doctor had never even heard of IBS. I luckily found your website that very night of my diagnosis. Aside from the wonderful help of Acacia Tummy Fiber and the Peppermint Tummy Tamers, I must give you my particular thanks for your recommendation of Michael Mahoney's IBS Audio Program 100.

I began the course mid-January of this year and this course has radically changed my mind, conscious and subconscious, as well as my physical IBS symptoms. I now have pretty normal bowel movements, although still 1-3 times a day. This occurred after about 30 days into the course, and I have learned to cope with the stresses that continue to arrive day by day.

Your diet suggestions, Heather, never seemed to be a problem for me to follow as I just wanted to feel better and, with your help, began to do so almost immediately. I knew it was all or nothing diet-wise. Over the years, I have found, with care, that I can eat a number of things on the no-no list without problems. Dealing with stress seemed to be my most major problem.

This same period of time over 3 years has been the most difficult and stressful of my life. I have had to be a caregiver for my husband, who was hospitalized three times before a diagnosis of a spinal fusion and Restless Leg Syndrome was established. All of this (including back surgery and recuperation in a clinic) took so many bites out of our lives.

In addition, we attended the wedding of our only child, a daughter, in Medelin, Colombia, South America, lived and breathed with her and her husband through the elation of her unexpected pregnancy, and then the disappointment of a miscarriage. This was all while helping them with getting her husband's immigration papers to Canada in order. (Happily, the visa recently came through and they will arrive in Canada July 4th).

The stress level for me, coping with IBS at the same time, came to a major crescendo at Christmas of this year when my husband broke his ankle and I became a caregiver once again. I really wanted to disappear somewhere in space, but that was just not an option, so I stuck it out as one does. I was very close to a really depressive state and possibly a mental breakdown.

As a last resort I bought the IBS Audio Program with the full approval of my doctor. He had no idea what it was but trusted that by now I knew much more about IBS than he did, with the help of your website and extensive reading on my part. I think of some part of the program every day and that helps me keep it all together.

So today, I once again say thank you from the bottom of my heart for all you have done for me, Heather. I can only highly recommend the IBS Audio Program 100 to any IBS sufferer, along with all the information you have passed on to me, as well as your products.

I know every body and mind is different but my life has changed in a major way through this course and both are continuing to remain in this healthier condition, with the constant awareness of how I must work through every day as it comes, combating stress along with a healthy diet.

Best regards,
Johanne Smith (a Canadian living in the Swiss French mountain village of Leysin)

Thank you so much for your letter, Johanne! I hope you give others the inspiration to try the IBS Audio Program - it truly does work wonders for so many people. ~ Heather

Did you miss the last reader letter from Carol, whose IBS was worse than childbirth?


Researchers call gut-directed hypnotherapy a "cure" for IBS!

The Best Gut-Directed Self-Hypnosis Program for All IBS Symptoms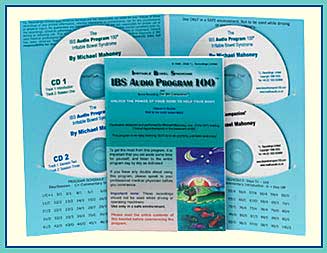 Gives an average 85% reduction of pain and bowel dysfunction symptoms.
Listen to IBS Audio Program 100 samples!


New Retail Stores Carrying Heather's Tummy Care Products
We're continuing our special rebate offer for people who buy Tummy Care products at their local stores, and we have new store announcements this week as well.

Tennessee
Quality Care Pharmacy
144 Houston Avenue
Selmer, TN 38375
731-645-7878

Washington
Dr. Thomas Dorman
2505 S 320th Street Suite 100
Federal Way, WA 98003
253 529 3050

Glow Natural Health Center
2719 E Madison Street Suite 203
Seattle, WA 98122
206 568 7545

If you don't have a store in your area carrying Tummy Care products yet, please give them this flyer to ask them.


Special Discount for Nutrition Consultation!
Kristina Hines, a Washington State Certified Nutritionist, has very generously offered to give Heather's Tummy Care customers a 10% discount for their first nutrition consultation with her.

Kristina has spent the past year working directly with Heather and the full line of Tummy Care products. She is very knowledgable about the full spectrum of IBS, she is intimately familiar with the Eating for IBS guidelines, herbal medicines for IBS symptoms, and a wealth of other digestive health issues. Just mention Heather's Tummy Care for the discount!

Kristina can be reached at: North Spokane Natural Medicine Center, West 403 Hastings Road, Spokane, WA 99218. Phone: 509 465 5767. (Consultations are also available by phone.)



~ Heather's Tummy Tamers Peppermint Oil Capsules ~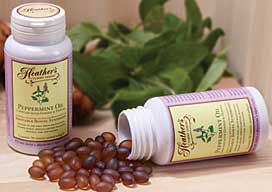 Peppermint Oil Caps Called "Drug of Choice for IBS"

Our Peppermint Oil Caps have the added benefits of fennel and ginger oils, and they help prevent abdominal pain, gas, and bloating!

Meditation, Yoga Might Switch Off Stress Genes
Researchers say they've taken a significant stride forward in understanding how relaxation techniques such as meditation, prayer and yoga improve health: by changing patterns of gene activity that affect how the body responds to stress. The changes were seen both in long-term practitioners and in newer recruits, the scientists said.

"It's not all in your head," said Dr. Herbert Benson, president emeritus of the Benson-Henry Institute for Mind/Body Medicine at Massachusetts General Hospital and an associate professor of medicine at Harvard Medical School. "What we have found is that when you evoke the relaxation response, the very genes that are turned on or off by stress are turned the other way. The mind can actively turn on and turn off genes. The mind is not separated from the body."

"We all are under stress and have many manifestations of that stress," Benson added. "To adequately protect ourselves against stress, we should use an approach and a technique that we believe evokes the relaxation response 20 minutes, once a day."

Go here for full information about stress and IBS.

Go here for more information about this article...

GI Docs Call for Hypnotherapy to be Used More Widely for IBS
Leading gastroenterologists are calling for hypnotherapy to be used more widely in treating irritable bowel syndrome. Images such a fast-flowing river in the gut slowing down and soothing the bowel may be able to significantly improve IBS symptoms, say researchers at King's College London. In one study at Withington Hospital, 12 weeks of hypnotherapy helped 71 per cent of patients ease their IBS symptoms for five years after the treatment.

Go here for full information about IBS hypnotherapy.

Go here for more information about this article...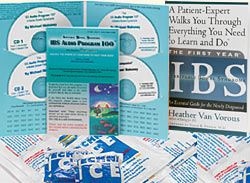 The IBS Stress Kit ~ Immediate & Long Term Help
Break the vicious cycle that triggers and perpetuates IBS symptoms

Stress and IBS

Does stress cause IBS?

Rest assured, IBS is not somehow your fault because you're just "too stressed out." In a nutshell, while the potential for abnormal colon function is always present in people with Irritable Bowel Syndrome, a trigger must be present to actually cause symptoms. Along with diet, stress is the greatest trigger for IBS symptoms.

Stress inhibits the parasympathetic nervous system, and stimulates excessive adrenaline production, which in turn upsets the rhythmic muscle contractions of the gut. Given that people with IBS are prone to suffer from irregular GI contractions by definition, it's easy to see why stress is such a powerful trigger. (For in-depth information about IBS, the underlying gut dysfunction, and how stress relates, check the First Year IBS).

Several interesting studies have actually shown the direct link between emotional stressors and subsequent IBS flares. One experiment with eighteen IBS patients investigated how different emotions would affect the muscle contractions of the colon. The patients were hypnotized and instructed to feel anger, excitement, or happiness. Colonic motility rates were measured, and found to increase significantly with anger and excitement. Happiness reduced colonic spasms, although interestingly, the hypnosis itself had already had this effect to a lesser degree.

A second study specifically looked at the effect of anger on the colon. Even at rest, patients with IBS had more active colons than the control subjects, and they demonstrated significantly greater colon muscle contractions than the controls when angered. Yet another recent study has confirmed a direct relationship between daily stress and the level of IBS symptoms, finding a significant and positive correlation between the two.

While these studies are reassuring in that they document the physical underpinnings of IBS, most IBS patients are already well aware of the link between stress and symptoms thanks to painful personal experience. The question really is, what can you do about it?

First, be aware of what actually causes stress in your daily life. The obvious culprits are the constant common worries about work, money, your family, your health – you know the routine. But there are some more subtle stressors you should be aware of as well, such as hot and humid weather, travel, and a lack of sleep.

For day-to-day health maintenance, following the dietary guidelines for Irritable Bowel Syndrome will definitely help you weather stressful situations without suffering attacks. However, there are also quite a few options for dealing with stress head-on and thus increasing your ability to manage it successfully - try heat therapy, meditation, or yoga.

Gut-directed hypnotherapy is also extremely helpful for minimizing stress and physically changing the way your body reacts to it. (This is actually a fringe benefit in addition to hypnotherapy's direct influence on successfully regulating the enteric nervous system of the gut.)

Stress is a powerful trigger for IBS symptoms, but lifestyle habits ranging from adequate sleep and a suitable climate to meditation, tai chi, and yoga can all work wonders for preventing or minimizing stress-related attacks. For comprehensive help with stress-related IBS, look into the IBS Stress Kit.

Did you miss the previous Ask Heather and expanding your diet?

~ Heather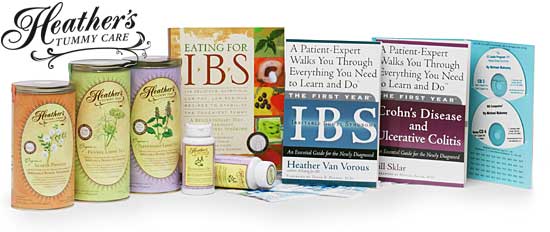 Shop at Heather's Tummy Store for IBS
HelpForIBS.com
The only store that's just for IBS - so we only carry the very best

You're on this newsletter list because you have expressed interest in IBS news and information.




Change your newsletter email address here.

If you are viewing this newsletter on a website and would like to subscribe for email delivery, please "Join the IBS Newsletter" here.

ANTI-SPAM PRIVACY & SECURITY POLICY
HelpForIBS.com
Heather's Tummy Care
80 S. Washington St, #304
Seattle, WA 98104 USA

© 2008 Heather Van Vorous, Heather's Tummy Care. All rights reserved.
USA Copyright Office Registration Number TXU 1-270-858 and others