Heather's IBS Newsletter ~ For Irritable Bowel Syndrome

Expand your diet! What to eat when you can't eat anything - part two!

Can IBS be worse than childbirth?

Tummy Care is now in Canada! Plus meet Heather in person! Special events!


Hello to everyone ~

We have a fantastic letter this week from Carol, whose IBS was worse than childbirth. Now she's determined that other folks not have to suffer the way she used to.

Plus, we follow up on part one of "what to eat when you can't eat anything" and talk about how to safely expand your diet.

Finally, we have local stores in Canada! Enjoy!

Best Wishes,
Heather Van Vorous



Did a friend send you this newsletter? Sign up here for your own free subscription.

Mushroom, Shrimp and Dill Omelet

How to make an IBS-safe omelet? Easy! Just use all egg whites and no yolks (or try Egg Beaters), and cook in a nonstick skillet with a spray of cooking oil. Then, add a bit of fresh herbs to make the dish extra digestion-friendly (and delicious). Serve this omelet with a well-blended fresh fruit smoothie for a wonderful breakfast.

Makes 1 Serving, easily doubled or tripled

2 organic egg whites
1 tablespoon fresh dill or fennel, finely chopped (or 1/4 teaspoon dried dill)
2/3 cup finely sliced fresh mushrooms
2 tablespoons baby shrimp
salt and pepper to taste

In a small bowl combine egg whites with dill, whisking until lightly frothy. In a small nonstick skillet sprayed with cooking oil saute the mushrooms until tender and the liquid from mushrooms evaporates. Transfer mushrooms to a small bowl and mix with shrimp. Wipe clean the skillet with a paper towel, spray with cooking oil, and heat over medium.

Add egg mixture to skillet and immediately top with filling ingredients, forming a narrow line of filling across the center of the omelet. When edges of the omelet are slightly crisp, carefully roll omelet up from one side with a rubber spatula to completely enclose filling, turn omelet over, and cook on other side for an additional 1-2 minutes. Serve immediately, and sprinkle with salt and pepper to taste.

For a delicious breakfast, I love to serve this omelet with a Peachy Keen Probiotic Smoothie!

Are you just learning how to eat for IBS? A little intimidated at the thought of special IBS recipes? Not quite sure just what makes these recipes special in the first place? Don't worry! Come see the IBS Diet pages, and find the answers to all your questions.


Researchers call gut-directed hypnotherapy a "cure" for IBS!

The Best Gut-Directed Self-Hypnosis Program for All IBS Symptoms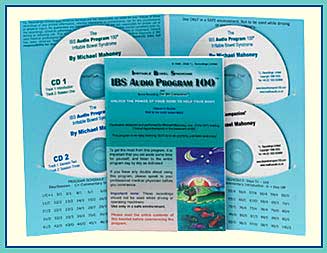 Gives an average 85% reduction of pain and bowel dysfunction symptoms.
Listen to IBS Audio Program 100 samples!

When IBS is Worse than Childbirth

Hi Heather,

I have been reading all the letters that you get from fellow IBS suffers, and I have bought several of your products for IBS.

I came across your site at the beginning of the year when I was diagnosed with IBS. I could not bear the thought of living with the painful spasms and the diarrhea, bloating, etc. - the usual IBS symptoms, I guess. My doctor gave me prescription drugs to help the spasms and did not mention anything about diet. (I have since discovered that diet plays a major part in the symptom management of IBS.)

That's when I decided to do some research of my own and stumbled across quite a few sites related to IBS - but who should I believe and which ones were just scams? I was always drawn back to your website, and then I started to buy your products. Reading other people's experiences from your site gave me inspiration and hope that maybe your products did actually work.

There came a point that I actually was scared to eat anything because I was not sure of the things I could and could not safely eat, and I actually found it easier to just not eat at all. Then I started losing weight (and for me, that was the starting point of realizing that I could not keep living the way I was doing).

I have never had a problem with my weight - that has always been stable throughout my life. So losing about 9 lbs in weight in the space of a few months was actually quite scary for me. Feeling sick and being in pain all the time didn't do much for my appetite either.

Your website was a lifesaver for me, Heather, and when I bought the Tummy Fiber that was the complete overall turning point for me. I have been using that for about 4 weeks now, and felt it was time I wrote to tell you that it really does work!

I take one and a half teaspoons per day and have virtually no pain at all. I can go to the bathroom without sitting on the toilet dreading those spasms. I actually used to find myself waiting for them to kick in. When they did it was agony and I will say I did actually pass out from the pain. This only happened about 3 times, but that was enough for me.

I would rather go through childbirth than suffer the pain of IBS. At least labour pains and the delivering of a baby makes the pain go away! Plus you have a delightful bundle of joy at the end of the grueling task of childbirth!

I live in Glasgow in Bonnie Scotland, and all I can say is thank goodness for the internet because without that I would never have found your site. You're a very remarkable woman who has actually taught me a lot about IBS - more than my own doctor. I just wish that places in Glasgow stocked your products because I am sure there are a lot of people on this side of the world who have not found your website and just go on suffering the dreaded IBS because their doctors just can't be bothered with their symptoms.

In the meantime I will continue to buy your Tummy Fiber and Peppermint Oil Tummy Tamers forever, or at least until maybe there comes a day when they do actually find a cure for IBS. I also have your IBS cookbook which was a big lifesaver!!

Keep up the good work, Heather, God bless you and I hope you are keeping good health. I am! And that's all down to you!

Please feel free to use my comments because I feel that the more people who know about the products that you sell and the results that they have, then the more people will not suffer as much as what they would without them. I now know that my life would definitely not be the same without them.

Take care, Heather, and keep well.

Thank you,

Carol

Thank you so much, Carol! This is just wonderful to hear! ~ Heather

Did you miss the last reader letter from Kelly, who was feeling better right away?

~ Heather's Tummy Fiber ~
For the Dietary Management of Abdominal Pain, Diarrhea, &, Constipation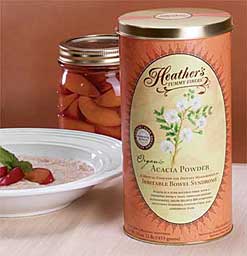 Certified Organic Acacia ~ Pure Soluble Fiber
The prebiotic fiber that relieves both diarrhea and constipation!

** Very Economical ** Only 4 cents per gram of fiber!


Q and A with Heather on Sunday, July 13!
I'm so excited to announce a special IBS event with a question and answer session, book signing, recipe samples, and Heather's Tummy Care product demos at the grand opening of Granola's in Mill Creek, Washington! This event is a part of the annual Mill Creek Festival and Street Fair on July 12th and 13th. I'll be at Granola's on Sunday, July 13th, from 2pm to 4pm. I'm so thrilled to be a part of this - please come join me! The store is at:

Granola's
15506 Main Street
Suite N101
Mill Creek, WA 98012
Phone: 800-245-1504

Heather's Tummy Care Now in Canada!
Finally, after several years and countless customer requests, we now have stores in Canada carrying Heather's Tummy Care products! All of these stores are happy to take phone orders and will mail items anywhere in the country.

This gives our all of our wonderful Canadian customers a much less expensive and much faster way to get the Tummy Care products they need. Even if you don't have a store near you, it should be less costly to order from within Canada and have the items delivered. You will no longer have to pay for international shipping, duties, or tariffs, and you won't have any risk of your order being held in Customs for days or weeks on end. Our Canadian stores are:

British Columbia

London Station Market
#209-7633 St. Albans Rd
Richmond, BC V6Y 3W7
Canada
604-272-0789

Ontario

Durham Natural Foods
1191 Montrose Avenue
Sudbury, ON P3A 5J6
Canada
705-566-3820

Norfolk Holistic Foods
17 Peel St
Simcoe, ON N3Y 1S1
Canada
519-426-9309





~ Heather's Tummy Tamers Peppermint Oil Capsules ~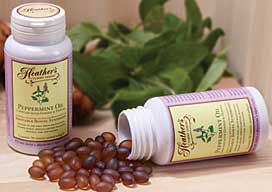 Peppermint Oil Caps Called "Drug of Choice for IBS"

Our Peppermint Oil Caps have the added benefits of fennel and ginger oils, and they help prevent abdominal pain, gas, and bloating!

Part 2 - What to Eat When You Can't Eat Anything

Last time, we talked about how to get your gut calmed down during those times when it seems like everything you eat triggers an attack. The key was soluble fiber foods and supplements, which will stabilize the GI contractions that are going haywire with IBS and causing pain, and will normalize bowel function from either extreme (diarrhea AND constipation).

So, if you've followed the plan, you should have been sticking to foods like plain white rice, oatmeal, pasta, white breads, peeled potatoes, etc. for a few days. You also should have added in a prebiotic soluble fiber supplement like Acacia Tummy Fiber, too - this is crucial.

After a few days, you should be feeling much better, and your gut contractions will have stabilized. Diarrhea should have resolved though constipation may well take a while longer. At this point, you can start carefully expanding your diet with insoluble fiber, by blending fresh fruits into smoothie drinks, or blending cooked veggies into pasta sauces or soups to serve over white rice.

The Eating for IBS recipes for zucchini, banana, and pumpkin breads work beautifully here, and so does the recipe for jok rice porridge soup. For breakfast, try having a little soy or rice milk with oatmeal or cream of rice cereal, and top with sliced bananas, mangoes, or peeled peaches.

For lunch and dinner have a small portion of grilled fish or skinless chicken breast with pasta or rice. Add in a side of well-cooked carrots, sweet potatoes, white potatoes, or zucchini (peel all of them) - these are all high soluble fiber veggies.

Safe treats are the Eating for IBS recipes for Will's dreamy lemon rice pudding, vanilla or chocolate silk puddings, peppermint fudge cake, and banana cream pie.

Remember that the goal is always to keep your gut filled with soluble fiber. So, continue to snack on small portions of soluble fiber foods throughout the day, and make sure you're still drinking lots of strong hot Peppermint Tummy Tea for pain, spasms and cramps and/or Fennel Tummy Tea for bloating and gas.

It's very important as you expand your diet to keep your fat content low and be extra careful as you start to incorporate the insoluble fiber foods. As you stay stable, you can move on to all the other IBS recipes.

Now that you've stabilized, continue follow the general IBS diet guidelines (low fat, no triggers, careful with insoluble fiber), and you'll be back to a healthy diet overall and not just limited to plain soluble fiber foods. You should always continue to make soluble fiber the basis of your diet, of course, and have those foods as the foundation of your meals and snacks.

Continue a prebiotic soluble fiber supplement like Acacia Tummy Fiber on a daily basis as well. Remember, it's the soluble fiber that is key to normalizing a spastic colon and preventing IBS symptoms from reoccurring in the first place.

Did you miss the previous Ask Heather and part one of what to eat when you can't eat anything?

~ Heather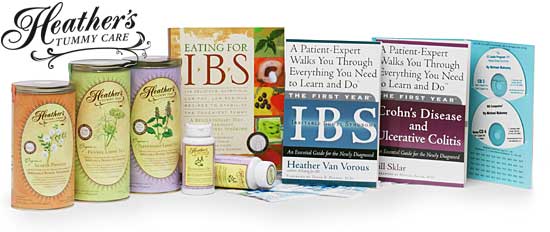 Shop at Heather's Tummy Store for IBS
HelpForIBS.com
The only store that's just for IBS - so we only carry the very best

You're on this newsletter list because you have expressed interest in IBS news and information.




Change your newsletter email address here.

If you are viewing this newsletter on a website and would like to subscribe for email delivery, please "Join the IBS Newsletter" here.

ANTI-SPAM PRIVACY & SECURITY POLICY
HelpForIBS.com
Heather's Tummy Care
80 S. Washington St, #304
Seattle, WA 98104 USA

© 2008 Heather Van Vorous, Heather's Tummy Care. All rights reserved.
USA Copyright Office Registration Number TXU 1-270-858 and others