Heather's IBS Newsletter ~ For Irritable Bowel Syndrome

Are meal replacement drinks good for IBS? Find out!?

What if IBS isn't your only dietary restriction?

What helps IBS gas and bloating? Prebiotics and probiotics!


Hello to everyone ~

We have a terrific letter from this week from Vivian, who found something soothing and effective for not just IBS, but her other digestive disorders as well.

We also address the question of what to drink for IBS, because it's not just what you eat that matters.

Plus, as always, we have a fantastic digestion-friendly recipe and the latest news and research. Enjoy!

Best Wishes,
Heather Van Vorous

Did a friend send you this newsletter? Sign up here for your own free subscription.

Chicken, Artichoke, and Fennel Pasta

This fast and easy chicken dinner comes together in a matter of minutes. It has a high soluble fiber base from orzo (a rice shaped pasta), which provides digestive stability. The chicken breasts are quickly sauteed and topped with a zesty dressing that has just a bit of heart-healthy olive oil, so the fat content is low but the flavor level sky high. Freshly ground fennel adds even more flavor and, as a bonus, is a terrific digestive aid.

4 Servings

Dressing:
4 T olive oil
4 T fresh lemon juice
2 T honey
2 t garlic, minced
1/2 t dried thyme
1 t whole fennel seeds, crushed
1/2 t salt
1/2 t red pepper flakes (optional)

Combine all dressing ingredients and set aside.

4 skinless deboned chicken breasts
1 13.75-oz. can artichoke hearts
1 lemon, peeled, thinly sliced
Chopped fresh parsley
Cooked orzo or rice

Season chicken breasts on both sides with salt and pepper as desired. Saute in a large nonstick pan coated with cooking spray over medium-high heat until lightly browned on both sides, 3-5 minutes per side. Reduce heat to medium, cover and cook 5 minutes. Add drained, halved artichokes and dressing. Simmer uncovered and reduce sauce for about 3 minutes. Top chicken with slices of lemon; cook 2 minutes or until dressing thickens. Top with parsley and serve over cooked orzo or rice.

For a delicious dessert with this dinner, try my Molten Mocha Cake!

Are you just learning how to eat for IBS? A little intimidated at the thought of special IBS recipes? Not quite sure just what makes these recipes special in the first place? Don't worry! Come see the IBS Diet pages, and find the answers to all your questions.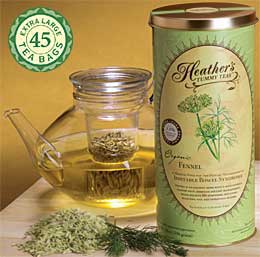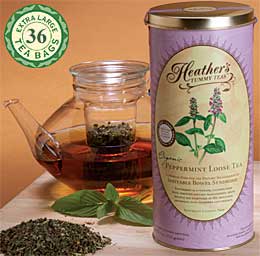 Organic High Volatile Oil Fennel & Peppermint Tummy Tea Bags

Extraordinary Quality ~ Very Economical

Fennel is terrific for bloating & gas, Peppermint is great for IBS pain & spasms.

Soothing and Effective Help for IBS and Other Digestive Disorders

Hello Heather,

Thank you for your wonderful Tummy Fiber. Finally I have found a most soothing fiber that is not only effective, but so pleasant tasting.

I just ordered Fennel Tummy Tea, your book, Eating for IBS, and the Tummy Tamers peppermint oil caps. The recipes look absolutely fabulous and easy to prepare.

Throughout my life I have suffered from digestive disorders due mainly to food allergies. Of course, years ago no MD could figure out what my problem was. I did my own research and discovered not only the food allergy problem, but also lactose intolerance, constipation, intolerance to sugar and anything containing sugar, plus a yeast overgrowth in my intestinal tract.

In order to overcome the yeast problem I had to stop all sweets (chocolate, chewing gum, sodas, sugar etc.). Besides losing approximately 6 lbs. the intestinal gas ceased and my tummy was no longer distended. Bowel movements are now regular. I am now using sugar substitutes such as stevia, agave nectar and brown rice syrup in my recipes. These I will incorporate in your recipes until my yeast problem has stabilized.

I have forwarded your website to friends of mine who I'm sure you will be hearing from very soon.

I thank you again for the good work you have done and continue to do.

With best regards,
Vivian Reyes Schabloski

Thank you so much, Vivian! I'm so happy you're doing better - that is wonderful! ~ Heather

Did you miss the last reader letter from Nancy, who was told IBS was "all in her head!"?



~ Heather's Tummy Tamers Peppermint Oil Capsules ~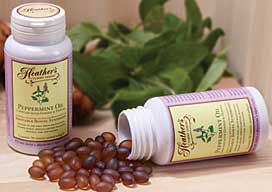 Peppermint Oil Caps Called "Drug of Choice for IBS"

Our Peppermint Oil Caps have the added benefits of fennel and ginger oils, and they help prevent abdominal pain, gas, and bloating!

Gastrointestinal Microbiota in Irritable Bowel Syndrome
A recent study in Journal of Gastroenterology noted that Irritable bowel syndrome (IBS) is a chronic disorder characterized by abdominal pain, change in bowel habit, and bloating. It has traditionally been viewed as a disorder of visceral hypersensitivity heavily influenced by stress, and therefore therapeutic strategies to date have largely reflected this.

However, more recently, there is good evidence for a role of the gastrointestinal (GI) microbiota in its pathogenesis. Changes in fecal microbiota, the use of probiotics, the phenomenon of postinfectious IBS, and the recognition of an upregulated host immune system response suggest that an interaction between the host and GI microbiota may be important in the pathogenesis of IBS. This article explores the role of the GI microbiota in IBS and how their modification might lead to therapeutic benefit. Go here for more information about this article...

Probiotics and Prebiotics for IBS Gas & Bloating
A recent review in Alimentary Pharmacology & Therapeutics noted that the human gut harbours a complex community of bacteria whose relationship with their host is normally mutually beneficial. Recent studies suggest a disturbance of this relationship in irritable bowel syndrome (IBS) and the potential to correct this using pre- and probiotics. This article aimed to review the mechanisms of action of probiotics and prebiotics in IBS and to assess their performance in clinical trials.

The article found that probiotics enhance gut barrier function, inhibit pathogen binding and modulate gut inflammatory response. They also reduce visceral hypersensitivity associated with both inflammation and psychological stress. Probiotics can alter colonic fermentation and stabilise the colonic microbiota. Several large randomised, placebo-controlled trials of adequate design have shown an improvement in flatulence and abdominal distension with a reduction in composite IBS symptoms scores. Go here for full information about prebiotic Tummy Fiber.

Go here for more information about this article...

~ Heather's Tummy Fiber ~
For the Dietary Management of Abdominal Pain, Diarrhea, &, Constipation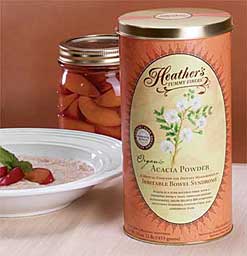 Certified Organic Acacia ~ Pure Soluble Fiber
The prebiotic fiber that relieves both diarrhea and constipation!

** Very Economical ** Only 4 cents per gram of fiber!

Are Meal Replacement Drinks Safe for IBS?

Because so many people with IBS struggle with what to drink, and not just what to eat, they often turn to meal replacement drinks. This seems like a logical idea, but unfortunately, most meal replacement or supplemental nutrition shakes have ingredients that can seriously worsen IBS.

Among the most common brands, virtually all Boost drinks contain dairy, and most varieties have artificial flavors, artificial colors, and can be very high in fat as well.

Ensure brand drinks contain dairy, most are fairly high in fat, and some varieties have caffeine and artificial flavors. Both Boost and Ensure also typically use corn syrup as a sweetener, which can cause problems for IBS folks who are sensitive to fructose.

Even Modulen, a nutritional drink marketed for inflammatory bowel disease patients, contains casein (a dairy protein), milk fat, and a fat content that is far too high for maintaining digestive stability in IBS. Modulen also contains Transforming Growth Factor-ß2 (TGF-ß2), from cow's milk, which doesn't sound like something I'd like to drink even if I didn't have IBS.

The best choice among the canned drinks, though not a great one, seems to be SlimFast soy fruit shakes. These contain no dairy and are very low in fat, and they also have a decent amount of soluble fiber. Unfortunately, they're sweetened with fructose. This means that while they may be a tolerable drink for some, for others who are prone to diarrhea, gas, or bloating from fructose, they're not a safe bet.

The optimal solution for a meal replacement beverage is to simply make your own. While this isn't as convenient or quick as buying a canned drink, at least you can control the ingredients and ensure that your digestion stays stable. Try whipping up a fast fruit smoothie in the blender with soy, rice, oat, or almond milk (and additional soy powder for more protein if you like), bananas or mangoes, peaches, cherries, blueberries, or strawberries. Add Acacia Tummy Fiber for extra soluble fiber and a super creamy texture.

Choose whatever combination of fruits you find most tolerable, and add a bit of sugar, stevia, or honey for extra sweetness. No drink will ever really replace the complete nutrition you should get from a full meal, but if you're trying to add extra calories to your diet or simply need some fast energy, a homemade smoothie is a much healthier and safer choice than any of the commercial canned beverages.

~ Heather

Did you miss the recent "Ask Heather" and the IBS Restaurant Cheat Sheet?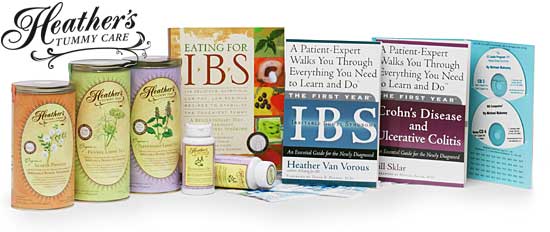 Shop at Heather's Tummy Store for IBS
HelpForIBS.com
The only store that's just for IBS - so we only carry the very best

You're on this newsletter list because you have expressed interest in IBS news and information.




Change your newsletter email address here.

If you are viewing this newsletter on a website and would like to subscribe for email delivery, please "Join the IBS Newsletter" here.

ANTI-SPAM PRIVACY & SECURITY POLICY
HelpForIBS.com
Heather's Tummy Care
80 S. Washington St, #304
Seattle, WA 98104 USA

© 2008 Heather Van Vorous, Heather's Tummy Care. All rights reserved.
USA Copyright Office Registration Number TXU 1-270-858 and others