Heather's IBS Newsletter ~ For Irritable Bowel Syndrome

SALE! ENDS IN 3 DAYS Shop here and use the discount code MAY08 when you check out for an extra 10% off!

IBS - Have you been told to "just live with it?!"

Hello to everyone ~

First, as a thank you to our newsletter subscribers, we're offering a special 10% discount through this newsletter, good through the end of May. If you use the promotional code MAY08, which can be applied to any order whatsoever, you'll automatically receive a second 10% discount code for your next purchase. The second code will be good through the entire month of June.

Simply click through here to add items to your cart and you'll get the discount code MAY08 automatically upon check out!

Plus, we have new stores to announce, and we wrap up the special IBS restaurant guide series. Enjoy!

Best Wishes,
Heather Van Vorous

P.S. Have you wondered just what makes the Tummy Care products so special? Check here to find out - you might be surprised!

Did a friend send you this newsletter? Sign up here for your own free subscription.



~ Heather's Tummy Tamers Peppermint Oil Capsules ~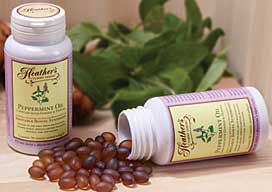 Peppermint Oil Caps Called "Drug of Choice for IBS"

Our Peppermint Oil Caps have the added benefits of fennel and ginger oils, and they help prevent abdominal pain, gas, and bloating!

Grilled Shrimp with Mediterranean Aioli

This is a perfect early summer dinner! The shrimp are deliciously marinated and the aioli dipping sauce makes a creamy, pungent counterpoint. Shrimp are a great source of protein for the IBS diet because they are so low-fat, and the dip is loaded with soluble fiber from the bread and almonds. Though the Tummy Fiber is optional, it makes the dip extra smooth, rich and creamy.

1 1/2 pounds shrimp, shelled
1 teaspoon dried rosemary
2 tablespoon olive oil, divided
1/4 teaspoon saffron threads
2 cups packed, one-inch cubes of French bread, soaked 15 minutes in 1/2 cup water
2 large garlic cloves
1/4 cup almonds, finely ground
6 tablespoons fresh lemon juice
1/4 teaspoon salt
2 tablespoons water
1 tablespoon Acacia Tummy Fiber

In a bowl stir together the shrimp, rosemary, and 1 tablespoon olive oil, and marinate, chilled, for 1 hour.

Place saffron threads in a small saucer and microwave for 10-20 seconds, until brittle. Add saffron, remaining tablespoon olive oil, and all other ingredients to a food processor or blender, and puree until smooth, scraping down sides with a rubber spatula as necessary. Transfer dip to serving bowl.

Thread shrimp on metal skewers and grill over medium high heat in grill pan (or over charcoal grill) just until cooked through, about 2 minutes per side. Serve shrimp with dipping sauce.

Add freshly grilled or steamed asparagus or zucchini, and basmati rice, for a fantastic meal!

For a deliciously soothing drink with this dinner, I love to serve Peppermint Tummy Tea!

Are you just learning how to eat for IBS? A little intimidated at the thought of special IBS recipes? Not quite sure just what makes these recipes special in the first place? Don't worry! Come see the IBS Diet pages, and find the answers to all your questions.

~ Heather's Tummy Fiber ~
For the Dietary Management of Abdominal Pain, Diarrhea, &, Constipation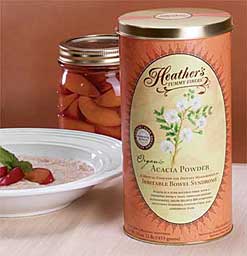 Certified Organic Acacia ~ Pure Soluble Fiber

The prebiotic fiber that relieves both diarrhea and constipation!

** Very Economical ** Only 4 cents per gram of fiber!

Told to "Just Live With IBS", Nancy Refused!

Dear Heather,

I want to add my testimony to the many letters you receive about Dr. Michael Mahoney's IBS self-hypnosis program. I have had IBS since I was a teenager, and I'm now 75. I've had the usual responses from doctors: "it's all in your head" or "live with it".

I found your web site about two years ago and have had remarkable results from your IBS diet and products. Not once did a doctor ever mention diet. I have developed several autoimmune diseases through the years, the worst being Mynoclonus, a movement disorder that causes the entire body to shake when triggered by such things as loud noises, bright lights, heat, and cold.

I also had to live with exhausting fatigue from Sjogren's syndrome. These conditions left me unable to drive, shop or attend church. I was quite housebound.

I was at a really bad low point physically and mentally when I decided to try Dr. Mahoney's self-hypnosis program, after getting my doctor's eager approval. Results have been miraculous. The IBS is all but gone, but the real miracle is the effect on the Mynoclonus. Sensitivity to the triggers has been reduced to almost non-existent.

I can again drive, shop and attend church. At the same time Dr Mahoney's self- hypnosis program has given me back a normal life, my husband's health has declined. Without the hypnosis and the IBS diet we would now be in assisted living.

Many thanks to you and Dr. Mahoney for restoring my health.

Sincerely,
Nancy Hebner

Thank you so much, Nancy! I am thrilled you're doing so much better, and I wish the best to you and your husband. ~ Heather

Did you miss the last reader letter from Marc, who now considers himself fully recovered from IBS?


Researchers call gut-directed hypnotherapy a "cure" for IBS!

The Best Gut-Directed Self-Hypnosis Program for All IBS Symptoms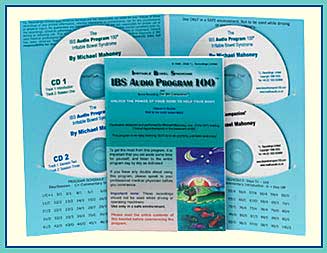 Gives an average 85% reduction of pain and bowel dysfunction symptoms.
Listen to IBS Audio Program 100 samples!


New Retail Stores Carrying Heather's Tummy Care Products
We're continuing our special rebate offer for people who buy Tummy Care products at their local stores, and we have new store announcements this week as well.

Texas
Nichols Southside Pharmacy
3141 Gollihar Rd
Corpus Christi, TX 78415
361 852 8288

Georgia
CWK Beauty Supply
103 Highway 138 West
Stockbridge, GA 30281
770 474 4254

Washington
Dr. Michael Whitney
West 403 Hastings Road
Spokane, WA 99218
509 465 5767

Roslyn Natural Market
200 N. First Street
Roslyn, WA 98941
509 649 3588

If you don't have a store in your area carrying Tummy Care products yet, please give them this flyer to ask them.






~ Heather's Tummy Tamers Peppermint Oil Capsules ~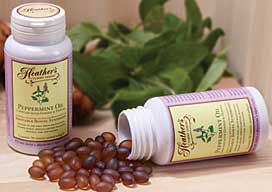 Peppermint Oil Caps Called "Drug of Choice for IBS"

Our Peppermint Oil Caps have the added benefits of fennel and ginger oils, and they help prevent abdominal pain, gas, and bloating!

New Drug for IBS Constipation
The U.S. Food and Drug Administration has approved Amitiza (lubiprostone) for the treatment of Irritable Bowel Syndrome with Constipation (IBS-C) in adult women aged 18 and over.

In studies some patients received Amitiza and others were given a placebo. More patients treated with Amitiza reported that their IBS symptoms were moderately or significantly relieved over a 12 week treatment period than patients who received placebo. The safety of long term treatment was assessed in a study in which all patients were treated with Amitiza for a duration that ranged 9 to 13 months.

The efficacy of Amitiza in men was not conclusively demonstrated for IBS-C. Common side effects of Amitiza include nausea, diarrhea, and abdominal pain. Other rare side effects include urinary tract infections, dry mouth, syncope (fainting), peripheral edema (swelling of the extremities), dyspnea (difficulty breathing), and heart palpitations.

Amitiza should be taken twice-a-day in 8 microgram doses with food and water. Patients and their health care professionals should periodically assess the need for continued therapy.

Amitiza is not approved for use in children and men. It is not to be administered to patients suffering from severe diarrhea or patients with known or suspected bowel obstructions. Its safety and efficacy has not been established in patients with renal or hepatic impairment, pregnant, or nursing mothers.

Go here for full information about constipation.

Go here for more information about this article...

Efficacy of Probiotics in Irritable Bowel Syndrome
A recent study in Diseases of the Colon and Rectum was designed to evaluate whether probiotics improve symptoms in patients with irritable bowel syndrome.

Eight randomized, placebo-controlled, clinical trials met the study criteria and were included in the analysis. Pooling of eight trials for the outcome of clinical improvement yielded the conclusion that probiotics may improve symptoms of irritable bowel syndrome and can be used as supplement to standard therapy. Go here for more information about this article...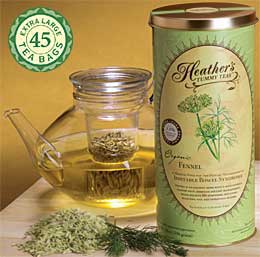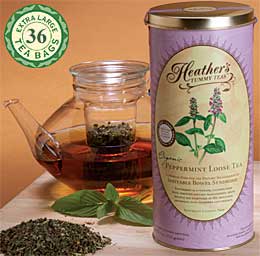 Organic High Volatile Oil Fennel & Peppermint Tummy Tea Bags

Extraordinary Quality ~ Very Economical

Fennel is terrific for bloating & gas, Peppermint is great for IBS pain & spasms.

Special IBS Restaurant Guide - Part Three

Our previous guides have dealt with how a little bit of planning can go a long way, and how to get ready for a restaurant trial run.

So, once you're at your previously scouted meal, you've taken your Tummy Fiber at the table, and ordered a cup of peppermint tea or fennel tea, what exactly do you order?

You'll want to be wary of anything the menu describes as:

crispy
crunchy
fried
creamy
cheesy
rich
meaty
raw vegetables

Instead, look for items that are:

steamed
stir fried
baked
roasted
seared
poached
sauteed
light
low fat

Don't be embarrassed to ask questions, ask for substitutions, or make special requests. Always ask if what you're ordering is made (or can be made) without red meat and dairy products. Always ask that as little oil as possible be used in cooking. Make sure that your meal comes with a soluble fiber foundation (rice, pasta, potatoes, etc.)

Focus on seafood, skinless chicken white meat, or vegetarian options.

Kacey, one of our newsletter readers who has worked in the food service industry for a long time, wrote me with a number of insider suggestions for making sure your restaurant meals are IBS-safe:

- Dairy, especially butter, is unfortunately hiding everywhere. For example, sandwiches that are grilled almost always have a thick layer of butter spread on the bread before they are thrown on the grill, even though it doesn't say so on the menu. In fact, almost anything on the grill, from buns, to chicken, to eggs, gets a huge dose of butter. Make sure you ask for "seared" instead of "grilled", as "seared" means cooked on the grill without a butter spread.

- Many vegetable side dishes are also cooked in butter, although the menu doesn't say so. To be safe, always tell your server that you are ALLERGIC to dairy, even if you're technically not. I have been a server, and I can speak from experience that if a guest simply has a preference about a dish they might forget about it with all the other tables they have to remember, but if a guest is allergic to something you can bet they're going to remember that. Because they work on tips, they're going to talk to the kitchen and do whatever they can to make sure your meal is allergen-free.

- Many restaurants are starting to offer an entire separate menu dedicated to dietary needs and allergens. Let your needs be known.

- Don't assume you can't eat at certain restaurants until you ask. I wasn't sure if I could eat at one of my sister's favorite restaurants because they cook everyone's orders on the same large grill in the middle of the restaurant (it's one of those Asian-flair novelty places) and they use lots of the butter-oil mixture on their grill. When I told the restaurant my situation, the manager told me that they had a special grill in the back where they cooked all of their dairy-free dishes and used for any other dietary issue.

Thank you, Kacey, for the inside tips!

Did you miss the previous IBS Restaurant Cheat Sheet? These are your ground rules!

~ Heather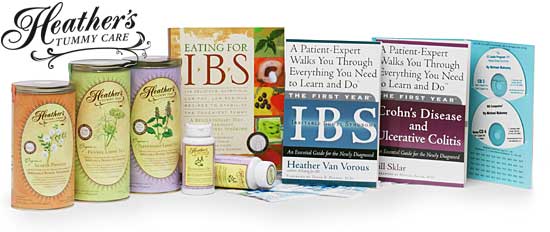 Shop at Heather's Tummy Store for IBS
HelpForIBS.com
The only store that's just for IBS - so we only carry the very best

You're on this newsletter list because you have expressed interest in IBS news and information.




Change your newsletter email address here.

If you are viewing this newsletter on a website and would like to subscribe for email delivery, please "Join the IBS Newsletter" here.

ANTI-SPAM PRIVACY & SECURITY POLICY
HelpForIBS.com
Heather's Tummy Care
80 S. Washington St, #304
Seattle, WA 98104 USA

© 2008 Heather Van Vorous, Heather's Tummy Care. All rights reserved.
USA Copyright Office Registration Number TXU 1-270-858 and others