Heather's IBS Newsletter ~ For Irritable Bowel Syndrome

SPECIAL SALE! SEE BELOW

What does it mean to be fully recovered from IBS?

Special news release - 10 years of success for the IBS Audio Program

Die and go to (IBS-safe) chocolate heaven with my Molten Mocha Cake!


Hello to everyone ~

We have a special sales issue that is exclusive to the IBS newsletter, as a thank you to our regular readers and customers! As you're surely aware, postal rates have just gone up significantly, for the second time in a year.

To help offset the postal increases, we're offering a special 10% discount code through this newsletter only, good through the end of May. If you use this promo code, which can be applied to any order whatsoever, you'll automatically receive a second 10% discount code for your next purchase. The second code will be good through the entire month of June.

**Simply click through here to add items to your cart and get your discount code automatically after you confirm your shipping information upon check out! (This link is the only way to get your special discount.)**

I do want everyone to know that we always discount prices on the website to help soften the cost of shipping, and we'll continue to offer standard discounts of 10% to 20% off the suggested retail price. We also continuously strive to offer the highest possible quality products (certified organic, high volatile oil, prebiotic, jumbo tea bags, and more) at the lowest prices.

Plus, we have a terrific letter from someone who is now fully recovered from IBS. Learn how he did it!

Best Wishes,
Heather Van Vorous

P.S. Have you wondered just what makes the Tummy Care products so special? Check here to find out - you might be surprised!

Did a friend send you this newsletter? Sign up here for your own free subscription.



~ Heather's Tummy Tamers Peppermint Oil Capsules ~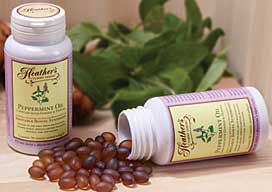 Peppermint Oil Caps Called "Drug of Choice for IBS"

Our Peppermint Oil Caps have the added benefits of fennel and ginger oils, and they help prevent abdominal pain, gas, and bloating!

Molten Mocha Cake

This recipe is so insanely delicious it puts restaurant-style molten chocolate cakes to shame. No one would ever guess that my version is low fat, dairy free, and takes less than ten minutes to make.

The key substitutions here for IBS safety are using soy or rice milk for dairy, and unsweetened cocoa powder (which is very low fat and caffeine free) in place of solid chocolate. The small amount of decaf instant coffee powder should be very tolerable with this cake's soluble fiber foundation, but you can also simply leave it out. Though the Tummy Fiber is optional, it's the secret to making this cake's texture even more amazingly silky, rich, and fudgy - try it!

Makes 8 servings

1 C granulated sugar, divided
1 C all-purpose unbleached flour
2 T Acacia Tummy Fiber (optional but gives a fabulous result)
1/4 t salt
1/2 C unsweetened cocoa powder (such as Hershey's), divided
2 t baking powder
1/2 t cinnamon
1/4 C canola oil
1/2 C soy or rice milk
1 t vanilla extract
1 T decaffeinated instant coffee powder (optional)
1 C boiling water
Vanilla soy or rice ice cream (optional)

Preheat oven to 350F. Lightly coat an 8" or 9" square baking pan with cooking oil spray.

In a large bowl, sift and whisk together 2/3 C of the sugar, the flour, Tummy Fiber, salt, 1/4 C of the cocoa, baking powder, and cinnamon. Whisk well to blend. Stir in the oil, soy milk, and vanilla (batter will be stiff). Use a rubber spatula to pour the batter into prepared pan and smooth top.

In a small bowl, whisk together the remaining 1/3 C sugar and 1/4 C cocoa. Sprinkle evenly over the cake batter. Dissolve the coffee powder (if using) into the boiling water, and pour water over the cake. Do not stir.

Bake for about 25 to 30 minutes, until the top of the cake looks crisp and crackled. Cool on a wire rack for 5 minutes, and serve warm. Top with vanilla soy/rice ice cream, if desired.



For a deliciously soothing drink with dessert, I love to serve this cake with Peppermint Tummy Tea!

Are you just learning how to eat for IBS? A little intimidated at the thought of special IBS recipes? Not quite sure just what makes these recipes special in the first place? Don't worry! Come see the IBS Diet pages, and find the answers to all your questions.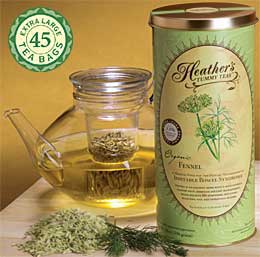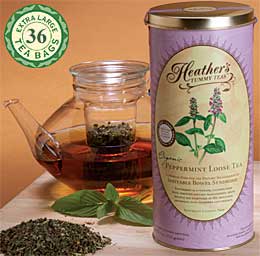 Organic High Volatile Oil Fennel & Peppermint Tummy Tea Bags

Extraordinary Quality ~ Very Economical

Fennel is terrific for bloating & gas, Peppermint is great for IBS pain & spasms.

Fully Recovered from IBS

Hi Heather,

My name is Marc Steingesser, I'm 43 years old, and you were one of my rescuers a year and a half ago. Please allow me to describe the events which led up to my being rescued:

Two years ago I moved my family (my wife and two daughters) from Northern Virginia to Delaware to pursue my dream of becoming a medical doctor. I was accepted to Drexel University's post-bac pre-med program in Philadelphia in April 2006. The program started in June - just 6 weeks after receiving my acceptance letter. The move was fast and furious (i.e. stressful), but everything worked out well. I started my studies on time, but was committed to a two week vacation abroad that summer in the middle of my first semester.

The "vacation" was exciting but included a couple of very stressful events (my wife and I came down with a chest and sinus bug at the beginning of the trip that we ended up taking antibiotics to treat, and our 3 year old nearly lost a finger at the start of the second week - requiring us to end the trip early - her finger is fine now by the way). I was still able to finish my first semester at Drexel with A's, and also began working on my fitness by jogging 3 miles a day.

At the same time I began experiencing mild asthma and acid reflux. My new doctor in Delaware decided the best way to treat my symptoms was to try various reflux and asthma medications until a combination was found that controlled the symptoms. I foolishly went along with the plan.

During an eight week period I took medications at ever increasing dosages for reflux, while simultaneously rotating through numerous drugs for asthma. My doctor also had me try a round of antibiotics in case I had bronchitis. Instead of improving, my symptoms continued to worsen (and my stress level continued to rise from not knowing what was wrong with me).

At the same time I continued taking classes that were held in the evenings. I wouldn't get home until 11 p.m., and would typically stay up until 1 a.m. to unwind and eat a very late dinner. I'll mention also that I was feeling guilty about my family having a hard time adjusting to our new home - even though they supported me, they understandably still missed friends and familiar places very much. Yep, I was a train wreck waiting to happen - and it soon did.

One evening in the late Fall of 2006 my wife and I ate out at a Thai restaurant. I had a delicious creamy curry dish. Not long afterwards I experienced severe abdominal pain accompanied by frequent dashes to the bathroom. My wife and I had eaten the same food and she was fine. The nightmare had begun.

Over the ensuing weeks I was seen by a number of doctors who ordered many medical tests, and while I was grateful that nothing "serious" was found I was still feeling seriously ill - so much so that I was forced to take a medical leave from school. In the end my GI doctor announced that I most likely had IBS, and that there was nothing that he or anyone else could do to help me. I returned home and immediately started researching IBS on the internet where I quickly found your web site.

The information you made available on your site finally helped me understand what I was dealing with, gave me hope that there were ways I could help myself deal with the horrible symptoms of IBS, and that perhaps there was even a cure. I consider myself one of the lucky ones who found your web site not long after the onset of IBS.

I tried many of your recommendations (Acacia Tummy Fiber, dietary changes, stress reduction via yoga, and gut directed hypnotherapy to name a few), for getting symptoms under control, and found most of them very effective during various stages of my recovery.

Michael Mahoney's IBS Audio Program 100 worked incredibly well for me - the man is a saint who, like you, has my eternal gratitude. After roughly eight months I finally felt like I had climbed out of the pit I had fallen into.

There were ups and downs along the way, but the ride kept getting smoother as time progressed. I've waited more than half a year since recovering to contact you - I wanted to make sure it was for real.

When I say recovered I mean the following: No more IBS symptoms (mine included IBS-diarrhea, abdominal pain, constant nausea, lack of appetite, loss of energy, anxiety/depression, and weight loss), no more reflux, no more asthma, no more medication of any sort. I can now eat whatever I like (although these days it's a lot healthier than in the past), I no longer need the Tummy Fiber (although I include a cereal with high soluble fiber in my regular diet).

Thank you, Heather. Thank you for caring. Thank you for helping me turn my tears of pain and despair into tears of joy. Thank you for helping me get my life back.

Please feel free to post my comments on your website and/or newsletter. I hope they help you help others.

Although I didn't say so directly, I did infer how stress was a significant factor in my experience with IBS. I mention this now because before dealing with IBS I never would have believed that stress could have such a huge impact on my physical well being. In a very real way the beginning of the end of IBS for me was acknowledging the role stress played, and finding ways to manage and reduce stress in my life. It's an important point (and one that you make in your own story) that I wouldn't want others to miss.

The thanks all go to you. Wishing you peace and every happiness.

Marc Steingesser

Thank you so much, Marc! Your story is simply amazing, and it just completely made my day! ~ Heather

Did you miss the last reader letter from Brenda, who is no longer in tears at 1am?

~ Heather's Tummy Fiber ~
For the Dietary Management of Abdominal Pain, Diarrhea, &, Constipation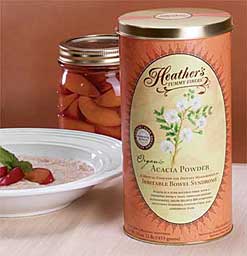 Certified Organic Acacia ~ Pure Soluble Fiber
The prebiotic fiber that relieves both diarrhea and constipation!

** Very Economical ** Only 4 cents per gram of fiber!

IBS Audio Program Celebrates 10 Years of Success
Called by some "the best kept secret in Gastroenterology," the IBS Audio Program developed by Michael Mahoney, Clinical Hypnotherapist at Guardian Medical Centre in Cheshire England, is now used by Irritable Bowel Syndrome sufferers in 41 countries.

From the early days of 1998, when the IBS Audio Program 100 was first released, it was impossible to foresee the impact that this home use audio program would have on the lives of so many people around the world.

IBS is a common digestive condition which affects up to 1 in 5 of the population of the UK and USA, with varying degrees of severity in most other countries. It impacts the individual, resulting in lost working days, increased costs to employers and health care providers, and insurance companies.

While medical science has no known cure for the condition, or a reason why the condition begins in the first place, it has been widely recognized for more than 20 years in the medical world that hypnotherapy can be an effective treatment option to reduced frequency and severity of presenting symptoms. Hypnotherapy has recently been listed as a treatment option for IBS in the UK's National Institute for Health and Clinical Excellence (NICE) guidelines.

The IBS Audio Program 100 was developed specifically for the IBS condition, to manage both the physical and the emotional aspects of IBS, which are commonly reported by IBS sufferers.

IBS can cause chronic and severe physical symptoms such as pain, gas, constipation, diarrhea, nausea, urgency, alternating bowel habits, and spasms, along with other symptoms. The IBS Audio Program 100 also addresses the often neglected emotional aspects of IBS, including loss of confidence and self esteem, weepiness, reduced memory and concentration, and more.

Coupled with an effective listening schedule and progress log the program brings real hope and understanding to the IBS sufferer. It also comes complete with an informational CD 'The IBS Companion' for those living with the IBS sufferer, but who do not have the IBS condition themselves. This has also proved useful to co-workers and other family members to understand the IBS condition fully.

Michael Mahoney, the author and developer of the program, is delighted. "The IBS Audio Program 100 is making positive differences to the majority of its users. While there is no such thing as a magic wand, many users have suggested it may be the next best thing."

The problem is, said Mahoney, "IBS sufferers go through the health-care system, and are often told there is nothing else that can be done for them, and they will have to live with it. Many have found the IBS Audio Program 100 through word of mouth, and through desperation, and as a last resort." Go here for full information about the IBS Audio Program.

Go here for more information about hypnotherapy for Irritable Bowel Syndrome...




Researchers call gut-directed hypnotherapy a "cure" for IBS!

The Best Gut-Directed Self-Hypnosis Program for All IBS Symptoms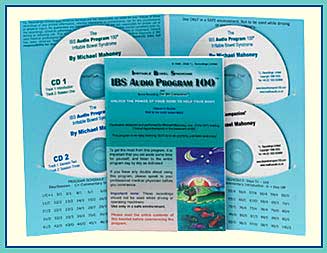 Gives an average 85% reduction of pain and bowel dysfunction symptoms.
Listen to IBS Audio Program 100 samples!

What Makes Heather's Tummy Care Products So Special?
"Why are the Tummy Care products so special? And how do I know which ones are the best for my symptoms?"

The philosophy behind all of the Heather's Tummy Care products is to give people with IBS simple, safe, and effective ways to manage all of their symptoms.

Here's a little cheat sheet on the special benefits of the Heather's Tummy Care products, all of which are considered medical foods for the dietary management of IBS symptoms:

Heather's Tummy Fiber - Organic Acacia
* relieves diarrhea and constipation
* helps normalize bowel motility
* prebiotic - it encourages the growth of healthy gut flora (probiotics)
* pure soluble fiber - no insoluble fiber, no psyllium, nothing else added whatsoever
* has a good gastrointestinal tolerance - it's very unlikely to cause gas and bloating
* tasteless, odorless, grit-free, and non-thickening
* packaged in generous 1 pound quantities
* available in bulk refill pouches as well as canisters
* add to any liquid or moist food, or cook with it!
* only pennies per gram of fiber - drastically less expensive than other brands

Heather's Tummy Tamers - Peppermint Oil Capsules
*helps prevent abdominal pain, cramps, and urgency
* relaxes the gut for long-lasting relief
* with added fennel oil for bloating and gas
* highly concentrated and long-lasting
* 50% more enteric coating than the industry standard, to help prevent heartburn
* convenient and portable

Heather's Tummy Tea - Organic Fennel
* exceptional for gas and bloating
* medicinal strength offers immediate relief
* relaxes the gut and helps regulate contractions
* extremely generous quantities - 45 jumbo tea bags, or one pound of loose tea
* highest possible volatile oil content - it's the volatile oil that makes it effective
* harvested and packaged to be as fresh and strong as possible
* extremely economical and simply incomparable quality compared to other brands
* available in tea bags for convenience, and loose tea for affordability

Heather's Tummy Tea - Organic Peppermint
* offers immediate relief for pain and cramping
* calms abdominal spasms and diarrhea
* powerful pain-killer and anti-spasmodic
* medicinal strength, large cut leaf, extremely high volatile oil content
* special jumbo tea bags made from loose tea, not tea bag cut
* harvested and packaged to be a fresh and strong as possible
* extremely generous quantities - 36 jumbo tea bags, or one pound of loose tea
* extremely economical and simply incomparable quality compared to other brands
* available in tea bags for convenience, and loose tea for affordability

All of the Tummy Care products can be mixed and matched as needed, and won't interfere with any prescription or over-the-counter drugs. They're also safe enough to use daily for a lifetime. Plus, each product is not just completely natural, but in most cases is certified organic and kosher as well.

To be organic certified is really special - it means that a product contains:

* no pesticides
* no chemical fertilizers
* no herbicides
* no GMO (genetically modified organisms)
* no preservatives
* no artificial additives
* no irradiation
* no animal testing

Organic certification also guarantees:

* good ecology - enriched soil, less soil erosion
* harvesting through farming which respects the environment
* traceability of each batch demonstrated from the orchard to the customer

On top of that, every Tummy Care product is packaged as generously as possible while priced as economically as possible. This takes into account the fact that for most people, IBS needs ongoing management on a daily basis, and it needs to be not just effective but affordable.

Not sure that your symptoms actually are IBS? It's important that you don't self-diagnose this disorder - only a doctor can tell you that you do in fact have Irritable Bowel Syndrome, as other disorders can cause similar symptoms. If you're unsure, there's full diagnostic information and medical facts in the IBS Glossary. Inform yourself first, make sure you get a valid diagnosis from your physician, and then you'll be ready to start tackling your most troublesome symptoms. ~ Heather

Did you miss the recent "Ask Heather" and the IBS Restaurant Cheat Sheet?

Coming next time, we'll wrap up our special IBS restaurant guide series!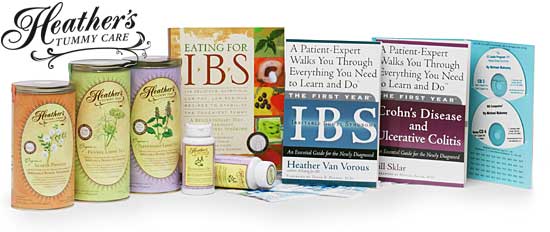 Shop at Heather's Tummy Store for IBS
HelpForIBS.com
The only store that's just for IBS - so we only carry the very best

You're on this newsletter list because you have expressed interest in IBS news and information.




Change your newsletter email address here.

If you are viewing this newsletter on a website and would like to subscribe for email delivery, please "Join the IBS Newsletter" here.

ANTI-SPAM PRIVACY & SECURITY POLICY
HelpForIBS.com
Heather's Tummy Care
80 S. Washington St, #304
Seattle, WA 98104 USA

© 2008 Heather Van Vorous, Heather's Tummy Care. All rights reserved.
USA Copyright Office Registration Number TXU 1-270-858 and others