Heather's IBS Newsletter ~ For Irritable Bowel Syndrome

Why is she off her IBS drug but no longer in tears at 1 am??

Special IBS Restaurant Guide - Part Two!

The ultimate diner breakfast recipe (made IBS-friendly!)


Hello to everyone -

Welcome to part two of our ongoing special IBS restaurant series! We'll feature favorite restaurant recipes made IBS-friendly, plus restaurant tips and tricks to let you safely eat out without fear.

We also have a great letter from a woman who stopped taking the IBS drug Zelnorm, but thanks to some other advice from her pharmacist no longer has to cancel appointments due to IBS!

As always, we also have the latest IBS news and research.

Enjoy!

Best Wishes,
Heather Van Vorous

Did a friend send you this newsletter? Sign up here for your own free subscription.

Diner Style Maple French Toast

Breakfasts are one of the most difficult meals to eat safely in restaurants. Virtually all traditional restaurant dishes - pancakes, French toast, omelets, etc. - are made with dairy, egg yolks, and lots of fat. Add this to the fact that breakfast is the first meal of the day, and mornings tend to be the touchiest time for many folks with IBS, and you have the restaurant recipe for disaster.

What to do? Make your own, even-more-fabulous, IBS-friendly version of a diner breakfast instead! Start with this delicious French toast, add on a side of low fat turkey or tofu bacon/sausage, and a fresh fruit smoothie. You'll be in breakfast heaven, and you'll be actively keeping your digestion stable instead of triggering problems.

Makes 6 Servings

1/2 of a 12.5 oz. package Silken Lite tofu, drained on a paper towel
1 tablespoon Acacia Tummy Fiber
2 organic egg whites
1/2 cup vanilla soy/rice milk
1 tablespoon dark (grade B) maple syrup
1 loaf French baguette or sourdough bread, slightly stale, cut diagonally into 1 inch thick slices
Additional maple syrup for serving

Combine first five ingredients in a blender, and blend on high speed until smooth. Pour batter into a glass pie plate. Dip slices of bread in batter, turn over, and soak for about 10 minutes. Heat a large non-stick skillet sprayed with cooking oil over medium high, add bread slices without crowding, and cook until golden brown on the bottom. Turn the slices with a rubber spatula and lightly brown the other side. Serve immediately with additional maple syrup.

Did you miss last week's Sweet & Sour Shrimp Chinese Restaurant Style?

Are you just learning how to eat for IBS? A little intimidated at the thought of special IBS recipes? Not quite sure just what makes these recipes special in the first place? Don't worry! Come see the IBS Diet pages, and find the answers to all your questions.


Researchers call gut-directed hypnotherapy a "cure" for IBS!

The Best Gut-Directed Self-Hypnosis Program for All IBS Symptoms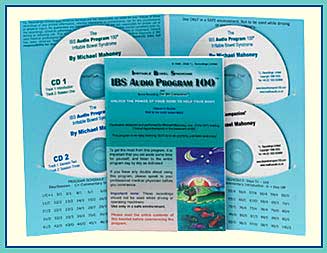 Gives an average 85% reduction of pain and bowel dysfunction symptoms.
Listen to IBS Audio Program 100 samples!

No Longer in Tears at 1 a.m.

Heather,

Hello!

I was actually prescribed Zelnorm [the IBS drug that was completely pulled from the US market April 2]. I took the tablets for three months and then stopped filling the prescription because I could not afford the meds.

It was actually the pharmacist who told me about your company and then I later starting taking the Tummy Tamers Peppermint Oil Caps and the Acacia Tummy Fiber. I also make a very conscious effort to look for foods that are higher in fiber and I eat a banana everyday.

So, I am happy that I took myself off the Zelnorm.

By the way, all your products have helped me tremendously. I am not 100% free of symptoms, but I no longer cancel appointments due to IBS issues and I am no longer in tears at 1 a.m. in the morning.

So, I appreciate the good work that you do.

B. from Chicago, IL

Thank you so much, B! I'm so happy for you. ~ Heather

Did you miss the last reader letter from Pat, who found the charm for bloating, cramps, and constipation?

~ Heather's Tummy Fiber ~
For the Dietary Management of Abdominal Pain, Diarrhea, &, Constipation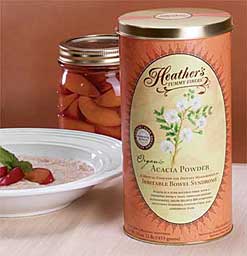 Certified Organic Acacia ~ Pure Soluble Fiber
The prebiotic fiber that relieves both diarrhea and constipation!

** Very Economical ** Only 4 cents per gram of fiber!


Special IBS Event

Huffman Herbs, with herbalist Brenda Huffman, will have a booth at the North Carolina Herb Fest featuring Heather's Tummy Care products for IBS. The festival is May 2nd and 3rd from 9am to 5pm, and May 4th from 10am to 3pm, at:

The Western North Carolina Farmers Market
570 Brevard Road
Asheville, North Carolina 28806

See you there!



~ Heather's Tummy Tamers Peppermint Oil Capsules ~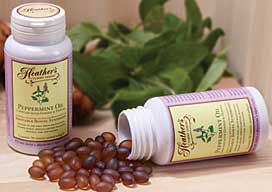 Peppermint Oil Caps Called "Drug of Choice for IBS"

Our Peppermint Oil Caps have the added benefits of fennel and ginger oils, and they help prevent abdominal pain, gas, and bloating!

Abdominal Bloating: Prevalence, Risk Factors, and Bowel Disorders
A recent study in the American Journal of Gastroenterology noted that bloating is common, but its significance as a marker of underlying disease has not been defined. The study aimed to report on risk factors for bloating, its relationship to physical activity and quality of life, and its predictive value for functional bowel disorders.

The positive and negative predictive values of bloating in the diagnosis of functional bowel disorder were 66% and 87%, respectively. The only risk factors were smoking and high-dose aspirin. Bloating was not associated with physical activity. The quality of life on all subscales was lower in subjects with bloating than those without bloating.

The study concluded that bloating is a common symptom in otherwise healthy adults, and is often associated with but not predictive of functional bowel disorders. Go here for full information about bloating.

Go here for more information about this article...

Gallstones, Cholecystectomy and IBS
A recent study in Digestive and Liver Disease noted that people with irritable bowel syndrome may undergo an excess of cholecystectomy (gallbladder removal surgery). It is not known, however, whether the cholecystectomy rate parallels an increased risk of gallstones.

This study found that prevalence odds of gallstones and cholecystectomy were significantly higher in irritable bowel syndrome and abdominal pain and normal bowel than in controls. Irritable bowel syndrome and abdominal pain and normal bowel subjects were more aware of gallstones than controls and the prevalence of gallstones in irritable bowel syndrome subjects unaware of their gallbladder status was not significantly different from the controls. The incidence of gallstone disease in irritable bowel syndrome, abdominal pain and normal bowel, and altered bowel and no abdominal pain subjects did not differ from the controls. The incidence of cholecystectomy was higher in irritable bowel syndrome and abdominal pain and normal bowel groups than in controls and altered bowel and no abdominal pain group.

The study concluded that Irritable bowel syndrome subjects have an increased risk of cholecystectomy that is not due to an increased risk of gallstones, but rather to abdominal pain, awareness of having gallstones, and inappropriate surgical indications. Go here for more information about this article...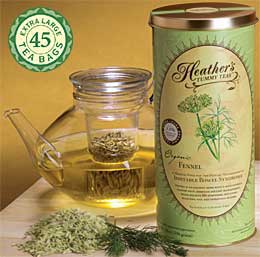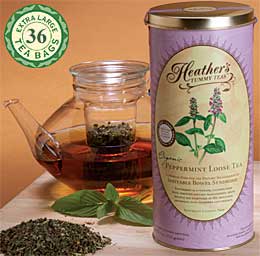 Organic High Volatile Oil Fennel & Peppermint Tummy Tea Bags

Extraordinary Quality ~ Very Economical

Fennel is terrific for bloating & gas, Peppermint is great for IBS pain & spasms.

Special IBS Restaurant Guide - Part Two

Ready, set, go!

Last time our special IBS Restaurant Guide dealt with how a little bit of planning can go a long way. This time around, we'll get ready for a trial run.

Once you've scouted out local restaurants with safe and appealing choices for you, it's time for a test run. Go by yourself or take a single close friend or family member, order an item you've previously scrutinized, take your Tummy Fiber at the table, drink some Peppermint or Fennel Tummy Tea, then relax and enjoy your meal.

You're in a no-pressure situation here, and you have permission to bail at any moment you feel uncertain or uncomfortable. Taking control of the situation in advance should allow you to feel at ease once you're there, and having a supportive person with you will add to your peace of mind.

Once you've eaten out a few times successfully, you will gain confidence that you can always eat out successfully, even at a new restaurant, even with a large group. It's another example of how knowledge is power over IBS. If you know how diet can control or trigger your symptoms, you can eat as safely in restaurants as at home. You will be managing your IBS - it will not be managing you.

For all restaurant adventures, make sure to use the IBS Restaurant Cheat Sheet:

1. Order a meal based on soluble fiber (rice, noodles, potatoes, white bread, oatmeal)

2. NEVER assume anything on the menu is safe - ask to be sure

3. Avoid all red meat, dairy, eggs, and fried foods

4. Fill up on the (unbuttered) white rolls in the bread basket

5. Order peppermint or chamomile tea, or brew your own

6. Divide your plate in half and eat one portion only - take the rest home

7. Remember that drinks (soda, fruit juice, coffee, alcohol) can be triggers, too

8. Take Heather's Tummy Fiber right before the meal to buffer your gut's response to food

9. Don't be afraid to make special requests - you're the customer so you're always right

10. Eat your green salad (with fat free dressing) last, not first

Coming next...part three of the IBS restaurant guide!

~ Heather

Did you miss the recent "Ask Heather" and part one of the IBS Restaurant Guide?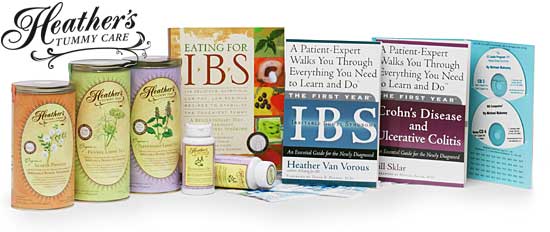 Shop at Heather's Tummy Store for IBS
HelpForIBS.com
The only store that's just for IBS - so we only carry the very best

You're on this newsletter list because you have expressed interest in IBS news and information.




Change your newsletter email address here.

If you are viewing this newsletter on a website and would like to subscribe for email delivery, please "Join the IBS Newsletter" here.

ANTI-SPAM PRIVACY & SECURITY POLICY
HelpForIBS.com
Heather's Tummy Care
80 S. Washington St, #304
Seattle, WA 98104 USA

© 2008 Heather Van Vorous, Heather's Tummy Care. All rights reserved.
USA Copyright Office Registration Number TXU 1-270-858 and others