Heather's IBS Newsletter ~ For Irritable Bowel Syndrome

Pat finds the charm for constipation, cramps, and bloating, despite chemotherapy and cancer. Read her amazing letter.

Special IBS Restaurant Guide - Part One!

The ultimate Chinese restaurant recipe (made IBS-friendly!)


Hello to everyone -

Welcome to part one of our special IBS restaurant series! We'll feature favorite restaurant recipes made IBS-friendly, plus restaurant tips and tricks to let you safely eat out without fear.

This week, we also have an amazing letter from Pat, who not only resolved her IBS constipation, bloating, and cramps, but managed to do so in the midst of undergoing chemotherapy for cancer. A huge hug to you, Pat, from all of us, for giving so much inspiration and hope.

As always, we also have the latest IBS news and research.

Enjoy!

Best Wishes,
Heather Van Vorous

Did a friend send you this newsletter? Sign up here for your own free subscription.

Sweet & Sour Shrimp Chinese Restaurant Style

This is my all-time favorite Chinese restaurant dish - but at restaurants, it's a deadly recipe for IBS. The shrimp are always deep fried, and there's even more oil in the sauce. My delicious solution? A homemade version that is every bit as crispy, crunchy, and sweet-and-sour tangy, but with very little fat.

Serve with plenty of fresh white rice for a good soluble fiber foundation, have some friends over, and enjoy the best Chinese restaurant meal ever, right in your own kitchen!

Sauce:
1/4 cup sugar
1 tablespoon Acacia Tummy Fiber
2 tablespoons ketchup
2 tablespoons soy sauce
1/2 cup pineapple juice (reserved from pineapple below)
1/4 cup white vinegar

Whisk together all ingredients until sugar is dissolved. Set aside.

1 cup white onions, thinly sliced
1/2 cup carrots, thinly sliced
1/2 cup chopped green beans or snow peas
1/4 cup cornstarch
1 lb. large prawns, shelled
2 tablespoons canola oil
1/2 cup pineapple chunks (1/2 cup juice reserved for sauce above)

Steam onions, carrots, and green beans/snow peas until just tender. Set aside. Add cornstarch to a pie plate and add the prawns, tossing to coat.

Heat canola oil in a large nonstick skillet over medium high heat. Add prawns to skillet in a single layer, cooking just until barely pink on both sides, turning over once. Add sauce to skillet and stir until just thickened, add reserved veggies and pineapple, and stir together. Serve with white rice.

For a wonderfully light ending to this meal, serve the shrimp with Raspberry Angel Kisses for dessert!

Are you just learning how to eat for IBS? A little intimidated at the thought of special IBS recipes? Not quite sure just what makes these recipes special in the first place? Don't worry! Come see the IBS Diet pages, and find the answers to all your questions.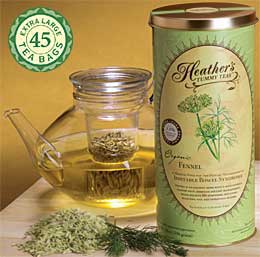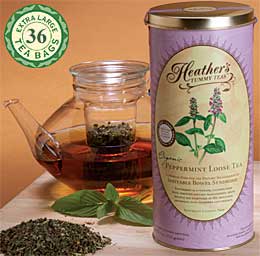 Organic High Volatile Oil Fennel & Peppermint Tummy Tea Bags

Extraordinary Quality ~ Very Economical

Fennel is terrific for bloating & gas, Peppermint is great for IBS pain & spasms.

Despite Chemo and Cancer, Pat Ends Constipation, Cramps & Bloating

Hi Heather,

I have had IBS all my life, but at times I could eat normally. Looking back, it was a very psychological problem on my part. Your website has helped me a lot, but I must say that the IBS self-hypnosis program was the charm, and I mean charm.

I was diagnosed with Inflammatory Breast Cancer (a particularly aggressive form), in July of 2007. During chemotherapy, my IBS became extremely painful and constipating, even though chemo usually causes diarrhea. I was sort of hurting for cash, but I sprang for the hypnosis program anyway. IT WAS WORTH EVERY PENNY!

Even though I am still in the midst of treatments, which make me feel like crap anyway, my IBS is even better than before I had cancer. Even with the things I tried from your website and book, I still had some bloating and cramps left. But now, wow! I am regular, and only have hard stools if I don't drink enough. I have no cramps at all, and hardly any bloating.

I had to stop the program after the third CD because the chemo I was on made it very difficult to concentrate, but I am starting again as soon as possible. The hypnotherapy also got rid of my migraines - I don't get them at all anymore!

This letter is to let everyone know that if the self hypnosis program can help someone with cancer, it damn well can help everyone!

Thanks,

Pat R.

Thank you for your wonderful story, Pat. I wish you a full and speedy recovery! ~ Heather

Did you miss the last reader letter from Jeff, who simply refused to give up?


Researchers call gut-directed hypnotherapy a "cure" for IBS!

The Best Gut-Directed Self-Hypnosis Program for All IBS Symptoms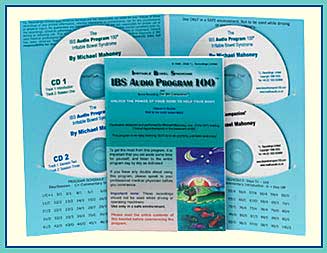 Gives an average 85% reduction of pain and bowel dysfunction symptoms.
Listen to IBS Audio Program 100 samples!


New Retail Stores Carrying Heather's Tummy Care Products
We're continuing our special rebate offer for people who buy Tummy Care products at their local stores, and we have new store announcements this week as well.

Florida
ABH Health Foods
13312 66th St
Largo, FL 33773
727 417 7552

Michigan
All About Health Market and Wellness Center
429 North State Street #A
Big Rapids, MI 49307
231 527 1111

North Carolina
Masteryworks
436 Spring Garden St
Greensboro, NC 27401
336 362 4170

If you don't have a store in your area carrying Tummy Care products yet, please give them this flyer to ask them.






~ Heather's Tummy Tamers Peppermint Oil Capsules ~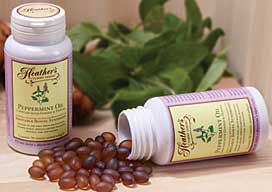 Peppermint Oil Caps Called "Drug of Choice for IBS"

Our Peppermint Oil Caps have the added benefits of fennel and ginger oils, and they help prevent abdominal pain, gas, and bloating!

Zelnorm Further Withdrawn from US Market
Novartis, the manufacturer of Zelnorm, has notified the FDA that they will no longer provide Zelnorm (tegaserod maleate) under a treatment investigational new drug application (T-IND) protocol to treat irritable bowel syndrome with constipation (IBS-C) and chronic idiopathic constipation (CIC) in women younger than 55.

Novartis has agreed to continue to supply Zelnorm for use in emergency situations. Requests for Zelnorm for this purpose may be made to the FDA which in turn authorizes shipment of the drug by the manufacturer.

An emergency situation is defined as one that is immediately life-threatening or serious enough to qualify for hospitalization. FDA may deny authorization, even in life-threatening situations, if available evidence fails to provide a reasonable basis for concluding that Zelnorm may be effective for the intended use, or if exposure to Zelnorm would pose an unreasonable or a significant additional risk to patients. The following conditions are cause for denial of authorization:

prior history of heart attack or stroke
unstable angina
hypertension
hyperlipidemia
diabetes
age greater than 55 years
smoking
obesity
depression
anxiety
suicidal ideation

Background

On March 30, 2007, the FDA asked Novartis to suspend its U.S. marketing and sales because a safety analysis found a higher chance of heart attack, stroke, and unstable angina (heart/chest pain) in patients treated with Zelnorm compared with treatment with an inactive substance (placebo).

On July 27, 2007, the FDA announced that it was permitting the restricted use of Zelnorm (tegaserod maleate) under a treatment investigational new drug Go here for full information and safer alternatives to Zelnorm.



~ Heather's Tummy Fiber ~
For the Dietary Management of Abdominal Pain, Diarrhea, &, Constipation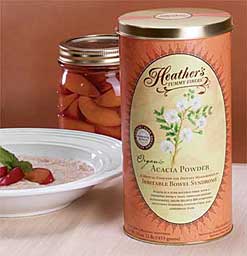 Certified Organic Acacia ~ Pure Soluble Fiber
The prebiotic fiber that relieves both diarrhea and constipation!

** Very Economical ** Only 4 cents per gram of fiber!

Special IBS Restaurant Guide - Part One

A little bit of planning will go a long way...

The easiest way to eat safely for IBS at restaurants is to make sure you choose a good prospect in the first place. This obviously eliminates most (if not all) fast food restaurants and burger joints, but leaves you a tremendous wealth of traditional American, ethnic, and vegetarian places.

It's important that, if you're eating out with friends, you speak up and make it clear that the restaurant of choice needs to serve food you can actually eat. Don't be afraid to make yourself heard. You deserve a little special consideration here, and this means that you should have veto power if everyone else wants to eat at a place that simply won't work for you.

Remember that going out to eat is as much about socializing as it is about eating, so rest assured that your real friends will be happy just to be with you, regardless which particular restaurant you choose. If someone is consistently less than gracious about catering to your special dietary needs, feel free to drop them from your social circle. Anyone who doesn't consider your good health a reasonable priority is really no friend after all.

Before you venture out to eat, you may want to simply drive by all your favorite local restaurants and gather every take-out menu available. Take them home and look them over and see what your options are, and you can begin compiling a list of restaurants that you know have safe meal choices for you.

When you read the menus you're looking for low fat, high soluble fiber meals (if you're unsure what soluble fiber foods are, check Eating for IBS). At traditional restaurants, this might mean grilled chicken (skinless white meat only) or broiled seafood with a rice or pasta side dish, a pasta primavera, or a veggie fried rice. Watch out for words like "crispy", "crunchy", "creamy", and "rich", which typically signify fried or dairy items. Pay attention to sauce descriptions - you're on the lookout for butter, cream and oils.

If you have any questions, phone the restaurant and ask for details. Once you're in the habit of doing this you will never cease to be amazed at the trigger foods restaurants sneak into the most innocuous-sounding dishes. Just because they don't list an ingredient you're trying to avoid (especially cheese) in the meal description does not mean it isn't there. Trust me, you should always ask.

Make notes right on the menu if you like, and find out if dishes can be easily altered to make them safer for you. It's usually a very simple matter for a restaurant to leave the cheese off a dish, sauté something with less oil, add extra rice or pasta or a baked potato, and put sauce on the side. When you're actually in the restaurant (make sure you take a dose of your Acacia Tummy Fiber or a Tummy Tamer peppermint oil capsule before you go), order an extra basket of dinner rolls. Choose the white bread ones, not whole wheat, to get a nice soluble fiber foundation (with no risky insoluble fiber) to your meal.

Remember to eat any green salads last, not first (and with a fat-free dressing), and watch out for creamy soups that start a meal (like clam chowder). Cast an especially suspicious eye on the appetizers, which for some mysterious reason are often deep fried at all kinds of restaurants. Skip those entirely unless you can find a low-fat choice hiding between the cheese sticks and onion rings.

One great trick is to take along Peppermint or Fennel Tummy Tea Bags to restaurants. Try to order mint or fennel tea first, and if they don't have it just order hot water and brew your own. This can be incredibly helpful. I promise the waiter will not hassle you about it, and you will greatly minimize your risk of an attack.

Coming next...part two of the IBS restaurant guide!

~ Heather

Did you miss the recent "Ask Heather" and the last of the Seven Sneaky Sins?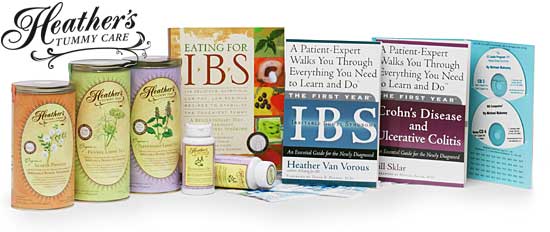 Shop at Heather's Tummy Store for IBS
HelpForIBS.com
The only store that's just for IBS - so we only carry the very best

You're on this newsletter list because you have expressed interest in IBS news and information.




Change your newsletter email address here.

If you are viewing this newsletter on a website and would like to subscribe for email delivery, please "Join the IBS Newsletter" here.

ANTI-SPAM PRIVACY & SECURITY POLICY
HelpForIBS.com
Heather's Tummy Care
80 S. Washington St, #304
Seattle, WA 98104 USA

© 2008 Heather Van Vorous, Heather's Tummy Care. All rights reserved.
USA Copyright Office Registration Number TXU 1-270-858 and others