Heather's IBS Newsletter ~ For Irritable Bowel Syndrome

Her first pain-free workday in memory - it was all in the timing!

Have you tried soluble fiber supplements and they just didn't work? See if you're guilty of number six on the 7 sneaky sins of the IBS diet.

Brain-gut treatments for IBS are proven effective - should you try one?


Hello to everyone -

Our last newsletter featured one of our most popular reader letters of all time from Brian, the self-proclaimed "world's worst farter". If you missed this, catch up on why he's so amazed by what finally helped him. It just might help you too.

This week, we have a wonderful letter from Charity, who realized the solution to her IBS was all in the timing.

Finally, we're at number six on the list of the seven sneaky sins of the IBS diet. If you've tried soluble fiber supplements and didn't see results, find out if you made a big mistake.

As always, we also have a fabulous IBS-safe recipe and the latest IBS news and research.

Enjoy!

Best Wishes,
Heather Van Vorous

Did a friend send you this newsletter? Sign up here for your own free subscription.

Glazed Tofu Stir Fry

This is the single best tofu recipe I've ever had. I adapted it from a recipe posted by AmandaM on the IBS Recipe Board (thanks Amanda!). If you think you don't like tofu, you'll think again after just one bite of this unbelievably delicious dish. Serve over rice or noodles, with a side of tender stir-fried or steamed veggies.

Glaze:
2 tablespoons soy sauce
2 tablespoons brown sugar
1/4 cup fat free vegetable or chicken broth, or water
1/4 teaspoon ground cayenne (optional)

12 oz or 13 oz block of extra firm tofu
1/3 cup cornstarch
1 tablespoon canola or safflower oil

Mix the glaze ingredients in a small bowl until sugar is dissolved and set aside.

Cut the block of extra firm tofu into 24 triangles. Start by halving the block horizontally. Then cut each half into three equal strips. Cut the strips in half, leaving you with 12 cubes. Cut each cube diagonally and you'll end up with 24 triangles.

Pour cornstarch into a pie plate and gently toss the tofu triangles in the cornstarch until they're well coated.

Heat the oil in a large non-stick skillet over medium high heat. Add the tofu to the skillet and cook on one side for 4-5 minutes, or until golden brown. Flip the tofu and cook on the other side 4-5 minutes, or until golden brown.

Add the glaze to the skillet and cook until glaze thickens, tossing the tofu gently in the glaze with a spatula, about 1-2 minutes.

For a wonderful combination, serve the tofu with Sweet Ginger Chai Tea, a drink so delicious it actively helps digestion!

Are you just learning how to eat for IBS? A little intimidated at the thought of special IBS recipes? Not quite sure just what makes these recipes special in the first place? Don't worry! Come see the IBS Diet pages, and find the answers to all your questions.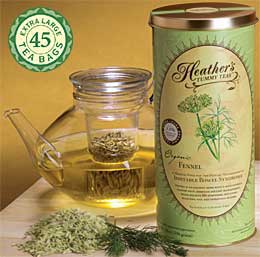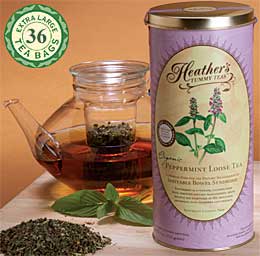 Organic High Volatile Oil Fennel & Peppermint Tummy Tea Bags

Extraordinary Quality ~ Very Economical

Fennel is terrific for bloating & gas, Peppermint is great for IBS pain & spasms.

It's All in the Timing!

Heather,

I have been using your products and following your diet (for the most part) and have improved quite a bit. My only trouble was at work. I'm a critical care nurse and you can imagine it is always stressful.

I would be fine from breakfast until around lunch, and then no matter what I ate I would be super bloated or in pain all afternoon. I recently re-read some information on your website and noticed that you drink your Acacia Tummy Fiber mid-day before lunch (I was drinking it after). Can I just tell you that I took this advice today and have not had a stomachache all day at work!! Amazing, I can't remember a work day that I have felt fine.

Thank you for all that you do, I know I appreciate it and I'm sure the rest of the IBS world does too.

Thanks again,
Charity Smith

Thanks so much, Charity. I am so happy you're feeling better! ~ Heather

Did you miss the last reader letter from Brian, no longer the world's worst farter?

~ Heather's Tummy Fiber ~
For the Dietary Management of Abdominal Pain, Diarrhea, &, Constipation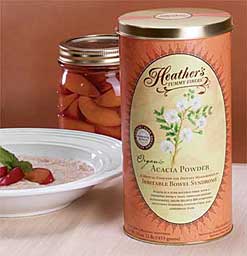 Certified Organic Acacia ~ Pure Soluble Fiber
The prebiotic fiber that relieves both diarrhea and constipation!

** Very Economical ** Only 3 cents per gram of fiber!


New Retail Stores Carrying Heather's Tummy Care Products
We're continuing our special rebate offer for people who buy Tummy Care products at their local stores, and we have new store announcements this week as well.

Kansas
Prairie Harvest
601 N Main St
Newton, KS 67114

Washington
Bastyr Center for Natural Health
3670 Stone Way Ave N
Seattle, WA 98103
206-834-4114

If you don't have a store in your area carrying Tummy Care products yet, please give them this flyer to ask them.






~ Heather's Tummy Tamers Peppermint Oil Capsules ~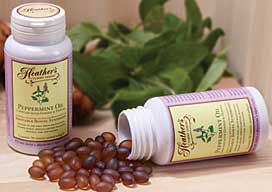 Peppermint Oil Caps Called "Drug of Choice for IBS"

Our Peppermint Oil Caps have the added benefits of fennel and ginger oils, and they help prevent abdominal pain, gas, and bloating!

Brain/Gut Treatments for Irritable Bowel Syndrome
A recent study in Evidence Based Complementary & Alternative Medicine noted that, currently, the goal of treatment for those with irritable bowel syndrome (IBS) is to improve the quality of life through a reduction in symptoms. While the majority of treatment approaches involve the use of traditional medicine, more and more patients seek out a non-drug approach to managing their symptoms.

Current forms of non-drug psychological or mind/body treatment for IBS include gut-directed hypnotherapy, cognitive behavioral therapy and brief psychodynamic psychotherapy, all of which have been proven efficacious in clinical trials. We propose that incorporating the constructs of mindfulness and acceptance into a mind/body psychologic treatment of IBS may be of added benefit due to the focus on changing awareness and acceptance of one's own state which is a strong component of traditional and Eastern healing philosophies. Go here for more information about gut-directed hypnotherapy.

Go here for more information about this article...

IBS is Keeping Me Hostage!
A recent study in International Journal of Nursing Practice described the negative impact of irritable bowel syndrome (IBS) and/or inflammatory bowel disease (IBD) upon university-aged women. The study findings indicate that women with active IBD/IBS commonly experience an anxiety reaction, followed by an attack of illness. This attack then triggers a cascade of impact that negatively influences their emotional and physical well-being, ultimately affecting their overall quality of life. Go here for more information about the brain-gut interaction in IBS.

Go here for more information about this study...

Looking for more IBS research and news? Check the IBS Research Library!


Researchers call gut-directed hypnotherapy a "cure" for IBS!

The Best Gut-Directed Self-Hypnosis Program for All IBS Symptoms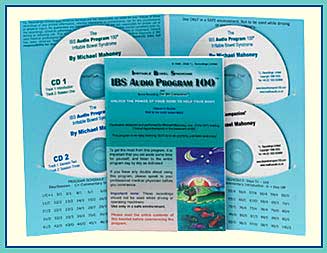 Gives an average 85% reduction of pain and bowel dysfunction symptoms.
Listen to IBS Audio Program 100 samples!

The Sixth Sneaky Sin of the IBS Diet

While the IBS diet can be one of the most successful ways to manage all IBS symptoms, there are some common pitfalls. I hear from a lot of people who make a tremendous effort to modify their diet for IBS, but who still have abdominal symptoms they feel certain are associated with their eating habits.

This can be exasperating (to say the least) because it may seem like there simply aren't any steps left to take. But - it's much more likely than not that there are still dietary triggers involved, they're just being overlooked.

I've found there are seven specific traps that ensnare people as they adjust their diet - and I call them the Seven Sneaky Sins of the IBS Diet. We tackled number five, insoluble fiber foods, last time, and we'll continue to work our way through the list. This week, let's take on number six:

#6. I've been taking a teaspoon of a soluble fiber supplement every day for weeks now, and I really haven't noticed any improvement. Isn't soluble fiber supposed to make a big difference for IBS?

Yes, a soluble fiber supplement such as Acacia Tummy Fiber should be extremely helpful for IBS. Soluble fiber is key to preventing the abdominal spasms and bowel dysfunction of IBS, and this is just as true for supplements as it is for soluble fiber foods.

Remember, soluble fiber works by absorbing liquids in the digestive tract to form a stabilizing gel that relieves cramping and prevents both diarrhea and constipation.

However - in order for soluble fiber supplements to work, you have to take a high enough dose, and many people don't. It's particularly easy to take too little of a supplement that's in tablet form, as most soluble fiber pills and capsules have only 1/2 gram of fiber. In comparison, most powder supplements contain 2-4 grams of soluble fiber per dose.

Generally, you'll need to gradually work up to a soluble fiber supplement dosage of 12-15 grams per day. However, diarrhea may stabilize at a lower dose, while constipation may require a further gradual increase up to 25-30 grams per day.

Remember that different people have varying tolerances and adjustment periods to soluble fiber supplements; this means that it can take from several days to two weeks or longer for your body to adjust to the increased fiber intake. Your symptoms should NOT dramatically worsen during this introductory period, and you may well see immediate improvement, but if you don't notice any difference the first day or two have patience. Soluble fiber may be the single greatest aid for controlling IBS symptoms you'll ever find, so give it a fair chance.

Best of all, soluble fiber supplements can be taken daily forever with no harmful side effects or risk of addiction. In fact, they have health benefits far beyond managing IBS, as soluble fiber has been shown to lower LDL ("bad") blood cholesterol levels, reduce the risk of heart disease, and minimize colon cancer risks. Soluble fiber also slows the absorption of fats and carbohydrates into the bloodstream, which improves glycemic control and helps prevent the formation of free radicals. It also lowers insulin requirements.

The most common soluble fiber supplements are: Acacia Tummy Fiber, Equalactin, FiberChoice, Benefiber, Metamucil, Konsyl, Fybogel, Citrucel, and Fibercon. Most are widely available at health food stores, drug stores and pharmacies, and they don't require a prescription (they are not drugs, just dietary fiber). Acacia is gum arabic, Metamucil and Fybogel contain psyllium, Citrucel contains methylcellulose, Equalactin and Fibercon contains calcium polycarbophil, Benefiber contains wheat dextrin, and FiberChoice contains inulin.

Most brands other than Acacia Tummy Fiber contain fillers, binders, sweeteners, citric acid, and other unnecessary added ingredients. Tummy Fiber is the only certified organic soluble fiber supplement on the market, which is important if you are trying to avoid chemical pesticides and herbicides.

Be aware that the sugar-free versions of soluble fiber supplements can contain artificial sweeteners, which can trigger diarrhea, gas, and cramps. In addition, citric acid is often added to orange-flavored supplements, and this can cause acid reflux in susceptible people (though it doesn't typically bother IBS).

If you're at all prone to bloating or gas (and many folks with IBS are), please avoid both psyllium and inulin, which can seriously worsen these problems in people with IBS. For bloating and gas the best bet is a prebiotic soluble fiber like Tummy Fiber, which will encourage the growth of healthy gut flora and actively decrease bloating and gas.

Aside from the high rate of problems with psyllium and inulin, there is a great deal of individual variation here in how someone responds to any particular soluble fiber supplement. It is crucial that you start at a low dose and increase gradually, to give your gut time to adjust to the fiber increase.

When you take your fiber supplement can also make a huge difference (see Charity's letter above for a great story about this). Typically, taking your fiber right before a meal will help buffer your gut's response to food, and keep your digestion stable.

Remember that if you have IBS, your gastrocolic reflex can go awry, and the normal stimulus of eating can cause a dramatic overreaction in your colon. Soluble fiber helps stabilize the gastrocolic reflex and keeps your gut calm. If you're having a lot of problems, divide your daily dose so that you can take your supplement before every meal. This can really work miracles!

To initially stabilize yourself, try taking one-half to one gram of a soluble fiber supplement first thing in the morning as soon as you awake, before meals, and again before bedtime. Gradually increase one dose by another gram every four to five days or so. Typically, taking your fiber right before a meal will help buffer your gut's response to food, and keep your digestion stable.

These supplements are also great to have on hand when you find yourself unexpectedly eating out, going too long between meals, or just feeling a little shaky. Taking a soluble fiber supplement with a glass of tepid water or IBS-friendly herbal tea will always give you extra protection against attacks in dicey situations.

So, please ignore the fact that soluble fiber supplements are sometimes marketed as laxatives - they are NOT. They will of course relieve and prevent constipation, but they are just as effective at treating diarrhea, and they will not compromise normal bowel function at all once your IBS is under control - they'll simply keep things normal. Soluble fiber will, in fact, work beautifully to keep your GI tract running smoothly, comfortably, and pain-free on a day-to-day basis.

Coming next...the last on the list of the Seven Sneaky Deadly Sins of the IBS Diet!

~ Heather

Did you miss the recent "Ask Heather" and number five on the list of Seven Sneaky Sins?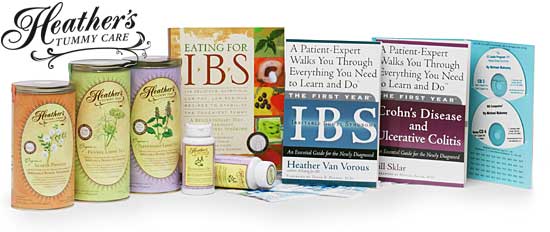 Shop at Heather's Tummy Store for IBS
HelpForIBS.com
The only store that's just for IBS - so we only carry the very best

You're on this newsletter list because you have expressed interest in IBS news and information.




Change your newsletter email address here.

If you are viewing this newsletter on a website and would like to subscribe for email delivery, please "Join the IBS Newsletter" here.

ANTI-SPAM PRIVACY & SECURITY POLICY
HelpForIBS.com
Heather's Tummy Care
80 S. Washington St, #304
Seattle, WA 98104 USA

© 2008 Heather Van Vorous, Heather's Tummy Care. All rights reserved.
USA Copyright Office Registration Number TXU 1-270-858 and others