Heather's IBS Newsletter ~ For Irritable Bowel Syndrome

Twitter



He was the "world's worst farter" - see what helped!

Insoluble fiber is an IBS trigger - so you just don't eat it, right? See if you're guilty of number five on the 7 sneaky sins of the IBS diet.

Searching for safe sandwiches? Get the delicious, digestion-friendly recipe.


Hello to everyone -

IBS can be every bit as embarrassing as it is painful. For Brian, the self-proclaimed "world's worst farter", he's amazed by what finally helped him. Can it help you too?

Plus, we're at number five on the list of the seven sneaky sins of the IBS diet. If you're confused about fiber, (and almost everyone with IBS is), find out if you've been making a big mistake.

As always, we also have a fabulous IBS-safe recipe and the latest IBS news and research.

Enjoy!

Best Wishes,
Heather Van Vorous

Did a friend send you this newsletter? Sign up here for your own free subscription.

Sesame Chicken and Coleslaw Sandwiches

I was thrilled to develop this recipe as a great change of pace for when you're tired of the same old chicken sandwiches. It's also a terrific example of how to safely incorporate insoluble fiber. The raw cabbage and carrot in this dish are both finely shredded, a process which mechanically breaks down their insoluble fiber so it's easier on your gut. Plus, the sandwiches have a soluble fiber foundation from the bread, which is essential for keeping your digestion stable. Most important? This recipe is absolutely delicious!

Makes 4 Sandwiches

1 1/2 tablespoons all-purpose unbleached white flour
1 teaspoon Acacia Tummy Fiber
2 tablespoons toasted sesame seeds (available at grocery stores in the Asian section)
1 organic egg white
1 teaspoon water
1 lb. organic boneless, skinless chicken breasts, halved horizontally and flattened
2 teaspoons Asian roasted dark sesame oil, divided
1 tablespoon fresh lemon juice
Two 12" long narrow French bread baguettes, halved horizontally, toasted
2 cups finely shredded Napa cabbage
1 carrot, finely shredded
1 tablespoon rice wine vinegar

Stir together flour and Tummy Fiber on a dinner plate, and add sesame seeds to a separate dinner plate. Whisk together egg white and water in a small bowl. Coat chicken breasts with flour/Tummy Fiber blend, shaking off excess, then dip in egg mixture, and coat with sesame seeds. Transfer chicken to a plate as coated.

Heat a large non-stick skillet over medium heat and add 1 teaspoon sesame oil. Add chicken and cook until golden, about 4-5 minutes. Turn chicken and cook another 4-5 minutes, or until just cooked through. Add lemon juice to pan, turn chicken to coat with juice, and cook an additional minute until juice evaporates.

In a medium bowl toss together cabbage, carrot, remaining teaspoon sesame oil, vinegar, and salt and pepper to taste.

Make sandwiches on the toasted baguettes with the chicken and coleslaw.

For a wonderful (and nutritious!) meal, serve the sandwiches with Peachy Keen Probiotic Smoothies, a drink so delicious it actively helps IBS!

Are you just learning how to eat for IBS? A little intimidated at the thought of special IBS recipes? Not quite sure just what makes these recipes special in the first place? Don't worry! Come see the IBS Diet pages, and find the answers to all your questions.

~ Heather's Tummy Fiber ~
For the Dietary Management of Abdominal Pain, Diarrhea, &, Constipation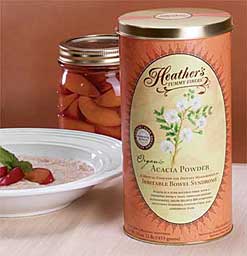 Certified Organic Acacia ~ Pure Soluble Fiber

The prebiotic fiber that relieves both diarrhea and constipation!

** Very Economical ** Only 3 cents per gram of fiber!

World's Worst Farter Has No More Gas and the Pain is Gone!

Hi Heather,

I would like to write a customer review for one of your products.

I tried your Tummy Tamers Peppermint Oil Caps to treat my IBS-diarrhea and was pleasantly surprised by the results. I no longer have outbreaks of gas for days at a time or stomach pain after using the bathroom. Before, I would have terrible stomach pain every morning after using the toilet. I would have to lie down on the bed and also take aspirin to deal with it.

Now, the pain is gone. I was also the world's worst farter. Every other day, I could count on an awful, prolonged farting attack. Now, the gas is gone. I was totally amazed that an herbal remedy worked so well. So, I am doubly amazed at what your Tummy Tamers can do. You must have taken great care in making these pills because you sure knew what you were doing.

Sincerely,
Brian Quinlan
Howard, SD

Thanks Brian! It's letters like yours that make this work so worthwhile! ~ Heather

Did you miss the last reader letter from Matthew, who no longer needs to take IBS medications?



~ Heather's Tummy Tamers Peppermint Oil Capsules ~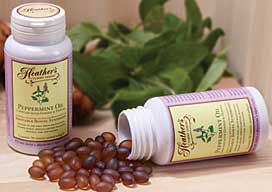 Peppermint Oil Caps Called "Drug of Choice for IBS"

Our Peppermint Oil Caps have the added benefits of fennel and ginger oils, and they help prevent abdominal pain, gas, and bloating!

Severity of IBS Bloating in Women May Cause Depression & Anxiety
A recent study in Research in Nursing & Health noted that bloating is a frequent complaint of women with irritable bowel syndrome. This study compared retrospective and daily diary gastrointestinal and psychological distress symptoms in women in three IBS subgroups: Minimal-Bloating, Mild-Bloating, Moderate-Severe-Bloating.

More women with moderate to severe levels of bloating reported a history of hard stools, straining to have a stool, a history of depressive disorders, and more severe daily symptoms of depression and anxiety as compared to women with minimal or mild bloating symptoms. Go here for more information and help with bloating.

Go here for more information about this article...

Abdominal Bloating and Distension in IBS
A recent study in Alimentary Pharmacology & Therapy noted that a sensation of abdominal bloating, sometimes accompanied by an increase in girth (distension), is one of the most common and most intrusive features of functional bowel disorders such as IBS. The study aimed to conduct a systematic, evidence-based review of the epidemiology and pathophysiology of abdominal bloating and its relationship to distension.

Study results showed that approximately 50% of irritable bowel syndrome patients with bloating also experience an increase in abdominal girth and this is more pronounced with constipation than diarrhea. Bloating appears to be more frequently associated with visceral hypersensitivity, whereas distension is more often related to hyposensitivity and delayed transit. Although there is little evidence for excessive gas as a cause of bloating, gas infusion studies suggest that handling of gas may be impaired in irritable bowel syndrome and there may also be abnormal relaxation of the anterior abdominal musculature in these patients.

The study concluded that there is unlikely to be a single cause for bloating and distension, which probably have different, but overlapping, pathophysiological mechanisms. Relieving constipation might help distension, but the treatment of bloating may need more complex approaches involving sensory modulation. Go here for more information and help with bloating.

Go here for more information about this study...

Looking for more IBS research and news? Check the IBS Research Library!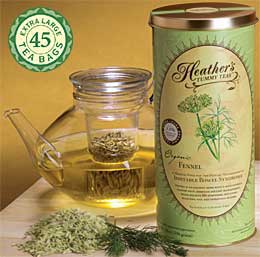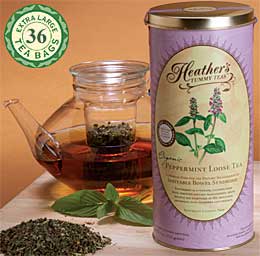 Organic High Volatile Oil Fennel & Peppermint Tummy Tea Bags

Extraordinary Quality ~ Very Economical

Fennel is terrific for bloating & gas, Peppermint is great for IBS pain & spasms.

The Fifth Sneaky Sin of the IBS Diet

While the IBS diet can be one of the most successful ways to manage all IBS symptoms, there are some common pitfalls. I hear from a lot of people who make a tremendous effort to modify their diet for IBS, but who still have abdominal symptoms they feel certain are associated with their eating habits.

This can be exasperating (to say the least) because it may seem like there simply aren't any steps left to take. But - it's much more likely than not that there are still dietary triggers involved, they're just being overlooked.

I've found there are seven specific traps that ensnare people as they adjust their diet - and I call them the Seven Sneaky Sins of the IBS Diet. We tackled number four, vitamins, last time, and we'll continue to work our way through the list. This week, let's take on number five:

#5. Since most fruits, vegetables, and whole grains have a lot of insoluble fiber, and that's a big trigger for my IBS symptoms, I don't eat these foods at all anymore. Is that okay?

Nope, it's definitely not a good idea to simply avoid insoluble fiber foods altogether. Insoluble fiber is found in fresh fruits, vegetables, whole grains, legumes, and nuts, and you can tell at a glance that these are among the very healthiest foods in the world. If you don't eat them you're setting yourself up for serious long-term health problems.

However, if you have IBS, insoluble fiber is a huge potential trigger, and your colon simply can't handle it if you eat these foods with abandon. You can (and absolutely must) eat insoluble fiber foods, as often and as much as safely possible, but within the IBS dietary guidelines. Treat insoluble fiber foods with suitable caution, and you'll be able to enjoy a wide variety of them, in very healthy quantities, without problem.

The number one rule here is: Never eat insoluble fiber alone or on an empty stomach. Always eat it with a larger quantity of soluble fiber foods, and ideally with a dose of your soluble fiber supplement as well, and you will help keep your IBS stable.

The second rule to remember here is that while you should be having lots of fresh fruits and veggies every day, make sure you cook, peel, chop, seed, dice, and/or puree most or even all of them. Peeling and seeding fruits and veggies will remove the toughest insoluble fiber altogether. Chopping, cooking, and pureeing will mechanically break down the insoluble fiber in fruits, vegetables, beans, and nuts before you eat it, making it much less likely to provoke problems. (See the fantastic chicken sandwich recipe above for a perfect example!)

If you're just starting to re-incorporate insoluble fiber into your diet, one of the best ways to begin is to blend fresh fruits into smoothies with a bit of soy or rice milk, and a dose of Tummy Fiber for the extra safety of a high soluble fiber foundation. Use a base of bananas, mangoes, and/or frozen peaches for more soluble fiber, and add just a handful of strawberries, blueberries, cherries, and/or pineapple. Blend the drink until totally smooth and you'll really minimize the insoluble fiber.

Blend cooked fresh veggies into soups or sauces, and serve over rice or noodles, again with some Tummy Fiber. This is an especially good way to incorporate greens, which are highly nutritious but also some of the most difficult insoluble fiber veggies for most IBS folks.

It's also helpful to make sure you're already eating as much of the healthiest soluble fiber foods as possible: root veggies (sweet potatoes, pumpkin, beets, rutabagas, carrots, etc.), mangoes, bananas, peeled apples and peeled pears, peeled peaches and apricots, and avocados.

See how do you do with brown rice, oatmeal, and barley. These tend to be the best tolerated whole grains for IBS. Try adding in small amounts of well-cooked and pureed beans or lentils as soup or dip additions to your diet. Take this process slowly, and you can actually significantly increase your tolerance of legumes.

Try baking easy, low fat quick breads such as zucchini bread, carrot cake, pumpkin bread - this is a terrific (and delicious!) way to add fruits and veggies safely.

Take this whole process slowly and gradually, and remember that if you've been totally avoiding insoluble fiber foods you're going to have to start eating them carefully, and giving your body time to adjust. You will increase your tolerance for these foods and digest them better the more you eat them, as long as you follow the guidelines.

Coming next...#6 on the list of the Seven Sneaky Deadly Sins of the IBS Diet!

~ Heather

Did you miss the recent "Ask Heather" and number four on the list of Seven Sneaky Sins?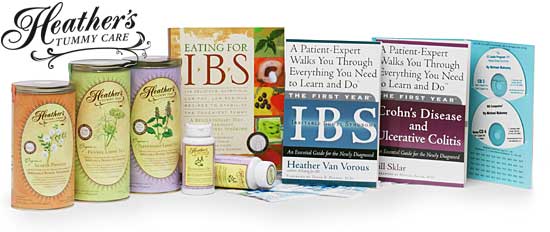 Shop at Heather's Tummy Store for IBS
HelpForIBS.com
The only store that's just for IBS - so we only carry the very best

You're on this newsletter list because you have expressed interest in IBS news and information.




Change your newsletter email address here.

If you are viewing this newsletter on a website and would like to subscribe for email delivery, please "Join the IBS Newsletter" here.

ANTI-SPAM PRIVACY & SECURITY POLICY
HelpForIBS.com
Heather's Tummy Care
80 S. Washington St, #304
Seattle, WA 98104 USA

© 2008 Heather Van Vorous, Heather's Tummy Care. All rights reserved.
USA Copyright Office Registration Number TXU 1-270-858 and others