Heather's IBS Newsletter ~ For Irritable Bowel Syndrome
After panic attacks and IBS suffering, why Joanna is now dancing!

Devil's brew?! Number three on the 7 sneaky sins of the IBS diet - are you guilty?

An IBS-friendly dinner that's fast, easy, delicious, and special enough for guests!

Twitter



Hello to everyone -

If you've ever struggled with anxiety and panic on top of IBS, we have a very happy letter from someone who's been there - and has gone from suffering to dancing!

Plus, we're at number three on the list of the seven sneaky sins of the IBS diet. Can you handle it?

As always, we also have a delicious digestion-friendly recipe and the latest IBS news and research.

Enjoy!

Best Wishes,
Heather Van Vorous

Did a friend send you this newsletter? Sign up here for your own free subscription.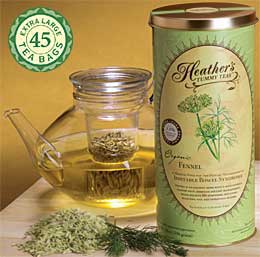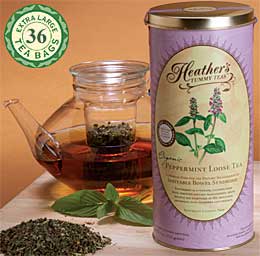 Organic High Volatile Oil Fennel & Peppermint Tummy Tea Bags

Extraordinary Quality ~ Very Economical

Fennel is terrific for bloating & gas, Peppermint is great for IBS pain & spasms.

Herbed Parmesan-Crusted Bay Scallops

This recipe came about when I needed to make a fast and easy dinner that also seemed a little bit special. Scallops are always a treat, and this simple preparation emphasizes their sweet taste and buttery smooth texture with a crispy, crunchy herbed topping.

Serve with crusty French bread for a soluble fiber foundation, add in a side of well-steamed green beans, and you have a worknight dinner that's lovely enough for guests. A hidden bonus? The parsley is a digestive aid, and the soy Parmesan gives great flavor without any dairy triggers!

Makes 4 Servings

1 1/2 pounds bay scallops
1 tablespoon olive oil
2 garlic cloves, minced
1 large shallot, minced
1/4 teaspoon garlic salt
freshly ground black pepper to taste
2 tablespoons fresh parsley, finely chopped
1/2 cup fresh bread crumbs
1/4 cup soy Parmesan

fresh crusty French bread for serving

Bring a small saucepan full of water to boil, add scallops, and cook for just 2 minutes. Drain well. Heat oil in a small non-stick skillet and fry the garlic and shallot over medium heat until tender. Add the scallops, salt, pepper, and parsley. Transfer mixture to 9" baking pan, and sprinkle with breadcrumbs and Parmesan. Place under broiler just until golden brown and hot (scallops over-cook very quickly, so watch closely). Serve with fresh crusty French bread.

For a delicious ending to this dinner, serve a hot cup of Sweet Ginger Chai Tea for dessert.

Are you just learning how to eat for IBS? A little intimidated at the thought of special IBS recipes? Not quite sure just what makes these recipes special in the first place? Don't worry! Come see the IBS Diet pages, and find the answers to all your questions.



~ Heather's Tummy Tamers Peppermint Oil Capsules ~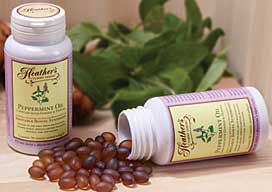 Peppermint Oil Caps Called "Drug of Choice for IBS"

Our Peppermint Oil Caps have the added benefits of fennel and ginger oils, and they help prevent abdominal pain, gas, and bloating!

From IBS Panic Attacks to Big Band Dancing - It Can Be Done!

Dear Heather,

I would like to say many thanks for the excellent products and amazingly fast service. I just received another pouch of Acacia Tummy Fiber. I know it has helped so many of us suffering the symptoms of IBS. Last summer I also ordered the IBS hypnotherapy program and I have enjoyed the wonderful healing results.

I have come a long way in the past year after suffering for many years with symptoms, and also recurring yeast infections. I have learned a lot about myself emotionally and how we react to stressors in our lives. For the first time, I have the clarity of mind to step back and see an overview of how connected we are with body, mind and soul.

I have talked to friends about your website because I wish to assist others on their healing journey. It is a very freeing and healing step to take responsibility for one's own healing, and your website provides excellent information on how to do that.

It takes a big commitment to eat properly, especially when so many foods can be a trigger, but even though there were days that I cried from the boredom of a restrictive menu, in the long run it paid off and I have been able to slowly add more to my list of "can haves!" The Tummy Fiber and the Tummy Teas are very wonderful treats for me.

Again, thanks for your devoted work to helping others. I had severe panic attacks and lots of anxiety for about two years, and now I am transforming into a new person who is out and about, and enjoying my passion, big band dancing. It can be done!

A happy customer,
Joanna Garippo

Thank you Joanna! I'm so happy to hear you're back to dancing! ~ Heather

Did you miss the last reader letter from Karla? After 27 years of IBS bloating and diarrhea, she is finally much better - just in time!

~ Heather's Tummy Fiber ~
For the Dietary Management of Abdominal Pain, Diarrhea, &, Constipation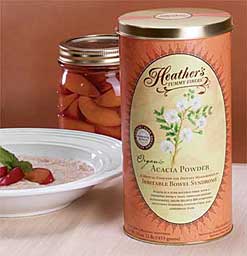 Certified Organic Acacia ~ Pure Soluble Fiber
The prebiotic fiber that relieves both diarrhea and constipation!

** Very Economical ** Only 3 cents per gram of fiber!

Patients with Allergies Have Higher Rate of IBS
A recent article in the Annals of Allergy, Asthma & Immunology reported that patients with allergies appear to have a higher incidence of irritable bowel syndrome (IBS) than do those without allergies, suggesting that the conditions may be linked in some patients.

Lead investigator Dr. Mary C. Tobin commented that "the real hope of this study is that patients and physicians recognize the association between allergies and IBS." Overall, patients reporting atopic conditions including allergic rhinitis, allergic eczema and asthma were 3.2 times more likely than other patients to fulfill criteria for IBS.

Given these findings, the researchers suggest that patients who have typical IBS symptoms plus manifestations of atopy should be considered as a separate subgroup with atopic IBS. Go here for more information about diagnosing IBS.

Go here for more information about this article...

Is IBS Genetic?
Researchers at the Mayo Clinic studying irritable bowel syndrome say their study (published in a recent issue of Gut) shows that the risk of having irritable bowel syndrome is nearly double in the families of people with the disorder.

"The next challenge is determining nature versus nurture," said G. Richard Locke, M.D., a Mayo Clinic gastroenterologist and one of the authors of the study. "Is this due to a gene or genes or is it due to a shared environmental factor? Our group is active in investigating these issues."

In the study, patients with irritable bowel syndrome seen at Mayo Clinic and their spouses filled out a bowel disease questionnaire and provided the names and addresses of their direct relatives. Researchers then sent a bowel disease questionnaire to 355 relatives of the patients and their spouses, and 71 percent responded. Irritable bowel syndrome occurred in 17 percent of the patients' relatives compared with 7 percent in spouses' relatives. Go here for more information about this study...

Looking for more IBS research and news? Check the IBS Research Library!


Researchers call gut-directed hypnotherapy a "cure" for IBS!

The Best Gut-Directed Self-Hypnosis Program for All IBS Symptoms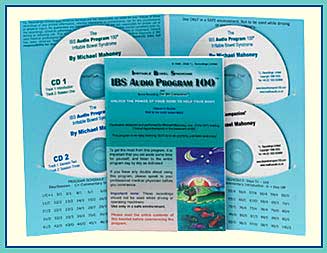 Gives an average 85% reduction of pain and bowel dysfunction symptoms.
Listen to IBS Audio Program 100 samples!

The Third Sneaky Sin of the IBS Diet

While the IBS diet can be one of the most successful ways to manage all IBS symptoms, there are some common pitfalls. I hear from a lot of people who make a tremendous effort to modify their diet for IBS, but who still have abdominal symptoms they feel certain are associated with their eating habits.

This can be exasperating (to say the least) because it may seem like there simply aren't any steps left to take. But - it's much more likely than not that there are still dietary triggers involved, they're just being overlooked.

I've found there are seven specific traps that ensnare people as they adjust their diet - and I call them the Seven Sneaky Sins of the IBS Diet. We tackled number two, dairy and yogurt, last time, and we'll continue to work our way through the list. This week, let's take on number three:

3. Alcohol (just one glass of wine is okay, right?)

Alcohol is a strong GI irritant (and a potential colon carcinogen). Just one drink can definitely trigger IBS attacks, especially if you drink on an empty stomach. The worst drinks are those that contain other triggers as well, such as carbonation (beer, champagne), coffee, dairy (pina coladas, creme liqueurs), or fruit juices that are high in fructose. However, even a plain glass of wine or shot of liquor can cause GI problems.

If you're unsure whether or not alcohol in small quantities bothers you, it's best to totally eliminate it along with other triggers and get your diet stabilized. At that point you can very carefully try (if you still want to) adding a little alcohol back in to see how it affects you. Your tolerance will likely be greater once you have gotten your gut under control; when that happens your GI tract is less likely to be continually hypersensitive, so there is reason to have hope for the future here.

However...you definitely don't want to assume that just one drink won't hurt you, so as a result you never take the step of completely eliminating all alcohol from your diet. By continuing to drink (especially on a daily basis) you'll simply keep suffering the consequences.

This is a very common pattern with the foods and drinks people really don't want to give up - a juicy steak, ice cream sundaes, or that favorite cocktail before dinner. This is just human nature and it's easy to understand. I definitely sympathize. But, it's always better to know for sure how your body reacts to a potential trigger. Please don't blindly assume that something isn't bothering you simply because you don't want it to. IBS doesn't often respond to wishful thinking.

As a general rule, unless you're 100% stable and have no IBS symptoms whatsoever when you drink (either immediately or the following day), it's a safe assumption that alcohol in all forms is likely to cause GI troubles for you. Does this mean that you can never drink any alcohol at all ever again? It might - but it also might not.

How you drink as well as what you drink could make quite a difference here. A single glass of wine enjoyed after a high soluble fiber meal or a dose of your Tummy Fiber may be very tolerable for you, especially on an occasional (instead of daily) basis. Judging by reader feedback on this topic, white wine may be safer for IBS than red, and beer seems to be particularly problematic.

Having a drink when you're feeling relaxed instead of harried can make a difference as well. On the other hand, a double martini on an empty stomach after a stressful day is practically guaranteed to cause trouble.

If you do decide to take a chance with alcohol, please make sure to have at least one glass of water for each alcoholic drink. Alcohol is very dehydrating, and becoming even slightly dehydrated can seriously impact constipation and bloating. Even better, follow up your booze with actively helpful drinks like Fennel or Peppermint Tummy Teas.

On a happy note, cooking with alcohol is usually very tolerable, as the alcohol evaporates and any carbonation will totally dissipate. You'll be left with all of the flavor but none of the risk!

Coming next...#4 on the list of the Seven Sneaky Deadly Sins of the IBS Diet!

~ Heather

Did you miss the recent "Ask Heather" and number two on the list of Seven Sneaky Sins?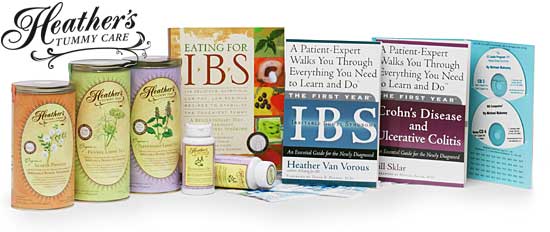 Shop at Heather's Tummy Store for IBS
HelpForIBS.com
The only store that's just for IBS - so we only carry the very best

You're on this newsletter list because you have expressed interest in IBS news and information.




Change your newsletter email address here.

If you are viewing this newsletter on a website and would like to subscribe for email delivery, please "Join the IBS Newsletter" here.

ANTI-SPAM PRIVACY & SECURITY POLICY
HelpForIBS.com
Heather's Tummy Care
80 S. Washington St, #304
Seattle, WA 98104 USA

© 2008 Heather Van Vorous, Heather's Tummy Care. All rights reserved.
USA Copyright Office Registration Number TXU 1-270-858 and others