Heather's IBS Newsletter ~ For Irritable Bowel Syndrome

Twitter



After 27 years of IBS bloating and diarrhea, Karla is much better - just in time!

Number two on the 7 sneaky sins of the IBS diet - are you guilty?

Special IBS events in Sacramento and Oregon.

Probiotics, prebiotics, and a fruit smoothie recipe that gets you all that and more!


Hello to everyone -

For folks who have struggling with IBS most of their lives, we have a wonderful success letter from someone who's been there - and prevailed!

Plus, we're at number two on the list of the seven sneaky sins of the IBS diet. It's something that's supposed to be good for digestion...but is it really?

As always, we also have a delicious digestion-friendly recipe and the latest IBS news and research.

Enjoy!

Best Wishes,
Heather Van Vorous

Did a friend send you this newsletter? Sign up here for your own free subscription.

Peachy Keen Probiotic Smoothie

I created this very IBS-friendly smoothie as a delicious way for folks to get prebiotics, probiotics, and soluble fiber all at once. As a bonus, you'll also get insoluble fiber from the peaches that is made safe by blending. This is a wonderful tangy-sweet smoothie that's good for breakfast, a snack, and even dessert!

Makes 2 Servings (easily doubled)

2/3 c. vanilla soy or rice yogurt with live cultures
2 teaspoons Acacia Tummy Fiber
1 tablespoon honey
1 large firm-ripe banana
1 1/2 c. frozen peaches, very slightly thawed

Stir together the yogurt and Tummy Fiber. Add to all other ingredients in a blender or food processor and puree until very smooth. Serve immediately.

For a delicious lunch or dinner, serve the smoothie with this fabulous Cream of Celery Soup with Buttery Bacon Croutons.

Are you just learning how to eat for IBS? A little intimidated at the thought of special IBS recipes? Not quite sure just what makes these recipes special in the first place? Don't worry! Come see the IBS Diet pages, and find the answers to all your questions.



~ Heather's Tummy Tamers Peppermint Oil Capsules ~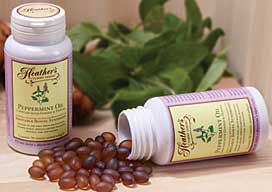 Peppermint Oil Caps Called "Drug of Choice for IBS"

Our Peppermint Oil Caps have the added benefits of fennel and ginger oils, and they help prevent abdominal pain, gas, and bloating!

Bloating and Diarrhea Much Better - Just in Time

Thank you, thank you, Heather!

I am 53 and I've had IBS since I was 26. I have not previously had a severe attack in 8 years, although I deal with IBS every day (diarrhea once per day and a bm after every meal, as well as after snacks). On August 3rd, I had a terrible attack that went on for 5 days intensely, and then another 10 days, with diarrhea 5-10 times per day.

I have read your website and newsletter emails for awhile. I called and talked to a wonderful woman at your company. She was so helpful and caring. She spent time on the phone giving me very useful information. I ordered your book Eating for IBS, the Peppermint Tummy Tamers, and the Acacia Tummy Fiber.

I have found the cookbook very helpful, and the Tummy Fiber is incredible. I was careful increasing the amount of Tummy Fiber, but probably should have gone faster. Improvement was slow, but at 2 tablespoons per day now, I really see a change. I have a tablespoon in the morning and the same in the evening, with the Peppermint Tummy Tea.

I am feeling much better - and just in time as my vacation is over and I am back to teaching this week. I am also taking the Peppermint Tummy Tamers and the bloating is much reduced. I went to see a gastro doctor today. He approved of the plan of action, and like the woman at your company mentioned, he indicated that I should be tested for a parasite, so that is next on my agenda.

Thank you for all that you are doing to support those of us with IBS. I can't thank you enough for helping me regain my health and sanity. I was starting to cry and think that I could never get better!

Thank you, again!

Karla Walker
Maryland/Washington, DC area

Thank you Karla! I'm so thrilled you're feeling better. ~ Heather

Did you miss the last reader letter from Vicki, with a new update on Sammy, her dog with IBS?

~ Heather's Tummy Fiber ~
For the Dietary Management of Abdominal Pain, Diarrhea, &, Constipation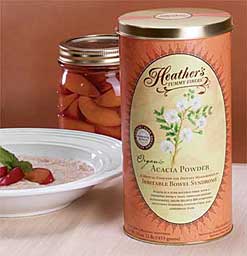 Certified Organic Acacia ~ Pure Soluble Fiber
The prebiotic fiber that relieves both diarrhea and constipation!

** Very Economical ** Only 3 cents per gram of fiber!


Special Sacramento Massage Therapy Offer for IBS
Melissa Grubbs, a longtime member of our Help for IBS community and a message board moderator, is extending an extremely generous offer to fellow IBS'ers. She is licensed as a Massage Therapist in Sacramento County, CA, and she is offering massage therapy to local folks with IBS at 50% off her normal rates. She has a mobile business so she will come to you, thus eliminating the anxiety of having to meet her at a certain time at her location. She is also not going to charge for cancellations resulting from illness or flare-ups. The only restrictions are that she is only licensed within Sacramento County, and she'll need a doctor's note indicating that a patient has been diagnosed with IBS. Melissa will also provide Reiki under the same conditions.

In addition, Melissa is offering free Soft Tissue Release sessions to 10 people. This technique uses easy, gentle tissue releases to reduce and eliminate pain. It can also help reduce the symptoms of Fibromyalgia. The best part is that she teaches her clients how to do these exercises at home so that they don't need to have her do it for them. She may actually be able to offer this to more than ten people but she can't commit to that right now. If you're in Sacramento County, please visit Melissa's website and email her directly at blueserenity@massagetherapy.com to let her know what you need help with. Thank you very, very much to Melissa for her generosity and help!

Special Oregon In-Store Event
Holistic Nutrition for the Whole You (at 403 NE Casper St, Roseburg, OR 97470, Phone: 541 498 2235) is hosting a Longevity Today special event as a kick off to their Path to Wellness program. The event is all day long on Saturday, January 26th. The in-store event will feature Heather's Tummy Care for IBS, with food and drink demos, free samples and IBS dietary literature, and question-and-answer opportunities. They look forward to seeing you there!


~ Eating for IBS ~
Comprehensive IBS Diet Information & Safe Foods vs. Trigger Foods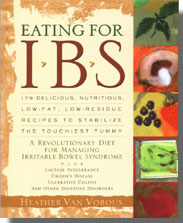 Addresses multiple IBS symptoms * Teaches substitution, never deprivation

Finalist for the Julia Child cookbook award!

Women With IBS Can't Switch Off Pain Response
A recent article in Neuroscience reported that women with irritable bowel syndrome anticipate and react to pain differently than women without IBS.

Researchers found that women with IBS can't effectively switch off a pain modulation mechanism in the brain, which makes them more sensitive to abdominal pain. During anticipation of pain, women without IBS decreased activity in brain areas involved with pain and emotional arousal. But the women with IBS weren't able to reduce activity in these areas.

"The abdominal hypersensitivity that is a hallmark of IBS may represent an inability to downregulate pain and emotional arousal circuits," lead author Steven Berman, a senior research scientist at UCLA, said in a prepared statement. "IBS patients may have an inability to inhibit the competing tendency to upregulate emotional arousal in order to escape pain faster."

Both groups of women showed increased activity in pain arousal areas when they were subject to pain, but those with IBS showed greater increases in several brain areas. Go here for more information about the brain-gut dysfunction in IBS.

Go here for more information about this article...

Probiotics in Irritable Bowel Syndrome
A recent article in Journal of the American College of Nutrition noted that the clear delineation of a post-infective variety of IBS, as well as the description, in a number of studies, of evidence of low-grade inflammation and immune activation in IBS, suggest a role for a dysfunctional relationship between the indigenous flora and the host in IBS and, accordingly, provide a clear rationale for the use of probiotics in this disorder.

While clinical evidence of efficacy is now beginning to emerge, a review of available trials emphasizes the importance of a clear definition of strain selection, dose and viability. The role of the enteric flora is evidently an area of great potential in IBS; we are on the threshold of a new era of research and therapy for this common disorder. Go here for more information about yogurt, probiotics and IBS.

Go here for more information about this study...

Looking for more IBS research and news? Check the IBS Research Library!


Researchers call gut-directed hypnotherapy a "cure" for IBS!

The Best Gut-Directed Self-Hypnosis Program for All IBS Symptoms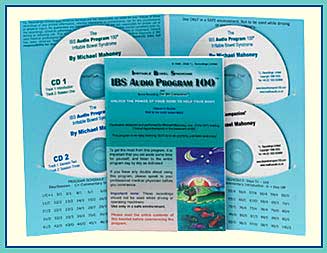 Gives an average 85% reduction of pain and bowel dysfunction symptoms.
Listen to IBS Audio Program 100 samples!

The Second Sneaky Sin of the IBS Diet

While the IBS diet can be one of the most successful ways to manage all IBS symptoms, there are some common pitfalls. I hear from a lot of people who make a tremendous effort to modify their diet for IBS, but who still have abdominal symptoms they feel certain are associated with their eating habits.

This can be exasperating (to say the least) because it may seem like there simply aren't any steps left to take. But - it's much more likely than not that there are still dietary triggers involved, they're just being overlooked.

I've found there are seven specific traps that ensnare people as they adjust their diet - and I call them the Seven Sneaky Sins of the IBS Diet. We tackled number one, coffee, last time, and we'll continue to work our way through the list. This week, let's take on number two:

2. Yogurt (it's a safe dairy product for IBS...isn't it?)


I've eliminated most dairy from my diet, but I still have a daily cup of yogurt. I've heard that since yogurt is fermented, the lactose isn't a problem. It also contains live cultures which are supposed to help digestive problems. The thing is, I think the yogurt is bothering me. This doesn't really seem to make sense, so I'm still eating it. Should I stop?

Yes, you should stop eating yogurt, as well as all other dairy products that are still in your diet. All dairy is extremely likely to cause IBS symptoms to flare - from diarrhea and cramps to constipation, bloating, and gas. Dairy products, including yogurt and Lactaid milk, have casein, whey, and typically a very high amount of fat as well.

To make yogurt, the live organisms Lactobacillus bulgaricus and Streptococcus thermophilus are added to milk; the cultures turn the milk into yogurt by converting lactose (milk sugar) into lactic acid. Though this makes the lactose easier to digest, this is really only helpful for people who are lactose-intolerant; it's not necessarily of any use at all for people with IBS.

Most people with IBS are not lactose-intolerant, but they still have tremendous digestive problems from dairy. The milk proteins casein and whey (which are always in yogurt, as well as all other dairy products) are very difficult to digest. Trace amounts of these proteins, such as the casein used in some soy cheese products, are often (though not always) quite tolerable for IBS. The large amounts of casein and whey in dairy, on the other hand, are likely to trigger IBS symptoms.

Dairy products, including yogurt, are often very high in fat, particularly saturated fat. Saturated fats tend to be the most difficult for the body to digest, and saturated animal fats are the worst of all. All fats are GI tract stimulants and can trigger IBS attacks, so a low fat diet is crucial for keeping your digestion stable. This means that the fats you do eat should be heart-healthy and mono-unsaturated/poly-unsaturated. All high saturated fat foods should be avoided as much as possible. You'll easily obtain the small amounts of saturated fat your body needs from a low fat diet that incorporates natural plant sources such as olive oil, canola oil, nuts, and flax.

The live cultures in yogurt (also called probiotics) can be highly beneficial to IBS and digestive health in general. However, you don't have to eat dairy to get these benefits. You can choose soy or rice yogurt that contains live cultures or take probiotic supplements. Plus, you can use a prebiotic soluble fiber such as Acacia Tummy Fiber that will encourage the growth of probiotics in your gut by giving your healthy gastrointestinal bacteria a food source.

Even better, you can cook with both soy yogurt and Tummy Fiber, so you're getting probiotics and prebiotics with every meal. (See the delicious smoothie recipe above for a super fast and easy example.)

Using probiotics and prebiotics for IBS is an excellent idea, and likely to help reduce and prevent a wide range of symptoms, particularly bloating and gas. Fortunately, there's no need to upset your gut by eating dairy in order to obtain these benefits!

Coming next...#3 on the list of the Seven Sneaky Deadly Sins of the IBS Diet!

~ Heather

Did you miss the recent "Ask Heather" and an IBS story too embarrassing to print? Find it here...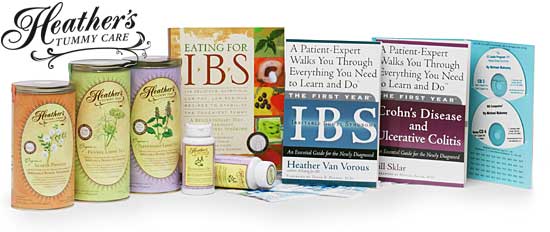 Shop at Heather's Tummy Store for IBS
HelpForIBS.com
The only store that's just for IBS - so we only carry the very best

You're on this newsletter list because you have expressed interest in IBS news and information.




Change your newsletter email address here.

If you are viewing this newsletter on a website and would like to subscribe for email delivery, please "Join the IBS Newsletter" here.

ANTI-SPAM PRIVACY & SECURITY POLICY
HelpForIBS.com
Heather's Tummy Care
80 S. Washington St, #304
Seattle, WA 98104 USA

© 2008 Heather Van Vorous, Heather's Tummy Care. All rights reserved.
USA Copyright Office Registration Number TXU 1-270-858 and others