Heather's IBS Newsletter ~ For Irritable Bowel Syndrome

Twitter



After 3 years of success a very happy - and furry? - reader update!

7 sneaky sins of the IBS diet revisited - are you guilty of number one?

More new stores than ever before!

A drink so delicious it actively helps IBS? Get the recipe!


Hello to everyone -

For folks who have been following the story of Sammy the dog from newsletters past, we have a wonderful new update - with photos!

Plus, get your new year's resolutions on the right track and make sure you're not tripping over the seven sneaky sins of the IBS diet. This week learn how to avoid the first one.

As always, we also have a delicious digestion-friendly recipe and the latest IBS news and research.

Enjoy!

Best Wishes,
Heather Van Vorous

Did a friend send you this newsletter? Sign up here for your own free subscription.

Sweet Ginger Chai Tea

I created this very IBS-friendly (dairy-free, caffeine-free, low fat) version of chai tea as a safe alternative to the ones served at espresso shops. It's spicy-sweet but mellow, and very smooth and creamy. Cloves, Tummy Tea fennel, ginger, and cinnamon are all digestive aids, so this tea is actively helpful for IBS.

Makes 1 Serving (easily doubled or tripled)

Chai Mix:
1 tablespoon whole cloves
1 tablespoon Tummy Tea whole fennel seeds
1 tablespoon whole cardamom seeds (not in pods)
4 small cinnamon sticks, broken into small pieces

1 cup vanilla soy or rice milk
1" chunk fresh gingerroot, unpeeled, smashed with flat side of heavy knife
2 teaspoons honey

Stir together all chai mix ingredients. Add 1 tablespoon chai mix to a small saucepan with soy milk and ginger, and bring to a boil. Remove from heat and steep for 5 minutes. Strain and stir in honey. Store extra chai mix in an airtight container.

For a special sweet gingery treat, serve the chai with our fabulous Gingerbread.

Are you just learning how to eat for IBS? A little intimidated at the thought of special IBS recipes? Not quite sure just what makes these recipes special in the first place? Don't worry! Come see the IBS Diet pages, and find the answers to all your questions.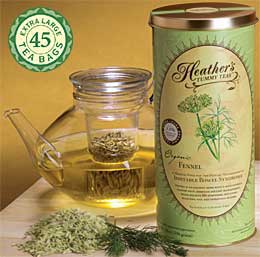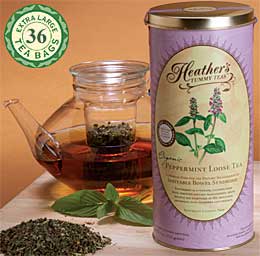 Organic High Volatile Oil Fennel & Peppermint Tummy Tea Bags

Extraordinary Quality ~ Very Economical

Fennel is terrific for bloating & gas, Peppermint is great for IBS pain & spasms.

Sammy the Dog and IBS

For several years now we've been following the letters from Vicki Burton about her dog, Sammy. All of Sammy's life he's had problems his vet couldn't isolate, but then his problems escalated. For 18 long months nothing worked. Sammy was throwing up daily, losing weight and muscle tone, and losing all interest in food. By 2003 he was so sick his family was up all night taking care of him. See April 2004 for Sammy's original story and how his health turned around, November 2004 for the first Sammy update, and another update in July 2005.

Here's the latest letter about Sammy and his return to a happy healthy life!

Dear Heather,

Just thought we'd take a few minutes from all the "rush" and write a note to people who mean so much to us. Without you and your calling our little dog would have left our lives long ago. We owe you more than words could ever express!

Sam's IBS has been under control since May 2006. He takes no medication, just the Acacia Tummy Fiber in morning food and Fennel Tummy Tea at suppertime. And all this is due to you and your support.

It's been a year and a half since any emergency vet visits and it's almost like he's back to his old self except the blindness. And we look forward to having much more time to spend with Sammy.

Hope you all have a wonderful holiday and all the best for a bright new year.

Always,
Vicki, Mark, and Sammy Burton

P.S. Sammy and his family have enjoyed his fame on your website!



April 2004 July 2005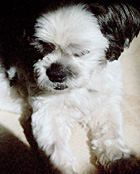 January 2008
Thank you to Vicki and Mark for sharing their story, and for the wonderful pictures. Big tummy rubs and nose kisses to Sammy! ~ Heather
~ Heather's Tummy Fiber ~
For the Dietary Management of Abdominal Pain, Diarrhea, &, Constipation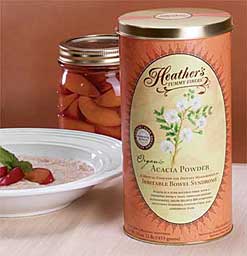 Certified Organic Acacia ~ Pure Soluble Fiber
The prebiotic fiber that relieves both diarrhea and constipation!

** Very Economical ** Only 3 cents per gram of fiber!


New Retail Stores Carrying Heather's Tummy Care Products
We're continuing our special rebate offer for people who buy Tummy Care products at their local stores, and we have new store announcements this week as well.

California
Country Harvest
7126 Skyway Ste F
Paradise, CA 95969
530-877-1472
Country Harvest is having a grand opening with a ribbon cutting ceremony, samples and gift baskets on February 28th. Come join them!

Florida
Bay Medical Center
7550 N Dale Mabry Hwy
Tampa, FL 33614
813-885-4706

Patti Lee, RN, BSN., M.Ed.
7670 Chezarae Dr
Pensacola, FL 32514
850-292-1487
Please call for hours and availability

Illinois
Morris Healthmart
2405 Sycamore Dr
Morris, IL 60450
815-942-3660

Iowa
Hy-Vee Dubuque #3
400 S Locust
Dubuque, IA 52003
563-583-6148

Kentucky
E'Town Chiropractic & Nutritional Healing
620 Westport Rd Ste A
Elizabethtown, KY 42701
270-769-9844

Missouri
Blue Sky Nutrition
8 Grandview Plaza
Florissant, MO 63033
314-837-7290

New York
Dr. Lisa Chason, ND
19 Outlook Dr
New Paltz, NY 12561
845-256-1867
Please call for hours and availability

Pennsylvania
Ruth Roy's Herb Shoppe
2418 Long Lane
Lebanon, PA 17046-1708
717-685-1219

If you don't have a store in your area carrying Tummy Care products yet, please give them this flyer to ask them.






~ Heather's Tummy Tamers Peppermint Oil Capsules ~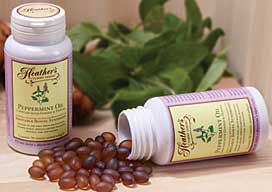 Peppermint Oil Caps Called "Drug of Choice for IBS"

Our Peppermint Oil Caps have the added benefits of fennel and ginger oils, and they help prevent abdominal pain, gas, and bloating!

An Online IBS Survey
The Center of Digestive Disorders at Boston University Medical Center in Boston, Massachusetts is seeking volunteers to take part in an online research study about writing narratives and Irritable Bowel Syndrome.

The study is entitled: The Use of Narratives in Irritable Bowel Syndrome (IBS).

The study involves:
- Writing for 30 minutes a day for 4 consecutive days
- Completing questionnaires at the beginning of the study, immediately after your last writing, and at 1 and 3 months after writing.

Requirements to participate:
- You must be in the target age range
- You must be diagnosed with irritable bowel syndrome by a physician
- You must live in the United States

Compensation:
- You will be paid $25 to participate in the study
- You will receive your payments in $5, $10, $10 installments
- You will need to complete all components of the study to receive payment

To learn more about the study , please visit the Boston Medical Center website.

Antibiotics for Irritable Bowel Syndrome
A review article in Alimentary Pharmacology & Therapy concluded that antibiotics are an emerging option for IBS, but many questions surrounding the exact role of enteric bacteria in the diagnosis and management of IBS remain unanswered. Results to date suggest that appropriately targeted antibiotic therapy may offer important benefits as an alternative to, or in addition to, symptom-directed pharmacotherapies in the treatment of IBS. Go here for more information about this study...

Looking for more IBS research and news? Check the IBS Research Library!


Researchers call gut-directed hypnotherapy a "cure" for IBS!

The Best Gut-Directed Self-Hypnosis Program for All IBS Symptoms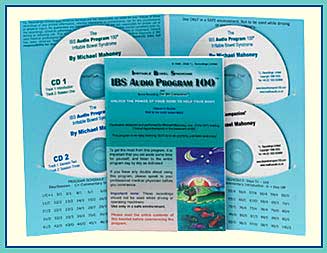 Gives an average 85% reduction of pain and bowel dysfunction symptoms.
Listen to IBS Audio Program 100 samples!

New Years Resolution! Avoiding the Seven Sneaky Sins of the IBS Diet

With the new year, a lot of folks resolve to get their IBS under control. The IBS diet can be one of the most successful ways to do this, but there are some common pitfalls. I hear from a lot of people who make a tremendous effort to modify their diet for IBS, but who still have abdominal symptoms they feel certain are associated with their eating habits.

This can be exasperating (to say the least) because it may seem like there simply aren't any steps left to take. But - it's much more likely than not that there are still dietary triggers involved, they're just being overlooked.

I've found there are seven specific traps that ensnare people as they adjust their diet - and I call them the Seven Sneaky Sins of the IBS Diet. We'll tackle the first one this week, and then work our way through the list as we begin the new year.

1. Coffee (yes, decaf counts)

#1. I've given up all coffee except for my morning cup of decaf. I have cramps every morning too, but just one cup of coffee - especially decaf! - wouldn't cause this, would it?

Yep - just one cup of coffee is all it takes to completely disrupt the gut of most people with IBS. Coffee is a very powerful GI tract irritant - and it's NOT the caffeine that's the culprit. Caffeine is a stimulant, so it can aggravate IBS as well, but this just means that regular coffee has a double whammy.

Decaffeinated coffee is still practically guaranteed to trigger abdominal spasms, diarrhea, and a very unpleasant sense of urgency. Why? Because all coffee beans, decaf included, contain an enzyme that irritates the entire digestive tract.

Interestingly, though coffee is known for its laxative effect and many folks with IBS-constipation use coffee for just this reason, the end result will actually be a worsening of IBS symptoms - including constipation. The abdominal cramping and GI irritation from coffee increases gut motility violently and artificially, which is likely to cause a rebound effect of greatly slowed or halted gut motility if you're constipation-prone. In other words, the short-term laxative gain from coffee is likely to actually exacerbate IBS-constipation in the long-run. If you have IBS, your colon contractions are by definition dysfunctional; using coffee to irritate your colon to the point of spasms every morning will simply cause more severe, and chronic, gut motility problems.

Coffee is also highly acidic, and acidic foods can aggravate IBS as well as upper GI disorders such as GERD. Adding insult to injury, drinking coffee first thing in the morning, on an empty stomach, offers absolutely no buffer for the acid, irritant, and stimulant effects of the beverage. In addition, mornings are routinely stressful for many people, as they're tired, rushed, and trying to get out of the house to school or work. Adding a deadly dietary trigger like coffee into a hectic morning schedule is virtually guaranteed to cause IBS problems.

If you've been drinking decaf, you can quit cold turkey without caffeine withdrawal, and you should see improvements in your IBS immediately. Your first morning without coffee will likely be your first morning without abdominal cramps. If you're used to coffee with caffeine, quitting can trigger caffeine withdrawal, and you may suffer headaches for up to two weeks. You can try to wean yourself onto a half-decaf, half-regular coffee habit, and then gradually eliminate coffee completely. This will help prevent the headaches but will also prolong the IBS symptoms, so you'll have to choose the lesser of the two evils.

If you love coffee (and this is often the underlying reason people continue to drink it - they likely know that it's affecting their IBS, but it's never easy to give up something delicious) there are several coffee substitutes on the market to try. Different brands and flavors are available made from roasted soybeans, or blends of herbs, nuts, fruits and grains. Most health food markets carry several options, and most of the ones I've tried have been delicious.

Chai, an Indian spiced-tea drink (decaf versions are available), is positively luscious when brewed with soy or rice milk, and has the same hearty quality that coffee offers. You can buy chai tea bags, loose leaf tea, or make sweet ginger chai tea from scratch with very little effort.

Or, you could try something completely different, and switch to a helpful herbal tea for your morning (and afternoon, and evening) beverage. Peppermint (best for abdominal pain and spasms), chamomile, fennel (terrific for bloating and gas), anise, and ginger are all digestion-friendly teas that will actively help - not hurt- IBS symptoms.

Coming next...#2 on the list of the Seven Sneaky Sins of the IBS Diet!

~ Heather

Did you miss the recent "Ask Heather" and an IBS story too embarrassing to print? Find it here...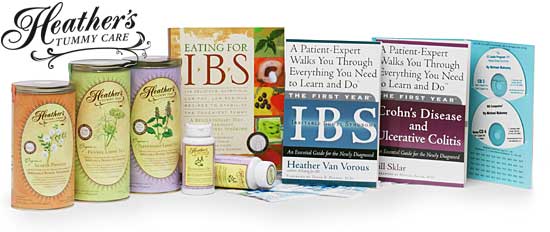 Shop at Heather's Tummy Store for IBS
HelpForIBS.com
The only store that's just for IBS - so we only carry the very best

You're on this newsletter list because you have expressed interest in IBS news and information.




Change your newsletter email address here.

If you are viewing this newsletter on a website and would like to subscribe for email delivery, please "Join the IBS Newsletter" here.

ANTI-SPAM PRIVACY & SECURITY POLICY
HelpForIBS.com
Heather's Tummy Care
80 S. Washington St, #304
Seattle, WA 98104 USA

© 2008 Heather Van Vorous, Heather's Tummy Care. All rights reserved.
USA Copyright Office Registration Number TXU 1-270-858 and others