Heather's IBS Newsletter ~ For Irritable Bowel Syndrome

September 18, 2007

Special Brain-Gut Issue!

How Marilyn proved her doctor wrong when he told her "there's no help"

Hello to everyone ~

Welcome to our special brain-gut issue! You've likely heard the terms "mind-body" or "brain-gut" used to describe IBS, but wondered exactly what they meant. We'll tackle that concept, and also see some very interesting - and contradictory - findings in current IBS brain-gut studies.

This research confirms that you can develop IBS as the result of an "insult" to the gut. But what of the study that suggests you develop IBS because of your negative personality? Is the more likely answer that people with IBS can become anxious, stressed, and pessimistic because of the disorder and the terrible impact it has on their lives?

Check the research and decide for yourself if you've suffered an insult to the gut, or if you're just plain insulted.

If you're less interested in research and simply want help now, hypnotherapy is a fantastic brain-gut IBS treatment. We have an inspiring letter from a woman who had tried almost everything - even the Mayo clinic - to help her IBS. Hypnotherapy literally saved her life.

Right now, hypnotherapy is the ONLY treatment for IBS that holds the potential to actually cure the underlying brain-gut dysfunction, so please let her story encourage you to try this therapy for yourself.

Best Wishes,
Heather Van Vorous

Did a friend send you this newsletter? Sign up here for your own free subscription.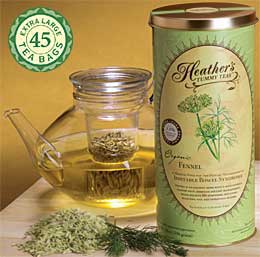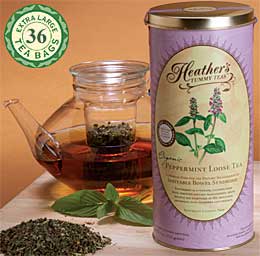 Organic High Volatile Oil Fennel & Peppermint Tummy Tea Bags

Extraordinary Quality ~ Very Economical

Fennel is terrific for bloating & gas, Peppermint is great for IBS pain & spasms.

Plum Delicious Cake

Fresh plums are a wonderful late summer and early autumn treat, and this cake is the perfect way to make them digestion-friendly. Baking the fruit breaks down its insoluble fiber so it's more tolerable, while the finely ground almonds provide a good soluble fiber foundation. This makes a fantastic dessert with a scoop of vanilla soy or rice ice cream on the side.

Makes 14-16 Servings

2 cups thinly sliced fresh plums, pitted
3/4 cup almonds, finely ground
1/2 cup packed brown sugar
1/3 cup plus 3 tablespoons all-purpose unbleached white flour
6 large organic egg whites
1/4 teaspoon salt
1/4 cup canola oil
1 1/2 teaspoons vanilla
1 1/2 teaspoons almond extract
1/2 teaspoon granulated sugar

Preheat oven to 375 F. Spray a 10" non-stick springform pan with cooking oil and set aside. In a medium bowl whisk together almonds, brown sugar, and flour until well combined. Set aside.

In a large bowl beat egg whites with salt until they just hold stiff peaks. ("Stiff peaks" means that you beat the egg whites on high speed until they form peaks with tips that stand straight up without flopping over when the beaters are turned off and lifted out of the batter.)

Once you have stiff peaks, fold in the nut mixture gently but thoroughly. Then fold in oil, vanilla, and almond extract, and spread batter in prepared pan.

Arrange plums in concentric circles over batter and sprinkle with granulated sugar. Bake cake for 25-30 minutes or until a tester comes out clean. Cool on rack.

For a special treat, serve the plum cake as dessert with a soothing cup of Fennel Tummy Tea.

Are you just learning how to eat for IBS? A little intimidated at the thought of special IBS recipes? Not quite sure just what makes these recipes special in the first place? Don't worry! Come see the IBS Diet pages, and find the answers to all your questions.

~ Heather's Tummy Fiber ~
For the Dietary Management of Abdominal Pain, Diarrhea, &, Constipation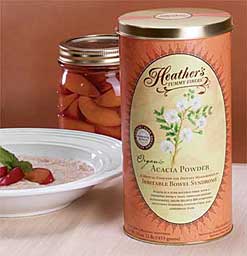 Certified Organic Acacia ~ Pure Soluble Fiber
The prebiotic fiber that relieves both diarrhea and constipation!

** Very Economical ** Only 3 cents per gram of fiber!

The Mayo Clinic Couldn't Help, but IBS Hypnosis Saved Her Life

Dear Heather,

IBS really ruined my whole life, and just like everyone, I felt torn between being grateful I didn't have something "serious" and guilty for feeling like I was dying anyway. People treat you differently when they know that IBS is something that isn't "serious" as in life-threatening, but my gastroenterologist told me that he could treat the pain of his colon cancer patients better than the IBS patients.

I was officially diagnosed in 1988, after about five years of not knowing why I was having increasingly severe diarrhea and abdominal pain. With the birth of my daughter that same year, I thought I better get tested, that maybe I did have some digestive disease, but several colonoscopies later, it was confirmed as IBS.

Trips to the Mayo Clinic and two other gastroenterologists further confirmed that every single prescription and medication had little or no effect, and only short-term, if any.

Over the next 12 years or so, I was prescribed various medications by my gastroenterologists and internal medicine physicians, several diets and diet modifications/eliminations, fiber, and non-label use of prescriptions.

My gastroenterologist finally told me that he had exhausted his treatment options, and to go look up other treatments on the internet. In my search, I found out about the use of clinical hypnotherapy for IBS through a fellow IBS sufferer who had used it successfully. I thought this method was pretty far-fetched and it seemed to be absurd to me.

But, I was desperate, so I tried this method as a last resort. This was the IBS Audio Program 100, which is a set of CDs with a specific schedule of several sessions that you listen to. Due to the severity of my severe refractory IBS, as well as several non-related surgeries, I listened to the program three times. Each time I saw better improvement - and I was the worst case scenario.

Mike Mahoney, the hypnotherapist who created the program, told me that the hypnotherapy program worked first on those health issues and stressors in my life that were most pressing to my overall health - and that the IBS was dealt with last in my case - but I persevered, and my symptoms greatly reduced.

That was over six years ago now, and today I can actually leave the house, whereas before, I raised my children "through the bathroom door!" I had attacks of diarrhea and pain lasting for hours on end, sometimes six hours a day, almost every day, never knowing when...even if I ate small amounts, the attacks would come out of the blue.

I am now able to function - if I do get an attack, most of the time it will subside within minutes, if not seconds. IBS is no longer the severe issue that it was, and though not a cure, for me, it was the best thing I could have done to treat my IBS on a holistic level.

My IBS cost me a whole lost life...events and special celebrations for my kids, just taking them to routine doctor and dentist appointments was an ordeal, and my marriage suffered and collapsed in part because of it. I went from being able to travel and talk professionally in front of large groups of people, to being just about housebound.

This program saved my life. And I now help the author of the program, clinical hypnotherapist Michael Mahoney, as a result of my gratitude for getting my life back. As one of the slowest persons to respond, and with very severe symptoms, I feel that I do need to pass on what was given to me and encourage others to not lose hope. That's what worked for me and I hope this helps someone too. Thanks for letting me share!

Marilyn Bellezzo
Chicago, IL

Thank you, Marilyn! I know you have inspired so many others to try hypnotherapy. It's the last resort for so many people when it should be the first! ~ Heather

Did you miss the recent letter from Liz, who says the hypnotherapy program cured her IBS?

Researchers call gut-directed hypnotherapy a "cure" for IBS!

The Best Gut-Directed Self-Hypnosis Program for All IBS Symptoms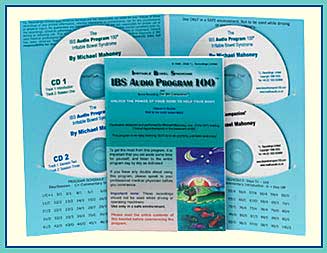 Gives an average 85% reduction of pain and bowel dysfunction symptoms.
Listen to IBS Audio Program 100 samples!


New Retail Stores Carrying Heather's Tummy Care Products
We're continuing our special rebate offer for people who buy Tummy Care products at their local stores, and we have new store announcements this week as well.

California
Real Foods Fillmore
3060 Fillmore St
San Francisco, CA 94123
415-567-6900

Illinois
The Healthy Nut
449 Market Place Dr
Freeburg, IL 62243
618 539 6888

Tennessee
Greenlife Grocery - North Shore
301 Manufacturer's Rd
Chatanooga, TN 37405
423-702-7300

If you don't have a store in your area carrying Tummy Care products yet, please give them this flyer to ask them.




~ Eating for IBS ~
Comprehensive IBS Diet Information & Safe Foods vs. Trigger Foods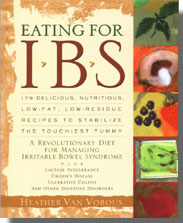 Addresses multiple IBS symptoms * Teaches substitution, never deprivation

Finalist for the Julia Child cookbook award!

Does Your Personality Predict the Onset of IBS?
A recent study in Gut aimed to determine whether a combination of mood and personality factors together with illness beliefs and behaviours predict the onset of irritable bowel syndrome (IBS) post gastroenteritis.

Study participants tested positive for gastroenteritis, and had no previous history of IBS or serious bowel conditions. Participants completed a questionnaire at the time of infection, which included standardised measures of mood, perceived stress, perfectionism, negative illness beliefs and illness behaviours. Participants completed follow-up questionnaires designed to determine whether they met the diagnostic criteria for IBS three and six months after initial infection.

Study results indicated that those who developed IBS had significantly higher levels of perceived stress, anxiety, somatisation and negative illness beliefs at the time of infection than those who did not develop IBS. Patients with IBS were also significantly more likely to remain active in the face of their acute symptoms until they felt forced to rest (all-or-nothing behaviour), and significantly less likely to initially rest in response to their acute illness. Depression and perfectionism were not associated with the onset of IBS.

The study concluded that patients with high stress and anxiety levels are more prone to develop IBS after a bout of gastroenteritis. Additional risk factors include a tendency to interpret illness in a pessimistic fashion and to respond to symptoms in an all-or-nothing manner. Go here for more information about this study...

Intestinal Infections Lead to Irritable Bowel Syndrome
A recent article in the Alimentary Pharmacology & Therapy reviewed evidence for an association between intestinal infection and development of irritable bowel syndrome, assessed the prognosis of post-infectious irritable bowel syndrome, and explored factors that increase the risk.

The review found that intestinal infection was associated with increased odds of developing irritable bowel syndrome. Among all studies reviewed, the pooled incidence of irritable bowel syndrome at study conclusion was 10%. Subjects with post-infectious irritable bowel syndrome were younger and more anxious and depressed than those without post-infectious irritable bowel syndrome.

The study concluded that the odds of developing irritable bowel syndrome are increased sixfold after acute gastrointestinal infection. Young age, prolonged fever, anxiety and depression are all risk factors for post-infectious irritable bowel syndrome. Go here for more information about diagnosing and treating IBS.

Go here for more information about this study...

Pain Hypersensitivity in IBS - Brain or Gut?
A recent study in Gut aimed to determine whether lower visceral pain thresholds in irritable bowel syndrome (IBS) primarily reflect physiological or psychological factors.

"The implications of this finding are far reaching," Dr. William E. Whitehead of the University of North Carolina, Chapel Hill, and colleagues write in the article.

"Firstly, it underscores the importance of accounting for psychological factors when interpreting tests of sensory function," they say. "Secondly, it highlights the important part played by centrally mediated processes in the pathophysiology of visceral sensitivity in IBS and suggests that novel therapies for pain in IBS should target centrally mediated mechanisms."

In the study, 121 IBS patients and 28 controls underwent balloon distensions in the descending colon using the ascending methods of limits to assess pain and urge thresholds. Secondly, sensory decision theory analysis was used to separate physiological from psychological components of perception.

Results indicated that IBS patients, compared with controls, had significantly lower pain thresholds but similar neurosensory sensitivity. IBS patients also had a greater tendency to report pain. Similar results were seen for the non-painful sensation of urgency.

These data, Dr. Whitehead and colleagues conclude, indicate that physiological contributions to increased colonic pain sensitivity in IBS patients are relatively small compared to cognitive and psychological influences. Go here for more information about the brain-gut disorder underlying IBS.

Go here for more information about this study...

Cognitive Behavior Therapy Improves Irritable Bowel Syndrome
A recent study in Gastroenterology found that cognitive behavior therapy (CBT) has a direct effect on overall improvement of gastrointestinal symptoms in patients with irritable bowel syndrome (IBS), independent of its effects on distress.

"A non-drug behavioral self-management program (CBT) significantly improved primary symptoms of IBS (abdominal pain, diarrhea, and/or constipation), and...these improvements in gut symptoms did not occur because patients became less distressed," said researcher Dr. Lackner.

"Instead, the reduction of distress was a result of their actual improvement in physical symptoms. These findings are impressive because they were found in some of the most challenging, complex patients who were severely affected by IBS symptoms and are more disrupted by them."

"We also found that there was a 'reciprocal' relationship between improvement in distress and quality of life such that as CBT improved IBS symptoms, patients felt less distressed and that this reduction of distress improved the quality of life," Dr. Lackner said.

"The immediate implication is that patients who fail to respond to simple lifestyle changes like eliminating foods or medications should not grow hopeless but have confidence their condition is treatable," said Dr. Lackner. Go here for more information about this study...

If you do not have a CBT center near you, gut-directed hypnotherapy is a fantastic at-home alternative.





~ Heather's Tummy Tamers Peppermint Oil Capsules ~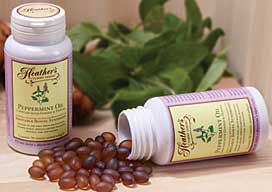 Peppermint Oil Caps Called "Drug of Choice for IBS"

Our Peppermint Oil Caps have the added benefits of fennel and ginger oils, and they help prevent abdominal pain, gas, and bloating!

Brain-Gut Dysfunction & IBS
"What exactly does it mean that IBS is a brain-gut dysfunction? These symptoms are not all in my head!"

Irritable Bowel Syndrome is considered, by clinical diagnosis, to be a brain-gut dysfunction or disorder. But what does this mean? Well, it does NOT mean that you are imagining your symptoms, that IBS is a mental problem, or that it's simply "all in your head." What it does mean is actually fairly technical, so get ready:

IBS symptoms result from the neurologic innervation of the gastrointestinal tract, associated with altered interpretation of neurologic messages from the GI tract by the central nervous system.

Basically, input to the central nervous system from the gastrointestinal tract arrives at several different parts of the brain which are associated with interpretation and modulation of pain perception. Neurologic output from these areas are then returned to the gastrointestinal tract via the spinal cord.

This circuit (from gut to brain and brain to gut) appears to be abnormal in patients with Irritable Bowel Syndrome, though the exact abnormalities remain unclear.

Neuroimaging has actually provided direct evidence of physiological differences between normal individuals and those suffering from IBS in the way a visceral (gut) stimulus is processed in the brain. PET scans of the brain show pronounced differences in the activation of certain parts of the brain relating to perception and pain in IBS patients versus normal individuals. MRI scans have demonstrated comparable results.

In basic terms, this means that IBS is indisputably a physical problem. Simply put, the brain-gut interaction of people with IBS influences their bowel pain perception and motility. The processing of pain information within the central nervous system varies between normal individuals and those of us with IBS, with the result that we can experience even normal GI contractions as painful. The interactions between our brains, central nervous systems, and GI systems are just not functioning properly. We have colons that react to stimuli that do not affect normal colons, and our reactions are much more severe.

The end result? Heightened pain sensitivity and abnormal gut motility, in the form of irregular or increased GI muscle contractions. It is this gut overreaction and altered pain perception that cause the lower abdominal cramping and accompanying diarrhea and/or constipation that characterize IBS.

What's so interesting about this is that the origins of IBS may really be in our brains, and not in our bowels. Given that for many years people with IBS were dismissively told their problem was all in their heads - and that we're still seeing research trying to link pessimistic personality traits to the development of IBS - it's ironic that, in the end, IBS may really be a brain disorder. Our underlying problem might actually be in our minds as well as our bodies - but it's absolutely not in our imaginations.

One thing for certain is that no one really knows why some of us develop IBS and others don't. There is strong evidence that for some IBS sufferers the condition is precipitated by an insult to the gut - intestinal infection, abdominal surgery, even a traumatic colonoscopy. The theory behind this is that even after full physical recovery from these traumatic events, the nerves within the gut retain a "memory" of the insult and remain hyper-sensitive to further stimulation, as well as prone to subsequent over-reaction.

You likely know if you experienced any abdominal trauma immediately prior to the onset of your IBS symptoms, and if you did it's nice to have some logical explanation for what has happened to your GI tract and why.

For those us who are exceptions to this theory, who never suffered a gut insult prior to the onset of IBS, and who don't feel anxious or pessimistic about anything except wasted years of horrifying IBS medical experiences, well - we're still patiently waiting for our explanation.

In the meantime, while it's interesting to follow the brain-gut research, it's more important to address the actual problem and start eliminating symptoms. For that, gut-directed hypnotherapy, one of the most successful treatments for IBS, deals directly with the element of brain-gut dysfunction.

~ Heather

Did you miss the recent "Ask Heather" and the final Five Constipation Frustrations? Find it here...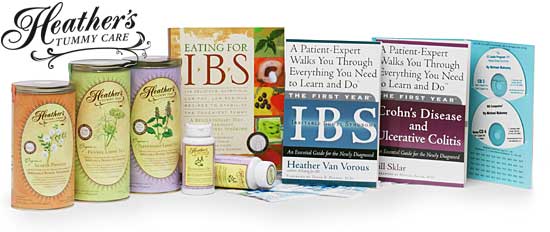 Shop at Heather's Tummy Store for IBS
HelpForIBS.com
The only store that's just for IBS - so we only carry the very best

You're on this newsletter list because you have expressed interest in IBS news and information.




Change your newsletter email address here.

If you are viewing this newsletter on a website and would like to subscribe for email delivery, please "Join the IBS Newsletter" here.

ANTI-SPAM PRIVACY & SECURITY POLICY
HelpForIBS.com
Heather's Tummy Care
80 S. Washington St, #304
Seattle, WA 98104 USA

© 2007 Heather Van Vorous, Heather's Tummy Care. All rights reserved.
USA Copyright Office Registration Number TXU 1-270-858 and others