Heather's IBS Newsletter ~ For Irritable Bowel Syndrome

August 21, 2007

A 100 lb. weight loss from "just" IBS left Ginger housebound - now she's amazed

Hello to everyone ~

We have such a touching letter this week from Ginger, who was so ill from IBS she lost over 100 pounds and was told not to have a second child because her health was in jeopardy. Not only did she get her IBS well under control, she now has another baby and is doing so much better that other people have noticed the positive changes!

We continue one our most popular Ask Heather topics ever - the Five Constipation Frustrations. Part two is this week, and addresses insoluble fiber foods - should you just avoid them altogether?

Plus, as always, we have a wealth of new digestive health research findings (Zelnorm is back on the market - sort of), and a spectacular Jamaican Jerk Chicken recipe. Enjoy!

Best Wishes,
Heather Van Vorous

Did a friend send you this newsletter? Sign up here for your own free subscription.

Jamaican Jerk Chicken with Ginger Peach Chutney

Pefect for backyard barbecues! Jerk chicken is traditionally very hot and spicy, but this version has only mild herbs and spices. (Remember, most herbs and spices are actually digestive aids, so there's no need for food to be bland in order to be IBS-friendly.) If you would like to turn up the heat, add cayenne pepper to taste to the marinade.

This recipe is a good example of insoluble fiber (from the fresh fruit in the chutney) being safely combined with a soluble fiber foundation (from the rice).

Makes 6 Servings (doubles or triples easily)

4 organic boneless skinless chicken breasts, rinsed and patted dry

In a medium bowl, stir together seasoning mix:
1 teaspoon mild chili powder
1 teaspoon garlic powder
1 teaspoon basil
1 teaspoon thyme
1 teaspoon ground coriander
1 teaspoon ground ginger
1 teaspoon ground allspice
1/2 teaspoon ground cinnamon
1/2 teaspoon ground cloves
1/2 teaspoon ground black pepper
1/2 teaspoon ground nutmeg
1 tablespoon granulated sugar

Add to seasoning mix:
1/2 cup fresh orange juice
2 tablespoons olive oil
juice of 1 lime
1 cup finely diced onion

Cooked white or brown basmati or jasmine rice for serving

Stir well to make a marinade. Transfer marinade to a glass pie plate, add chicken breasts, cover, and marinate overnight. Grill for 5-6 minutes per side, just until done, basting with marinade. Serve chicken over rice with chutney.

Ginger Peach Chutney:
4 large ripe peaches, peeled, pitted, and diced
2/3 cup fresh pineapple, diced
2 inch chunk of fresh gingerroot, peeled and minced
1/2 cup diced onion
2 tablespoons Acacia Tummy Fiber
1/2 teaspoon ground coriander
1/4 teaspoon ground cumin
2 tablespoons honey
1/2 cup fresh orange juice
Salt and pepper to taste

Combine all ingredients in a large heavy saucepan and simmer, uncovered, until peaches cook down and liquid evaporates, about 30-40 minutes. Chill for at least one day to marry flavors. Chutney freezes well in an airtight container.

For a spectacular summer treat, serve the chicken with Peachy Summer Lemonade.

Are you just learning how to eat for IBS? A little intimidated at the thought of special IBS recipes? Not quite sure just what makes these recipes special in the first place? Don't worry! Come see the IBS Diet pages, and find the answers to all your questions.



~ Heather's Tummy Tamers Peppermint Oil Capsules ~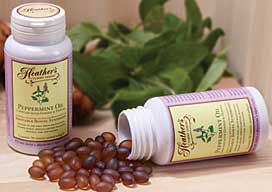 Peppermint Oil Caps Called "Drug of Choice for IBS"

Our Peppermint Oil Caps have the added benefits of fennel and ginger oils, and they help prevent abdominal pain, gas, and bloating!

Housebound Desperation Leads to a Wonderful Journey

Hello Heather,

I finally have to write to you to let you know, like others have done, how much you have helped better my life!

I've had IBS since I was 18, so 11 years now. It began as mild discomfort and progressed to severe diarrhea after my first son was born. In 2004/05 after Mattias' birth I was so ill that I lost 100 lbs in 8 months. I was checked for everything including ovarian cancer and yes...it was JUST IBS! I wonder about the use of the word JUST to describe IBS but that is another letter all together!

Needless to say I was unable to leave my home, afraid to eat, depressed and unable to control huge waves of anxiety. In desperation I reached out to what has been the beginning of a wonderful journey - Eating for IBS. It allowed me to stabilize my weight enough that I was "allowed" to become pregnant again in 2006.

My second son was born in March of this year and I suffered greatly once again after the trauma and fatigue of birth. I lost 40 lbs in less than 2 months, and now I had 2 children to care for. So, once again, in desperation I ordered the Acacia Tummy Fibre and the IBS Hypnosis Program, and oh my!

Within 2 weeks of using the Tummy Fibre my diarrhea had eased but my tummy was still rebellious and I was eating a lot of starchy carbs to keep it under control. I then received the hypnosis series and started that night.

I now can eat a variety of insoluble fibre, I sleep better, have reduced my anxiety medication in half and am slowly losing weight...slow being the operative word here.

I'm amazed to report that I am only 60 days into the IBS Hypnosis Program and it probably already paid for itself by day 35! People have noticed the change in my health and have even ordered the Acacia Tummy Fibre for themselves.

I want to extend a huge thank you to your whole IBS organization because it has been my saviour in more than one way.

Thank you so much!

Ginger Hartman
Vancouver, BC

PS: Feel free to use any or all of this letter as a frame of reference or support for other sufferers...I know it can feel like a hopeless journey.

Thank you so much, Ginger! And congrats on your precious babies! ~ Heather

Did you miss the recent letter from Joanne, who found a "miracle worker" for IBS?

~ Heather's Tummy Fiber ~
For the Dietary Management of Abdominal Pain, Diarrhea, &, Constipation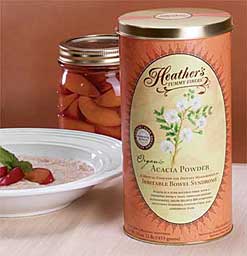 Certified Organic Acacia ~ Pure Soluble Fiber
The prebiotic fiber that relieves both diarrhea and constipation!

** Very Economical ** Only 3 cents per gram of fiber!

FDA Permits Restricted Use of Zelnorm
Under an investigational new drug protocol program, the U.S. FDA has approved restricted use of Zelnorm to benefit certain patients who have no other treatment options. Under the protocol, Zelnorm may only be used to treat irritable bowel syndrome with constipation and chronic idiopathic constipation in women younger than 55 years who have had no satisfactory response to other available treatments or had satisfactory improvement of symptoms during prior Zelnorm therapy.

Key exclusion criteria for Zelnorm use include a history or current diagnosis of cardiovascular ischemic disease, symptoms suggestive of cardiovascular ischemic disease, the presence of any cardiovascular risk factors according to National Institutes for Health guidelines, and uncompensated depression or anxiety or suicidal ideation or behavior. Zelnorm will remain off the market for general use. Go here for more information about Zelnorm.

Go here for more information about this announcement...

Quality of Life in Patients With IBS/IBD Recruited from the Internet
A recent article in the American Journal of Gastroenterology noted that the Internet is used increasingly to recruit patients for studies of gastroenterological disorders. The Internet allows access to potentially large study populations but no data exist comparing Internet-based populations with patients recruited from a clinical setting. They conducted an assessment of the quality of life (QOL) in patients with active inflammatory bowel disease (IBD) and irritable bowel syndrome (IBS) recruited from a gastroenterology clinic and the Internet.

For both IBS and IBD, Internet-respondents had significantly poorer QOL than subjects recruited from clinic. These data demonstrate that subjects recruited from the Internet may represent a clinically distinct population and data obtained from online surveys may not generalize to broader clinical populations. Further study is needed to determine whether these differences reflect psychosocial characteristics of Internet responders or simply self-report behaviors in a relatively anonymous environment. Go here for more information about IBS vs. IBD.

Go here for more information about this study...

How Does Cognitive Behavior Therapy for IBS Work?
A recent article in Gastroenterology noted that although multiple clinical trials support the efficacy of psychological treatments for reducing irritable bowel syndrome (IBS) symptoms, the mechanisms responsible for symptomatic improvement are unknown. One hypothesis is that psychological treatments work by alleviating comorbid psychological distress implicated in the worsening of bowel symptoms and quality of life. An alternative hypothesis assumes that changes in distress are not strictly a cause but a consequence of IBS that will decrease with symptomatic improvement.

This study concluded that CBT has a direct effect on global IBS symptom improvement independent of its effects on distress. Improvement in IBS symptoms is associated with improvements in the quality of life, which may lower distress. Symptom improvements are not moderated by variables reflecting the mental well-being of IBS patients.

Go here for more information about this study...

Looking for more IBS research and news? Check the IBS Research Library!



Researchers call gut-directed hypnotherapy a "cure" for IBS!

The Best Gut-Directed Self-Hypnosis Program for All IBS Symptoms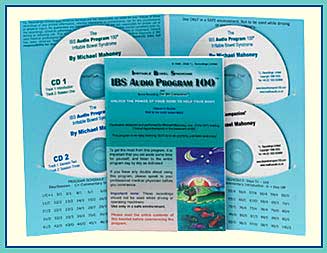 Gives an average 85% reduction of pain and bowel dysfunction symptoms.
Listen to IBS Audio Program 100 samples!

The Five Constipation Frustrations Revisited
"What if you think you're doing everything you're supposed to do for constipation, but nothing is working?!""

Well, first of all, take a deep breath, relax, and realize that you're not all alone here - and you're definitely not helpless, even if it sometimes feels that way. Constipation tends to be one of the more frustrating IBS symptoms, and it does take longer to resolve through lifestyle changes than diarrhea. But - there are many, many ways to help alleviate constipation successfully, it just takes a little patience and persistence.

What's the best way to take control of IBS constipation? Just make sure you avoid The Five Constipation Frustrations.

Last time we addressed part one, soluble fiber supplements (they're overnight wonder drugs, right?). This week we'll tackle the second frustration:

2. Insoluble Fiber Foods Are IBS Triggers, So I Won't Eat Any!

The second of our Five Constipation Frustrations is another example of how taking something to an extreme, instead of in moderation, can make IBS worse instead of better.

Insoluble fiber foods (like bran, raw fibrous veggies, salad greens, unpeeled fruits) are very powerful GI tract stimulants, and for those of us with over-reactive guts due to IBS they can spell big trouble. For people with normal bowel function, insoluble fiber can relieve constipation and poses no problems. For constipation from IBS, however, insoluble fiber can trigger violent GI spasms that are very painful. Additionally, these spasms can actually seize up the colon muscles in a type of "charley horse", which results in slower (or no) bowel motility and worsens constipation.

For this reason, insoluble fiber needs to be treated with care. Here's the catch. For general good health, and for healthy bowel function overall, insoluble fiber foods need to be eaten as generously and as frequently as possible. While you can break the cycle of IBS attacks by eating nothing but soluble fiber foods for a few days, this is a short-term approach to simply calming your gut and the spasms. Once you've stabilized, you cannot simply continue to eliminate insoluble fiber foods from your diet on a daily basis.

This is a mistake made by many people who glance over the insoluble fiber cautions without taking the time to read the information thoroughly and to follow recipes that exemplify the diet (all of which safely add insoluble fiber foods to a soluble fiber foundation, as in the recipe featured above).

For people with IBS, and especially IBS constipation, insoluble fiber foods require a balancing act. I really can't emphasize strongly enough that they cannot be avoided altogether. They are potential triggers, but you must eat them, and if you do so carefully, according to the Eating for IBS guidelines, you should be able to incorporate a wide variety of insoluble fiber foods into your daily diet. Take this approach slowly and cautiously, but do take it.

If you simply avoid all insoluble fiber foods completely you will worsen your constipation in the long-term. By adding it gradually, safely, and in slowly increasing amounts, you'll help alleviate constipation while still keeping your gut calm and bowel motility stable. As always with IBS, avoid going to extremes, be kind and considerate to your GI tract, and it will be much more likely to return the favor to you.

Next Time ~ Part Three of Our Five Constipation Frustrations!

~ Heather

Did you miss the recent "Ask Heather" and part 1 of the Five Constipation Frustrations? Find it here...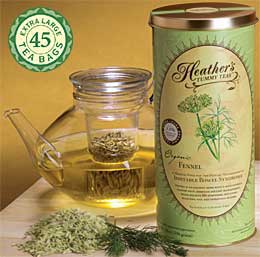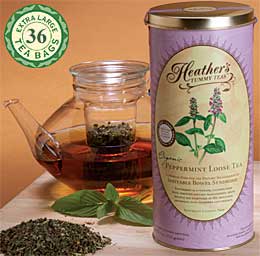 Organic High Volatile Oil Fennel & Peppermint Tummy Tea Bags

Extraordinary Quality ~ Very Economical

Fennel is terrific for bloating & gas, Peppermint is great for IBS pain & spasms.

You're on this newsletter list because you have expressed interest in IBS news and information.




Change your newsletter email address here.

If you are viewing this newsletter on a website and would like to subscribe for email delivery, please "Join the IBS Newsletter" here.

ANTI-SPAM PRIVACY & SECURITY POLICY
HelpForIBS.com
Heather's Tummy Care
80 S. Washington St, #304
Seattle, WA 98104 USA

© 2007 Heather Van Vorous, Heather's Tummy Care. All rights reserved.
USA Copyright Office Registration Number TXU 1-270-858 and others