Heather's IBS Newsletter ~ For Irritable Bowel Syndrome

July 24, 2007

How to Go from Not Knowing What to Do, to Feeling 99% Better!

Hello to everyone ~ We have a deeply encouraging letter this week from someone who simply didn't know what to do anymore for her pain, cramping, and even vomiting. She had some relief from Zelnorm, but when the drug was pulled from the market she was at a loss. Today, she is feeling 99% better - see why!

I'm thrilled to announce that whole seed Fennel Tummy Tea is back in stock! As some of you know, there was a temporary market shortage of organic whole fennel seeds, and we had to switch to organic milled fennel seeds for about 6 weeks.

We had previously been playing with the idea of getting freshly milled fennel and then fresh-packing it, so we could get the volatile oils released for a stronger cup as there would be no time between milling and packaging fo the oils to dissipate.

However, once we took the chance to try that and see what version folks prefer, we found that almost everyone likes the whole seeds much better. So, if you've been waiting for the return of the whole fennel seeds that you know and love, the tea is finally here!

We'll also wrap up part two of our series on the double whammy of acid reflux and IBS - can you live with both? Yep, and it's a lot easier than you might think. Plus, as always, we have a wealth of new digestive health research findings. Enjoy!

Best Wishes,
Heather Van Vorous

Did a friend send you this newsletter? Sign up here for your own free subscription.

Fabulous Fruit S'Mores

Eating for IBS does NOT mean deprivation, and this recipe is a perfect example. A traditional summer cookout favorite, S'Mores can be an easy, digestion-friendly dessert if you keep just a few things in mind. Use the chocolate sparingly, as it's high in fat, and use two graham crackers per serving for extra soluble fiber.

The fresh fruit adds nutrition and a fantastic summer twist that makes plain S'Mores seem downright boring in comparison. This recipe delights virtually everyone!

Makes one or more servings, easily multiplied

Large marshmallows
Graham crackers
Thinly sliced fresh fruit (try mangoes, bananas, peeled peaches or nectarines)
Semi-sweet miniature chocolate chips

Over a campfire, grill, or stove top, roast one marshmallow per serving till golden brown. While marshmallow toasts, break each graham cracker in half and top one half with a thin layer of fresh fruit, then 1 teaspoon mini chocolate chips. Add toasted marshmallow on top of the chocolate, then top with the other graham cracker half. Enjoy!

For a light summer dessert, have the Fruit S'Mores with a soothing cup of Peppermint Tummy Tea.

Are you just learning how to eat for IBS? A little intimidated at the thought of special IBS recipes? Not quite sure just what makes these recipes special in the first place? Don't worry! Come see the IBS Diet pages, and find the answers to all your questions.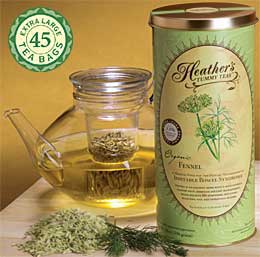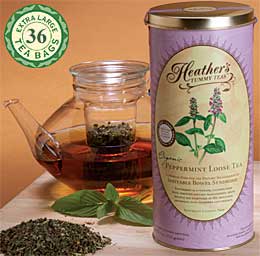 Organic High Volatile Oil Fennel & Peppermint Tummy Tea Bags

Extraordinary Quality ~ Very Economical

Fennel is terrific for bloating & gas, Peppermint is great for IBS pain & spasms.

Feeling 99% Better!

Dear Heather,

I am not very good at expressing myself but I did want to thank you.

I have been diagnosed with IBS, although I truly never believed that was my problem. I have read a number of accounts on your website along with others. I do not believe I have the same symptoms as these others. However, as I have stated, I have been diagnosed with IBS.

I tried several prescription medications, most recently Zelnorm. Although Zelnorm did sort of help, I still never felt 100%. There were times I still had all my symptoms. My symptoms seemed to develop during the night. I would wake up with abdominal cramps/pain, severe headaches and just feeling terrible. I would vomit for hours (among other issues).

It got to the point I needed prescription medication to try to stop the vomiting. The vomiting was my biggest concern. It could last a couple days. While taking Zelnorm, I would only have these symptoms occasionally, which was at least once a month. Without it, it was once a week. Luckily, I work from home.

I obtained your web site from my health insurance carrier. A nurse/nutritionist would contact me monthly while on Zelnorm to see how I was doing. One time she suggested your site. WHAT A WONDERFUL IDEA SHE HAD!!!!!

I first bought your book Eating For IBS. I followed the suggestions and cooked some of the recipes. I was actually feeling better. I would only take Zelnorm occasionally. Then Zelnorm was taken off the market. I didn't know what I was going to do.

I purchased Acacia Tummy Fiber and have been using it for a couple months now. I am glad to tell you I feel 99% better. I say 99% because there are times when I do overdo it and feel a bit yucky.

But I can actually eat a salad as a meal. Before, even a small salad would send me over the edge. I know other people who have stomach/abdominal issues and I give them your website address and even share my Acacia Tummy Fiber.

Thank you very much for your help.

R. Morris

Thank you so much! It truly makes my day to hear how much better you're doing. ~ Heather

Did you miss the recent letter from Jill, who has returned to normal life after finding a "miracle" for her diarrhea and pain?

~ Heather's Tummy Fiber ~
For the Dietary Management of Abdominal Pain, Diarrhea, &, Constipation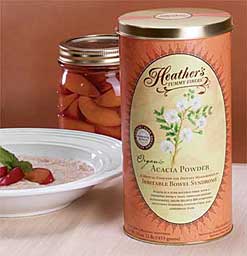 Certified Organic Acacia ~ Pure Soluble Fiber
The prebiotic fiber that relieves both diarrhea and constipation!

** Very Economical ** Only 3 cents per gram of fiber!


New Retail Stores Carrying Heather's Tummy Care Products
We're continuing our special rebate offer for people who buy Tummy Care products at their local stores, and we have new store announcements this week as well.

California
Dr. Glenn Frieder - Acacia Health Center
125 N Acacia Ave, Ste 103
Solana Beach, CA 92075
858-794-0300

North Coast Co-op - Eureka
25 4th St
Eureka, CA 95501
707-443-6027

Queen Bee Spa
10182 Culver Blvd #10182 1/2
Culver City, CA 90232
310-922-7039

VH Stores
1130 East Clark Ave Suite 120
Orcutt, CA 93455
805 938 5657

Delaware
Good News Natural Foods
739 S Governors Ave
Dover, DE 19904
302-730-1910

Idaho
Willow Tree Holistic Health Center
1509 N Whitney Dr #5
Fruitland, ID 83619
208-452-5716

North Carolina
Huffman Herbs
3145 River Road
Morganton, NC 28655
828 433 4919

Washington
Quiet Light Candles
29206 64th Ave NW
Stanwood, WA 98292
360-629-0285

If you don't have a store in your area carrying Tummy Care products yet, please give them this flyer to ask them.






~ Heather's Tummy Tamers Peppermint Oil Capsules ~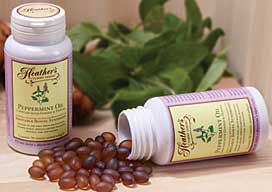 Peppermint Oil Caps Called "Drug of Choice for IBS"

Our Peppermint Oil Caps have the added benefits of fennel and ginger oils, and they help prevent abdominal pain, gas, and bloating!

Response to Gluten-Free Diet in Patients with Diarrhea Dominant IBS
A recent article in Clinical Gastroenterology and Hepatology examined the prevalence of celiac diseaseľassociated serum antibodies in diarrhea-dominant irritable bowel syndrome.

In IBS-diarrhea patients, celiac diseaseľassociated serum IgG antibodies and HLA-DQ2 expression were more frequent than in inflammatory bowel disease patients. After 6 months of a gluten-free diet, stool frequency and gastrointestinal symptom scores returned to normal values in 60% of IBS-diarrhea patients who were positive and in 12% who were negative for HLA-DQ2 and celiac diseaseľassociated serum IgG. The study concluded that celiac diseaseľassociated serum IgG and HLA-DQ2 expression can identify likely responders to a gluten-free diet in IBS-diarrhea patients. Go here for more information about celiac disease.

Go here for more information about this study...

Stress, the Brain-Gut Axis, and IBS
A recent article by Bruce D. Naliboff, PhD, Center for Neurovisceral Sciences and Women's Health, addressed a variety of experimental and clinical studies that support a brain-gut dysfunction model for IBS. In general, IBS patients show altered perception of visceral events that is characterized by hypervigilance, hypersensitivity and increased autonomic arousal.

While peripheral GI factors may play a role in subsets of patients with IBS (e.g. post-infectious IBS), there is converging clinical and neurobiologic research to suggest that enhanced central stress responsiveness involving anxiety may provide a specific mechanism for enhanced visceral sensitivity found in these disorders. GI symptom-specific anxiety may be an especially important variable leading to increased pain sensitivity, hypervigilance and poor coping. Mild psychologic stress increases visceral perception in IBS patients but not in healthy controls and IBS symptoms are exacerbated following stressful life events.

We have also recently shown that visceral-specific anxiety appears to be particularly important in IBS and may be the primary element in mediating the impact between changes in symptom severity and changes in quality of life in IBS sufferers. Recent brain imaging findings have now begun to show the central circuitry that may underlie many of the observations described above. For example, patients with IBS during visceral stimulation show increased activation in the anterior cingulate cortex, a brain region involved in vigilance and discomfort during physical and social situations. Go here for more information about the brain-gut disorder in IBS.

Go here for more information about this study...

Hypnotherapy and IBS
A recent article in eCAM Advance Access, Mind/Body Psychological Treatments for Irritable Bowel Syndrome noted that there has been a long tradition of using hypnotherapy for the treatment of medical conditions. Gut-directed hypnotherapy involves two people initially, one of whom is inducing the hypnotic state and then offering specific suggestions for improved GI functioning. Suggestions are made to reduce fear of pain and discomfort and of pre-occupation with sensation in the gut. The final phase involves imagery to increase one's sense of control and self-efficacy over IBS symptoms.

In a recent review of the hypnotherapy literature in IBS, the review did conclude that the literature supports hypnosis to have a substantial positive impact on IBS, even for patients unresponsive to standard medical interventions. The median response rate was 87% and bowel symptoms generally improved by about 50%, as did psychologic and quality of life variables. The gains appeared to be long lasting.Go here for information about gut-directed self-hypnosis.

Go here for more information about this study...

Looking for more IBS research and news? Check the IBS Research Library!



The Best Gut-Directed Self-Hypnosis Program for All IBS Symptoms

Researchers call gut-directed hypnotherapy a "cure" for IBS!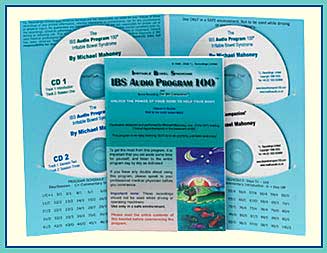 Gives an average 85% reduction of pain and bowel dysfunction symptoms.
Listen to IBS Audio Program 100 samples!

Part 2 - A Diet for IBS and Gerd?
"I have acid reflux and IBS as well. Can I follow the IBS diet or will this make my heartburn worse?"

Last week we tackled part one of this rather involved issue. This week, we take on part two, including everybody's favorite splurge, chocolate - plus, what about fiber for reflux? Can it help or hurt? Read on...

Chocolate, in the form of unsweetened cocoa powder used for baking, is usually very tolerable for IBS, as both the fat and caffeine have been removed. Unfortunately, chocolate in any form can worsen reflux, so if you're prone to heartburn you may well have to forego this particular treat altogether. Why the discrepancy?

Chocolate contains theobromine, a compound that's also found in tea and coffee. Theobromine relaxes the esophageal sphincter muscle (just like peppermint), and can trigger reflux. So chocolate, like peppermint, is one of the few foods that can be perfectly safe for lower, but not upper, GI problems.

Other foods in this category are hot peppers, which contain capsicain. While they can be tolerated, especially in smaller amounts, by many folks with IBS, the capsicain can dramatically trigger reflux and you'll probably want to avoid hot peppers such as jalapenos, habaneros, cayenne, etc. altogether.

This does NOT mean you have to avoid all herbs and spices - to the contrary, most are actually digestive aids, and it's only the capsicain family you need to avoid. There's no need to stick to bland foods unless you actually want to. Feel free to use herbs and spices such as fennel, oregano, rosemary, basil, caraway, anise, ginger, cinnamon, and cloves. They're delicious and they'll benefit your digestion.

Some other general guidelines that are helpful for IBS are equally beneficial for reflux, particularly eating small meals frequently and taking soluble fiber supplements. Keeping your GI tract filled with soluble fiber throughout the day will make a world of difference in helping your digestion (both upper and lower) stay stable.

When it comes to your soluble fiber supplement, be extra careful to avoid citric acid, which makes many "orange" flavored supplements taste, well, orange. Citric acid is, rather obviously, acidic, and this can make a soluble fiber supplement highly problematic instead of helpful for your digestion.

Artificial sweeteners can also wreak havoc on both upper and lower digestive stability. Choose a plain, unflavored, unsweetened soluble fiber supplement like Acacia Tummy Fiber instead of a variety with harmful additives, and you'll get all the benefits without any risk.

Finally, the "no alcohol, no tobacco" rule for IBS (they're both GI irritants) also applies to reflux. So, if you have both digestive problems it's time to change any hard-partying ways (sorry).

~ Heather

Did you miss the recent "Ask Heather" about summer weather and IBS? Find it here...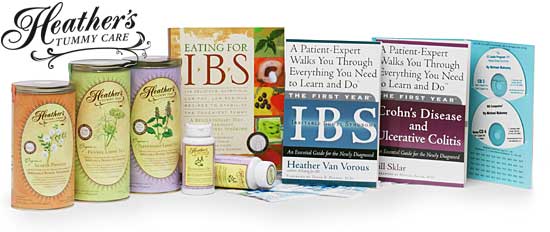 Shop at Heather's Tummy Store for IBS
HelpForIBS.com
The only store that's just for IBS - so we only carry the very best

You're on this newsletter list because you have expressed interest in IBS news and information.




Change your newsletter email address here.

If you are viewing this newsletter on a website and would like to subscribe for email delivery, please "Join the IBS Newsletter" here.

ANTI-SPAM PRIVACY & SECURITY POLICY
HelpForIBS.com
Heather's Tummy Care
80 S. Washington St, #304
Seattle, WA 98104 USA

© 2007 Heather Van Vorous, Heather's Tummy Care. All rights reserved.
USA Copyright Office Registration Number TXU 1-270-858 and others