Heather's IBS Newsletter ~ For Irritable Bowel Syndrome

June 12, 2007

Bloating & Constipation Disappear, Her Life Turned Around! How She Did It....

Hello to everyone, and welcome to our special "beat the heat" summer issue ~

We start with a terrific letter from a woman who went from daily thoughts consumed by IBS, bloating, and constipation to a life that's completely turned around. Her story is a personal validation of last month's research study that, for the first time ever, announced a cure for IBS. See what she did - you can do it too!

We'll also address the surprising impact summer weather can have on your IBS - and what you can do about it.

Finally, we celebrate summer's gorgeous crop of fresh fruit with a peachy lemonade like none other. Plus, as always, the latest in IBS news and research ~ enjoy!

Best Wishes,
Heather Van Vorous

Did a friend send you this newsletter? Sign up here for your own free subscription.

Peachy Summer Lemonade

Aaahhhh, the best lemonade in the whole wide world! The frozen peaches make it thick and frothy and add a note of sweet perfume to the tartness of the lemons, while the Tummy Fiber gives it a great soluble fiber foundation. This drink is wonderfully cool and refreshing on a hot summer day.

Makes 4 Servings

1/2 cup fresh lemon juice
1/3 cup granulated sugar
1/2 cup water
2 Tablespoons Acacia Tummy Fiber (optional)
4 cups frozen peeled fresh peach slices, very slightly thawed

Combine all ingredients except the peaches in a blender and blend well. Slowly add the peach slices a few at a time and blend well after each addition. Pour into glasses and serve immediately with a meal.

For a fast summertime main dish to complement the lemonade, try Easy Apple Skillet Chicken.

Are you just learning how to eat for IBS? A little intimidated at the thought of special IBS recipes? Not quite sure just what makes these recipes special in the first place? Don't worry! Come see the IBS Diet pages, and find the answers to all your questions.

~ Heather's Tummy Fiber ~
For the Dietary Management of Abdominal Pain, Diarrhea, &, Constipation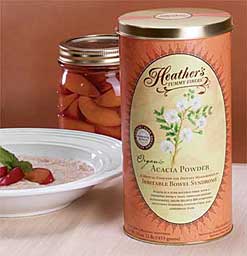 Certified Organic Acacia ~ Pure Soluble Fiber
The prebiotic fiber that relieves both diarrhea and constipation!

** Very Economical ** Only 3 cents per gram of fiber!

My Life Has Turned Around!

Dear Heather,

I just wanted to write to you and tell you how much my life has improved since I found your site almost 2 years ago! I was a sufferer of IBS-Constipation for more than half of my life (I am in my early 40ís now).

I began by following your diet and taking your Tummy Fiber. Things improved greatly, but I still had my down times when the symptoms returned (temporarily). Then in January of this year, I read a testimonial for the IBS Audio program 100 (the hypnotherapy CDs) from an IBS sufferer. I decided that I had nothing to lose so I ordered the program.

I canít describe how much my life has turned around, Heather! I realize now just how consumed my day to day thoughts were about my tummy and the IBS. And since I have completed the program, I am so much more at ease and my 'problems' seem to have all but disappeared. I am not in any way pre-occupied with bloating and how my clothes will fit, etc.

I honestly can't describe how or why the program worked, I am just thrilled to report back that it did work. I hope that you can share my testimonial in order to reach anyone suffering from IBS. There is hope for recovery, there truly is!

Thanks for all of the work you've done! I shudder to think of where my life would be if I hadn't stumbled across this site almost 2 years ago.

C. Brooks
Toronto, Canada

Thank you from the bottom of my heart! I'm so glad you're doing much better! ~ Heather

Did you miss the recent letter from Duane, who lost all his IBS worries PLUS 30 extra pounds?



The Best Gut-Directed Self-Hypnosis Program for All IBS Symptoms

Researchers have now called gut-directed hypnotherapy a "cure" for IBS!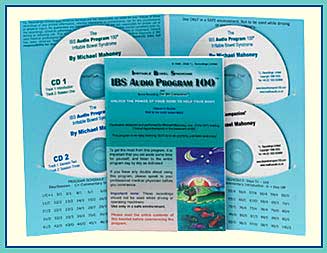 Gives an average 85% reduction of pain and bowel dysfunction symptoms.
Listen to IBS Audio Program 100 samples!


New Retail Stores Carrying Heather's Tummy Care Products
We're continuing our special rebate offer for people who buy Tummy Care products at their local stores, and we have new store announcements this week as well.

California
Carson's Herbals
1064 Calanda Dr
Crestline, CA 92325
909-338-7596

Community Market
1899 Mendocino Ave
Santa Rosa, CA 95404
707 546 1806

Mitchell Sternard, C.N.T.
8424 A Santa Monica Blvd. #806
West Hollywood, CA 90069
310 846 7400
Please call for hours and availability

Mother's Market - Huntington Beach
19970 Beach Blvd.
Huntington Beach, CA 92648
714 963 6667

Idaho
Action Counseling Center
1588 East Lenz Lane
Boise, ID 83712
208 342 8347

Nevada
Dr. Lisa Boote D.C.
1755 E Plumb Lane Suite 128
Reno, NV 89502
775 323 6663
Please call for hours and availability

Texas
FM Specialty Foods
1001 Cross Timbers Road
Suite 1170
Flower Mound, TX 75028
972 956 9334

Wyoming
The Herbal Remedies Store, Inc.
902 E. A St.
Casper, WY 82601
307-577-6444

If you don't have a store in your area carrying Tummy Care products yet, please give them this flyer to ask them.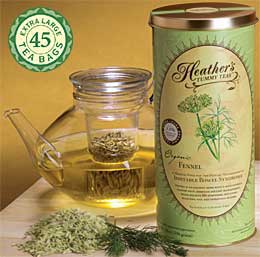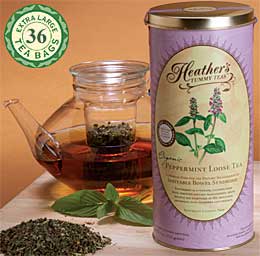 Organic High Volatile Oil Fennel & Peppermint Tummy Tea Bags

Extraordinary Quality ~ Very Economical

Fennel is terrific for bloating & gas, Peppermint is great for IBS pain & spasms.

Barriers to Mind-Body Medicine for IBS
A recent study in Explore noted that mind-body medicine (MBM) approaches to many health problems have been well documented in the literature, and efficacy has been well demonstrated in conditions such as irritable bowel syndrome. However, an apparent disconnect prevents more widespread adoption of such therapies into practice. Biofeedback, relaxation therapy, hypnosis, guided imagery, cognitive behavioral therapy, and psychoeducational approaches are the domain of MBM they examined in assessing physician attitudes, beliefs, and practices.

They found substantial reports that barriers to the use of MBM were largely based on lack of training, inadequate expertise, and insufficient clinic time. There was a high interest in both groups in learning relaxation techniques and meditation and lower interest in biofeedback and hypnosis.

Female physicians were significantly more likely to use MBM, both with patients and for their own self-care, and were less likely to be concerned that recommending these therapies would make patients feel that their symptoms were being discounted. Female physicians also had significantly higher beliefs about the benefits of MBM on health disorders in several of the conditions examined. Go here for more information about this study...

Bacterial Overgrowth Apparently NOT Important in IBS?
A recent study in Gut found that an abnormally high number of bacteria in the small intestine does NOT appear to be a major factor underlying symptoms of irritable bowel syndrome.

Dr. Simren and colleagues at Sahlgrenska University Hospital, Gothenburg note that a high prevalence of small intestinal bacterial overgrowth has been reported in patients with IBS, but those results were based on indirect determination using hydrogen breath tests.

They therefore assessed small intestinal bacterial overgrowth by a direct test -- bacterial culture of small-bowel aspirates -- among 162 patients with IBS and 26 healthy controls. Cultures revealed small intestinal bacterial overgrowth in 4% of patients and 4% of controls.

Signs of enteric dysmotility were seen in 86% of patients with overgrowth and in 39% of patients without. Nevertheless, say the investigators, motility alterations could not reliably predict altered small-bowel bacterial flora.

"However," said Dr. Simren, "mildly increased counts of small-bowel bacteria seem to be more common in IBS," but "its clinical relevance remains unclear." Go here for more information about this study...

Peppermint Oil Effective in Treating Digestive Disorders and Headaches
According to a review in a recent issue of American Family Physician, peppermint oil is effective in treating digestive disorders and other conditions including headaches.

"The medicinal use of peppermint and other mint plants probably dates back to the herbal pharmacopoeia of ancient Greece, where peppermint leaf traditionally was used internally as a digestive aid and for management of gallbladder disease; it also was used in inhaled form for upper respiratory symptoms and cough," write Benjamin Kligler, MD, MPH, from the Albert Einstein College of Medicine of Yeshiva University in New York, and Sapna Chaudhary, DO, from the Beth Israel Continuum Center for Health and Healing in New York.

"Peppermint oil, which is extracted from the stem, leaves, and flowers of the plant, has become popular as a treatment for a variety of conditions, including irritable bowel syndrome (IBS), headache, and non-ulcer dyspepsia." Go here for peppermint oil capsules...

Go here for more information about this study...

Looking for more IBS research and news? Check the IBS Research Library!



~ Heather's Tummy Tamers Peppermint Oil Caps ~For the Dietary Management of Abdominal Pain &, Bloating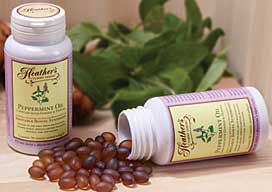 Peppermint Oil Caps with Fennel and Ginger Are Amazing!

Our Peppermint Oil Caps have the added benefits of fennel and ginger oils, and they help prevent abdominal pain, gas, and bloating!

Hot Weather and IBS
"My IBS gets worse in the summer when the weather heats up. What can I do about this?"

It's amazingly common for people with IBS to struggle with symptoms in the summer if they live in a hot, humid climate. This type of weather can make a huge difference in the frequency and severity of your IBS symptoms, in both direct and indirect ways.

Hot, humid weather is a stress factor in and of itself, because 1) heat stresses the body, and 2) air pressure changes from humidity affect the levels of serotonin in the body. Over 90% of that serotonin is in your gut, and current research has demonstrated that serotonin plays a strong role in the underlying pathology of IBS. In fact, prescription drugs that affect the body's serotonin levels are frequently prescribed for IBS patients, so this tells you just how much of an impact weather that affects serotonin levels can also have.

In addition, the effects of humidity on the gut's levels of serotonin can significantly reduce your pain tolerance level, and research studies have also discovered that people with IBS have a lower threshold for gut pain in the first place. We are already prone to experiencing normal gut functions as painful. So, this is quite a double-whammy, and the end result is that muggy summer days are very likely to make your IBS symptoms flare. The heat/humidity combination is also likely to make it more difficult for you to maintain day-to-day stability, especially if you're in the midst of a heat wave that just won't break.

Unfortunately, since you can't control the weather, the best bet is to try everything possible to keep yourself comfortable in spite of it. Try to invest in window air conditioners for your home if you don't have central air, and do everything you can to keep your bedroom cool enough to sleep well at night. If at all possible, get extra sleep, as even minor sleep loss can cause fatigue and a corresponding lower stress-tolerance level, which will just make a bad situation worse.

Take regular escapes to the coolest area of your home (basement? front porch? shady backyard?) and just make yourself comfortable, lie back, and relax as your body cools down. This can also be a great time and place to nap, read, listen to music, or, best of all, follow your daily schedule of gut-directed hypnotherapy. The hypnotherapy will directly affect the enteric nervous system of your gut, and work wonders to counteract the heat and humidity to keep you not just stable, but actively improving.

If you just can't beat the heat at home, try to regularly escape to air conditioned public places such as movie theatres, libraries, cafes, or malls.

Try to limit your time outside to the cooler mornings and evenings. Keep plenty of cool liquids (particularly helpful herbal teas like peppermint and fennel) on hand, and drink them frequently throughout the day. Now is the time to be extra careful not to overwhelm your digestion further with heavy, greasy, or large meals. Keep your diet under control, and make sure you're taking a daily soluble fiber supplement to stabilize your gut.

If hot, humid summers are a given in your region, and they're affecting your health to an extreme degree, you may want to consider moving. It's a drastic step - one that I took myself several years ago, when I moved from New England back home to the Pacific Northwest - but if your local climate is seriously compromising your body and health, the move could be well worth it. It definitely was for me, as summers are no longer something to be struggled against in desperation, but are now once again a favorite (and healthy) time of year.

~ Heather

Did you miss the recent "Ask Heather" about new drugs for IBS? Find it here...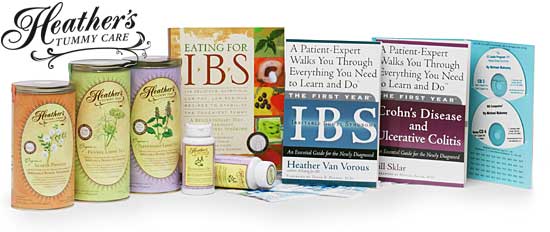 Shop at Heather's Tummy Store for IBS
HelpForIBS.com
The only store that's just for IBS - so we only carry the very best

You're on this newsletter list because you have expressed interest in IBS news and information.




Change your newsletter email address here.

If you are viewing this newsletter on a website and would like to subscribe for email delivery, please "Join the IBS Newsletter" here.

ANTI-SPAM PRIVACY & SECURITY POLICY
HelpForIBS.com
Heather's Tummy Care
80 S. Washington St, #304
Seattle, WA 98104 USA

© 2007 Heather Van Vorous, Heather's Tummy Care. All rights reserved.
USA Copyright Office Registration Number TXU 1-270-858 and others