Heather's IBS Newsletter ~ For Irritable Bowel Syndrome

February 20, 2007 ~ Special Greatest Hits Issue!

Peppermint Oil Capsules Called "Drug of Choice" for IBS

Help for Three Years of IBS Bloating

Hello to everyone -

This week we have a special compilation of "greatest hits" articles, letters, and more, including the conclusion of one GI researcher that peppermint oil capsules should be the first drug of choice for IBS!

We also have a terrific reader letter from a woman whose personal IBS experience echoes such practicality and healthy common sense. Her letter shares the story of how she finally found help for her IBS bloating and pain - after spending over $12,000 in medical bills. Though prescription and over-the-counter drugs didn't help her, one very simple thing did. If you've been struggling with IBS and feel like you've tried everything to no avail, her story will truly resonate with you.

If you're stuck in the winter doldrums waiting for spring, we have a deliciously simple and soothing sweet corn and crab soup to help hold you over. We're also gearing up again for our annual reader survey for Tummy Care products, so check the "Ask Heather" column for more!

Best Wishes,
Heather Van Vorous

Did a friend send you this newsletter? Sign up here for your own free subscription.

Chinese Sweet Corn and Crab Velvet Soup

This is a safe version of a delicious soup served in almost every Chinese restaurant. Using canned creamed corn instead of fresh kernels greatly reduces the risk from the insoluble fiber content, and accents the subtle sweetness of the crab. Don't worry, creamed corn is dairy free! Serve over fresh white rice for extra soluble fiber, and you'll have a simple and light one-dish meal.

Makes 8 Servings

2 tablespoons plus 2 teaspoons cornstarch
1 tablespoon Acacia Tummy Fiber (optional)
6 cups vegetable or fat-free chicken broth
1 slice fresh gingerroot, finely minced
2 tablespoons mirin, Sherry, or white wine
1 tablespoon granulated sugar
2 14.5-oz. cans creamed sweet corn (about 2 1/2 cups)
4 organic egg whites, beaten slightly
1 cup crabmeat or surimi (imitation crab meat)
1/4 teaspoon salt
1/4 teaspoon white pepper

White rice for serving

Put the cornstarch and Tummy Fiber in a small bowl and with a fork slowly stir in just enough water to make a thin liquid. Set aside.

Heat the broth and add the ginger, mirin, sugar, and corn. Bring to a boil and drizzle in the egg whites, swirling the soup with a spoon as you do so (the egg should cook into long strands in the broth). Add the crab, salt and pepper and gradually stir in the liquified cornstarch until soup slightly thickens. Serve over rice.

For a special treat, serve this soup with last week's dessert recipe for Chocolate Decadence Cake.

Are you just learning how to eat for IBS? A little intimidated at the thought of special IBS recipes? Not quite sure just what makes these recipes special in the first place? Don't worry! Come see the IBS Diet pages, and find the answers to all your questions.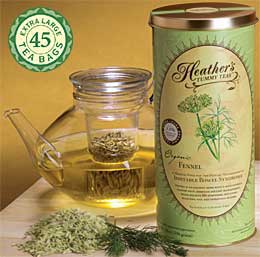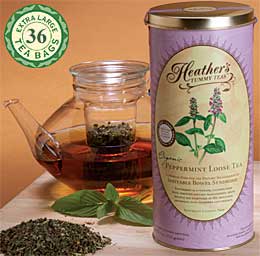 Organic Fennel & Peppermint Tummy Tea Bags

Extraordinary Quality ~ Very Economical

Fennel is terrific for bloating & gas, Peppermint is great for IBS pain & spasms.

Fennel Tea Helps End Three Years of Bloating

Dear Heather,

I wanted to tell you about my last 3 years with IBS. I'll make it short. Until I found your web site and the use of Fennel Tummy Tea, my life had been terrible to say the least. I had surgery on my hiatal hernia 3 years ago, called a Nessin Fundulplication. Six months after the surgery I developed what doctors called IBS.

I lost 24 pounds in 4 months. I was so weak from losing so much nutrition that I spent most of my time in my house in bed. I made myself eat but had to be very careful, as you know. I paid doctors over $12,000.00 in deductibles over the past 3 years. I was so bloated with gas and extreme discomfort in my stomach.

I found out finally that the type of surgery I had can cause a lot of intestinal agony. I would spend hours on the internet looking for any relief. I tried all kinds of over-the-counter drugs and prescription drugs from the doctors. Nothing gave me relief from the spastic colon, all the bloating and the pain, and so much diarrhea.

I started on the Fennel Tummy Tea over a month ago. In just 2 days I lost all the bloating and gas and the pain in my upper stomach. I was apprehensive about these results but kept drinking the tea three times a day. Most of my problems are gone. I just can't believe that such a simple little cup of tea has done so much for me. I can't say enough about this wonderful natural seed. AND I want to thank you for all your years of investigation leading to your website and all the help you have given to so many people.

I don't have to take anymore drugs, not even Immodium. I want you to know that I wrote a letter to my gastro doctor and asked her to tell her patients about your website. Again, thanks to your help I have my life back! I have gained six pounds back in four weeks and have a lot more energy.

Keep up the good work!

Deborah Naert
Des Moines, Iowa

Thank you SO much, Deborah! I really hope your wonderful letter gives hope and help to others. ~ Heather

Did you miss the recent reader letter from Yuri, and why he's no longer suffering through IBS?

~ Heather's Tummy Tamers ~For the Dietary Management of Abdominal Pain &, Bloating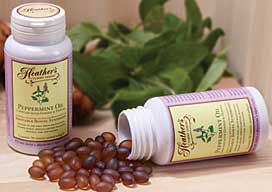 Peppermint Oil Caps with Fennel and Ginger Are Amazing!

Our Peppermint Oil Caps have the added benefits of fennel and ginger oils, and they help prevent abdominal pain, gas, and bloating!

Peppermint Oil Caps Called Drug of First Choice for IBS
A study in Phytomedicine reviewed 16 clinical trials investigating 180-200 mg enteric-coated peppermint oil capsules in irritable bowel syndrome. Nine out of 16 studies were randomized double blind cross over trials, five had a randomized double blind parallel group design and two were open labeled studies.

Placebos were used in 12 trials and anticholinergics (smooth muscle relaxant drugs) in three studies as comparator. Eight out of 12 placebo controlled studies showed statistically significant effects in favor of peppermint oil capsules. Average response rates in terms of "overall success" were 58% (range 39-79%) for peppermint oil caps versus 29% (range 10-52%) for placebo. The three studies versus smooth muscle relaxants did not show differences between treatments; in other words, the peppermint oil capsules were as effective as the drugs. The study noted that both anticholinergic drugs and 5HT3/4-ant/agonists (such as Zelnorm and Lotronex) do not offer superior improvement rates over peppermint oil caps.

Taking into account the currently available drug treatments for IBS, the study noted that peppermint oil capsules may be the drug of first choice in IBS patients with non-serious constipation or diarrhea to alleviate general symptoms and to improve quality of life. Go here for more information about peppermint oil capsules...

Go here for more information about this study...

Mechanisms of IBS, Altered Motility & Visceral Sensitivity
An article in Current Opinions in Gastroenterology addressed the pathophysiologic mechanisms, altered gastrointestinal motility, and visceral hypersensitivity in IBS. The article found that recent evidence strongly suggests that the primary pathophysiologic mechanism of IBS involves a dysregulation in brain-gut interactions. Many central and peripheral factors (genetic predisposition, environmental factors, chronic stress, inflammation or infection) may contribute to an altered brain-gut axis. Those alterations may eventually cause disorders of mucosal immune response, intestinal motility and permeability, and visceral sensitivity that produce abdominal pain or discomfort and compromised bowel function. Go here for more information about this study...

Eating Fats Increases Symptoms in IBS patients
A study in The American Journal of Gastroenterology addressed visceral hypersensitivity in Irritable Bowel Syndrome (IBS) patients, and the fact that symptoms exacerbate postprandially (after eating). The study aimed to evaluate the differences of visceral sensitivity and symptoms in healthy subjects and IBS patients during fasting and intraduodenal lipids (fats) infusion.The study found that intraduodenal lipids infusion significantly lowered the threshold of discomfort in IBS patients in comparison to fasting, while the healthy control group tolerated all distension without discomfort. The predominant symptom elicited in patients with IBS-C was abdominal pain (54%), while patients with IBS-D exhibited urgency (63%). The study concluded that lipids (fats) may be responsible for the postprandial symptoms exacerbation in IBS.Go here for more information about this study...

Eating for IBS pioneered the guidelines for successful dietary management of IBS. Learn how your diet can help safely (and deliciously) reduce and prevent IBS symptoms.

Antidepressants for IBS
A recent article in Current Opinions in Gastroenterology discussed the use of antidepressants for IBS symptoms. The rationale behind using these medications in modulating pain and gut function is that studies have evaluated the efficacy of both tricyclic antidepressants (TCAs) and SSRIs in IBS. The rationale behind their use is based on three theories. First, functional patients often have psychological comorbidities, particularly anxiety, somatization and depression. Second, these medications may have a modulating effect either through a centrally mediated action or a local gut action that changes visceral sensitivity and motor activity or both. Lastly, both SSRIs and TCAs seem to have a central effect in modulating pain. Go here for more information about this study...

Looking for more IBS research and news? Check the IBS Research Library!

~ Heather's Tummy Fiber ~
For the Dietary Management of Abdominal Pain, Diarrhea, &, Constipation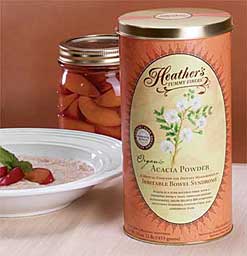 Organic Acacia ~ Pure Soluble Fiber
The prebiotic fiber that relieves both diarrhea and constipation!

Tummy Care Products in Stores?
"I would really like to find the Acacia Tummy Fiber and your other products locally. How do I know if a doctor or store near me carries these items? Can I ask them to?"

Since March 2005, all of the Heather's Tummy Care products have been available to doctors, dietitians, pharmacies, and health food stores across America. We're exhibiting at the Natural Products West Expo March 9-11, and we hope to dramatically extend our reach nationwide as a result of the Expo. We will also be expanding into the UK and Ireland in the next few months and we'll announce those locations when we have full details.

You can always find the complete list of locations for Heather's Tummy Care products on our website's store finder page here. If you don't see anyone on the list near you, and you'd like a medical practitioner or store in your area to carry any of the Heather's Tummy Care products, all you have to do is ask them!

There is a one-page handout that you can download and print here, and give to them. The handout gives them all the information they need to start carrying any or all of the Heather's Tummy Care products. If they're attending the Expo as well, they're welcome to stop by Booth 2013 and ask us any questions they have about how to help people with IBS.

You can also let your local store or practitioner know about Heather's Tummy Care products by completing this survey. With the survey, we can show vendors at the Expo that there are customers in their area who are looking for the Tummy Care products.

As always, we have a very special rebate offer for people who buy Tummy Care products at their local stores. If you don't have a store in your area carrying Tummy Care products yet, please give them this flyer to ask them. ~ Heather

Did you miss the last "Ask Heather" and how to cheat on the IBS diet? Find it here...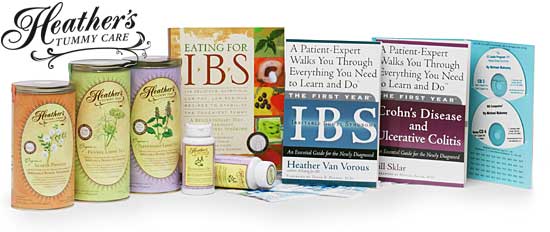 Shop at Heather's Tummy Store for IBS
HelpForIBS.com
The only store that's just for IBS - so we only carry the very best

You're on this newsletter list because you have expressed interest in IBS news and information.




Change your newsletter email address here.

If you are viewing this newsletter on a website and would like to subscribe for email delivery, please "Join the IBS Newsletter" here.

ANTI-SPAM PRIVACY & SECURITY POLICY
HelpForIBS.com
Heather's Tummy Care
80 S. Washington St, #304
Seattle, WA 98104 USA

© 2007 Heather Van Vorous, Heather's Tummy Care. All rights reserved.
USA Copyright Office Registration Number TXU 1-270-858 and others