Heather's IBS Newsletter ~ For Irritable Bowel Syndrome

February 6, 2007

Why One Reader is No Longer Resigned to Suffering through IBS

Hello to everyone -

We have a wonderful reader letter this week from Yuri, who no longer feels resigned to suffering through life with IBS - find out why!

We also tackle the issue of cheating on the IBS diet - can you? What if it turns out you don't even have to? Check this week's Ask Heather column for the delicious reality.

I'm very excited about the wealth of new stores and medical practices to announce that have added Heather's Tummy Care products, and our special retail rebate offer continues.

Plus, we have a special Valentine's Day indulgent recipe, and the latest in IBS news, research, and more. Enjoy!

Best Wishes,
Heather Van Vorous

Did a friend send you this newsletter? Sign up here for your own free subscription.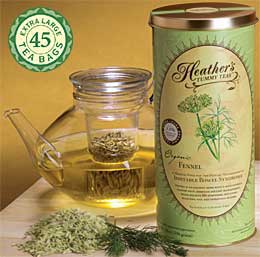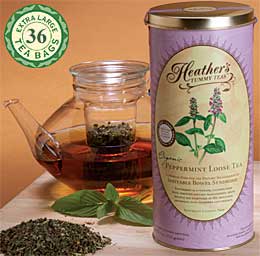 Organic Fennel & Peppermint Tummy Tea Bags

Extraordinary Quality ~ Very Economical

Fennel is terrific for bloating & gas, Peppermint is great for IBS pain & spasms.

Valentine Chocolate Decadence Cake

Here's a "forbidden pleasure" dessert indulgence that will completely dispel the myth that eating safely for IBS means deprivation or boredom. If you've got an extra 15 minutes, you can whip up this cake for yourself and your sweetie and indulge in some pure chocolate heaven. Your tummy (and your sweetie!) will thank you.

Makes 12 Servings

2/3 cup pecans, finely ground
1/2 cup unsweetened cocoa powder
1-2 tablespoon decaffeinated instant coffee granules (optional)
2 tablespoons Acacia Tummy Fiber (optional)
1 1/2 cups granulated sugar
7 large organic egg whites
1/4 teaspoon salt
3 tablespoons canola oil
1 teaspoon vanilla

Preheat oven to 350 F. Spray a 9" non-stick springform pan or heavy gauge cake pan with cooking spray and set aside. In a large bowl whisk together ground pecans, cocoa, coffee granules, Tummy Fiber, and 3/4 cup sugar. Set aside.

In a large bowl beat egg whites with salt until they hold soft peaks. Gradually add remaining 3/4 cup sugar while continuing to beat mixture, then whip until it just holds stiff peaks. Gently fold one third of egg white mixture into pecan mixture to lighten the batter. Partially fold remaining egg white mixture into pecans, then add oil, and vanilla, and fold all ingredients together gently but thoroughly.

Pour batter into prepared pan, smooth top, and bake 30-40 minutes or until a tester inserted in middle comes out with moist crumbs. Immediately run a thin sharp knife around edges of cake to loosen from the sides of the pan, then cool cake, in the pan, on a rack (it will fall as it cools). Run a thin knife around edge of pan again and remove side of pan if using a springform. Slice with a thin sharp knife and serve warm or cold.

For a wonderful treat, serve this cake with a heavenly cup of Cinnamon Chai!

Are you just learning how to eat for IBS? A little intimidated at the thought of special IBS recipes? Not quite sure just what makes these recipes special in the first place? Don't worry! Find the answers to all your questions in the IBS Diet Kit.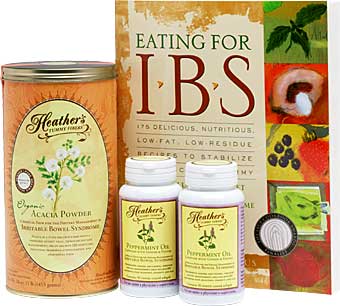 Try the IBS Diet Kit #2 - for Diarrhea AND Constipation!

Here's the immediate, tangible help you need to take control of your IBS symptoms through diet. Includes the book Eating for IBS, Tummy Fiber Acacia, and Peppermint Oil Tummy Tamers. Help regulate bowel motility and prevent painful IBS spasms!




New Retail Stores Carrying Heather's Tummy Care Products
We're continuing our special rebate offer for people who buy Tummy Care products at their local stores, and we have new store announcements this week as well.

Arizona
Vitamin House West
13576 Camino Del Sol, Ste 14
Sun City West, AZ 85375
623-584-7532

California
BodyMind Therapy, Inc.
406 S. Mountain Ave
Claremont, CA 91711
909-624-2459

The Health Nut
2204 Main St
Susanville, CA 96130
530-257-5800

Connecticut
Dr. Liz Herman
Bethel Naturopathic Medical
10B Elizabeth St
Bethel, CT 06801
203-748-4447

Nature's Way Health Food Store
922 Barnum Ave Cutoff
Stratford, CT 06614
203-377-1740

Michigan
The Health Mart
369 N. Main St
Milford, MI 48381
248-676-8085

Texas
Brazos Natural Foods
4303 South Texas Ave
Bryan, TX 77802
979-846-4459

If you don't have a store in your area carrying Tummy Care products yet, please give them this flyer to ask them.


New Stores That May Add Tummy Care Products
We have quite a long list of stores (and we update the list each week) that have expressed interest in carrying our products, have asked for samples and information, but have not yet ordered.

To see if one of these stores is in your area, please check our list of potential stores and practitioners. If someone on the list is near your location please let them know you'd like them to add the Tummy Care line for you.



The Best Gut-Directed Self-Hypnosis Program for All IBS Symptoms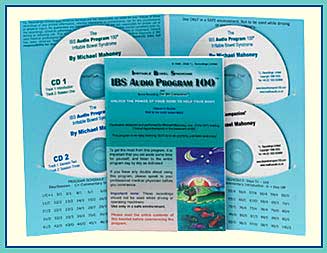 Gives an average 85% reduction of pain and bowel dysfunction symptoms.
Listen to IBS Audio Program 100 samples!

Why Yuri is No Longer Suffering Through IBS

Dear Heather,

I've been taking your Acacia Tummy Fiber now for a few months. Before I was taking Fibercon with mixed results, and after going to many doctors over 6 years I figured that IBS was just something I had to suffer through.

Your Tummy Fiber has done wonders for me. Not only is my stomach doing MUCH better, but I can eat foods now that I could never eat before without major pain. I do try to eat good foods...but my schedule dictates sometimes that I eat horribly. Today for lunch I had 4 slices of pizza--and have had NO stomach pain. Before these last few months, 1 slice of pizza would put me in pain for hours.

This is truly amazing! Even when I forget to take the fiber my stomach is still much better than it was before--leading me to believe that taking your fiber has actually partially healed my stomach.

I truly thank you for your amazing work, and for making my life so much better.

Sincerely,

Yuri G.
Boston, MA

P.S. I really have learned a lot from your excellent website too!

Thank you so much, Yuri. I'm so happy to hear this! ~ Heather

Did you miss the recent reader letter from Cindy, and the help she found as a last resort?

~ Heather's Tummy Fiber ~
For the Dietary Management of Abdominal Pain, Diarrhea, &, Constipation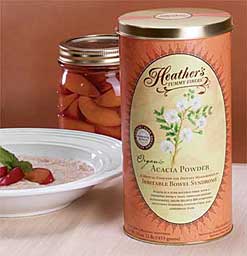 Organic Acacia ~ Pure Soluble Fiber
The prebiotic fiber that relieves both diarrhea and constipation!

** Very Economical ** Only 3 cents per gram of fiber!

Physical Activity Helps Bloating
A recent American Journal of Gastroenterology study noted that patients complaining of abdominal bloating have impaired tolerance and clearance of intestinal gas loads. This study's aim was to evaluate the putative beneficial effects of physical activity in patients with abdominal bloating. The study concluded that mild physical activity enhances intestinal gas clearance and reduces symptoms in patients complaining of abdominal bloating. Go here for more information about this study...

Go here for more information about bloating, IBS, and treatments...

Probiotics Helpful for Women with IBS
This study in a recent American Journal of Gastroenterology was designed to confirm the efficacy of the probiotic bacteria B. infantis 35624 in a large-scale, multicenter, clinical trial of women with IBS. The study determined that the probiotic was significantly superior to placebo and all other bifidobacterium doses for the primary efficacy variable of abdominal pain as well as the composite score and scores for bloating, bowel dysfunction, incomplete evacuation, straining, and the passage of gas at the end of the 4-wk study. The study concluded that this probiotic specifically relieves many of the symptoms of IBS. Go here for more information about this study...

Neuromuscular Dysfunction and IBS
A recent Medscape Gastroenterology article addressed Neuromuscular Dysfunction and IBS: Clinical Implications, with a focus on drug treatments. The article concluded that the heterogeneity in the pathogenesis of IBS creates unique challenges when designing and assessing the efficacy of novel therapies. For the foreseeable future, it is unlikely that there will be a "magic bullet" for IBS sufferers. Given our current level of understanding, the practice of subgrouping IBS patients on the basis of predominant bowel pattern is a good first step, but clearly it is not the final answer to defining which drugs will be most effective for which patients. As the process of new drug discovery proceeds, emphasis should be placed not only on how often or how much a drug improves global and individual symptoms in IBS sufferers, but also on ways in which the clinician can identify the subset of patients most likely to benefit from a specific drug. Go here for more information about this study...

Looking for more IBS research and news? Check the IBS Research Library!

Now with 50% More Enteric Coating!
~ Heather's Tummy Tamers ~
For the Dietary Management of Abdominal Pain &, Bloating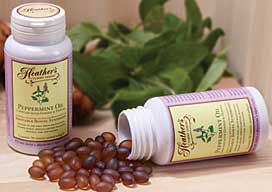 Peppermint Oil Caps with Fennel and Ginger Are Amazing!

Our Peppermint Oil Caps have the added benefits of fennel and ginger oils, and they help prevent abdominal pain, gas, and bloating!

Can I Cheat on the IBS Diet?
"I try my best to stick to the Eating for IBS diet, but sometimes I really want to cheat. Can I?"

Well.....the smart answer to this question is, of course, no. The practical reality for most IBS folks, once they're stabilized, is a conditional (and only occasional) yes. Listen to your own body on this one. It will tell you what you can - and can't - get away with. If you're at all unstable or unsure, please don't even take the chance.

The happy medium, however, is that there are so many fantastic IBS-safe recipes, you really don't need to cheat even if you feel like a splurge. In other words, dietary indulgence and GI stability are not mutually exclusive.

Don't believe me? Then check out our newly updated (thanks to Melissa, message board Recipe Goddess) IBS Recipe Index. The index now has, quite literally, thousands of IBS-friendly and completely delicious recipes.

Feel like a fast-food splurge? Try one of the 18 recipes for French fries on the Index - from basil fries to spicy steak fries, gravy fries, and more. Want a burger with those fries? You've got literally dozens to choose from, including Asian, Greek, Southwestern, and Italian variations.

Is it your sweet tooth that needs indulging? The Index has brownies, cakes, cookies and pies galore! Treat yourself to hot fudge brownies, red raspberry velvet cake, gingerbread biscotti, strawberry chiffon pie, or hundreds of other decadent desserts.

For a fast and easy way to make ANY recipe safer for IBS, just add Acacia Tummy Fiber to it. If the dish is something moist, you can sprinkle a dose right over your serving and it will melt right in. If you want to actually cook with the Tummy Fiber, simply add 1 Tablespoon per cup of liquid and whisk when making soups, casseroles, pasta sauces, etc. For baking, add 1 Tablespoon per cup of flour and whisk.

It's easy to be so happily well-fed and supremely satisifed that your taste buds will think you've been cheating...but your tummy will know that you haven't!

~ Heather

Did you miss our recent "Ask Heather" and the 5 key strategies for managing IBS? Find it here...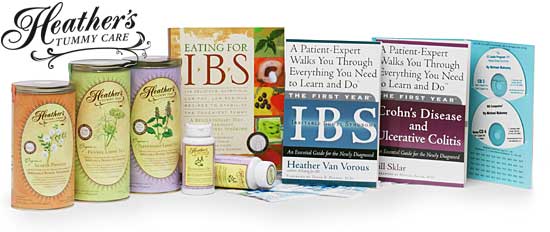 Shop at Heather's Tummy Store for IBS
HelpForIBS.com
The only store that's just for IBS - so we only carry the very best

You're on this newsletter list because you have expressed interest in IBS news and information.




Change your newsletter email address here.

If you are viewing this newsletter on a website and would like to subscribe for email delivery, please "Join the IBS Newsletter" here.

ANTI-SPAM PRIVACY & SECURITY POLICY
HelpForIBS.com
Heather's Tummy Care
80 S. Washington St, #304
Seattle, WA 98104 USA

© 2007 Heather Van Vorous, Heather's Tummy Care. All rights reserved.
USA Copyright Office Registration Number TXU 1-270-858 and others