Heather's IBS Newsletter ~ For Irritable Bowel Syndrome

May 16, 2006



Hello to everyone -

We have five days left in our special sale on peppermint oil capsules just for IBS Newsletter subscribers. If you'd like to try the newly formulated caps with 50% more enteric coating, which should make them more tolerable for people prone to heartburn and reflux, use the promo code PEPCAP0506 for an extra 10% off. This is over and above the 20% discount that is standard on the website - after the sale the normal website discount will drop from 20% to 15% as the new enteric coating is much more costly. The sale ends Sunday, May 21.

I've been inundated recently with people asking about IBS developing in children, so this week's Ask Heather column tackles that issue. Is it even possible for someone to have IBS in childhood? Check the column and find out!

Finally, we have new stores that have added Heather's Tummy Care products, and as always we have the latest IBS news and research. Enjoy!

Best Wishes,
Heather Van Vorous

Did a friend send you this newsletter? Sign up here for your own free subscription.

Sticky Date Bars

These are a very old-fashioned, traditional cookie bar that my grandmother baked all the time when I was growing up. They're gooey, sticky, sweet, and buttery-rich. Amazingly, they're also nutritious, thanks to their generous use of dates and oatmeal. And of course, they're IBS friendly, as they're very high in soluble fiber, dairy -free, and low fat. Don't be intimidated by the multiple recipe steps - these bars come together easily, even for novice bakers.

Makes 16 bars

Preheat oven to 350F. Lightly spray a 9 x 9" baking pan with cooking oil and set aside.

8 oz. pitted dates
1/2 C water
1/4 C granulated sugar
2 T Acacia Tummy Fiber (optional)

In a small saucepan, cook all ingredients together on medium low heat (at a low simmer), uncovered, until soft and mushy, about 15 minutes. Stir occasionally to mash dates with spoon. Remove from heat and add:

1/2 t vanilla extract

In a blender or spice grinder, blend to a fine powder:

1/2 C plus 2 T oatmeal

Add oatmeal to a medium bowl, then stir in:

1/2 C plus 2 T unbleached flour
1/2 t baking powder
1/4 C brown sugar

Using your fingers, knead into flour mixture until evenly blended and crumbly:

1/3 C non-hydrogenated soy butter such as Organic Spectrum or Soy Garden

Firmly pat 2/3 of crumb mixture into prepared pan. Gently spoon and carefully spread date mixture over entire pan. Sprinkle dates with remaining crumb mixture. Bake about 25-30 minutes, until crumb topping is light golden brown, then cool in pan on rack.

These sticky bars are a great dessert with last week's New England Clam Chowder.

Are you just learning how to eat for IBS? A little intimidated at the thought of special IBS recipes? Not quite sure just what makes these recipes special in the first place? Don't worry! Come see the IBS Diet pages, and find the answers to all your questions.

~ Heather's Tummy Fiber ~
For the Dietary Management of Abdominal Pain, Diarrhea, &, Constipation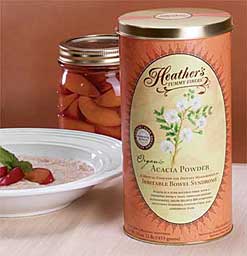 Organic Acacia ~ Pure Soluble Fiber
The prebiotic fiber that relieves both diarrhea and constipation!


New Retail Stores Carrying Heather's Tummy Care Products
We're continuing our special rebate offer for people who buy Tummy Care products at their local stores, and we have new store announcements this week as well!

California
Farm to Market
30190 Town Center Drive
Laguna Niguel, CA 92677
949-363-0123

Ocean Beach People's Coop
4765 Voltaire St
San Diego, CA 92107
619-224-1387

Minnesota
Mastel's Health Foods
1526 St. Claire Avenue
St. Paul, MN 55105
651-690-1692

Oregon
Nature, Body and Mind, Inc.
181 Beverly Drive
Oregon City, OR 97045
503-956-0214
Phone and internet orders only

If you don't have a store in your area carrying Tummy Care products yet, please give them this flyer to ask them.

New Stores That May Add Tummy Care Products
We have quite a long list of stores that have expressed interest in carrying our products, have asked for samples and information, but have not yet ordered. To see if one of these stores is in your area, please check our list of potential stores and practitioners. If someone on the list is near your location please let them know if you'd like them to add the Tummy Care line for you.

Tummy Care Product Demo at Boise Coop on May 12
The Boise Coop in Boise, Idaho, is featuring a fun and educational product demo of Acacia Tummy Fiber, Peppermint and Fennel Tummy Teas, and more on May 12 from 11am till noon. There will be free samples to try, giveaway items, and IBS dietary cheet sheets to take home.

The Boise Coop's mission is to deliver the finest sustainable and specialty products to their community, and they strive to support organic and fair trade practices. We are thrilled that they're featuring our Tummy Care product line, and we hope you'll drop by to see them for what is sure to be a terrific event.


Eating for IBS - Dietary Relief of Irritable Bowel Syndrome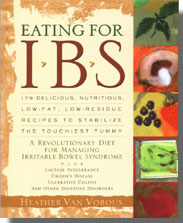 Eating for IBS has inspired thousands of thank you letters!
Read a sample of them here.

A Psychologist Finds Success Living with IBS
Dear Heather,

I want to thank you. Thank you for giving me a way to live with my IBS. I have had IBS for at least 15 years, and have slowly made changes in my diet throughout those 15 years. But, last summer, I reached for your book Eating for IBSin the middle of an IBS attack, and finally surrendered to the complete reality of IBS. Before that, I was hanging on to the final threads of delusion that I could eat like everyone else. And, now I know more than ever I cannot. Your wisdom, books, products, and ample good recipes have given me a way to live that is making the biggest difference in my life, ever.

Recently, I started a second job, and my schedule is very busy. I hired a cook to cook IBS safe recipes for me in my own home. I would have never been able to take such a risk before. If it were not for your book, or your contributions, I would not know the peace and calm I can rest in these days. I have always wanted to thank you. I am a psychologist. My IBS has given me a lens to see suffering through. I am grateful for it in many ways. I can feel my clients' struggles deeply. Now I can offer them a hope that springs from my own experience. I thank you for giving me that place to crawl into.

In gratitude,
Connie Hills
San Francisco, CA

Thank you SO much, Connie! I know it will be amazing to so many folks with IBS to hear from someone who has not only come out ahead, but is now helping others as a result. What a wonderful story. ~ Heather

Did you miss the last reader letter? Find it here...

The Best Gut-Directed Self-Hypnosis Program for All IBS Symptoms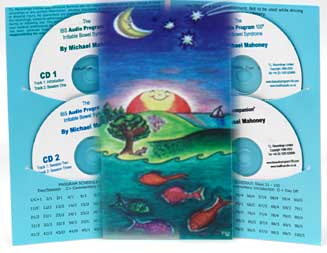 Gives an average 85% reduction of pain and bowel dysfunction symptoms.
Listen to IBS Audio Program 100 samples!

Gut-Directed Hypnotherapy in Patients with IBS
A recent study at the University of Edinburgh quantified health-related quality of life in a group of irritable bowel syndrome patients and measured changes following a treatment programme of nurse-led gut-directed hypnotherapy.

The study recognized that health-related quality of life can be severely impaired in patients suffering form the irritable bowel syndrome, and current conventional treatment is often unsatisfactory. In contrast, it has been shown that gut-directed hypnotherapy is an effective treatment of irritable bowel syndrome, with up to three-quarters of patients reporting symptomatic improvement.

This study resulted in pysical symptoms statistically improved after hypnotherapy. There were also significant statistical improvements in six of the eight health-related quality of life domains measured (emotional, mental health, sleep, physical function, energy and social role). These improvements were most marked in female patients who reported abdominal pain as their predominant physical symptom. Anxiety and depression improved following treatment.

The study concluded that gut-directed hypnotherapy has a very positive impact on health-related quality of life with improvements in psychological well-being and physical symptoms. Go here for more information about gut-directed self-hypnosis for IBS and to listen to program audio samples.

Go here for more information about this study...

Gender, Age, Society, Culture, and the Patient's Perspective in IBS
A recent study in Gastroenterology found that patients with functional gastrointestinal disorders (FGID) such as Irritable Bowel Syndrome often experience emotional distress, a perceived lack of validation, and an unsatisfactory experience with health care providers. A health care provider can provide the patient with a framework in which to understand and legitimize their symptoms, remove self-doubt or blame, and identify factors that contribute to symptoms that the patient can influence or control. This framework can be strengthened with the consideration of various important factors that impact FGID but are often overlooked. These include gender, age, society, culture, and the patient's perspective. Go here for more information about this study...

Probiotics and Chronic Illness
A recent article in the Journal of Clinial Gastroenterology found that changed lifestyles and the increased use of antibiotics are significant factors that affect the preservation of a healthy intestinal microflora. The concept of probiotics is to restore and maintain a microflora advantageous to the human body. Basic research on probiotics has suggested several modes of action beneficial for the human body and clinical research has proven its preventive and curative features in different intestinal and extraintestinal diseases.

Positive, strain-specific effects of probiotics have been shown in diarrheal diseases, inflammatory bowel diseases, irritable bowel syndrome, and Helicobacter pylori-induced gastritis, and in atopic diseases and in the prevention of cancer. As the majority of probiotics naturally inhabit the human intestinal microflora, their use has been regarded as very safe. Go here for more information about this study...

Introduction to IBS Constipation - the Problem
A recent article in Medscape Gastroenterology by Dr. Michael Gershon gave an overview of the problem of IBS Constipation. The article noted that irritable bowel syndrome (IBS) and chronic constipation are aggravating for patients, physicians, drug companies, and regulatory authorities. Patients suffer and their quality of life is impaired. Nontraditionally, the effect on quality of life is worse in younger than older individuals.

This suffering and unhappiness is transferred to physicians who must choose between traditional therapies with little evidence of benefit and modern drugs that they suspect are only slightly more effective than placebos and which may exert frightening side effects, such as ischemic colitis. Physicians must also diagnose IBS, not satisfyingly with a blood test or biopsy, but as a symptom complex, based on the well-accepted Rome II criteria, about which nongastroenterologists unfortunately know little.

Drug companies see chronic constipation and IBS as a potentially lucrative market because of their wide prevalence (affecting respectively up to 15% and 20% of the population), but they have been frustrated by attitudes of regulatory agencies. Regulatory agencies see neither IBS nor chronic constipation as life-threatening and tend to trivialize their symptoms as "lifestyle" complaints. Potential efficacy of a drug is thus downplayed in favor of safety. Go here for more information about this study...

Looking for more IBS research and news? Check the IBS Research Library!

~ Heather's Tummy Tamers ~For the Dietary Management of IBS Abdominal Pain &, Bloating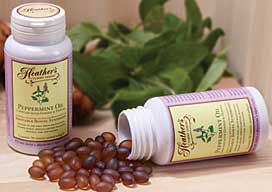 Peppermint Oil Caps with Fennel and Ginger Are Amazing!

Our Peppermint Oil Caps with the added benefits of fennel and ginger oils help prevent abdominal pain, gas, and bloating!

Children and IBS
Can children have Irritable Bowel Syndrome?

Yes - without a doubt, children can develop IBS. I personally had my first attack at age 9, though I went undiagnosed until age 16. The most common age at diagnosis is late teens to early twenties, but children as young as 4 have been formally diagnosed. IBS does seem to run in families, so I would be particularly suspicious when there are close relatives who have the disorder, even though researchers have not yet found a solid genetic link.

Children with IBS should be diagnosed in the same way as adults: they need to have other possible disorders ruled out first, and then their symptoms must be evaluated and found to match the Rome II Criteria. The main criteria are:

At least 12 weeks (which need not be consecutive) in the preceding 12 months, of abdominal discomfort / pain that has two out of three of these features:

1. Relieved with defecation; and/or
2. Onset associated with a change in frequency of stool; and/or
3. Onset associated with a change in appearance of stool.

There are additional supporting symptoms of IBS under the Rome II criteria as well. If you have a child who may have IBS, but you're dealing with a doctor who is not familiar with these diagnostic guidelines, I'd suggest seeking a second opinion from a different physician, preferably a pediatric gastroenterologist.

The avenues of treatment for IBS are much the same in children as in adults. Dietary changes are likely to be very helpful, and the Eating for IBS guidelines are perfectly appropriate (and healthy) for growing children. Enteric coated peppermint oil capsules are, to my knowledge, the only IBS treatment with clinical studies conducted specifically on children (a 2001 trial found that 75% of children receiving peppermint oil capsules had reduced severity of pain associated with IBS).

Gut-directed hypnotherapy has also been shown to be both highly effective, and safe, for children with IBS. A soluble fiber supplement such as Acacia Tummy Fiber is a safe way to regulate bowel function in children, though if your child is under age twelve it's helpful to ask your doctor for the exact recommended daily fiber dose.

If you are personally dealing with a child who has been diagnosed with IBS, there are special sections in the First Year: IBS book that can be quite helpful. Children's concerns and issues can differ tremendously from those of adults, and this is a topic quite close to my heart so I addressed it in detail.

~ Heather

Did you miss the last "Ask Heather"? Find it here...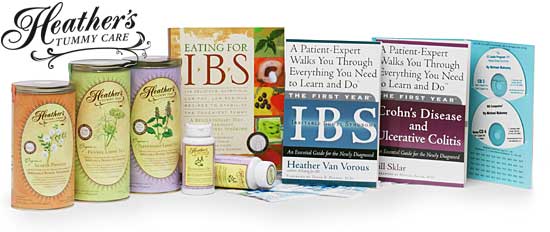 Shop at Heather's Tummy Store for IBS
HelpForIBS.com
The only store that's just for IBS - so we only carry the very best

You're on this newsletter list because you have expressed interest in IBS news and information.




Change your newsletter email address here.

If you are viewing this newsletter on a website and would like to subscribe for email delivery, please "Join the IBS Newsletter" here.

ANTI-SPAM PRIVACY & SECURITY POLICY
HelpForIBS.com
Heather's Tummy Care
80 S. Washington St, #304
Seattle, WA 98104 USA

© 2006 Heather Van Vorous, Heather's Tummy Care. All rights reserved.
USA Copyright Office Registration Number TXU 1-270-858 and others