Heather's IBS Newsletter ~ For Irritable Bowel Syndrome

April 4, 2006

IBS Research Studies - How You Can Participate

Hello to everyone -

This week we have a number of IBS research studies that you can personally participate in, plus information about how to find ongoing clinical trials in your area. If you're interested in the newest and most promising avenues of treatment for IBS symptoms, this is an option you'll definitely want to explore.

We also have a delicate raspberry angel kiss dessert to welcome spring on a sweet note, and a reader letter that takes us on a week of amazing progress with the IBS diet. I hope her story inspires you!

Best Wishes,
Heather Van Vorous

Did a friend send you this newsletter? Sign up here for your own free subscription.

Raspberry Angel Kisses

These are the lightest, airiest, most guilt-free cookies imaginable - and you could eat the whole batch without fear of triggering IBS symptoms. The raspberry kisses are a delicate pale pink, and look as delicately luscious as they taste!

Makes about 36 cookies

3 organic egg whites, at room temperature
1/4 teaspoon cream of tartar
1/8 teaspoon salt
3/4 cup granulated sugar
1/4 cup seedless red raspberry preserves
7-8 drops red food coloring if desired

Preheat oven to 250F. Cover 2 cookie sheets with parchment paper or brown paper (from brown paper bags). In large bowl, beat egg whites, cream of tartar, and salt until soft peaks form. Gradually add sugar, beating until very stiff peaks form, about 5 minutes. Add preserves (and food coloring) and beat one minute at high speed. Drop meringue by small teaspoonfuls or pipe with pastry tube into one-inch mounds onto lined cookie sheets. Bake for 40-45 minutes, or until the tops of cookies feel dry to the touch. Reduce heat if they begin to brown. Cool completely before removing from paper.

For a truly special treat, serve as dessert with last week's recipe for Hearty Chicken Mushroom Marsala.

Are you just learning how to eat for IBS? A little intimidated at the thought of special IBS recipes? Not quite sure just what makes these recipes special in the first place? Don't worry! Come see the IBS Diet pages, and find the answers to all your questions.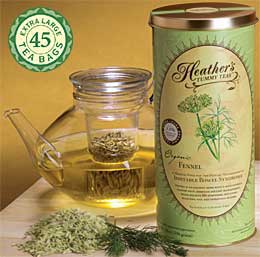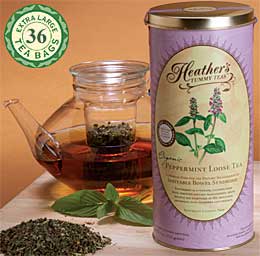 Fennel & Peppermint Tummy Teas - High Volatile Oil Content
Jumbo Organic Tea Bags!

Fennel is terrific for bloating & gas, Peppermint is great for IBS pain & spasms.

One Week on the Road to IBS Recovery
I often hear from people when they first discover Help For IBS and are so hopeful that the information and products will help them. It's wonderful to then see their follow-up letters, as they track their progress and let me know how things are going. This week, I have a particularly happy letter to share from Julianne, who saw immediate changes for the better and was kind enough to keep me updated as her IBS dramatically improved. ~ Heather

March 6, 2006~ Hi Heather, I was recently diagnosed with IBS, and my symptoms are a dull, constant pain in my stomach, constipation, and SEVERE bloating (for two years now). I just bought your book Eating for IBS, and I am starting on the road to the diet in the hopes it will help with my symptoms. The bloating is horribly uncomfortable, and affects my breathing. I have tried Zelnorm, and I am now taking Dicetel. I don't feel either has helped me that much.

March 9, 2006 ~ Hi Heather, I've been following your diet for just under a week now, and I cannot believe the difference. The dull ache in my stomach is almost completley gone, and the bloating, although still there, is much more manageable (I only look 5 months pregnant now!)

After two long years, I feel I am slowly getting back to normal. This bout with IBS has totally affected my life, and I am looking forward to being well again. I can't thank you enough. My doctor simply gave me a "bandaid" solution, but you got to the root cause of the problem. I feel lucky that I found you.

March 13, 2006 ~ Hi Heather, After being on the diet for 1 week now, it's looking like this is the answer for me. That constant ache in my stomach is finally gone! It's working!

Thanks for your help!

Julianne Timms
Hamilton, Ontario

Thank you so much for all your updates, Julianne! I hope you continue to feel better each and every day. ~ Heather

Did you miss the last reader letter from Claire in Edinburgh? Find it here...

Comprehensive IBS Dietary Help for ALL IBS Symptoms
Heather's IBS Kitchen Kit - 20% Off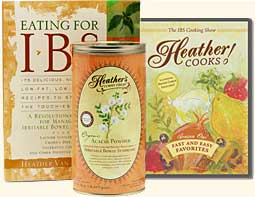 Eating for IBS, the complete IBS dietary guide
plus the IBS cooking show DVD
plus Acacia Tummy Fiber, to relieve both diarrhea and constipation!

Boston IBS Research Study - Please Participate
Boston Medical Center in Massachusetts is seeking volunteers in the Boston area to take part in a research study about patient education for Irritable Bowel Syndrome. The study involves one in-person visit and filling out questionnaires. The compensation for the study is $15 - $25. To learn more about this study please contact the study coordinator, Abha Verma, at (617) 638-6579 or email: abha.verma@bmc.org.

Nationwide United States IBS Research Study - Please Participate
Females over the age of 18 living the US are being asked to complete a postal survey about their daily life with Irritable Bowel Syndrome. Researchers at the Philadelphia College of Osteopathic Medicine in Pennsylvania are offering $10 for participation in the survey. The written survey will take about 45-60 minutes to complete. For details please contact Troy Heckert, MA, MS, at (267) 307-1006 or email: troyh@pcom.edu.

IBS Diet Study Continues - Please Participate
There is currently an ongoing clinical trial of the dietary guidelines original to the book Eating for IBS that is open to new patient participation. Dr. Noel Hershfield, a gastroenterologist in Calgary, Canada, is a physician who has been researching the effects of the IBS diet on his patients and he is looking to expand his study. Final results will be published in a peer-reviewed medical journal.

Interestingly, Dr. Hershfield began this study after having a dramatic reduction in his own IBS symptoms after adjusting his diet to the Eating for IBS guidelines. His own personal success at overcoming symptoms through diet, plus the realization that IBS clinical research has so far almost completely ignored dietary influences, sparked his determination to conduct the study. If you live in Calgary, please participate in the research by contacting Dr. Hershfield's office at (403) 240-4084. Go here for more information about this study's dietary guidelines...

IBS Drug Zelnorm Rejected Again in Europe
The European Medicines Agency's (EMEA) review committee has recommended against the approval of Swiss drug major Novartis' Zelnorm (tegaserod) for the treatment of women suffering from irritable bowel syndrome with constipation.

This advice followed an appeal procedure undertaken by the firm in December 2005 after the first time that the EMEA's Committee for Medicinal Products for Human Use recommended that the European Commission not approve the serotonin-4 receptor blocker.

The CHMP was concerned that the results of the Zelnorm clinical study would not translate into real benefit to the patient treated to relieve the symptoms of this disorder in standard health care setting. The CHMP was of the opinion that Zelnormís benefits are not greater than its risks. Hence, the CHMP recommended that Zelnorm be refused marketing authorisation.

Commenting on the CHMP's decision, James Shannon, head of global drug development at Novartis Pharma, said he was disappointed. Go here for more information about Zelnorm...

Looking for more IBS research and news? Check the IBS Research Library!

~ Heather's Tummy Tamers ~For the Dietary Management of Abdominal Pain &, Bloating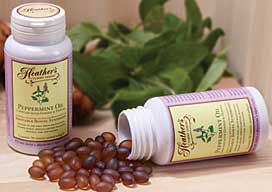 Peppermint Oil Caps with Fennel and Ginger Are Amazing!

Because our Peppermint Oil Caps have the added benefits of fennel and ginger oils, they are truly unbeatable for preventing abdominal pain, gas, and bloating!

IBS Clinical Trials
"I'd like to participate in IBS research. How can I do that?"

As you can tell from the IBS news and research section above, there is a wave of new research into IBS, and as a result there are many different clinical trials taking place across America and the UK. A number of university hospitals, such as the University of North Carolina at Chapel Hill, the University of California at Los Angeles, and the University of Washington in Seattle, conduct IBS trials in various areas of research on an ongoing basis. If you live in these areas, simply call the GI department of the university hospital and ask for referrals to current trials. Research may be ongoing into diet, gut-directed hypnotherapy, acupuncunture, biofeedback, IBS drugs, pediatric concerns, and many other avenues.

The best source for tracking and learning about IBS research trials all across the world is the CenterWatch Clinical Trials Listing Service. Studies are organized by state and/or country, and a brief description of each clinical trial is provided, as well as full contact information for the study center. Many (but by no means all) of the studies are for investigational drugs, and some of them are symptom-specific (diarrhea, constipation, etc.).

If you don't see any current studies in your area, you can join the notification service and be alerted via email of any new trial listings in your geographic area. Most clinical trials include some form of patient financial compensation, in addition to the free medical services and treatments. If you're interested in newly developing avenues of IBS symptom management, or simply want your voice to be heard as an IBS patient, clinical trials can be a good place to start.

~ Heather

Did you miss the last "Ask Heather" and a revisit of an IBS diet sneaky sin? Find it here...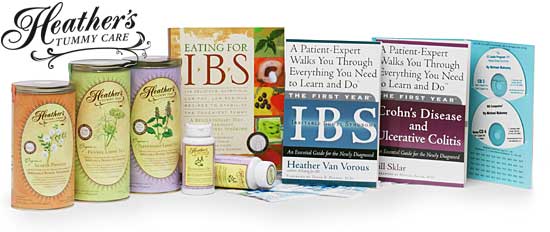 Shop at Heather's Tummy Store for IBS
HelpForIBS.com
The only store that's just for IBS - so we only carry the very best

You're on this newsletter list because you have expressed interest in IBS news and information.




Change your newsletter email address here.

If you are viewing this newsletter on a website and would like to subscribe for email delivery, please "Join the IBS Newsletter" here.

ANTI-SPAM PRIVACY & SECURITY POLICY
HelpForIBS.com
Heather's Tummy Care
80 S. Washington St, #304
Seattle, WA 98104 USA

© 2006 Heather Van Vorous, Heather's Tummy Care. All rights reserved.
USA Copyright Office Registration Number TXU 1-270-858 and others