Heather's IBS Newsletter ~ For Irritable Bowel Syndrome

March 21, 2006

Peppermint Oil Capsules Called "Drug of Choice" for IBS

Hello to everyone -

This week we have a wealth of IBS research findings, including the conclusion of one GI researcher that peppermint oil capsules should be the first drug of choice for IBS! We also have a terrific reader letter from a woman whose personal IBS experience echoes such practicality and healthy common sense.

If you're stuck in the winter doldrums waiting for spring, we have a deliciously hearty chicken marsala recipe to help hold you over. We're also revisiting one of the top deadly sins of the IBS diet - are you guilty? Check the "Ask Heather" column to find out, and enjoy!

Best Wishes,
Heather Van Vorous

Did a friend send you this newsletter? Sign up here for your own free subscription.

Hearty Chicken Mushroom Marsala

This is a lusciously rich and rib-sticking dinner, and the perfect example of how a low-fat meal can be equally hearty and healthy.

Serves 3-4

4 boneless, skinless chicken breasts
8 oz. fresh mushrooms, thinly sliced
1/4 cup finely chopped onion
2 cloves garlic, minced
2 T Marsala wine or cooking wine
1/4 t salt
1/2 t rosemary, crushed
rice or cooked pasta for serving

Spray a large nonstick skillet with cooking oil. Heat over medium high heat for 1 minute. Add chicken breasts and cook for 5 minutes, turn pieces over and cook for 4-5 minutes, or until beginning to brown on outside and no longer pink in center. Remove chicken and juices from pan and set aside.

Add mushrooms, onion, garlic, and wine to pan. Cook for 2 minutes. Add chicken and its juices. Cook for 5 minutes or until mushrooms just begin to brown slightly. Add salt and rosemary.

Serve chicken over rice or pasta.

For a truly special treat, serve chicken with last week's recipe for Strawberry Daiquiris.

Are you just learning how to eat for IBS? A little intimidated at the thought of special IBS recipes? Not quite sure just what makes these recipes special in the first place? Don't worry! Come see the IBS Diet pages, and find the answers to all your questions.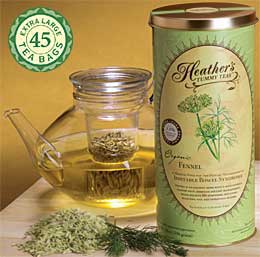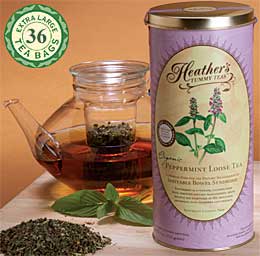 Fennel & Peppermint Tummy Teas - High Volatile Oil Content
Now in New Jumbo Organic Teabags!

Fennel is terrific for bloating & gas, Peppermint is great for IBS pain & spasms.

Practical Advice for IBS
Hi Heather,

I found your website in February - ever since then, I've been reading up on others' experiences, following the diet, trying all your recipes, and taking the Acacia Tummy Fiber every day. I wanted to tell you how happy I am now, in so many ways, in comparison to a year ago! I work as the Production Editor for a gastroenterological journal (a journal from which you regularly feature excerpts in your newsletters). Basically, I receive the hard copy manuscripts and carry them through the production process, until the journal appears on the shelf twice a month.

Isn't it interesting, though, that for all the articles I read about IBS, IBD and Crohn's disease every month in my journal, your website is far more practical for a good quality of life for all of us sufferers out there! Maybe some day they'll come up with a miracle pill with no evident side effects - until then, I'll stick to your good advice.

With very best wishes, Claire E. Shepherd
Edinburgh, Scotland

Thank you SO much, Claire! ~ Heather

Did you miss the last reader letter? Find it here...

~ Heather's Tummy Tamers ~For the Dietary Management of Abdominal Pain &, Bloating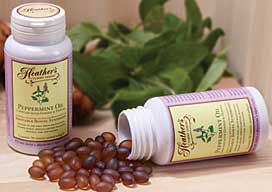 Peppermint Oil Caps with Fennel and Ginger Are Amazing!

Because our Peppermint Oil Caps have the added benefits of fennel and ginger oils, they are truly unbeatable for preventing abdominal pain, gas, and bloating!

Peppermint Oil Caps Called Drug of First Choice for IBS
A recent study in Phytomedicine reviewed 16 clinical trials investigating 180-200 mg enteric-coated peppermint oil capsules in irritable bowel syndrome. Nine out of 16 studies were randomized double blind cross over trials, five had a randomized double blind parallel group design and two were open labeled studies.

Placebos were used in 12 trials and anticholinergics (smooth muscle relaxant drugs) in three studies as comparator. Eight out of 12 placebo controlled studies showed statistically significant effects in favor of peppermint oil capsules. Average response rates in terms of "overall success" were 58% (range 39-79%) for peppermint oil caps versus 29% (range 10-52%) for placebo. The three studies versus smooth muscle relaxants did not show differences between treatments; in other words, the peppermint oil capsules were as effective as the drugs. The study noted that both anticholinergic drugs and 5HT3/4-ant/agonists (such as Zelnorm and Lotronex) do not offer superior improvement rates over peppermint oil caps.

Taking into account the currently available drug treatments for IBS, the study noted that peppermint oil capsules may be the drug of first choice in IBS patients with non-serious constipation or diarrhea to alleviate general symptoms and to improve quality of life. Go here for more information about peppermint oil capsules...

Go here for more information about this study...

Mechanisms of IBS, Altered Motility & Visceral Sensitivity
A recent article in Current Opinions in Gastroenterology addressed the pathophysiologic mechanisms, altered gastrointestinal motility, and visceral hypersensitivity in IBS. The article found that recent evidence strongly suggests that the primary pathophysiologic mechanism of IBS involves a dysregulation in brain-gut interactions. Many central and peripheral factors (genetic predisposition, environmental factors, chronic stress, inflammation or infection) may contribute to an altered brain-gut axis. Those alterations may eventually cause disorders of mucosal immune response, intestinal motility and permeability, and visceral sensitivity that produce abdominal pain or discomfort and compromised bowel function. Go here for more information about this study...

Role of Stress, Infection, and Inflammation in IBS
A recent article in Current Opinions in Gastroenterology found that the role of stress may be particularly important in altering brain-gut interactions, resulting in the development or exacerbation of IBS symptoms. Rectal distention studies in IBS patients have shown altered visceral perception and neuro-endocrine responses to a stressor compared with healthy controls. Although stress affects the gut in both healthy individuals and IBS patients, new evidence suggests there may be greater reactivity in the major mediator of stress in the brain-gut axis, corticotrophin-releasing factor (CRF).

The article also noted that postinfectious IBS has been identified in 7-30% of patients with a recent history of established bacterial gastroenteritis. A variety of mechanisms on the mucosal and cellular level are currently being investigated for their potential role in postinfectious IBS. Decreased ability to downregulate the inflammatory response to infection may result in such defects as increased inflammatory cytokines or mucosal cells, like enterochromaffin cells or proinflammatory cytokines. Researchers are also exploring the use of probiotics as possible immune modulators and small bowel intestinal overgrowth as a potentially pathogenetic mechanism of IBS. Go here for help managing stress-related IBS symptoms...

Go here for more information about this study...

Antidepressants for IBS
A recent article in Current Opinions in Gastroenterology discussed the use of antidepressants for IBS symptoms. The rationale behind using these medications in modulating pain and gut function is that studies have evaluated the efficacy of both tricyclic antidepressants (TCAs) and SSRIs in IBS. The rationale behind their use is based on three theories. First, functional patients often have psychological comorbidities, particularly anxiety, somatization and depression. Second, these medications may have a modulating effect either through a centrally mediated action or a local gut action that changes visceral sensitivity and motor activity or both. Lastly, both SSRIs and TCAs seem to have a central effect in modulating pain. Go here for more information about this study...

Looking for more IBS research and news? Check the IBS Research Library!

~ Heather's Tummy Fiber ~
For the Dietary Management of Abdominal Pain, Diarrhea, &, Constipation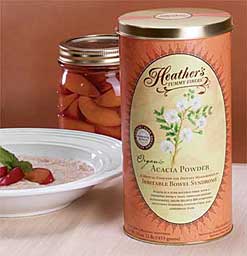 Organic Acacia ~ Pure Soluble Fiber
The prebiotic fiber that relieves both diarrhea and constipation!

Revisiting a Top IBS Dietary Sin
A while back we covered the Seven Sneaky Deadly Sins of the IBS Diet, and judging from reader letters and questions, it's time for a reminder about at least one of them.

I continue to hear many people make the comment that, since insoluble fiber is a big trigger for IBS symptoms, they've simply stopped eating insoluble fiber foods.

I can't stress enough that it is definitely not a good idea to simply avoid insoluble fiber foods altogether. Insoluble fiber is found in fresh fruits, vegetables, whole grains, legumes, and nuts, and you can tell at a glance that these are among the very healthiest foods in the world. If you don't eat them you're setting yourself up for serious long-term health problems, not to mention the eventual exacerbation of constipation. Regardless of whether you have IBS diarrhea or constipation, insoluble fiber should never be totally avoided, and it is a serious misinterpretation of the IBS diet to do so.

However, if you have IBS, insoluble fiber is a huge potential trigger, and your colon simply can't handle it if you eat these foods with abandon. You can (and absolutely must) eat insoluble fiber foods, as often and as much as safely possible, but within the IBS dietary guidelines. Treat insoluble fiber foods with suitable caution, and you'll be able to enjoy a wide variety of them, in very healthy quantities, without problem.

The number one rule here is: Never eat insoluble fiber alone or on an empty stomach. Always eat it with a larger quantity of soluble fiber, and you will help keep your IBS stable.

The second rule to remember here is that while you should be having lots of fresh fruits and veggies every day, make sure you cook, peel, chop, seed, dice, and/or puree most or even all of them. Peeling and seeding fruits and veggies will remove the toughest insoluble fiber altogether. Chopping, cooking, and pureeing will mechanically break down the insoluble fiber in fruits, vegetables, beans, and nuts before you eat it, making it much less likely to provoke problems.

If you're just starting to re-incorporate insoluble fiber into your diet, the best way to begin is to blend fresh fruits into smoothies with a bit of soy or rice milk. Use a base of bananas, mangoes, and/or frozen peaches for soluble fiber, and add just a handful of strawberries, blueberries, cherries, and/or pineapple. Blend the drink until totally smooth and you'll really minimize the insoluble fiber. Blend cooked fresh veggies into soups or sauces, and serve over rice or noodles. This is an especially good way to incorporate greens, which are highly nutritious but also some of the most difficult insoluble fiber veggies for most IBS folks.

It's also helpful to make sure you're already eating as much of the healthiest soluble fiber foods as possible: root veggies (sweet potatoes, pumpkin, beets, rutabagas, carrots, etc.), mangoes, bananas, peeled apples and peeled pears, peeled peaches and apricots, and avocados.

See how do you do with brown rice, oatmeal, and barley. These tend to be the best tolerated whole grains for IBS. Try adding in small amounts of well-cooked and pureed beans or lentils as soup or dip additions to your diet. Take this process slowly, and you can actually significantly increase your tolerance of legumes. Your body will produce the enzymes you need to digest bean sugar (raffinose) if you're eating beans on a regular basis. If beans consistently give you problems, try lentils instead, as they're often easier to digest. Finely grinding nuts and adding them to a soluble fiber foundation is an easy and safe way to incorporate another very healthy variety of insoluble fiber. Try adding Beano to all of your insoluble fiber foods, eat these foods in tiny amounts at first, then gradually and consistently increase your quantities.

Try baking easy, low fat quick breads such as zucchini bread, carrot cake, pumpkin bread - this is a terrific (and delicious!) way to add fruits and veggies safely.

Take this whole process slowly and gradually, and remember that if you've been totally avoiding insoluble fiber foods you're going to have to start eating them carefully, and giving your body time to adjust. You will increase your tolerance for these foods and digest them better the more you eat them, as long as you follow the guidelines.

It can be tremendously helpful to take Acacia or another soluble fiber supplement right before you eat insoluble fiber foods. If you find herbal teas such as peppermint, fennel, chamomile, or ginger helpful drink those with the foods, and try taking Peppermint Oil Capsules as well. All of these things will help keep your gut stable and let you tolerate the addition of insoluble fiber foods. For the sake of your overall health, making a real effort here is well worth it. As always with IBS, the more you can take pro-active steps to prevent problems in the first place, the better off you'll be.

Check here if you're still not clear about what, exactly, insoluble fiber is and how it affects IBS. You can also take a look at IBS safe recipes that offer good examples of how to safely incorporate insoluble fiber into your daily diet.

~ Heather

Did you miss the last "Ask Heather" and Tummy Care new store announcements? Find it here...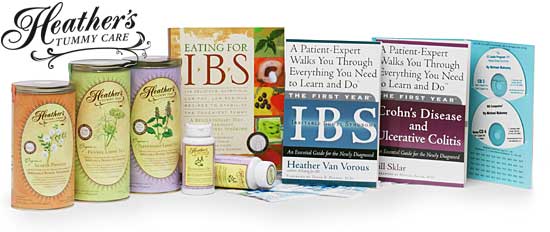 Shop at Heather's Tummy Store for IBS
HelpForIBS.com
The only store that's just for IBS - so we only carry the very best

You're on this newsletter list because you have expressed interest in IBS news and information.




Change your newsletter email address here.

If you are viewing this newsletter on a website and would like to subscribe for email delivery, please "Join the IBS Newsletter" here.

ANTI-SPAM PRIVACY & SECURITY POLICY
HelpForIBS.com
Heather's Tummy Care
80 S. Washington St, #304
Seattle, WA 98104 USA

© 2006 Heather Van Vorous, Heather's Tummy Care. All rights reserved.
USA Copyright Office Registration Number TXU 1-270-858 and others