Eating for IBS, by Heather Van Vorous, HelpForIBS.com Founder
Comprehensive Diet &amp Recipes for All Symptoms
Great Reviews
Price: $15.29 In Stock!
(15% off $17.99 list price)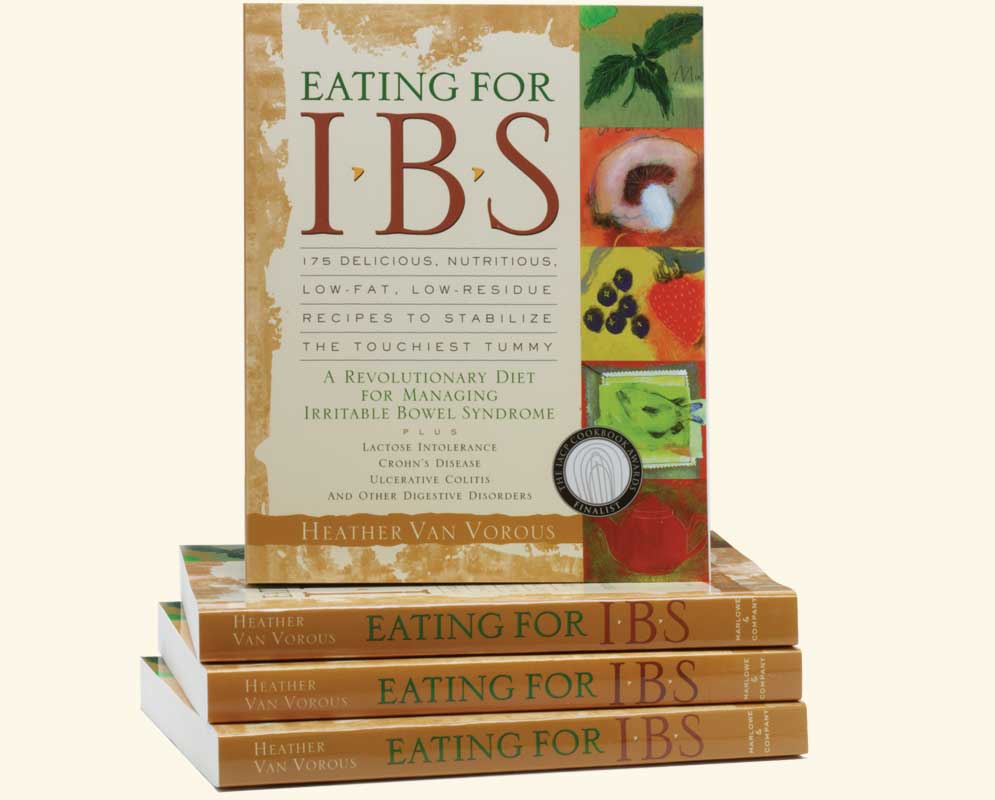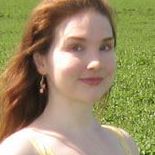 By an author with IBS,
for everyone with IBS!
175 Delicious Recipes
Full IBS Diet Information
Addresses Multiple IBS Symptoms
Calms The Gut!
Teaches Tasty Substitutions, Never Deprivation
Comprehensive Dietary Details
Safe Foods vs Trigger Foods
Soluble vs Insoluble Fiber
How to Eat & Cook for IBS
Restaurant Advice &amp Travel
Fast & Easy Meals, Plus Full Menus Author of First Year: IBS & Heather Cooks! DVD

Paperback: 256 pages, 175 great recipes
Finalist for the IACP Julia Child Cookbook Award
On the Library Journal's Cookbook Bestseller list

* Excerpts & recipes licensed by Novartis Pharma
* Excerpted by physicians & dietitians worldwide
* Best-selling, best-reviewed IBS book in America!
Interested in Eating for IBS?
Get an even better deal with the Diet Kit #1, the Diet Kit #2, the IBS Starter Kit, or the Kitchen Kit!
Scroll right to see more options
Eating for IBS
confirms what every IBS sufferer instinctively knows: that diet plays a direct role in gut function, and that the abdominal pain, diarrhea, constipation, and bloating from bowel disorders can be directly controlled through diet. This is true not just for Irritable Bowel Syndrome, but also for inflammatory bowel diseases (IBD) such as Crohn's and Ulcerative Colitis, plus diverticulosis and diverticulitis. The
Eating for IBS
diet can make the difference between living a normal, happy, outgoing life versus spending every day stuck in the bathroom enduring pain, bowel dysfunction, and misery.
Contrary to what many believe, eating for IBS and IBD does
not
mean deprivation, never going to restaurants, boring food, or a limited and therefore unhealthy diet. It does mean learning to eat safely by realizing how different foods physically affect the GI tract, and
how foods can help or hurt both diarrhea AND constipation, as well as abdominal pain, bloating, gas, and nausea.
Foods can either
prevent or trigger
IBS or IBD symptoms.
For example:
* There are
two kinds of fiber
...one soothes the colon and regulates gut function but the other can cause severe attacks
* Dairy is a common trigger...even in people who are
not
lactose intolerant
* Peppermint, chamomile, and fennel can prevent pain, spasms, and bloating better than some drugs
* Bland foods are
not
automatically safe foods
In
Eating for IBS
, Heather Van Vorous, who has suffered from IBS for over 20 years and gradually learned to control her symptoms through dietary modifications, offers sympathetic information tailored specifically to the needs of IBS and IBD sufferers. She provides a comprehensive overview of IBS, explicit eating and cooking strategies, travel and restaurant advice, daily menus, supermarket ideas, and 175 delicious recipes. How delicious?
Eating for IBS
was a finalist for the IACP (International Association of Culinary Professionals) Health and Special Diet Award - also known as the "Julia Child" award.
IBS and IBD sufferers will be thrilled to discover that they can enjoy traditional homestyle cooking, ethnic foods, rich desserts, snacks, and party foods - and don't have to cook unusual or special meals for themselves while their families follow a "normal" diet.
Eating for IBS
will forever revolutionize the way people with bowel dysfunction eat - and live.
The recipes in
Eating for IBS
can also be used to
cook with Acacia Tummy Fiber
.
Watch Heather cook a fast and easy favorite from Eating for IBS!
**Critic Reviews**
Library Journal
"Irritable bowel syndrome (IBS) afflicts as many as one person in five, most of them women. It is difficult to diagnose, as it can be confused with several other intestinal disorders, and many doctors do not know how to treat it with diet. Van Vorous, a food writer specializing in recipes for people with bowel disorders and lactose intolerance, teaches continuing education classes on eating for IBS. She herself has been a sufferer since the age of nine and has learned how to control her symptoms by choosing foods that prevent attacks and by avoiding trigger foods. In addition to the recipes, she gives travel and restaurant advice, daily menus, and shopping ideas. Although she recommends avoiding meat entirely, several of the recipes include chicken or fish. No dairy products or egg yolks are used, however, so these recipes will be of interest to vegetarians and those with lactose intolerance. Recommended for health collections."
Carol Cubberley, Univ. of Southern Mississippi, Hattiesburg Copyright Cahners Business Information.
Internet Book Watch
"Heather Van Vorous draws upon her experience as one suffering from Irritable Bowel Syndrome (IBS) for more than 20 years and who has gradually learned to control her symptoms through dietary modifications in Eating For IBS. Heather showcases 175 delicious, nutritious, low-fat, low-residue recipes that combine the taste and satisfaction of homestyle cooking with the dietary necessities imposed by this discomforting condition. From Fresh Mint-Leaf Lemonade, Brown Sugar Banana Bread, and Chinese Sweet Corn and Crab Velvet Soup, to Tandoori Spiced Mango Shrimp, Garden Veggie Lo Mein, and Brer Rabbit Carrot Cake, Eating For IBS is a "must" for all IBS sufferers, and offer mealtime dining that will please even the most dedicated gourmet palate."
**Customer Reviews - Results May Vary**
More Reviews
---
Product

William

from Bristol, PA
Purchased on 11/26/2018
Reviewed on 12/17/2018

The entire process was easy and I think your website is navigable.

I very much like the book. It helps me reduce urgency and the number of visits to the toilet. Thank you for helping me manage my IBS. Gratefully, Wm. Roger Clark
Speed of Delivery
Customer Service
---
Product

Cynthia

from Bethlehem, CT
Purchased on 10/9/2018
Reviewed on 10/30/2018

Wish there were more vegetarian recipes in the main dish section

Speed of Delivery
Customer Service
---
Product

Margaret

from Winnipeg, MB
Purchased on 9/18/2018
Reviewed on 10/30/2018

The tummy tamer produce are great! I love the cook book for IBS.

My diarrhea has stopped no mor pain, spasms or cramps. The first yearbooks saved my life. All the wonderful this and what to eat were great. The recipes were delicious and easy to make.
Speed of Delivery
Customer Service
---
Product

Annie

from Lake Charles, LA
Purchased on 9/9/2018
Reviewed on 10/2/2018

I am only up to 1 T a day but I see improvement in gas and bloating.

In the past two days I feel like I have had relief with constipation. I will continue increasing the amount every few days,
Speed of Delivery
Customer Service
---
Product

Marilyn

from Wichita Falls, TX, TX
Purchased on 8/19/2018
Reviewed on 9/11/2018

I haven't used it yet, but thr recipes look good.

Speed of Delivery
Customer Service
---
More Reviews