The First Year: Irritable Bowel Syndrome, by Heather Van Vorous, HelpForIBS.com Founder
Everything About IBS, for All Symptoms &amp Ages
Great Reviews
Price: $15.29 In Stock!
(15% off $17.99 list price)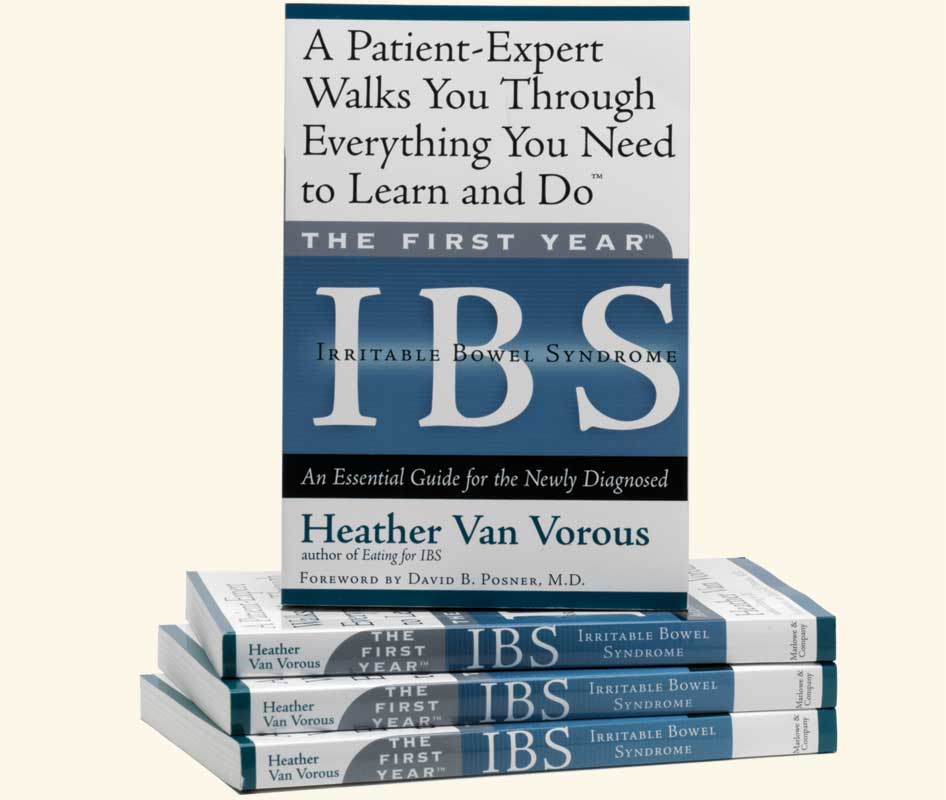 By an author with IBS,
for everyone with IBS!
5 Key Treatment Categories For Adults & Children
Everything You Need To Know Right Now
Addresses Multiple IBS Symptoms
Comprehensive Diagnostic Information
Daily, Weekly, and Monthly Strategies to Stop IBS
Author of Eating For IBS & Heather Cooks! DVD
For The Newly Diagnosed and Lifelong Sufferers

Paperback: 242 pages
Great critic reviews:
Library Journal & Publishers Weekly

* Excerpted by physicians & dietitians worldwide
* Endorsed by UK Register of IBS Hypnotherapists
* Recommended by UNC Center for GI Motility Disorders
Interested in The First Year IBS? Get even more comprehensive help with the
IBS Big Kahuna Kit or the IBS Starter Kit!
Scroll right to see more options
The First Year: IBS
offers a comprehensive and sympathetic approach to managing irritable bowel syndrome (whether you're newly diagnosed or have been struggling for years), by an author who has dealt with the disorder since childhood and prevailed. Whether you suffer from constipation, diarrhea, alternating bowel dysfunction, pain, bloating, gas, or nausea, this essential guide gives you the information you need to take control of your symptoms
today
.
An easy-to-follow daily/weekly/monthly calendar structure teaches you about the physical pathology behind IBS while giving a multitude of ways to successfully live with it, with a constant focus on symptom
prevention
.
The research for
The First Year: IBS
incorporates suggestions, concerns, and personal stories from many Irritable Bowel Syndrome sufferers, and offers:
* in-depth diagnostic and medical information for IBS treatments, drugs, and research
* extensive suggestions for using supplements and herbs to prevent symptoms
* innovative and successful IBS stress management techniques
* suggestions for dealing with friends and family members
* concise and accurate IBS diet guidelines with sample recipes
* effective alternative therapies for a spastic colon, including acupuncture
* detailed information about yoga and hypnotherapy for IBS
* IBS support group resources
* traveling and socializing suggestions
There are also special sections throughout the book just for children with IBS and their parents. These chapters draw extensively from the author's own perspectives, experiences, and memories from childhood, and address the unique concerns that children with IBS often face.
See What Heather Has to Say: the Importance of an IBS Diagnosis
**Critic Reviews**
Publishers Weekly
"Statistics show that Irritable Bowel Syndrome (IBS) is the second leading cause of worker absenteeism in the U.S., according to Van Vorous (Eating for IBS), who has lived with the condition since she was nine, but because her severe abdominal pain was dismissed by her pediatrician, was not diagnosed until seven years later. And although IBS studies are currently underway, sufferers in the past found themselves either ignored or stigmatized. Because she had to work out her own strategy for dealing with IBS, Van Vorous is a "patient-expert" in other words, she's well qualified to write this informative and reassuring guide. She advises those suffering from IBS symptoms abdominal pain, constipation or diarrhea, for example to first obtain an accurate diagnosis. Once other illnesses are ruled out and the syndrome has been properly diagnosed, a patient with IBS can lead a normal life by maintaining proper eating habits, learning to manage stress, using prescription medication and dietary supplements when necessary, and even utilizing alternative therapies such as acupuncture. Van Vorous draws on medical research, her own experience with IBS, and other patient anecdotes to support her suggestions. Accessible and clearly written, with recipes for colon-kind foods and advice for parents who have children with IBS, this is an excellent resource for people learning how to live with the syndrome."
(Jan.) Copyright 2001 Cahners Business Information.
Library Journal
"The second installment of the publisher's new "The First Year" series, this text on Irritable Bowel Syndrome (IBS) walks the reader through the first year of diagnosis. As with the authors of other titles in the series, Van Vorous is a "patient-expert"; she is also the author of Eating for IBS and founder of eatingforibs.com. In a conversational style, she explains how to manage symptoms by breaking the year into manageable steps. She includes diet guidelines that feature some appetizing recipes and suggestions for eating out. She also discusses relaxation techniques and some alternative therapies. Personal stories from other IBS sufferers are sprinkled throughout, as are tips for children with IBS. An especially useful chart on medications is also provided. This book differs from William Salt's Irritable Bowel Syndrome and the Mind-Body Brain-Gut Connection (LJ 10/15/97) and other guides to IBS by prescribing a first-year-only timetable of steps, focused mainly on diet. Salt's book focuses more on lifestyle and stress management issues. Recommended for any health collection."
KellyJo Houtz Griffin, Eatonville, WA Copyright 2001 Cahners Business Information.
Five Star Review from About.com
**Customer Reviews**
More Reviews
---
Product

Joni

from Waldport, OR
Purchased on 10/22/2018
Reviewed on 11/12/2018

This with Linzess has saved me.

The book is very informative. Very clear in its information.
Speed of Delivery
Customer Service
---
Product

Susan

from Sarasota, FL
Purchased on 4/9/2018
Reviewed on 5/23/2018

The book is helpful for anyone with IBS.

I have suffered with IBS-D for years. Luckily I stumbled onto Heather's website about a year ago. Everything I read online made sense, so I purchased the fiber. I had nothing ti lose. It has made my life dramatically better. I still have occasional issues, but I think that's when I veer from the food list. I read the emails & blogs all the time and I am so thankful everyday for Heather's products & knowledge.
Speed of Delivery
Customer Service
---
Product

Stella

from Troy, MI
Purchased on 3/19/2018
Reviewed on 4/9/2018

Lots of helpful info

Speed of Delivery
Customer Service
---
Product

Amy

from Boone, NC
Purchased on 1/8/2018
Reviewed on 1/29/2018

I have a severe case of ibs and diverticulitis!

Your information and web site and e mails the books are all help ful can't wait to see how the product I order helps me thank you so much!
Speed of Delivery
Customer Service
---
Product

Joann

from Lake Havasu City, AZ
Purchased on 8/29/2017
Reviewed on 9/19/2017

Great and helpful sonfar

Speed of Delivery
Customer Service
---
More Reviews
Back to full First Year IBS information and top of page...