Peppermint Sale! Teas, Caps, and Kits!
Use Promo Code LOVEPMINT2 for 10% Off!


Share!


September 18, 2014 ~ Scroll down for full newsletter or follow the links:



Ask Heather »
Yogurt - A Sneaky IBS Diet Sin?
News & Research »
High Time to Prescribe Marijuana for IBS?
Domestic violence link to IBS
Lack of sleep predicts subsequent IBS symptoms
Special Letter »
IBS Trigger Foods List Saves a Trip to Europe!
  
Have questions? Call toll free (866) 640-4942.
Outside the US (206) 264 8069.

Enjoy the newsletter!
Heather Van Vorous & Heather's Tummy Care
Over 10 Years of IBS Business!


Did a friend send you this newsletter? Sign up here for your own free subscription.



~ Heather's Tummy Tamers Peppermint Oil Capsules ~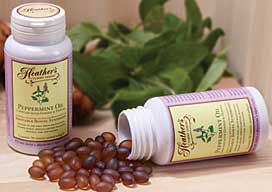 Peppermint Oil Caps Called "Drug of Choice for IBS"

Our Peppermint Oil Caps have the added benefits of fennel and ginger oils, and they help prevent abdominal pain, gas, and bloating!

IBS Trigger Foods List Saves a Trip to Europe!

Heather,

Your IBS site is fantastic!!! Your food guides and suggestions on what to avoid and what helps IBS saved my European trip this spring. I was stressing out about being on a tour bus for 2 weeks during my trip to Italy. Emergency bathroom issues can be a huge embarrassment.

At times I thought about not going on the trip because of my IBS issues. I am 65 years old and have had issues for about 30 years. I was able to get 2 types of meds from my doctor, but your guide with the trigger foods really saved my trip, and my life.

Thank you so much!

Cindy

Thank you, Cindy! I am so thrilled you had a great vacation! That is fantastic! ~ Heather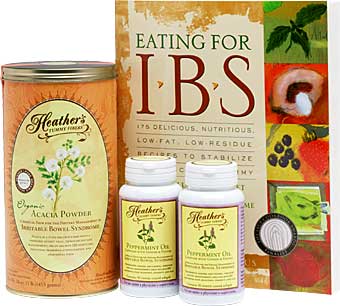 Try the IBS Diet Kit #2 - for Diarrhea AND Constipation!
Five Star Reviews!



* Eating for IBS - the Groundbreaking Diet and Cookbook

* Organic Acacia Tummy Fiber ~ for IBS Pain, Diarrhea and Constipation!

* Peppermint Oil Tummy Tamers with Fennel Oil ~ Prevent Bloating and Gas!



High Time to Prescribe Marijuana for IBS?

The American Journal of Gastroenterology recently noted scientific inquiry has indicated potential roles for marijuana in the modulation of gastrointestinal symptoms and disease. The use of recreational and medical marijuana is increasingly accepted by the general public in the United States. Along with growing interest in marijuana use has come an understanding of marijuana's effects on normal physiology and disease, primarily through elucidation of the human endocannabinoid system.

Some patients with gastrointestinal disorders already turn to marijuana for symptomatic relief, often without a clear understanding of the risks and benefits of marijuana for their condition. Unfortunately, that lack of understanding is shared by health-care providers. Marijuana's federal legal status as a Schedule I controlled substance has limited clinical investigation of its effects.

There are also potential legal ramifications for physicians who provide recommendations for marijuana for their patients. Despite these constraints, as an increasing number of patients consider marijuana as a potential therapy for their digestive disorders, health-care providers will be asked to discuss the issues surrounding medical marijuana with their patients. Go here for full article.


Domestic Violence Associated with Irritable Bowel Syndrome

Physical symptoms like irritable bowel syndrome are associated with higher risks of intimate partner violence, according to a new study in the Journal of the American Board of Family Medicine. The analysis found that male aggression toward a partner is associated with warning signs that could come up during routine health care visits, including irritable bowel syndrome (IBS) and insomnia, in addition to better known risks like substance abuse and a history of either experiencing or witnessing violence as a child. Go here for full article.


Lack of Sleep Predicts IBS Symptoms

The exacerbation of irritable bowel syndrome (IBS) symptoms in women are predictable through sleep disturbances, determined through an objective measurement of sleep, according to a recent exploratory study conducted at the University of Washington. Not only self-reported IBS symptoms, mood disturbance, and fatigue, but also objectively measured sleep using actigraphy are able to foretell next-day effects.

The study revealed sleep quality significance in the prediction of next-day abdominal pain, anxiety, and fatigue. This new research joins mounting evidence that sleep disturbances and disorders have an impact on disease progression. Go here for full article.




Researchers call gut-directed hypnotherapy a "cure" for IBS!

The Best Gut-Directed Self-Hypnosis Program for All IBS Symptoms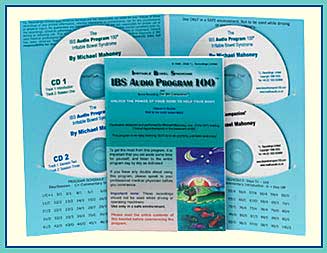 Gives an average 85% reduction of pain and bowel dysfunction symptoms.
Listen to IBS Audio Program 100 samples!

Yogurt - A Sneaky IBS Diet Sin?

Here's one of the most common comments I hear: "I've eliminated most dairy from my diet, but I still have yogurt. I've heard that since yogurt is fermented, the lactose isn't a problem. I still think the yogurt is bothering my IBS, but this doesn't make sense, so I'm still eating it. Should I stop?

Yes, you should stop eating yogurt, as well as all other dairy products that are still in your diet. All dairy is extremely likely to cause IBS symptoms to flare - from diarrhea and cramps to constipation, bloating, and gas. Dairy products, including yogurt and Lactaid milk, have casein, whey, and typically a very high amount of fat as well.

To make yogurt, the live organisms Lactobacillus bulgaricus and Streptococcus thermophilus are added to milk; the cultures turn the milk into yogurt by converting lactose (milk sugar) into lactic acid. Though this makes the lactose easier to digest, this is really only helpful for people who are just lactose-intolerant. It's not much use at all for people with IBS.

Most people with IBS are not lactose-intolerant, but they still have tremendous digestive problems from dairy. The milk proteins casein and whey (which are always in yogurt, as well as all other dairy products) are very difficult to digest. Trace amounts of these proteins, such as the casein used in some soy cheese products, are often (though not always) quite tolerable for IBS. The large amounts of casein and whey in dairy, on the other hand, are likely to trigger IBS symptoms.

Dairy products, including yogurt, are often very high in fat, particularly saturated fat. Saturated fats tend to be the most difficult for the body to digest, and saturated animal fats are the worst of all. All fats are GI tract stimulants and can trigger IBS attacks, so a lower fat diet is crucial for keeping your digestion stable.

This means that the fats you do eat should be heart-healthy and mono-unsaturated/poly-unsaturated. All high saturated fat foods should be avoided as much as possible. You'll easily obtain the small amounts of saturated fat your body needs from a low fat diet that incorporates natural plant sources such as olive oil, fatty fish, nuts, and flax.

The live cultures in yogurt can be highly beneficial to IBS and digestive health in general. However, you don't have to eat dairy to get these benefits. You can choose soy/rice/almond yogurt that contains live cultures, you can take probiotic supplement capsules, and you can use a prebiotic soluble fiber supplement such as Tummy Fiber Acacia that will encourage the growth of good gut flora. Using probiotics and prebiotics for IBS is an excellent idea, and likely to help reduce and prevent a wide range of symptoms. Fortunately, there's no need to upset your gut by eating dairy in order to obtain these benefits!

~ Heather

~ Heather's Tummy Fiber ~
For the Dietary Management of IBS Pain, Diarrhea, &, Constipation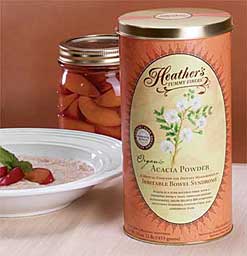 Certified Organic Acacia Senegal ~ Pure Soluble Fiber
The prebiotic fiber that relieves both diarrhea and constipation!

Very Economical

100% Acacia Senegal ~ Never Low Grade Acacia Seyal

Encourages Healthy Gut Flora!

No gluten, FODMAPS, additives, fillers, flavors, colors!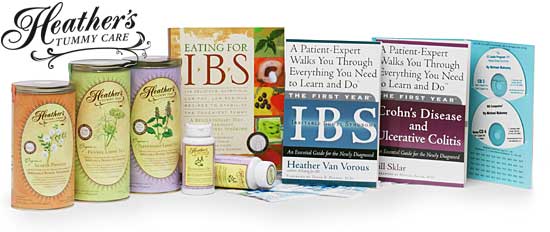 Shop at Heather's Tummy Store for IBS
HelpForIBS.com
The only store that's just for IBS - so we only carry the very best



You're on this newsletter list because you have expressed interest in IBS news and information.
Unsubscribe Here

Change your newsletter email address here.

If you are viewing this newsletter on a website and would like to subscribe for email delivery, please "Join the IBS Newsletter" here.

ANTI-SPAM PRIVACY & SECURITY POLICY
HelpForIBS.com
Heather's Tummy Care
80 S. Washington St, #304
Seattle, WA 98104 USA

© 2014 Heather Van Vorous, Heather's Tummy Care. All rights reserved.
USA Copyright Office Registration Number TXU 1-270-858 and others.