Heather's IBS Newsletter ~ For Irritable Bowel Syndrome


Special Series! The most affordable IBS treatments!


People like you just THINK they have IBS!?

What pain and bloating treatments give you twice the value at half the cost?

Hello to everyone -

In this economy, everyone has to find not just the most effective, but the most affordable, IBS treatments. I'm always so surprised to hear from customers who think that the Tummy Care products are expensive, since we have always strived to make them not just high quality but a tremendous value as well. But, a value that seems so obvious to me isn't equally apparent to everyone else.

So, I'd like to tell you about the terrific economy and value of all the Tummy Care products, starting with Peppermint Tummy Tea and Fennel Tummy Tea.

I think it's actually shocking to see the difference in quality, quantity, and cost-saving value of our teabags versus typical brands of grocery store and health food store teabags.

Plus, enjoy this week's letter and don't miss the recipe that uses delicious digestive aids!

Best Wishes,
Heather Van Vorous

Did a friend send you this newsletter? Sign up here for your own free subscription.



~ Heather's Tummy Tamers Peppermint Oil Capsules ~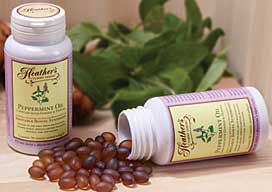 Peppermint Oil Caps Called "Drug of Choice for IBS"

Our Peppermint Oil Caps have the added benefits of fennel and ginger oils, and they help prevent abdominal pain, gas, and bloating!

Herb Roasted Halibut and Potatoes

This is a wonderful springtime dinner dish with the added digestive benefits of strong herbs: oregano, peppermint, and fennel. It's also terrific as leftovers. This is a low fat, high soluble fiber main recipe that's an easy, dependable favorite in my house. Hopefully, you'll like it as much as I do!

Makes 4 Servings

3 large russet potatoes, peeled, cut into 1/4" slices
4 T olive oil, divided
3 garlic cloves, minced
1 1/2 t dried oregano
2 t Peppermint Tummy Tea leaf (use loose tea or rip open a teabag)
2 t Fennel Tummy Tea seeds (use loose tea or rip open a teabag)
1 t salt
1/4 t crushed red pepper flakes (optional)
1/4 cup white wine
1/4 cup water
4 halibut or other white fish fillets, 4-6 ounces each
2 T dried parsley, divided
salt and pepper to taste
fresh lemon wedges for serving

Preheat oven to 450F. Spray a 13 x 9 inch baking pan with cooking oil. Spread potato slices in pan, overlapping only where necessary. In a medium bowl blend 3 T olive oil, garlic, oregano, peppermint, fennel, salt, optional red pepper, wine and water. Pour over potatoes and spread with a rubber spatula.

Cover pan with foil or lid and bake 20 minutes. Uncover and bake 30-40 minutes more, until potatoes are tender. Place fish fillets on top of potatoes. Drizzle remaining 1 T olive oil over fish. Sprinkle fish with 1 T parsley. Bake uncovered just until fish is opaque in center, 15-20 minutes. Sprinkle with remaining 1 T parsley, salt and pepper, then squirt fresh lemon juice over and serve.

This dinner is wonderful with a cup of honey-sweetened Fennel Tummy Tea or Peppermint Tummy Tea!

Are you just learning how to eat for IBS? A little intimidated at the thought of special IBS recipes? Not quite sure just what makes these recipes special in the first place? Don't worry! Come see the IBS Diet pages, and find the answers to all your questions.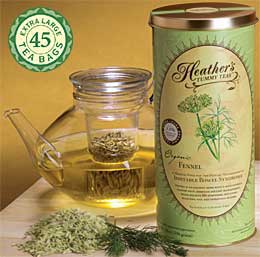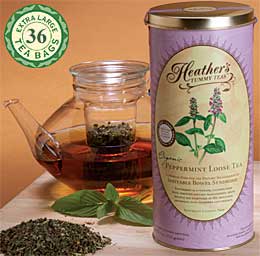 Organic High Volatile Oil Fennel & Peppermint Tummy Tea Bags

Extraordinary Quality ~ Very Economical

Fennel is terrific for bloating & gas, Peppermint is great for IBS pain & spasms.

People Like You Just Think They Have IBS!

Dear Heather,

I would like to send you and your staff a huge thank you for all you do! I have suffered with IBS most of my adult life and spent decades using hit-or-miss attempts to figure out what triggered my flare-ups, what was safe and what I could do for permanent healing.

Physicians either wouldn't believe that there was anything wrong with me, since my colonoscopies and x-rays were clear, or they prescribed antacids along with anti-depressants to ease the stress I was under. Nothing helped.

After a particularly bad episode, I happened upon the Help for IBS website and was thrilled to find such thorough information with such marvelous products! I am currently using the Peppermint Tummy Tea, the Tummy Tamers peppermint oil capsules, and the Tummy Fiber Acacia with very good results.

I have learned from reading the testimonies of other IBS sufferers which foods to avoid and which foods are safe. This website has offered me far more information than even the leading digestion disorder clinics did! Your website has been the only truly reliable source of information about IBS I've found, and I don't know where I'd be right now without it. Still stumbling around with my own experimentation, I suppose!

As a funny side story, I recently had to change primary care physicians (my previous doctor retired.) So far, I like the new doctor - she is open-minded about food supplements and other alternative treatments, and she believes me when I tell her that I am hyper-sensitive to drugs of any kind.

However, when I mentioned my IBS to her yesterday during my physical, she said, "Oh, that doesn't sound like IBS. That sounds like food sensitivities." I didn't bother asking her what the difference was, but she acknowledged that "not a lot is known about IBS, so just keep doing what works for you."

At least that's better than the last doctor I saw who said, "People like you who THINK they have IBS are just out of shape and need to exercise more."

Anyway, there is a great need for your website and I thank you again for your efforts! Thank you for the hope and healing you bring to others who are suffering. You have improved my life more than I ever could have hoped!

You are absolutely free to use my comments on the website or the newsletter.

Ellen Sattler
Gainesville, FL

Thank you so much, Ellen! And I'm so sorry for all you had to go through to get help. ~ Heather

Did you miss the recent letter from Kirsten, who no longer has a grumbling, bubbling tummy?

~ Heather's Tummy Fiber ~
For the Dietary Management of Abdominal Pain, Diarrhea, &, Constipation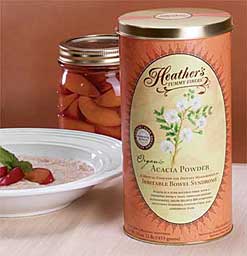 Certified Organic Acacia ~ Pure Soluble Fiber
The prebiotic fiber that relieves both diarrhea and constipation!

** Very Economical ** Only 4 cents per gram of fiber!

Why Tummy Teas Are Such a Great Value!

Peppermint and fennel are both wonderful herbs for quickly relieving (and even preventing) IBS symptoms, particularly when brewed as teas.

However, it can be downright shocking to see the difference in quality, quantity, and cost-saving value of Tummy Teas made specifically for helping IBS versus typical brands of grocery store and health food store teabags.

Why should you try peppermint and fennel in the first place? What exactly can they do for IBS symptoms?

Clinical studies have shown that peppermint is exceptionally beneficial for IBS abdominal pain and spasms, diarrhea, and urgency (and it will NOT worsen constipation). Fennel helps regulate contractions of the small intestine and aids gas expulsion, and is exceptional for IBS bloating, gas and abdominal pain.

For immediate relief of IBS spasms and abdominal pain, have a strong, hot cup of Peppermint Tummy Tea.

In all the years I've struggled with IBS, nothing - and I do mean nothing - has worked better and faster to flat out stop IBS pain in its tracks. I keep Peppermint Tummy Tea on hand at home, at work, in my luggage, and even in the car.

Not everyone is subject to sudden, severe attacks of IBS pain, but if you are (and I am) I can't recommend anything more fervently than this tea. If your IBS can come out of nowhere, and have you on the floor begging for help this very second because you can't wait minutes, Peppermint Tummy Tea is your new best friend.

For immediate relief of IBS bloating and gas, try a strong, hot cup of Fennel Tummy Tea. This is particularly helpful if you're prone to IBS constipation, as bloating and constipation so often go hand in hand. While the Fennel Tummy Tea won't actively help constipation (it certainly won't hurt) it will give quick relief of the bloating and gas that accompany it.

Why am I specifying not just peppermint tea, and not just fennel tea, but the Tummy Teas? Why does it matter what brand you use? Isn't all herbal tea pretty much the same?

No! There is a world of difference between the Tummy Teas and typical store brands. Every other peppermint and fennel tea brands I've seen are just meant to be enjoyed as a "nice hot cup of tea", for simple drinking pleasure. This is NOT the case with the Tummy Teas.

Take a look at the pictures below and you can see the difference for yourself. Scroll down beneath the pictures for information about all the amazing ways Tummy Teas give you the best quality and the best value!



Heather's Fennel Tummy Tea Heather's Peppermint Tummy Tea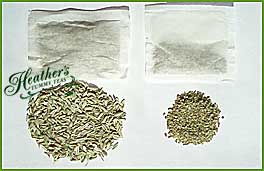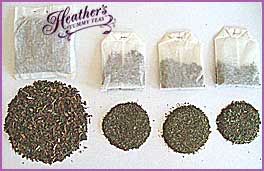 Compare for yourself! The pictures above show the huge difference in the quantity and quality of tea per teabag. The stats below compare the grams and cost (as of April 2009, in Seattle), with a comparison between the Tummy Teas and a variety of other store brands. The comparisons flow from left to right across the pictures.

Heather's Tummy Tea Fennel - 4.4 grams of tea per teabag
Cost: 6.5 cents per gram
Organic

Health food store brand fennel tea - 2.5 grams per teabag
Cost: 8.0 cents per gram
Not organic
_______________________________________________________

Heather's Tummy Tea Peppermint - 3.3 grams of tea per teabag
Cost: 9.9 cents per gram
Organic

Drug store brand peppermint tea - 1.5 grams of tea per teabag
Cost: 18.0 cents per gram
Organic

Health food store brand peppermint tea - 1.5 grams of tea per teabag
Cost: 19.0 cents per gram
Organic

Grocery store brand peppermint tea - 1.2 grams of tea per teabag
Cost: 17.0 cents per gram
Not organic

The Tummy Teas are clearly much less expensive, but what about the quality? What makes them so special in that regard?

Both Peppermint and Fennel Tummy Teas are sourced and specially produced for IBS-specific purposes and results, in several ways:

* Extremely high volatile oil levels. Why does this matter? Because the volatile oil is the component within the tea that yields the medicinal benefits. The higher the volatile oil level, the greater the medicinal value. For example, our recent peppermint crop has a volatile oil content of 3%, the highest our farmer has ever seen for mint (1.8% to 2.0% is considered high).

* Very large leaf size for peppermint (cut and sift grade, the largest cut available in the organic market). We use whole seed size for fennel. Other teabag brands use "teabag cut" herbs, which are very finely milled. This is so the tea will flow through teabag machines. But, the more finely you cut an herb, the more volatile oil is released and dissipated, and the weaker the final cup of brewed tea will be. (We actually customized our own teabag machines so that we could run large leaf peppermint and whole seed fennel through our machines.)

* Special jumbo-size teabags, which give an average of two to three times more tea per bag as other brands.

* Both our peppermint and fennel are USDA certified organic. This means, among other things, that our herbs are guaranteed free of: pesticides, fertilizers, herbicides, GMO (genetically modified organisms), preservatives, additives, irradiation, and there is no animal testing.

Organic materials and processing are significantly more expensive (for example, bulk organic peppermint costs four times more than conventionally grown peppermint). But, our tea prices are actually significantly less expensive than non-organic brands.

In addition, a comprehensive review of 97 published studies (published as the "State of Science Review" by The Organic Center) comparing the nutritional quality of organic and conventional foods has shown that organic plants contain higher levels of 8 of 11 nutrients studied, including significantly greater concentrations of the health-promoting polyphenols and antioxidants. This review concluded that organically grown plants are 25% more nutrient dense, on average, than conventionally grown plants.

* Both Tummy Teas are packed in very generous quantities, as they are meant to be used daily for IBS symptoms. We offer 45 Fennel Tummy Teabags per canister and 36 Peppermint Tummy Teabags per canister. This is 3-4 times more teabags per container than other brands, which means you will have enough tea on hand to use it regularly, which is how it works best for IBS.

The end result? Tummy Teas are exponentially stronger and more effective, and a better value, than other brands.

I think medicinal-strength peppermint and fennel teas have what it takes to stop an IBS attack and horrible symptoms in their tracks. Peppermint Tummy Tea and Fennel Tummy Tea are the only brands of medicinal strength teas for IBS I'm aware of, and one sip is all it takes to tell the difference.

It isn't enough to get a great value for your IBS treatments - you have to also get great results. For abdominal pain, spasms, bloating, and gas, the Tummy Teas offer both. Try them and see for yourself!

~ Heather

Did you miss our recent "Ask Heather" and the worst drink for IBS ever?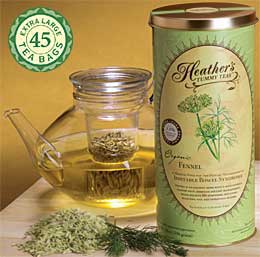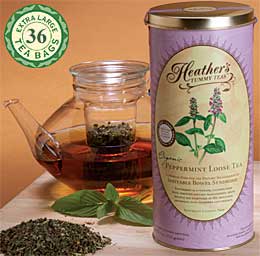 Organic High Volatile Oil Fennel & Peppermint Tummy Tea Bags

Extraordinary Quality ~ Very Economical

Fennel is terrific for bloating & gas, Peppermint is great for IBS pain & spasms.

You're on this newsletter list because you have expressed interest in IBS news and information.




Change your newsletter email address here.

If you are viewing this newsletter on a website and would like to subscribe for email delivery, please "Join the IBS Newsletter" here.

ANTI-SPAM PRIVACY & SECURITY POLICY
HelpForIBS.com
Heather's Tummy Care
80 S. Washington St, #304
Seattle, WA 98104 USA

© 2009 Heather Van Vorous, Heather's Tummy Care. All rights reserved.
USA Copyright Office Registration Number TXU 1-270-858 and others
Heather's Tummy Care Trademarks