Heather's IBS Newsletter ~ For Irritable Bowel Syndrome


It's been called a cure for IBS, but is it worth the money?

What's NOT safe to drink for IBS?

Do you visualize your IBS? Then you're a good candidate for this treatment!


Enjoy this week's news and fabulous smoothie recipe!

Best Wishes,
Heather Van Vorous

Did a friend send you this newsletter? Sign up here for your own free subscription.



~ Heather's Tummy Tamers Peppermint Oil Capsules ~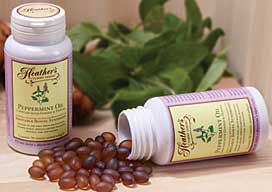 Peppermint Oil Caps Called "Drug of Choice for IBS"

Our Peppermint Oil Caps have the added benefits of fennel and ginger oils, and they help prevent abdominal pain, gas, and bloating!

Nutty Banana Peach Smoothie

I love this recipe for breakfast or a quick afternoon snack. It's very flexible, so feel free to substitute apricots for the peaches, or soy/rice milk for the nut milk. The Tummy Fiber gives a great soluble fiber foundation to this drink as well!

Makes 1 generous serving, easily doubled

1 small banana, or half a large
1/2 cup unsweetened canned peaches, drained, or one small peach, pitted
1 cup almond or hazelnut milk
1 teaspoon Acacia Tummy Fiber
1/2 cup ice cubes

Blend all ingredients until smooth. Yep, it's that easy!

This smoothie is delicious for lunch with Shell's Delectable Turkey Burgers!

Are you just learning how to eat for IBS? A little intimidated at the thought of special IBS recipes? Not quite sure just what makes these recipes special in the first place? Don't worry! Come see the IBS Diet pages, and find the answers to all your questions.

~ Heather's Tummy Fiber ~
For the Dietary Management of Abdominal Pain, Diarrhea, &, Constipation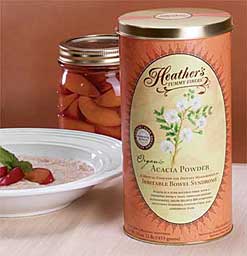 Certified Organic Acacia ~ Pure Soluble Fiber

The prebiotic fiber that relieves both diarrhea and constipation!

** Very Economical ** Only 4 cents per gram of fiber!

Is Hypnotherapy for IBS Worth the Money?

Hi Heather,

I just had to email you to let you know that I got the IBS audio hypnotherapy programme and I'm now on my 20th day of listening to it. I am so overwhelmed by the results of this programme, Heather. It has changed my life so much that it is unbelievable!

Michael Mahoney, the hypnotherapist, has done a tremendous job with this programme and I look forward to listening to his tones every day. He has such a relaxing and soothing voice, and you can hear in his tone that he cares very passionately about people who suffer from this horrible syndrome! It's because he cares about people who suffer from IBS and he knows that we do really suffer, and knows that there basically is no solution to the symptoms from a medical point of view!

I was diagnosed with IBS just about a year ago now and thought my world had come to a stand still. It affected my life so much that I sank into a depression because of all the symptoms I was having. Nothing seemed to work for me, and I tried everything. Then I found your website on IBS and then things started to get better.

I wasn't very sure about the hypnosis programme so I left it for a while. I read a few comments made by people about the programme and decided just after the holidays that I would buy it "just to see" and I swear it's the best move I ever made.

My life is virtually back to normal, as it was before I had IBS. I lost so much weight because I have the diarrhea-predominant IBS and was always visiting the loo. I was scared to eat anything because I felt no matter what it was it just did not agree with me. I stopped going out socially and basically I was miserable. I was snapping at everyone and was not a nice person to be around, all because I felt so ill all the time.

Michael Mahoney saved my life, and I really do mean that when I say it. I'm sleeping better, eating better, and looking better, and feel absolutely wonderful, all because of the hypnotherapy programme.

I find myself not thinking about IBS so much now. I wake in the morning and it does not cross my mind as to how long it's going to be before I'm sitting in the loo with the horrible pains in my tummy and the diarrhea. I do find, though, that when I do have a pain (which isn't that often now compared to maybe three, four times a week) it leaves within 15-20 minutes of visiting the loo. It's amazing, and I just can't say it enough to you.

I don't dread waking up in the morning now and I can virtually eat all the things I was able to eat before I was diagnosed with IBS (which is about a year ago now). Thank you so much for introducing this programme to all IBS sufferers, where would we be without you and Michael, two lovely caring people who have taken a lot of time to find out so many different ways of coping with IBS? Please send on my sincere thanks to this gentleman.

Through your website I have learned a lot and I now follow a healthy and more sensible diet, I must admit though I do cheat from time to time without having the awful consequences the next day now that I follow the hypnotherapy programme.

Thank you so much once again for your website and may I just say one final thing? If anyone who is reading this email has not tried the audio programme then please do so as soon as you are possibly able to. I now think that anyone who suffers from IBS should try hypnotherapy as it works, and is the best medicine I have ever tried.

I would recommend hypnotherapy to everyone I know who has IBS. I'm going to make a point of going back to my doctor and asking her to recommend hypnotherapy to all her IBS sufferers, if she hasn't already done so (which I doubt very much because she didn't recommend it to me!).

Thank you so much to Mike and all the best to him and his family. Keep up the good work, Heather, you're an angel!

Once again, thank you so much for the programme. It was well worth the money.

Kind Regards,
Carol F.

Glasgow, Scotland

Thank you so much, Carol! I hope your letter inspires others who have been hesitant to try this fantastic treatment! ~ Heather

Did you miss the recent letter from Karen, who found peppermint works better than a drug for her IBS pain?



Researchers call gut-directed hypnotherapy a "cure" for IBS!

The Best Gut-Directed Self-Hypnosis Program for All IBS Symptoms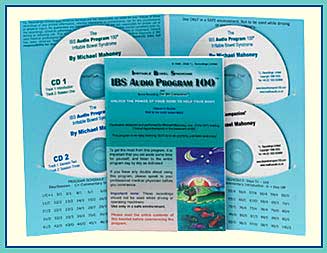 Gives an average 85% reduction of pain and bowel dysfunction symptoms.
Listen to IBS Audio Program 100 samples!

Art, Imagery, and the IBS Response to Hypnotherapy
A recent study in International Journal of Clinical and Experimental Hypnosis had a medical artist ask 109 IBS patients if they had an image of their IBS pre- and post-hypnotherapy treatment. The artist then made precise watercolor paintings of any images described.

Results were related to treatment outcome, symptoms, anxiety, depression, and absorption (a person's susceptibility to being hypnotized). 49% of patients had an image, and a wide variety were recorded and painted. Imagery was significantly associated with gender, anxiety, noncolonic symptoms, and absorption.

Nearly 60% of responders to hypnotherapy, compared with 35% of nonresponders to hypnotherapy, had an image of their disorder before treatment. Color images were associated with better outcomes than monochrome ones. All images changed in responders to hypnotherapy treatment, often becoming more nonspecific in nature.

Inquiring about IBS imagery helps to identify potential responders and nonresponders to hypnotherapy, and may also provide insights into how patients think about their illness.

Go here for information about IBS hypnotherapy.

Go here for more information about this study...

Looking for more IBS research and news? Check the IBS Research Library!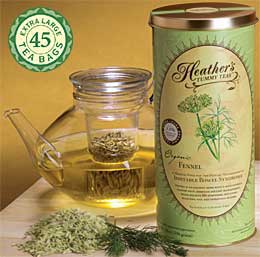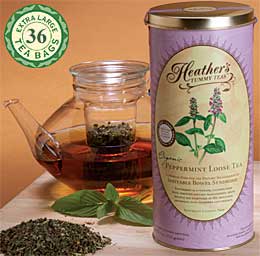 Organic High Volatile Oil Fennel & Peppermint Tummy Tea Bags

Extraordinary Quality ~ Very Economical

Fennel is terrific for bloating & gas, Peppermint is great for IBS pain & spasms.

What NOT to Drink for Irritable Bowel Syndrome
"What drinks should I avoid if I have IBS?"

After our last newsletter's very popular column about what's safe to drink for IBS, I received a lot of letters from people asking what's NOT safe.

The short answer is, unfortunately, quite a few things - enough for two separate Ask Heather columns, actually. But, knowing about potential triggers is half the battle, so here's a rundown on what drinks you should really avoid altogether - especially since there is such a wealth of delicious, safe alternatives.

* Coffee - Both regular AND decaf coffees contain an enzyme that's an extremely strong GI tract irritant. In addition, the caffeine in coffee is a GI stimulant, and coffee is highly acidic, which can aggravate the upper GI symptoms (such as reflux or heartburn) that many people with IBS are also prone to.

Sometimes people with IBS-constipation come to rely on coffee for its laxative effect, but because it's such a harsh irritant it's likely to cause cramps, spasms and rebound diarrhea. It can also worsen constipation if it causes intestinal spasms severe enough to seize up the colon to such an extent that motility is slowed or outright halted.

If I had to name the single worst beverage for IBS, coffee would win the prize.

* Soda Pop - The only IBS-safe ingredient in soda pop is the water. Most commercial brands are sweetened with high fructose corn syrup, and fructose is a very poorly digested sugar. What does this mean? It means it can cause cramps, spasms, bloating, gas, and diarrhea. Does this mean that diet soda is a safer bet? Nope - artificial sweeteners are even worse. Splenda, NutraSweet, Equal, saccharine, sorbitol, and all other artificial sweeteners can trigger IBS symptoms.

Many soda pops also contain caffeine. All of them are carbonated, and carbonation can cause or increase gas and bloating, or trigger intestinal spasms. If I had to actually design an IBS-unfriendly drink, I'd definitely come up with something exactly like soda pop.

* Dairy - But wait, what if it's low fat? What if it's lactose-free? What if it's cultured? Doesn't matter, doesn't matter, doesn't matter. It's not just the fat and the lactose in dairy that can trigger severe IBS symptoms. All dairy beverages contain components such as the proteins whey and casein, which can cause severe digestion problems. Avoid dairy altogether, and if you need a replacement use soy, rice, or almond dairy substitutes.

We'll wrap up the list with our next newsletter, but in the meantime, if you're feeling discouraged, don't be! Our last newsletter gave all the delicious and safe beverage options for IBS, so don't focus on deprivation when you have a wonderful (and long) list of IBS-friendly drinks.

~ Heather

Coming next, what NOT to drink for IBS!

Did you miss our recent "Ask Heather" and what IS safe to drink for IBS?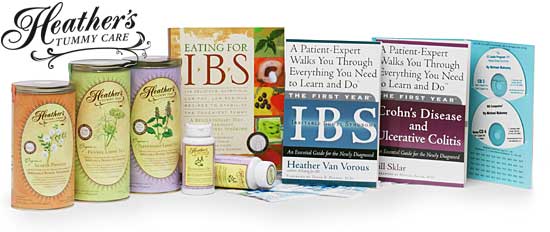 Shop at Heather's Tummy Store for IBS
HelpForIBS.com
The only store that's just for IBS - so we only carry the very best

You're on this newsletter list because you have expressed interest in IBS news and information.




Change your newsletter email address here.

If you are viewing this newsletter on a website and would like to subscribe for email delivery, please "Join the IBS Newsletter" here.

ANTI-SPAM PRIVACY & SECURITY POLICY
HelpForIBS.com
Heather's Tummy Care
80 S. Washington St, #304
Seattle, WA 98104 USA

© 2009 Heather Van Vorous, Heather's Tummy Care. All rights reserved.
USA Copyright Office Registration Number TXU 1-270-858 and others