Heather's IBS Newsletter ~ For Irritable Bowel Syndrome


Is there anything safe to drink for IBS?

A reader's experience echoes my own - what's best for IBS pain?

Plus a ton of new stores!


Enjoy this week's news and fabulous Turkey Burger recipe!

Best Wishes,
Heather Van Vorous

Did a friend send you this newsletter? Sign up here for your own free subscription.



~ Heather's Tummy Tamers Peppermint Oil Capsules ~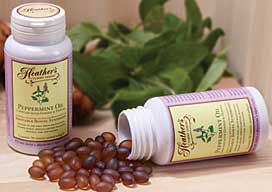 Peppermint Oil Caps Called "Drug of Choice for IBS"

Our Peppermint Oil Caps have the added benefits of fennel and ginger oils, and they help prevent abdominal pain, gas, and bloating!

Delectable Turkey Burgers

Here's a delicious, fast and easy burger recipe from one of our fabulous message board moderators, ShellMarr (thanks Shell!) These are wonderful as a main dish, on a hamburger bun with condiments, or even made into smaller meatballs instead of burgers and added to your favorite cooked pasta or soup recipe.

8 servings

1/4 cup long grain white rice
salt and pepper
1 lb/450 grams lean ground turkey (white meat only, no skin)
1 small cooking apple, peeled, cored, and grated
1 small onion, chopped finely
1 garlic clove, chopped finely
1 tsp ground sage
1/2 tsp dried thyme
1/2 tsp ground allspice
(optional - I add 1 Tbsp Acacia Tummy Fiber to Shell's recipe) nonstick cooking spray

Cook the rice in a large pan of boiling salted water for about 10 minutes, or until tender. Drain, rinse under cold water then drain well again.

Put cooked rice and the remaining ingredients in a large bowl and mix well together. With wet hands, shape the mixture into 8 thick burgers.

Spray a large, nonstick skillet with cooking spray, add the burgers, and cook for about 10 minutes, turning them over several times, until they are golden brown and cooked through. Remove from the skillet and serve while hot.

For a fabulous dessert to follow these burgers, try my Chocolate Decadence Cake!

Are you just learning how to eat for IBS? A little intimidated at the thought of special IBS recipes? Not quite sure just what makes these recipes special in the first place? Don't worry! Come see the IBS Diet pages, and find the answers to all your questions.

~ Heather's Tummy Fiber ~
For the Dietary Management of Abdominal Pain, Diarrhea, &, Constipation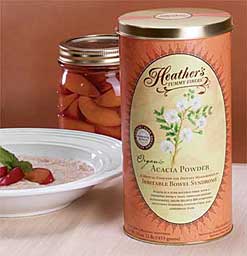 Certified Organic Acacia ~ Pure Soluble Fiber

The prebiotic fiber that relieves both diarrhea and constipation!

** Very Economical ** Only 4 cents per gram of fiber!

Is Peppermint Better for IBS than a Drug?!

Aloha Heather,

Just wanted to let you know your current newsletter is great and hit home with me. I took a prescribed anti-spasmodic for years to control the horrible, painful cramps of IBS. I was always drowsy but I couldn't function without the medication. Now I drink your wonderful Peppermint Tummy Tea with Acacia Tummy Fiber two to three times a day and also find it much more effective than the drug which I've given up.

Thanks again for your wonderful lifesaving products. Of course you may use my comments on the site or in the newsletter. I'm convinced that your products and books have enabled me to lead a normal life again and I want others in my situation to receive help too.

Your loyal fan forever,

Karen Lee
Honolulu, HI

Thank you so much, Karen! I too have given up my prescribed anti-spasmodics in favor of peppermint! I get better results and no side effects! ~ Heather

Did you miss the recent letter from Paula, who ended 25 years of alternating diarrhea and constipation?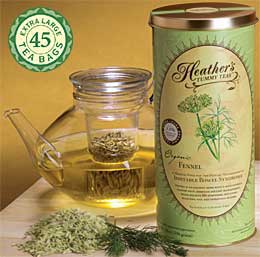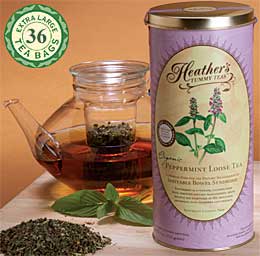 Organic High Volatile Oil Fennel & Peppermint Tummy Tea Bags

Extraordinary Quality ~ Very Economical

Fennel is terrific for bloating & gas, Peppermint is great for IBS pain & spasms.


New Stores and Practitioners with Heather's Tummy Care Products

We're continuing our special rebate offer for people who buy Tummy Care products at their local stores, and we have new store announcements this week as well.

Florida
Green Bean Organic Market
11020 Northcliffe Blvd
Spring Hill, FL 34608
352-688-7979

Georgia
CWK Beauty Supply
103 Highway 138 West
Stockbridge, GA 30281
770 474 4254

Kansas
Hy-Vee 1464 Ooathe
18101 W. 119th St
Ooathe, KS 66061
913 393 4150

Massachusetts
Debra's Natural Gourmet
98 Commonwealth Ave
Concord, MA 01742
978-371-7573

Missouri
Hyvee
301 NE Rice Rd
Lees Summit, MO 64086
816 524 5760

New York
Pitcher of Health
672 Pittsford Victor Rd
Pittsford, NY 14534
585 218 0580

Vitamin World Super Store
100 East Jericho Turnpike
Mineola, NY 11501
516-294-7084

Oregon
Nature's Bounty
143 NW 3rd Street
Prineville, OR 97754
541 447 2247

Tennessee
Village Market
5002 University Dr.
Collegedale, TN 37315
423-236-2301

Washington
Julie Starkel Nutrition
7300 E Greenlake Dr. N
Seattle, WA 98115
206-465-3469

If you don't have a store in your area carrying Tummy Care products yet, please give them this flyer to ask them.






Researchers call gut-directed hypnotherapy a "cure" for IBS!

The Best Gut-Directed Self-Hypnosis Program for All IBS Symptoms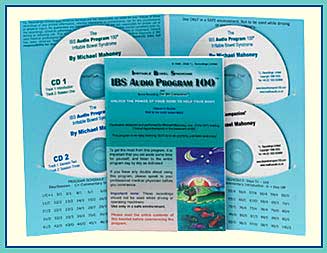 Gives an average 85% reduction of pain and bowel dysfunction symptoms.
Listen to IBS Audio Program 100 samples!

Probiotics in the treatment of Irritable Bowel Syndrome
A recent review in BMC Gastroenterology noted that Irritable Bowel Syndrome (IBS) is a common chronic gastrointestinal disorder and the evidence for efficacy of most drug therapies in the treatment of IBS is weak. A popular alternative is probiotics, which have been used in several conditions including IBS. The aim of this systematic review and meta-analysis of randomized trials study was to evaluate the efficacy of probiotics in alleviating symptoms in patients with irritable bowel syndrome.

This review concluded that probiotics may have a role in alleviating some of the symptoms of IBS. However, as IBS is a condition that is chronic and usually intermittent longer term trials are recommended. Such research should focus on the type, optimal dose of probiotics and the subgroups of patients who are likely to benefit the most.

Go here for full information about IBS and the best treatments.

Go here for more information about this study...

Looking for more IBS research and news? Check the IBS Research Library!



Safe Drinks for Irritable Bowel Syndrome
"Is there anything I can I drink besides plain water that's safe for IBS?"

I get asked this question a lot, and I love it, because I can give such a wonderful reply. Yes! There are many, many drinks besides water that are safe for IBS, and some are downright helpful for preventing and/or relieving IBS symptoms like abdominal pain, bloating, and gas. Herbal teas, fruit smoothies, soy coffees, Indian chais, flavored rice and soy drinks, even hot chocolate - there's quite a long list, so you have a lot of delicious options.

What matters most is that you avoid beverage triggers (dairy, caffeine, coffee, tannic acid, carbonation, alcohol, high fat content, artificial sweeteners). Secondary to that, you can focus on adding IBS aids (soluble fiber, beneficial herbs) to safe beverages. At worst you'll be drinking something that simply won't harm your IBS, and at best you can enjoy drinks that actively help.

Where to start? Well, for beverages that will directly address IBS symptoms, try:

Peppermint tea for abdominal pain, spasms, or cramps. Make sure the tea is organic, large leaf, and high volatile oil, as the stronger it is the more effective it will be. Medicinal strength is best.

Fennel tea for bloating and gas. As with peppermint, fennel tea should be high volatile oil, organic, and made with whole fennel seeds (not ground) for maximum medicinal strength.

Ginger tea for nausea (you can also brew a chunk of fresh gingerroot in freshly boiled water).

Chamomile tea for relaxing the gut and nervous system.

For an all-around digestive aid, try a blend of herbs and spices such as my naturally caffeine-free Sweet Ginger Chai Tea recipe. Don't want to bother making your own chai? Look for decaf versions ready-made in the tea/coffee aisle of grocery stores (Pacific and Oregon brands are both good).

If you're looking for a more filling drink, blend up a fresh fruit smoothie. Blending mechanically breaks down the insoluble fiber in the fruit, making it much more tolerable for IBS. Try a combination of fresh or frozen peaches, apricots, cherries, bananas, mangoes, or your own favorites. Add just enough soy or rice milk to blend smoothly, then add a little honey if you want extra sweetness. You can even throw in some Acacia Tummy Fiber for extra soluble fiber.

Many rice, soy, and almond milks, especially vanilla flavored, make great drinks in their own right. Chocolate soy milk makes a terrific hot chocolate - just heat and serve. Once the holiday season begins, you can even find eggnog flavored soy milk, which is delicious hot or cold with a little nutmeg sprinkled on top.

Decaffeinated black or green teas are tolerable for many people with IBS - just watch out if you're prone to heartburn or reflux, as the tannic acid in teas can sometimes aggravate that.

Soy or herbal coffees, which are available in many different brands, are not only safe for IBS but delicious, especially brewed with a little soy or rice milk for extra creaminess. There are wonderful flavors like mocha and hazelnut available, so feel free to experiment and find your own favorite!

~ Heather

Coming next, what NOT to drink for IBS!

Did you miss our recent "Ask Heather" and the IBS Recipe Blowout?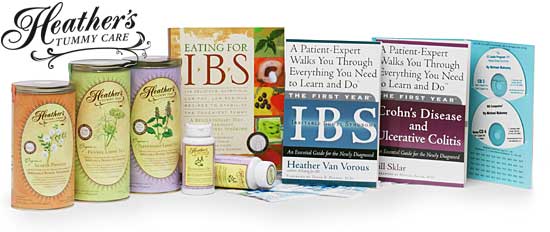 Shop at Heather's Tummy Store for IBS
HelpForIBS.com
The only store that's just for IBS - so we only carry the very best

You're on this newsletter list because you have expressed interest in IBS news and information.




Change your newsletter email address here.

If you are viewing this newsletter on a website and would like to subscribe for email delivery, please "Join the IBS Newsletter" here.

ANTI-SPAM PRIVACY & SECURITY POLICY
HelpForIBS.com
Heather's Tummy Care
80 S. Washington St, #304
Seattle, WA 98104 USA

© 2009 Heather Van Vorous, Heather's Tummy Care. All rights reserved.
USA Copyright Office Registration Number TXU 1-270-858 and others