Heather's IBS Newsletter ~ For Irritable Bowel Syndrome

Sale Ends!

Save on Acacia Tummy Fiber Kit, Peppermint Oil Caps, IBS Self-Hypnosis Program, & IBS Stress Kit!

Plus number four of the five key IBS treatments!

Hello to everyone -

This is a special short end-of-year newsletter to remind everyone that our holiday sale ends on December 31!

The Acacia Kit and Peppermint Caps are both on sale at 25% off the list price. This is a savings of almost $10 for the Acacia and almost $7 for the Peppermint Caps.

The sale also includes our ongoing special on the IBS Hypnotherapy Program, which is now just $79.95 (a $10 savings from the normal price of $89.95). Plus, our fantastic IBS Stress Kit, which includes the IBS Audio Program, is on sale for 20% off the list price (a savings of over $25)!

Plus, we have terrific New Year's Eve Peppermint Brownies, and a continuation of the five key IBS treatments. Enjoy!

Happy Holidays,
Heather Van Vorous

Did a friend send you this newsletter? Sign up here for your own free subscription.


Researchers call gut-directed hypnotherapy a "cure" for IBS!

Now On Sale for the Holidays!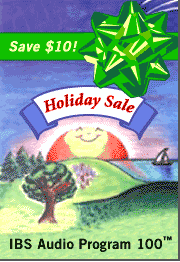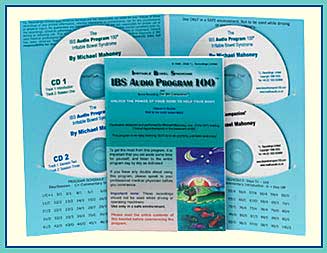 Gives an average 85% reduction of pain and bowel dysfunction symptoms.
Listen to IBS Audio Program 100 samples!

New Year's Eve Peppermint Brownies

Are you looking for a little splurge to ring in the New Year? Sweet treats are often problematic for IBS, but these brownies are digestion-friendly and spectacularly delicious! They're low fat, dairy free, and have a good soluble fiber foundation. Have a choco-licious new year!

2 tablespoons Acacia Tummy Fiber
3/4 cup unsweetened cocoa powder
1/2 teaspoon baking soda
1/3 cup canola oil
1/2 cup boiling water
1/3 cup unsweetened applesauce
2 cups sugar
4 egg whites
1 1/3 cups all-purpose flour
1 teaspoon vanilla
1 teaspoon peppermint extract

Preheat the oven to 350F. Spray a 9 x 13" baking pan with cooking oil and set aside.

In a large bowl, whisk together the acacia, cocoa and baking soda. Blend in the oil, and mix until smooth. Pour in the boiling water, stirring until the mixture thickens. Stir in the applesauce, the sugar, and the egg whites. Mix until smooth.

Add the flour, vanilla, and peppermint. Blend completely - there should be no lumps. Pour into the prepared baking pan. Spread the batter evenly to avoid crispy edges.

Bake for 35 to 40 minutes (25-30 minutes if using a Pyrex pan), until just set in the middle. Let cool and cut into squares.

For an extra-minty soothing dessert, serve the brownies with a wonderful cup of hot Peppermint Tummy Tea!

Are you just learning how to eat for IBS? A little intimidated at the thought of special IBS recipes? Not quite sure just what makes these recipes special in the first place? Don't worry! Come see the IBS Diet pages, and find the answers to all your questions.

~ Heather's Tummy Fiber ~
For the Dietary Management of Abdominal Pain, Diarrhea, &, Constipation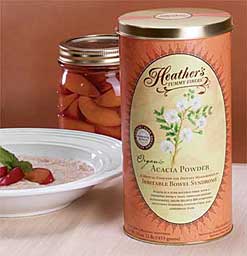 Certified Organic Acacia ~ Pure Soluble Fiber

The prebiotic fiber that relieves both diarrhea and constipation!

** Very Economical ** Only 4 cents per gram of fiber!
Now On Sale for the Holidays!

Yoga Helps IBS
The ancient practice of yoga is increasingly finding a new following — among doctors and medical researchers who are working to prove its benefits for a variety of illnesses.

Researchers at University of North Carolina Hospitals are studying yoga's benefits for people with irritable bowel syndrome. Doctors at Duke University in Durham, N.C., recently completed a study showing that yoga provided significant help for postmenopausal women with early breast cancer.

"There's been an explosion of data using yoga as a treatment option," said Shelley Wroth, an obstetrician at Duke Integrative Medicine and a yoga teacher. She said studies have found that yoga helps people suffering diseases such as hypertension, anxiety, arthritis, chronic back pain, carpal tunnel syndrome, fibromyalgia, stress, depression, diabetes and epilepsy — among others.

"It shows so much promise," Wroth said.

But even as the science establishes yoga's benefits, less is known about why it is helpful. Porter and others postulate that the practice reduces stress through stretching poses, practiced breathing and meditation. For people battling illness, stress reduction may pack extra potency.

"A lot of our diseases have some sort of origins in stress and the stress reaction," said William Frey, who is leading a yoga class at Rex Healthcare in Raleigh, N.C., as part of a UNC-Chapel Hill study among patients with irritable bowel syndrome. "By taking care of stress, you're starting to eliminate some of the diseases that are caused by it." Go here for full information about yoga for IBS.

Go here for more information about this study...

Looking for more IBS research and news? Check the IBS Research Library!





~ Heather's Tummy Tamers Peppermint Oil Capsules ~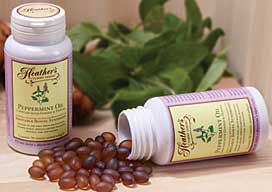 Peppermint Oil Caps Called "Drug of Choice for IBS"

Our Peppermint Oil Caps have the added benefits of fennel and ginger oils, and they help prevent abdominal pain, gas, and bloating!
Now On Sale for the Holidays!

IBS Treatments & Cheat Sheet - Part 4
While I usually use this column to look at one aspect of IBS in detail, this week I thought it would be helpful - especially if you're still struggling - to step back and take a look at the big picture. What exactly are all the best treatment options for IBS? How do you decide which options would be best for you, and what you should try first? Is there an easy way to overview all of this information?

Yep! In a nutshell, there are five key categories of treatment for IBS. The most successful treatments in general tend to be natural. Even though there is no cure for IBS so far, the strategies summarized below can help significantly to alleviate or even prevent all IBS symptoms.

To go with our summary, there is a really helpful IBS Treatment Cheat Sheet for Tummy Care products as well.

Last week, we addressed number three on the list, alternative therapies. This week, we'll tackle number four:

4. Stress Management
Stress activates the sympathetic nerve plexuses, and stimulates excessive adrenaline production, which in turn upsets the rhythmic muscle contractions of the gut. Given that people with IBS are prone to suffer from irregular GI contractions by definition, it's easy to see why stress is such a powerful trigger. Several interesting studies have actually shown the direct link between emotional stressors and subsequent IBS flares.

One stress factor that can have a significant impact on IBS symptoms is sleep loss. Since a poor night's sleep results in fatigue and a corresponding lower stress-tolerance level, being tired allows IBS to be more easily triggered. A significant correlation has been noted between morning IBS symptoms and the quality of the previous night's sleep. In fact, morning IBS symptoms seemed to rise or fall in direct association with the prior night's quality of sleep. A less strong but still significant relationship was found between end of day IBS symptoms and the quality of sleep during the previous evening. Ensuring an adequate night's sleep should be a top priority for reducing stress-induced IBS symptoms.

Yoga is another highly effective IBS treatment for stress-related symptoms. Yoga, a system of physical and mental exercises, rests on three foundations - exercise, breathing, and meditation - with the goal of joining together the body and mind into a state of balance and harmony. Yoga has been proven to provide a wide variety of significant health benefits, both physical and mental, including the alleviation and even prevention of digestive distress. In particular, yoga is an excellent way to manage Irritable Bowel Syndrome symptoms such as diarrhea, constipation, abdominal pain, bloating, and nausea. There are even specific yoga poses meant to address particular digestive problems; combining a regular yoga practice with an emphasis on these poses can help successfully manage IBS. Check the First Year IBS book for comprehensive information about IBS treatment through yoga.

You can also check the IBS treatment cheat sheet, with Tummy Care products noted for the best symptom matches. Many products help multiple symptoms, so even if a particular symptom is not checked it may well be a secondary benefit of a product.

Coming next time, the last key category of IBS treatments!

~ Heather

Did you miss the recent "Ask Heather" and the third of the five key treatment strategies?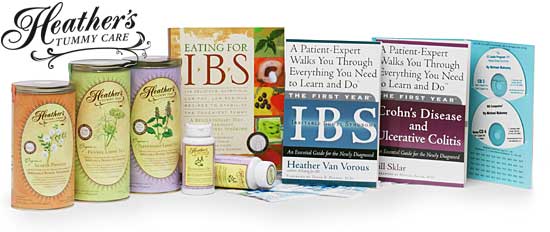 Shop at Heather's Tummy Store for IBS
HelpForIBS.com
The only store that's just for IBS - so we only carry the very best

You're on this newsletter list because you have expressed interest in IBS news and information.




Change your newsletter email address here.

If you are viewing this newsletter on a website and would like to subscribe for email delivery, please "Join the IBS Newsletter" here.

ANTI-SPAM PRIVACY & SECURITY POLICY
HelpForIBS.com
Heather's Tummy Care
80 S. Washington St, #304
Seattle, WA 98104 USA

© 2008 Heather Van Vorous, Heather's Tummy Care. All rights reserved.
USA Copyright Office Registration Number TXU 1-270-858 and others