Heather's IBS Newsletter ~ For Irritable Bowel Syndrome

What to eat when you can't eat anything? Find out!

What made Kelly feel better right away?

Can dessert be good for you?!


Hello to everyone ~

We have a wonderful letter this week from Kelly, who is feeling normal again after sinking into a deep depression over her IBS symptoms. Find out what helped her feel better right away!

We'll also get back to the basics, and talk about what to eat when you can't eat anything.

Plus, new stores, a fantastic digestion-friendly recipe and the latest news and research. Enjoy!

Best Wishes,
Heather Van Vorous



Did a friend send you this newsletter? Sign up here for your own free subscription.

Summer Strawberry Cheesecake

Oh my! I can't think of a more delicious dessert for summer's fresh strawberries. This "cheesecake" is not only low fat and dairy-free, it has three different forms of ginger for good digestive health. Plus, the tofu and Tummy Fiber provide a creamy, luscious texture as well as a high soluble fiber foundation.

This recipe is gorgeous enough for a fancy dinner party but fast and easy enough to whip up on a work night. Enjoy!

Makes one 10" cake, 14-16 Servings

Crust:
1 1/2 cups finely crushed graham crackers
2 tablespoons canola oil
1 teaspoon molasses
1 tablespoon dark corn syrup
1/2 teaspoon ground ginger

Preheat oven to 325F. Lightly spray 10" non-stick heavy-gauge springform pan with cooking oil. Mix all crust ingredients together thoroughly and press firmly into pan. Bake 5-7 minutes. Cool on rack.

Filling:
25 ounces silken firm tofu (a few ounces over or under is fine)
1/3 cup fresh lemon juice
grated zest from 2 lemons
3 tablespoons cornstarch
2 tablespoons Acacia Tummy Fiber
2 tablespoons finely diced crystallized ginger
1 tablespoon freshly grated gingerroot with juice, strings and peel removed
2/3 cup - 3/4 cup granulated sugar, to taste
4 organic egg whites
1/8 teaspoon salt

Topping:
1/2 cup large ripe strawberries, hulled and halved lengthwise
strawberry or cherry jelly, for brushing

Blend all filling ingredients except egg whites and salt until completely smooth. Set aside. In a large bowl beat egg whites and salt until stiff peaks form. Gradually fold tofu mixture into egg whites with a flexible rubber spatula. Pour into baked crust and bake for 15-20 minutes, until just barely set (filling will still be jiggly and not set at the very center).

Cool on rack, then carefully top with fanned-out strawberry halves in concentric circles. In a microwave heat a few spoonfuls of the jelly in a small bowl, checking and stirring every 20 seconds or so, until it's a thin and spreadable consistency. With a pastry brush, brush melted jelly over strawberry slices (or, with a teaspoon carefully spoon and spread melted jelly over slices). Chill cake until topping is set. Run a long thin knife around edge of pan, and carefully remove sides. Serve chilled.

For a deliciously soothing drink with this dinner, I love to serve Peppermint Tummy Tea!

Are you just learning how to eat for IBS? A little intimidated at the thought of special IBS recipes? Not quite sure just what makes these recipes special in the first place? Don't worry! Come see the IBS Diet pages, and find the answers to all your questions.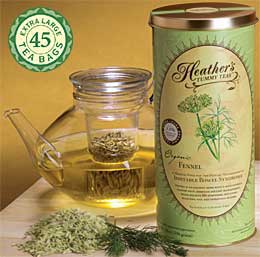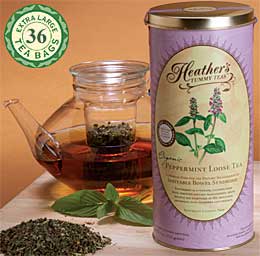 Organic High Volatile Oil Fennel & Peppermint Tummy Tea Bags

Extraordinary Quality ~ Very Economical

Fennel is terrific for bloating & gas, Peppermint is great for IBS pain & spasms.

Feeling Better Right Away!

Hello Heather,

I don't normally do this, but I just had to write to thank you for the Acacia Tummy Fiber. It truly is amazing!

I've been taking it for about four weeks now for IBS, and am still gradually increasing the dosage. I started to feel better right away, and the Tummy Fiber, along with some diet changes, has helped me feel "normal" again. While I still have some bad days occasionally (poor dietary choices are to blame), they are much fewer, and the symptoms aren't nearly as bad or long-lasting.

I was in very bad shape before taking the Tummy Fiber. I was beginning to sink into a deep depression from the IBS symptoms, and I began to think that life just wasn't ever going to be good again. Thank you from the bottom of my heart for helping me get my life back!

Sincerely,
Kelly T.

Thank you so much, Kelly! I am just thrilled you're doing so much better! ~ Heather

Did you miss the last reader letter from Vivian, who had to overcome IBS on top of other digestive disorders?

~ Heather's Tummy Fiber ~
For the Dietary Management of Abdominal Pain, Diarrhea, &, Constipation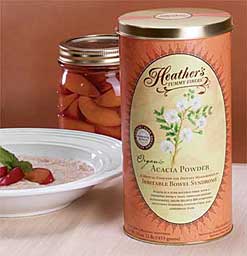 Certified Organic Acacia ~ Pure Soluble Fiber
The prebiotic fiber that relieves both diarrhea and constipation!

** Very Economical ** Only 4 cents per gram of fiber!


New Retail Stores Carrying Heather's Tummy Care Products
We're continuing our special rebate offer for people who buy Tummy Care products at their local stores, and we have new store announcements this week as well.

Florida
Health Foods of Ormond Beach
165 E Granada Blvd
Ormond Beach, FL 32176
386-672-2993

Illinois
Nature's Cornucopia
1717 N Richmond Road
McHenry, IL 60051
815-385-4500

Washington
Seattle Nutritional Therapy
1400 Hubbell Place Suite 710
Seattle, WA 98101
206-697-6585

If you don't have a store in your area carrying Tummy Care products yet, please give them this flyer to ask them.






~ Heather's Tummy Tamers Peppermint Oil Capsules ~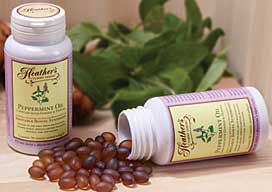 Peppermint Oil Caps Called "Drug of Choice for IBS"

Our Peppermint Oil Caps have the added benefits of fennel and ginger oils, and they help prevent abdominal pain, gas, and bloating!

Acacia Fiber Has a Prebiotic Efficacy
A recent study in the British Journal of Nutrition was undertaken to determine the prebiotic efficacy of Acacia (gum arabic) upon consumption and, if any, to establish the dose-effect relationship. Human healthy volunteers consumed various daily doses (5, 10, 20, 40 grams) of Acacia in water for up to 4 weeks. At 0, 1, 2 and 4 weeks quantification of bacterial numbers in stool samples was performed. The genera of Bifidobacteria and Lactobacilli were taken as potentially beneficial bacteria.

Compared with the negative control the numbers of Bifidobacteria and Lactobacilli 4 weeks after consumption were significantly higher for Acacia. Moreover, the numbers of Bifidobacteria, Lactobacilli and Bacteroides were significantly higher for Acacia than for inulin. No significant drawback was encountered during the study. It is concluded that Acacia establishes prebiotic efficacy.

Go here for full information about Acacia Tummy Fiber.

Go here for more information about this article...

IBS Patient Symposium in North Carolina
The UNC Center for Functional GI & Motility Disorders is hosting a Patient Symposium on Saturday, August 23, 2008. The theme is Understanding IBS and Other Functional GI Disorders. The symposium will be held at the William and Ida Friday Center for Continuing Education, in Chapel Hill, North Carolina.

The registration fee is $25.00 and includes all plenary sessions, breakout sessions, lunch, refreshment breaks, and printed materials. Registration begins at 8:00am. The program runs from 8:30am until 5:30pm. There will be Q & A sessions following plenary sessions as well as breakout sessions at the end of the day, providing plenty of opportunity for questions and answers with the symposium faculty.

Plenary topics (tentative):

What is a functional GI disorder
Types of IBS and risk factors
Diagnosis and tests for IBS
IBS medications – effective treatments and new options
How to talk with your doctor
New leads in the biology of IBS
IBS diet and nutrition
Pediatric functional GI disorders
Incontinence, constipation, bloating
Functional dyspepsia and other upper GI symptoms
Behavioral and alternative treatments – hypnotherapy



Researchers call gut-directed hypnotherapy a "cure" for IBS!

The Best Gut-Directed Self-Hypnosis Program for All IBS Symptoms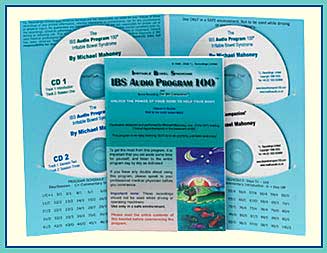 Gives an average 85% reduction of pain and bowel dysfunction symptoms.
Listen to IBS Audio Program 100 samples!

What to Eat When You Can't Eat Anything

No doubt about it, all of us with IBS have been there. There are some days when it seems like everything you eat triggers an attack. This is not your imagination; when your IBS is raging, your gastrocolic reflex can be so sensitive that simply drinking water can trigger dysfunctional colon contractions.

When this happens, you need to give your body a rest and stick to the safest foods and drinks possible in order to break the cycle of IBS. I think the best way to do this is to really restrict your diet for a few days to nothing but soluble fiber foods and a prebiotic soluble fiber supplement like Acacia Tummy Fiber.

Make sure you're also drinking lots of strong hot Peppermint Tummy Tea for pain, spasms and cramps and/or Fennel Tummy Tea for bloating and gas. These can really, tremendously help. Try to be mildly active, even if just around the house, as gentle exercise will work the muscles of the bowels and help get them back into a pattern of normal contractions. Walking or stretching or an easy yoga practice is ideal. Exercise is especially crucial for constipation.

Soluble fiber foods and supplements will stabilize the GI contractions that are going haywire with IBS and causing pain, and will normalize bowel function from either extreme (diarrhea AND constipation). So stick to foods like plain white rice, oatmeal, pasta, white breads, peeled potatoes, etc. Boring? You betcha - but it's just for a short while. You won't develop malnutrition in just a few days, but you will get your gut to calm down. Try to stick to this list:

The What to Eat When You Can't Eat Anything Cheat Sheet!

* Fresh white breads (such as French or sourdough, not Wonder bread)

* Toasted plain bagels (top with a little seedless jam or jelly if desired)

* Toasted plain English muffins

* Cream of Rice cereal

* Pretzels (salted or unsalted)

* Fat-free Saltines

* Fat-free fortune cookies

* Plain angel food cake, homemade or from a mix

* Plain baked potatoes (without the skin)

* Plain steamed root veggies (peeled)

* Plain white rice (top with a little soy sauce if desired)

* Arrowroot crackers

* Cold fat-free cereal such as Corn Chex, Kix, Rice Chex, Rice Krispies, Honeycomb, or Corn Pops, eaten dry. At all costs avoid bran, granola, and whole wheat choices, as well as cereals with raisins, other dried fruits, or nuts

* Homemade dried or fresh bananas

* Plain cooked pasta (not egg), sprinkled with a little salt

* Unsweetened applesauce

Coming next time, we'll talk about how to safely expand your diet once your gut has calmed down.

Did you miss the previous Ask Heather and meal replacement drinks for IBS?

~ Heather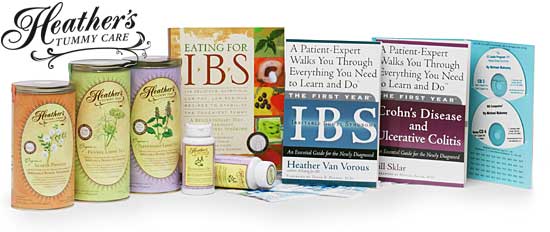 Shop at Heather's Tummy Store for IBS
HelpForIBS.com
The only store that's just for IBS - so we only carry the very best

You're on this newsletter list because you have expressed interest in IBS news and information.




Change your newsletter email address here.

If you are viewing this newsletter on a website and would like to subscribe for email delivery, please "Join the IBS Newsletter" here.

ANTI-SPAM PRIVACY & SECURITY POLICY
HelpForIBS.com
Heather's Tummy Care
80 S. Washington St, #304
Seattle, WA 98104 USA

© 2008 Heather Van Vorous, Heather's Tummy Care. All rights reserved.
USA Copyright Office Registration Number TXU 1-270-858 and others