Heather's IBS Newsletter ~ For Irritable Bowel Syndrome

October 2, 2007

Women vs. Men - Special IBS Gender Issue!

Do men get IBS? Of course! Why one man is now symptom-free...

Hello to everyone ~

Welcome to our special gender issue! Do women face more difficulties with IBS? Are men and women equally likely to have IBS in the first place? Do they need different treatments? Keep reading and find out!

I often hear from men who feel excluded from IBS information and treatment avenues, but we have an inspiring letter from one man who proves that while IBS may have gender discrepancies, successfully managing the disorder is an equal-opportunity endeavor.

For both men and women, we have a terrific IBS-friendly recipe, a special IBS event, current news and research with a gender twist, and more!

Best Wishes,
Heather Van Vorous

Did a friend send you this newsletter? Sign up here for your own free subscription.

Butternut Squash Fettucine

This is a deliciously different vegetarian pasta dish, with a creamy, nutty sauce. It's perfect for any variety of mild, sweet winter squash, so if you have farmers' markets or a home garden with heirloom varieties, feel free to substitute for the butternut squash.

This is a very nutritious, high soluble fiber dinner that's also great as leftovers for lunch the next day.

Makes 6-8 Servings

4 cups fresh or frozen butternut, buttercup, ambercup squash, peeled, diced, and steamed until very tender

2 cups plain soy or rice milk
2 tablespoons cornstarch
1 tablespoon Acacia Tummy Fiber (optional, but makes a very creamy sauce)
2 tablespoons olive oil
2 cups finely diced onion
4 garlic cloves, minced
1 teaspoon rosemary
2 teaspoons savory
2 teaspoons dried basil
1 teaspoon salt
2 teaspoons brown sugar
16 oz. package linguine, cooked, 1 cup cooking water reserved
soy or rice Parmesan

Whisk together the steamed squash, soy milk, cornstarch, and Tummy Fiber until smooth. Set aside. Heat olive oil in a large nonstick skillet. Saute onion, garlic, and herbs until very tender and golden. Add the squash mixture, salt, and sugar, and cook over medium low heat until the sauce thickens. If the sauce is too heavy add some reserved pasta water. Spoon the sauce over the cooked linguine and sprinkle with Parmesan.

For a special treat, serve this pasta with Plum Delicious Cake for dessert.

Are you just learning how to eat for IBS? A little intimidated at the thought of special IBS recipes? Not quite sure just what makes these recipes special in the first place? Don't worry! Come see the IBS Diet pages, and find the answers to all your questions.



~ Heather's Tummy Tamers Peppermint Oil Capsules ~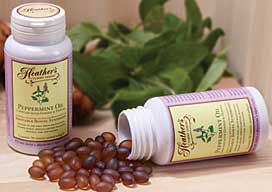 Peppermint Oil Caps Called "Drug of Choice for IBS"

Our Peppermint Oil Caps have the added benefits of fennel and ginger oils, and they help prevent abdominal pain, gas, and bloating!

Symptom-Free from Day One

Heather,

I just wanted to thank you for your website and the Acacia Tummy Fiber. I was diagnosed, after months of suffering and testing, with IBS and sent home with a prescription for hyocyamine. As I searched the internet for how others were handling a diagnosis like mine, I found your site and ordered the Tummy Fiber and followed some of your nutrition guidelines.

I have been symptom-free from the day I started the Tummy Fiber up to this day. Such a simple change in nutrition and such a grand reward.

I now eat a healthy diet. I have eliminated the bulk of processed packaged foods and almost all grains from my diet and I walk 2-3 miles a day. What a difference! I lost 30 lbs. and my energy level is better than ever and I'm now 54. My fasting glucose has returned to the normal range and my fasting insulin level is down from 9 to 3. I also use a probiotic 3 times a day.

Most importantly to me is my digestion and my other intestinal function is just great. I used to have what I called a bad day a couple of times a week because of my IBS symptoms but as I said, not one symptom now in 4 months.

You helped turn my life around and open my eyes and ears to a new way of eating and thinking about my health. I just wanted to say thank you.

Larry Whetsell

Thank you so much, Larry. I'm completely thrilled you're doing better!

Did you miss the recent letter from Marilyn, who was helped so dramatically by hypnotherapy after suffering severely for years? She says the Mayo Clinic couldn't help her, but the IBS hypnosis program saved her life!?

~ Heather's Tummy Fiber ~
For the Dietary Management of Abdominal Pain, Diarrhea, &, Constipation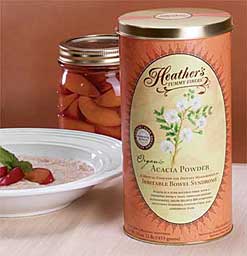 Certified Organic Acacia ~ Pure Soluble Fiber
The prebiotic fiber that relieves both diarrhea and constipation!

** Very Economical ** Only 3 cents per gram of fiber!


Special IBS Event in Pennsylvania
Bloom Naturally is having a special IBS event during their anniversary celebration (330 East 5th St., Bloomsburg, PA 17815, telephone 570-784-3357).

This event will feature Heather's Tummy Care for IBS, with a chance to win a gift basket full of Tummy Care products (including signed copies of IBS books, Acacia Tummy Fiber, Tummy Tamers peppermint oil capsules, and more!), plus food and drink demos, free samples, and IBS dietary literature, and question-and-answer opportunities with the Bloom Naturally staff.

The Bloom Naturally celebration is on Saturday, October 13th from 8am - 4pm.

We have a special rebate offer for people who buy Tummy Care products at their local stores, and this offer is good in conjunction with the Bloom Naturally celebration.

If you don't yet have a store in your area carrying Tummy Care products, please give them this flyer to ask them.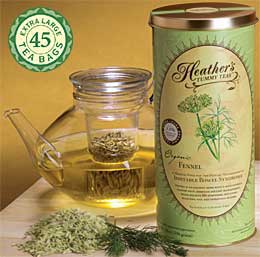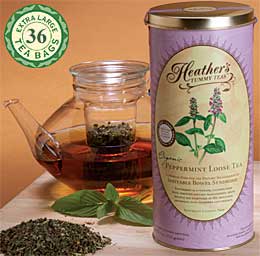 Organic High Volatile Oil Fennel & Peppermint Tummy Tea Bags

Extraordinary Quality ~ Very Economical

Fennel is terrific for bloating & gas, Peppermint is great for IBS pain & spasms.

Women Are More Prone to Constipation
A recent study in Clinical Gastroenterology and Hepatology noted that while constipation is a common disorder in children and adults, the role of gender and early life risk factors remains undefined. The aims of the study were as follows: (1) to estimate the incidence of medical presentation for constipation in a population-based birth cohort, and (2) to examine factors associated with constipation presentation from childhood to adulthood. The study concluded that early medical presentation and female sex influence incident and repeat medical visits for constipation from childhood to early adulthood. Go here for more information about the constipation.

Go here for more information about this study...

Colonoscopies More Difficult & Painful for Women and IBS Patients
A recent article in the Hepatogastroenterology noted that colonoscopies may be painful for patients and difficult for the endoscopist. The aim of this study was to identify the factors affecting the technical difficulty of a colonoscopic examination and to predict potential difficult patients who will undergo colonoscopy.

A total of 646 outpatients were consecutively included in this study, and we evaluated the difficulty of colonoscopy by cecal intubation time. Advanced age (greater than 50 years), female gender, and the presence of IBS were among the factors associated with prolonged cecal intubation time. The study concluded that for these patients information that colonoscopy may be difficult and painful should be provided. If a colonoscopy is not absolutely indicated, barium enema or CT colonography may be performed as alternative diagnostic modalities. Go here for more information about diagnosing and treating IBS.

Go here for more information about this study...

Anxiety or Depression with IBS Affects More Women Than Men
A recent study in Revista de gastroenterología de México noted that the alterations of intestinal motility and visceral sensibility in IBS are associated with psychiatric alterations and somatic symptoms in 80% of patients.

The study evaluated a total of one hundred patients and determined that while the manifestation of anxiety or depression appeared in more of 50% of the patients, it affected a greater proportion of females. Go here for more information about this study...

Hypnotherapy Helps IBS for Both Men and Women - But Differently
A recent study in Eastern Mediterranean Health Journal investigated whether hypnotherapy provides a significant effect in Saudi Arabian patients with irritable bowel syndrome. Patients were consecutively recruited after diagnosis by a gastroenterologist and a medical evaluation for irritable bowel syndrome. Each patient had 12 sessions of hypnotherapy over a period of 12 weeks, and patients completed a scale measuring symptom severity before and 3 months after the trial.

The study found that hypnotherapy reduced bowel habit dissatisfaction more in female than in male patients. However, hypnotherapy significantly enhanced a feeling of better quality of life more in male than in female patients. Go here for gut-directed hypnotherapy for IBS.

Go here for more information about this study...



Researchers call gut-directed hypnotherapy a "cure" for IBS!

The Best Gut-Directed Self-Hypnosis Program for All IBS Symptoms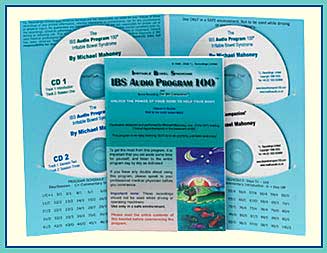 Gives an average 85% reduction of pain and bowel dysfunction symptoms.
Listen to IBS Audio Program 100 samples!

Gender and IBS - Part One
"Does IBS affect men and women differently? Are their treatments different?"

The short answer to these questions is yes and no - IBS does affect men and women differently, but almost all of the treatments are helpful for both genders. This week, we'll tackle part one: how (and why) is IBS different for men versus women?

Interestingly, the issue of gender is quite significant in IBS. Women are about twice as likely to develop the disorder than men, and research has shown that women tend to have more severe symptoms, and tend to require more medications. Hormones are one likely culprit for this disparity.

While most women with IBS have long suspected that hormones (chemical substances created by the body that control numerous bodily functions) have an impact on their IBS symptoms, research has actually clearly documented this link for menstruation, pregnancy, and menopause. In general, menstruation and menopause tend to make IBS symptoms flare, while pregnancy seems as likely to help as to hurt.

Surprisingly, small-bowel transit, gastric emptying, and colonic transit times are all significantly different for women (even women without IBS) than for men. Hormones are believed to play a large role here as well. There are actually estrogen receptors in the stomach and small intestine, which react to changing levels of hormones.

However, the higher prevalence of IBS in women may also be due to sex-related differences in brain responses to visceral (body) and psychological (mind) stressors, and not just the hormonal influences.

In practical terms, what does this mean for women with IBS? Well, most of us quickly learn through experience that menstruation leads to a worsening of IBS abdominal pain and bloating, and often increased bouts of diarrhea as well. This is due to the high progesterone levels that trigger the uterine cramping of menstruation, which can also cause gastrointestinal muscle spasms.

For many women, taking steps to prevent or relieve menstrual cramps can help prevent period-related IBS symptoms as well. Regular exercise, abdominal hot packs, and herbs with smooth muscle relaxant properties (peppermint for pain, fennel for bloating), are all healthy approaches to take.

Personally, I've had fantastic results reducing menstrual cramps (and completely eliminating cramp-related IBS flares!) from practicing yoga. For some women, birth control pills can lessen menstrual symptoms and associated IBS flares - this is an issue to address with both your GI doc and your ob/gyn.

There hasn't been much (if any) research on male hormones and IBS, so it's not really known if men are offered protection from IBS by testosterone, or if they simply benefit from their relative lack of estrogen.

Diagnostic requirements may vary for women and men. While the Rome Criteria for diagnosis is identical for both genders, and the typical IBS symptoms are also the same, some female-specific reproductive disorders (endometriosis, ovarian cancer) may need to be ruled out before women can be diagnosed with IBS.

IBS treatments for both men and women are nearly identical. While IBS drugs such as Lotronex and Zelnorm had stringent gender-specific prescribing guidelines, non-drug treatments haven't typically shown any gender discrepancies. Even better, many of the natural IBS treatments are also the most successful.

Coming next time, we'll address IBS treatments and gender...

~ Heather

Did you miss the recent "Ask Heather" and the brain-gut dysfunction of IBS?
Find it here...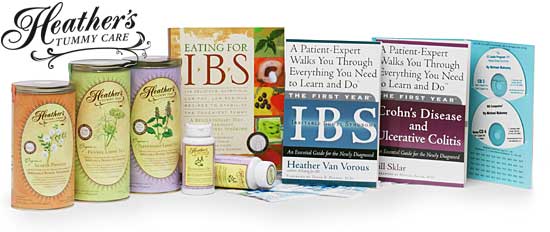 Shop at Heather's Tummy Store for IBS
HelpForIBS.com
The only store that's just for IBS - so we only carry the very best

You're on this newsletter list because you have expressed interest in IBS news and information.




Change your newsletter email address here.

If you are viewing this newsletter on a website and would like to subscribe for email delivery, please "Join the IBS Newsletter" here.

ANTI-SPAM PRIVACY & SECURITY POLICY
HelpForIBS.com
Heather's Tummy Care
80 S. Washington St, #304
Seattle, WA 98104 USA

© 2007 Heather Van Vorous, Heather's Tummy Care. All rights reserved.
USA Copyright Office Registration Number TXU 1-270-858 and others